Spiced Whisky Poached Pears
These spiced whisky poached pears are a great way to enjoy those wintery days. Spiced with whisky, cinnamon, cloves and vanilla they warm the heart and taste delicious with some fresh cream on the side.
The tradition of poaching pears has been around for a very long time. In 1864 the famous French chef Auguste Escoffier inspired by the operetta La belle Héléne created a dish with poached pears, ice cream and chocolate sauce.
I have adapted this all-time classic with hot toddy ingredients and boy do they taste good. To give the pears a nice rich golden colour I add a little turmeric. This is an easy recipe and I find leaving the pears overnight in the poaching liquid to steep gets the best flavour.
If you decide to give these a try, let me know! Leave a comment and rate it – it's really helpful to me and the other readers. And don't forget to take a picture and tag me @thegourmetlarder and #thegourmetlarder on Instagram! I love seeing what you come up with. 🙂
WHAT LARDER INGREDIENTS WILL I NEED FOR THIS RECIPE?
For this spiced whisky poached pear recipe all you need are these ingredients:
Pears
Whisky
Cinnamon stick
Whole cloves
Ground turmeric
Ground ginger
Vanilla pod
Brown sugar
Choose a firm pear-like Bocs, Conference or Anjou, softer pears like Starkrimson, Comice or Bartlett, while tasty, will fall apart during poaching.
---
WHAT VARIATIONS AND SUBSTITUTIONS CAN I MAKE?
This is one of those recipes which you can customize to suit your taste, adding various spices, fruit rinds, or wine to the mix. Here are a few ideas:
No alcohol: If you wish not to use alcohol, simply omit it from the recipe.
Wine version: Replace the water with your favourite white or red wine and remove the turmeric
Cider Version: Try cider as another great alternative to water. Just swap like for like.
Sweetness: Try changing the sweetness, swapping out the brown sugar for caster sugar, honey, maple syrup or a combination.
---
EQUIPMENT SUGGESTIONS
When it comes to baking, I highly recommend using metric measurements and a digital scale, rather than cup measurements. You will find it much easier, less messy and you will get far better, consistent results weighing your ingredients. 🙂
---
---
NUTRITION
Serving: one spiced whisky poached pear
Nutrition information can vary for a recipe based on factors such as precision of measurements, brands, ingredient freshness, or the source of nutrition data.
I strive to keep the information as accurate as possible but make no warranties regarding its accuracy.
I encourage you to make your own calculations based on the actual ingredients used in your recipe, using your preferred nutrition calculator.
---
STORAGE AND FREEZING OPTIONS
These pears can be stored in their poaching liquid for up to a week in the fridge.
Alternatively, they can be put into jars and sterilised.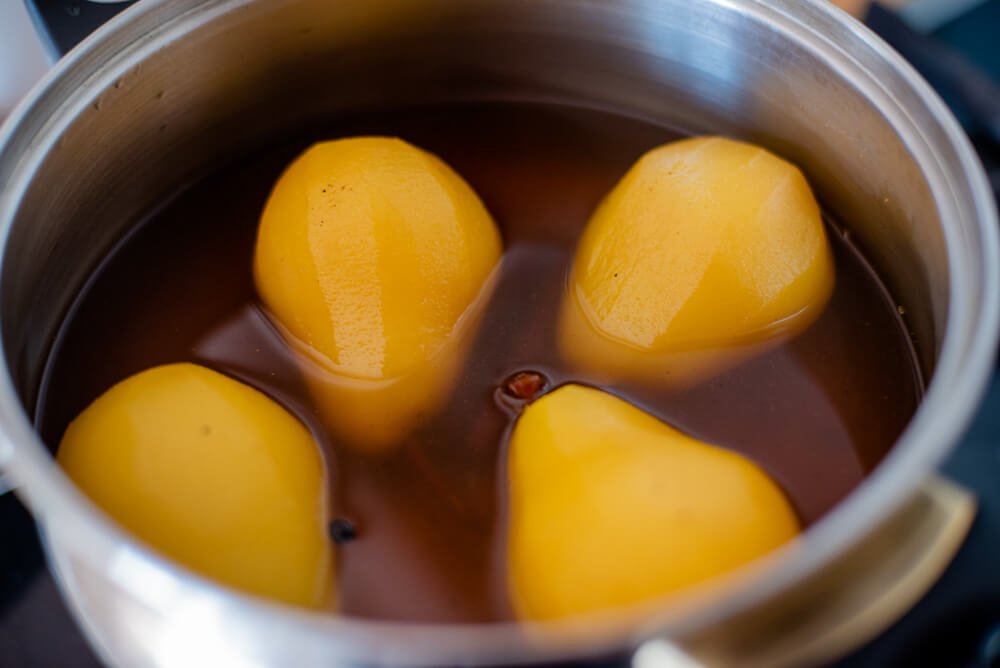 © THE GOURMET LARDER. All images and content are copyright protected.
Please read my FAQ's, if you would like to use or share any part of this post.
---
READY TO MAKE YOUR SPICED WHISKY POACHED PEARS ?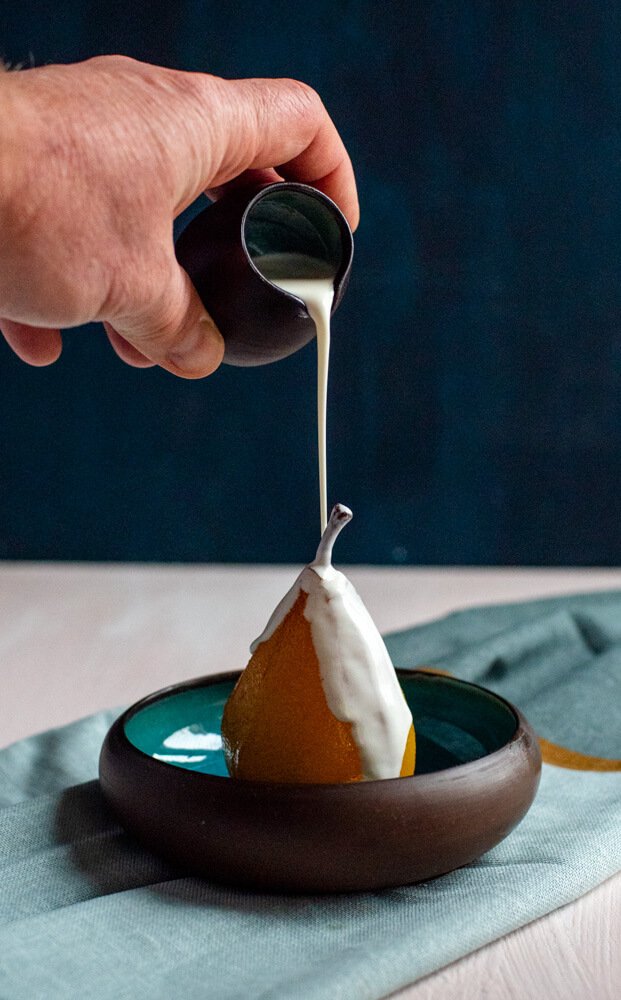 Spiced Whisky Poached Pears
These poached pears are a great way to enjoy those wintery days. Spiced with whisky, cinnamon, cloves and vanilla they warm the heart and taste delicious with some fresh cream on the side.
INGREDIENTS LIST
4

whole

pears

50

ml

whisky

1

stick

cinnamon

5

whole

cloves

½

tsp

ground ginger

1

vanilla pod

(optional)

300

g

soft brown sugar

½

tsp

ground turmeric

1

litre

water
Preparation
Peel the four pears, leaving the stalk intact.

Combine all the ingredients in a saucepan with 1 litre of water, bring to a simmer.

Next, we want to stop the pears from drying out where they sit above the liquid, but we also want the liquid to reduce as the pears poach. If you have a lid which has a small hole to allow steam to escape place it on top, otherwise you can use a standard lid, it just means that when you come to reducing down the liquid after poaching it will take a little longer.

Alternatively, you can make a cartouche using parchment paper. A cartouche is different from a standard lid because it allows steam to escape. It sounds fancy, but it's really easy to make.

Cut out a round of parchment paper that will fit inside the saucepan. Cut a smaller round in the centre to allow for evaporation. Place on top of the pears.

Poaching: Gently poach the pears for about 20 minutes.

Remove from the heat, allow to cool, then refrigerate overnight if possible to allow the pears to absorb and infuse all the flavours of the syrup.

Before serving, remove the pears and set aside to bring to room temperature.

These pears are great served with the liquid and the best way is to reduce the liquid until it becomes a thick syrup.

Remove the pears with a slotted spoon and strain out the spices, then cook the liquid over medium-high heat until it's reduced by about half, about 300ml.

Serving: Drizzle about 2 tablespoons of glaze over the pears, then serve with fresh cream, ice cream or chocolate sauce.

Any leftover poaching liquid or syrup can be used to drizzle over yoghurt, oatmeal, or pancakes or used to moisten cake layers during assembly and frosting.

www.thegourmetlarder.com
---
If you liked this poached pears recipe and are looking
for more tasty recipes, be sure to check out my recipe collection.
You'll also find a lot more brilliant puddings and dessert as well.
---
---