Vegan Chocolate Mousse
This vegan chocolate mousse is the perfect make-ahead no-bake dessert! Delicious, so simple to make and all you need are just six ingredients to create it.
The basis of this vegan mousse is aquafaba. Overlooked and underappreciated, this liquid gold is the leftover cooking water of any bean. Chickpeas are the most common choice, which may sound a little strange to some, but aquafaba whips up into an ultra-light and fluffy texture, making this mousse just like any other, but being that bit more healthy and vegan. And for any sceptics, let me re-assure you this dessert does not end up tasting of chickpeas at all.
Aquafaba has become the perfect egg white substitute for vegan baking and it even has its own website !
If you want to add some flavour twists, look at my variation ideas.
If you decide to give this recipe a try, let me know! Leave a comment below and rate it – it's really helpful to me and the other readers. And don't forget to take a picture and tag it #thegourmetlarder on Instagram! I love seeing what you come up with 🙂
RECIPE HIGHLIGHTS
Ease: simple and can be made in advance.
Diet: vegan, gluten-free and nut-free.
Great for: everyday dessert, friends and family visiting or special occasions like Valentine's day.
Taste and texture: fluffy, light, airy rich chocolate mousse.
Serving: I love this chocolate mouse served with my crumble topping, a dollop of fresh coconut cream and fresh berries, such as raspberries or strawberries.
---
WHAT LARDER INGREDIENTS WILL I NEED FOR THIS RECIPE?
For this vegan chocolate mousse all you need are these ingredients:
Aquafaba – as mentioned before, whips up into an ultra-light and fluffy texture, which gives this mousse its structure.
Water – opens up and intensifies the flavours of the chocolate.
Vegan dark chocolate – use a good quality dark chocolate as it is the star of this recipe. The high quantity of cocoa solids is important when mixing with water to ensure it sets correctly. I use a bar with 74% cocoa solids.
Caster or granulated sugar – creates a little sweetness to the mousse as we use a dark chocolate.
Vanilla extract or vanilla paste – adds flavour and enhances the other ingredient flavours.
Here I want to add how just a pinch of salt can make a difference to eating chocolate. With the addition of salt, all the intrinsic flavours of the chocolate are brought to the surface faster. In a seemingly absurd or contradictory way, salt intensifies the mouth's ability to taste sweetness. It is the sodium that sends signals to move glucose into the sweet taste receptor cells in our tongue, triggering the cells to register sweetness. The result is that salt not only alerts our 'salt sensitivity', but also our 'sweet sensitive' taste buds.
---
---
---
WHAT VARIATIONS AND SUBSTITUTIONS CAN I MAKE?
Use an alternative to water – such as non-dairy milks (soy, coconut or nut milks).
Try some of these flavour twists.
Spices – add an exotic twist, by adding 1/2 teaspoon of cinnamon or a 1/4 tsp of ground chilli or ground cardamom to the water.
Nuts – provide textural interest, increasing the moreishness element. Try crushed roasted nuts, such as pistachios, hazelnuts or peanuts. (Salted nuts also work well.) You can add them to the mousse at the same time as adding the chocolate mix.
Espresso coffee – is a great compliment to chocolate. Replace the water with espresso coffee or dissolve one teaspoon of instant coffee powder into the hot water.
Citrus fruit – for a zing, try adding the finely grated zest of 1 large orange.
Sugar free options – include completely leaving it out of the recipe, using a sugar free chocolate, and a substitute sugar such as coconut sugar, xylitol or erythritol.
If you experiment I would love to know how you get on and share it with the other readers.
---
---
NUTRITION
Serving: one vegan chocolate mousse
Nutrition information can vary for a recipe based on factors such as precision of measurements, brands, ingredient freshness, or the source of nutrition data.
I strive to keep the information as accurate as possible but make no warranties regarding its accuracy.
I encourage you to make your own calculations based on the actual ingredients used in your recipe, using your preferred nutrition calculator.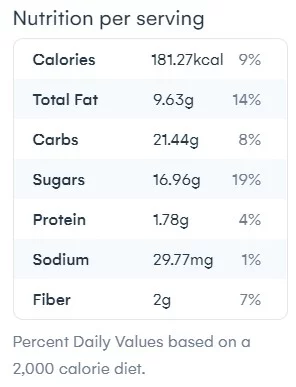 ---
STORAGE AND FREEZING
You must keep the aquafaba mousse in the fridge until served. They will keep well in the fridge for 2-3 days covered.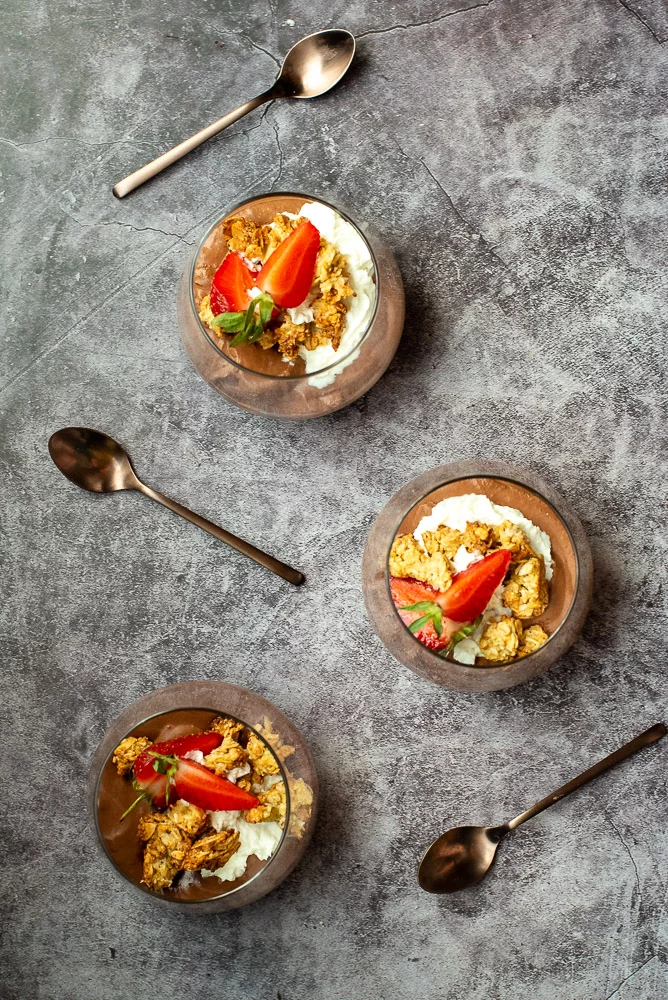 © THE GOURMET LARDER. All images and content are copyright protected.
Please read my FAQ's, if you would like to use or share any part of this post.
---
EQUIPMENT RECOMMENDATIONS
Here is a list of some kitchen equipment that I use and recommend for this recipe.
When it comes to baking, I highly recommend using metric measurements and a digital scale, rather than cup measurements. You will find it much easier, less messy and you will get far better, consistent results weighing your ingredients. 🙂
---
READY TO MAKE YOUR CHOCOLATE MOUSSE ?
ENJOY!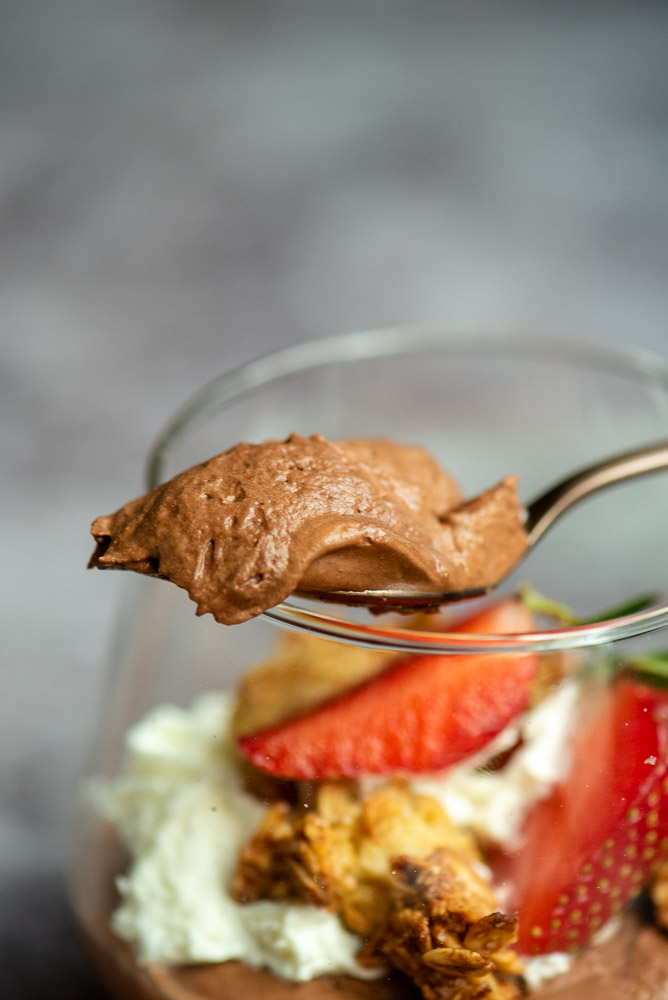 Chocolate Mousse
This vegan chocolate mousse is the perfect make-ahead no-bake dessert! Delicious, so simple to make and all you need are just six ingredients to create it.
INGREDIENTS LIST
100

g

dark chocolate

(vegan and chopped)

50

ml

water

100

ml

aquafaba

(from chickpeas or white beans)

1

tsp

pure vanilla extract or 1/4 tsp of vanilla paste

2

tbsp

caster or granulated white sugar

(30g)

1

pinch

fine sea salt

(optional)
Preparation
Boil the kettle if using the water (or use one of my alternative suggestions from the variations section of the post) and place the liquid you wish to use in a small saucepan to heat.

In a heat-proof bowl add the chopped chocolate and pour over the water. Leave for a minute or two on the side. Then give it a stir.

Drain the liquid from a can of chickpeas or white beans into a medium sized mixing bowl. Use a mixer to whisk the liquid for about 5 minutes on high, until it forms stiff peaks.

Add the sugar, vanilla extract and continue whisking for another 3-4 minutes. While you may be tempted not to whisk it for this amount of time, I promise that any less and the aquafaba will split after a period of time.

If you use home-cooked chickpea liquid, it can take longer to get the firm peaks as the water may not be as concentrated. A way around this is to boil some of the liquid off so that it reduces more. Once cooled start the process of whipping.

Pour the finished mousse into your serving bowls or glasses and place them in the fridge for at least an hour before serving.

I like to top mine with fresh berries, a dollop of whipped coconut cream and some of my crumble topping.

www.thegourmetlarder.com
---
RECIPE TIPS
Use high quality chocolate for this recipe as it makes all the difference to the finished result. With there being no cream or other ingredients that have strong flavours, all the flavour comes exclusively from the chocolate. So use a chocolate you love.
Not whipping the aquafaba long enough, will result in a split deflated soup. Aim to whisk for a good 9-10 minutes, to get a beautiful fluffy mousse.
---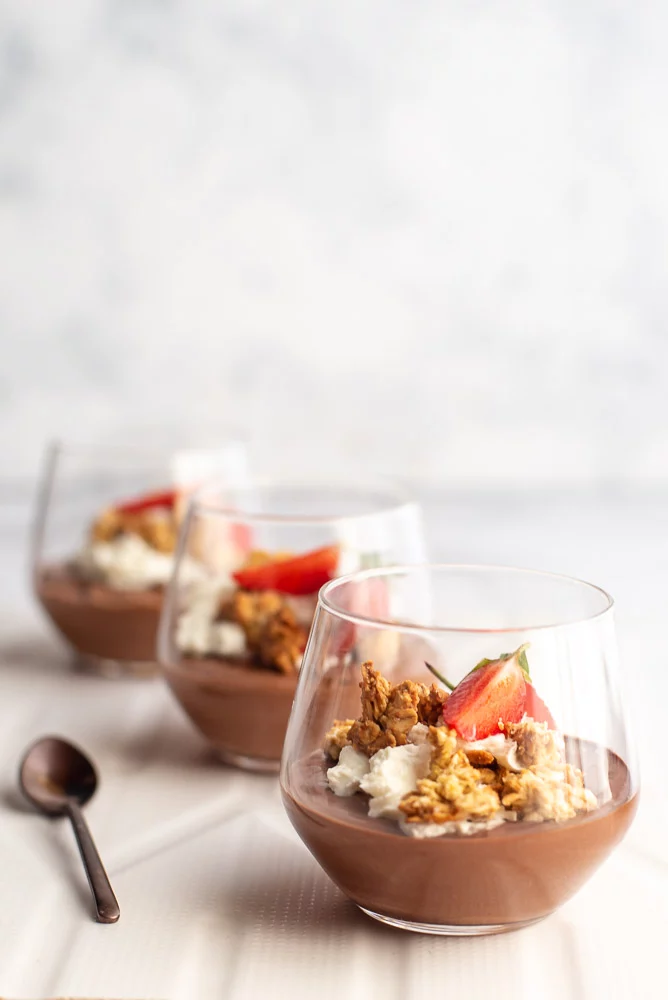 PLEASE LET ME KNOW HOW IT TURNED OUT FOR YOU!
If you tried these Vegan Chocolate Mousses or any other recipe on my website, please let me know how you got on in the comments below. I love hearing from you. Also, please leave a star rating whilst you're there!
Don't forget to subscribe to my newsletter, so that you don't miss out on more delicious recipes and follow me on social media.
HUNGRY FOR MORE? FOLLOW ME!
---
PIN THIS RECIPE FOR LATER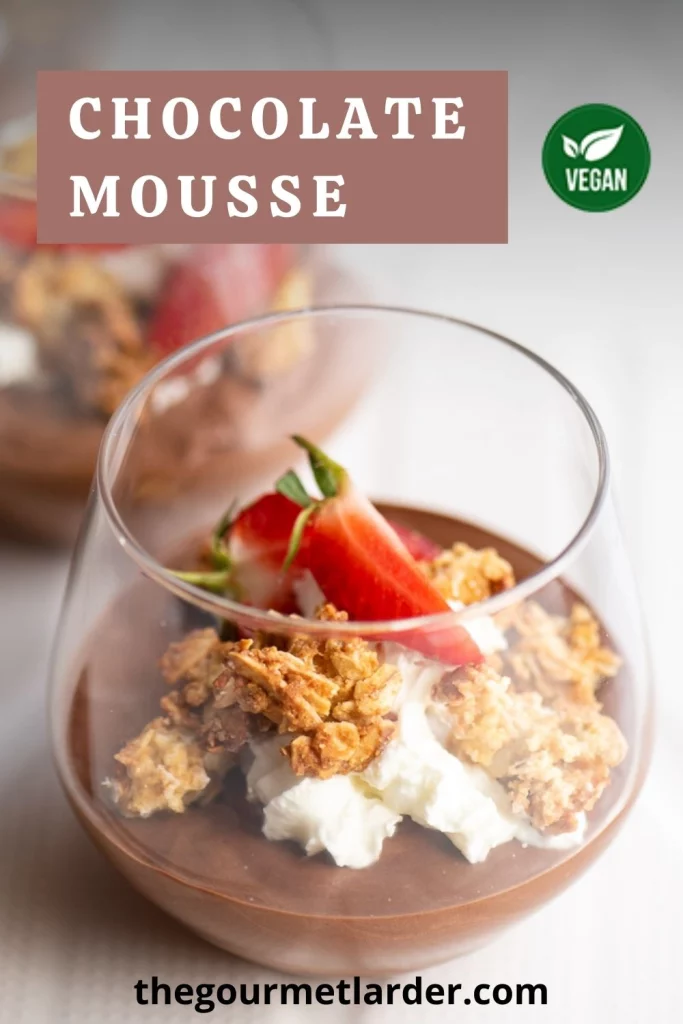 ---
If you liked this vegan chocolate mousse recipe,
take a look at my inspirational recipe collection for more ideas.
---
---