Crumble Oat Topping
This crumble oat topping is great to have in your recipe repertoire. It's vegan, gluten free and perfect once baked for topping Greek yoghurt or ice cream. It's also great for topping classics such as fruit crumbles, muffins or coffee cakes.
It adds a sweet, crunchy texture to whatever dessert you choose to sprinkle it on top of. Takes less than 10 minutes to prepare with a few simple ingredients and the oven does the rest of the work!
I am not sure what says comfort food more than a delicious fruit crumble and this vegan crumble topping can be enjoyed by all the family! This recipe is even great served for breakfast as granola. For a few addition ideas, check out my variations section.
If you like the sound of this crumble topping, try it on my strawberry and rhubarb crumble recipe.
RECIPE HIGHLIGHTS
Ease: simple and can be made in advance.
Diet: this recipe is eggless, dairy-free and gluten-free.
Versatility: topping crumbles, pies, muffins and ice cream or even as granola for breakfast.
Great for:
Taste and texture: just the right sweetness and deliciously crunchy and crisp.
---
WHAT LARDER INGREDIENTS WILL I NEED FOR THIS RECIPE?
For this recipe all you need are these ingredients:
Chickpea flour – makes a great alternative to gluten flours and adds a great taste to the finished recipe.
Whole oats – I prefer to use whole oats as they add texture.
Flaked almonds – add both flavour and texture. Alternatively, they can be left out.
Light brown sugar – has a strong molasses flavour and is not as sweet as white sugar, perfect for creating crunch with a caramel hint.
Vanilla extract or vanilla paste – adds flavour and enhances the other ingredient flavours. (optional)
Coconut oil – helps to create that crunch.
Water – is used to bind the chickpea flour and other ingredients.
I highly recommend adding a good pinch of salt to your desserts. It would seem counter productive, but it's not. Salt, helps balance out the sweetness and richness. It also elevates the other ingredients, bring out the best characteristics of any recipe. In a seemingly absurd or contradictory way, salt intensifies the mouths ability to taste sweetness. It is the sodium that sends signals to move glucose into the sweet taste receptor cells in our tongue. The result is that salt not only alerts our 'salt sensitivity', but also our 'sweet sensitive' taste buds.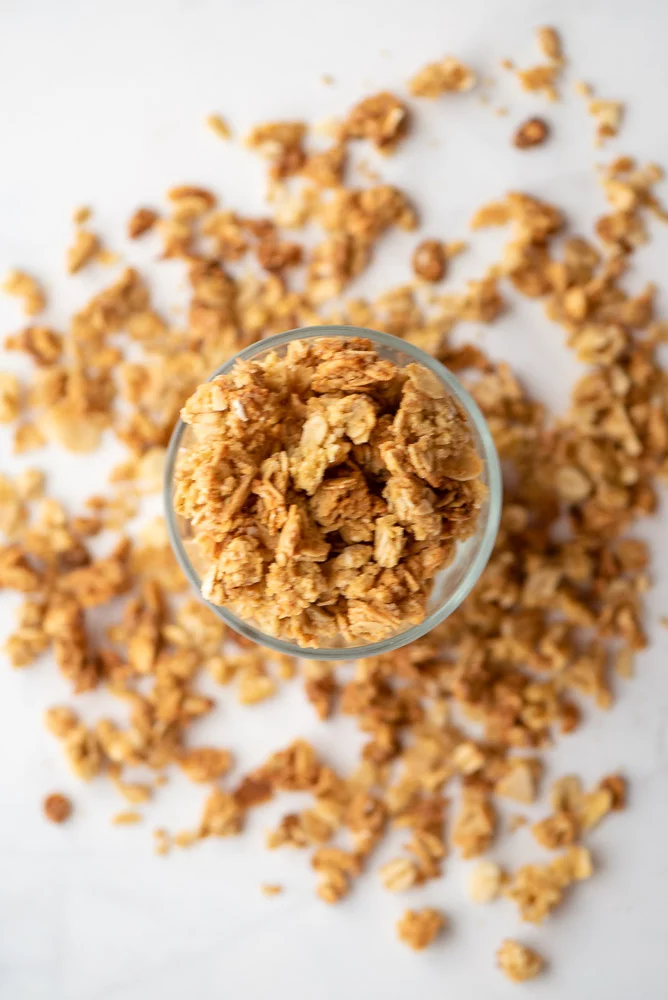 ---
WHAT VARIATIONS AND SUBSTITUTIONS CAN I MAKE?
Flour alternatives – this recipe is gluten free but if you are not on a gluten free diet, then I would recommend a slightly different recipe. Dice 50g of butter and place in a mixing bowl with 50g of plain or all-purpose flour. Rub together with your fingertips until it resembles breadcrumbs. Then add 50g light brown sugar, 30g whole oats and 25g flaked almonds. Mix it all together and scrunch a little to add a little texture.
Almond's alternatives – if you don't want to include nuts they can simply be left out. Alternatively, try the recipe with hazelnuts or walnuts. It is best if the nuts are broken into large pieces and not powdered as it's nice to have some texture in the crumble. To break the nuts up, simply place them in a clean kitchen towel and gently hit them with a rolling pin.
Spices – can add all sorts of different dimensions in taste. I love adding a teaspoon of ground ginger in the winter months. Other great additions include cinnamon, nutmeg or even black pepper.
Citrus tang – can be added by zesting a lemon or orange peel into the mixture.
Chocolate – adding dark chocolate chips to the crumble mix is just another great option.
Gluten free – If you don't have chickpea flour try a 1:1 alternative gluten free flour.
Dairy free – If you don't want to use coconut oil in this recipe try a vegan butter.
Sugar alternatives – Crumble wouldn't be crumble without the sugar. It helps to achieve that crunchy texture. For a healthier option use coconut sugar.
If you experiment, I would love to know how you get on and share it with the other readers.
---
---
NUTRITION
Serving: per 100g
Nutrition information can vary for a recipe based on factors such as precision of measurements, brands, ingredient freshness, or the source of nutrition data.
I strive to keep the information as accurate as possible but make no warranties regarding its accuracy.
I encourage you to make your own calculations based on the actual ingredients used in your recipe, using your preferred nutrition calculator.
---
STORAGE AND FREEZING
You can make this crumble ahead of time or alternatively, store it in an airtight container for up to a week. If you use it on top of fruit or a similar dessert the moisture in the fruit will cause the topping to lose its crunchiness over a short period of time. To resolve this you can place it in a preheated oven for a few minutes.
Freezing: You can freeze this crumble topping before baking but it won't be quite as crisp and crumbly as when you first made it. Plus, it's so quick to make I don't think it's necessary to freeze.
© THE GOURMET LARDER. All images and content are copyright protected.
Please read my FAQ's, if you would like to use or share any part of this post.
---
EQUIPMENT RECOMMENDATIONS
Here is a list of some kitchen equipment that I use and recommend for this recipe.
When it comes to baking, I highly recommend using metric measurements and a digital scale, rather than cup measurements. You will find it much easier, less messy and you will get far better, consistent results weighing your ingredients. 🙂
---
READY TO MAKE YOUR CRUMBLE OAT TOPPING ?
HAPPY BAKING!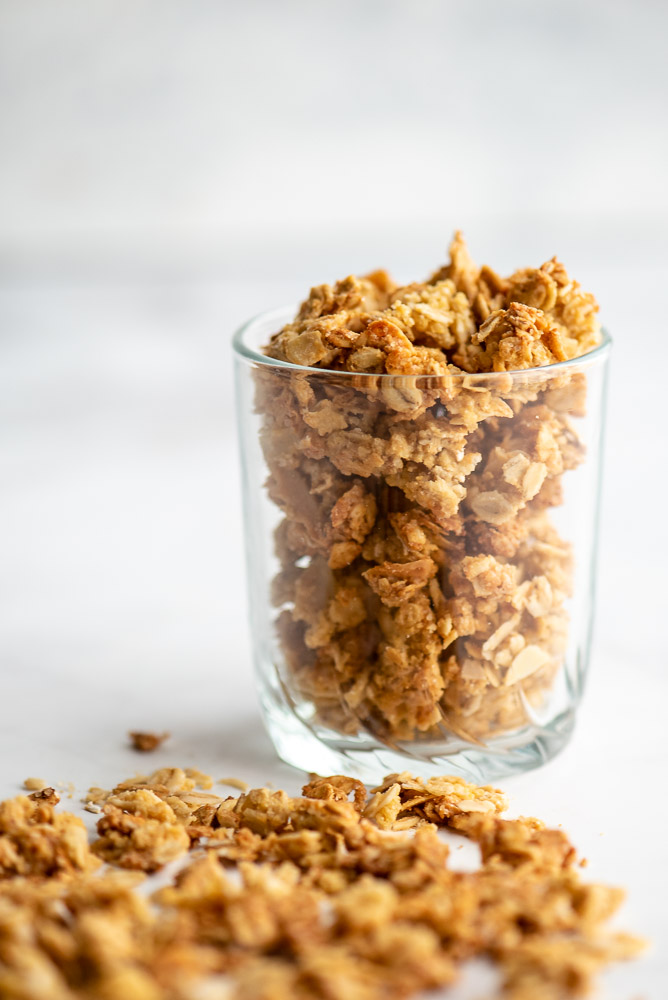 Crumble Oat Topping
This crumble oat topping is great to have in your recipe repertoire. It's vegan, gluten free and perfect once baked for topping Greek yoghurt or ice cream. It's also great for topping classics such as fruit crumbles, muffins or fruit pies.
INGREDIENTS LIST
90

g

chickpea flour

150

g

whole oats

1

pinch

fine sea salt

45

g

flaked almonds

75

g

light brown sugar

60

g

coconut oil

(melted)

4-5

tbsp

water

(45-60ml)
Preparation
Preheat your oven to 160°C fan / 350°F / Gas 4.

Melt the coconut oil in a small saucepan.

In a medium mixing bowl, add the chickpea flour, oats, salt, flaked almonds and the brown sugar.

Mix all the ingredients together, then add the coconut oil and the water. Use your hands to squeeze together the mix to form small clumps. Add a little more water if it is not creating clumps.

If you are baking the crumble on its own, spread it out onto a baking tray, lined with baking parchment or greaseproof paper.

Baking: Place in the preheated oven for 20-25 minutes, until the crumble pieces start to brown. They will crisp more as they cool.

www.thegourmetlarder.com
---
RECIPE TIPS
Adding the right amount of water – if you don't add enough the mixture will look more like saw dust and will not form clumps that give you that crunchy texture.
Baking – the crumble is easy. If you are making it as a topping for ice cream etc, remember it will continue to get crunchier as it cools down after baking.
---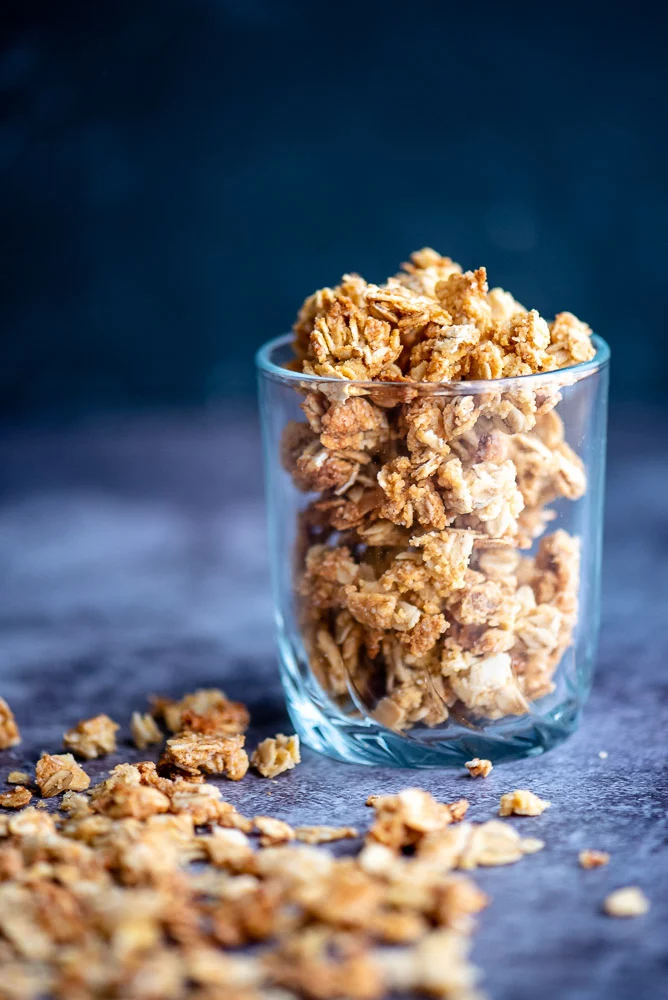 PLEASE LET ME KNOW HOW IT TURNED OUT FOR YOU!
If you tried this Crumble Oat Topping or any other recipe on my website, please let me know how you got on in the comments below. I love hearing from you. Also, please leave a star rating whilst you're there!
Don't forget to subscribe to my newsletter, so that you don't miss out on more delicious recipes and follow me on social media.
HUNGRY FOR MORE? FOLLOW ME!
---
PIN THIS RECIPE FOR LATER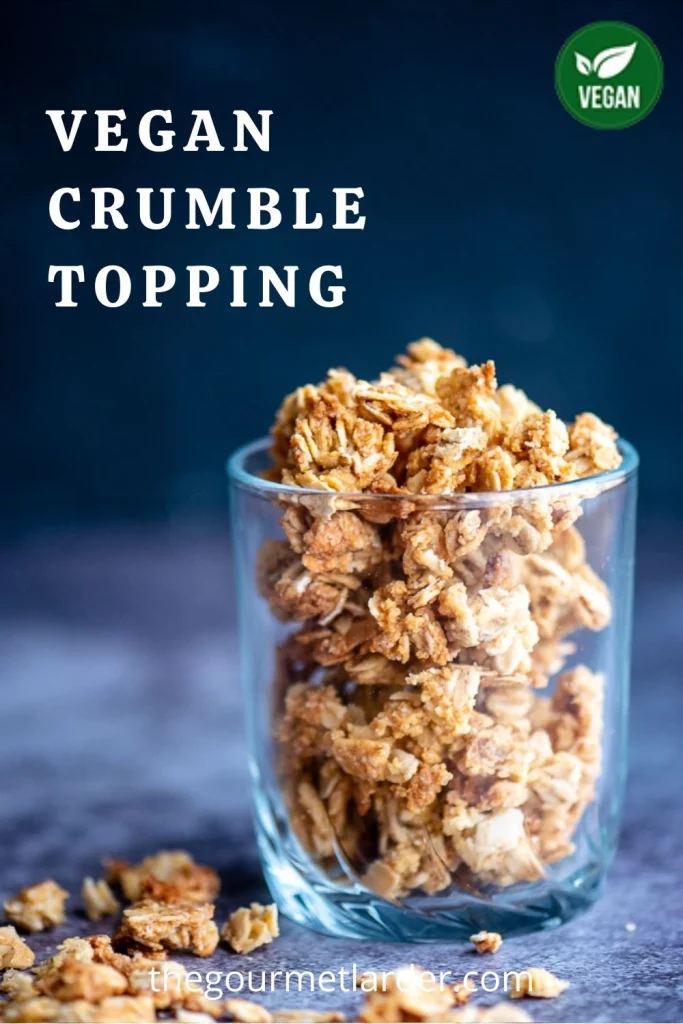 ---
If you liked this crumble topping recipe,
take a look at my inspirational recipe collection for more ideas.
---
---