Homemade Lemon Curd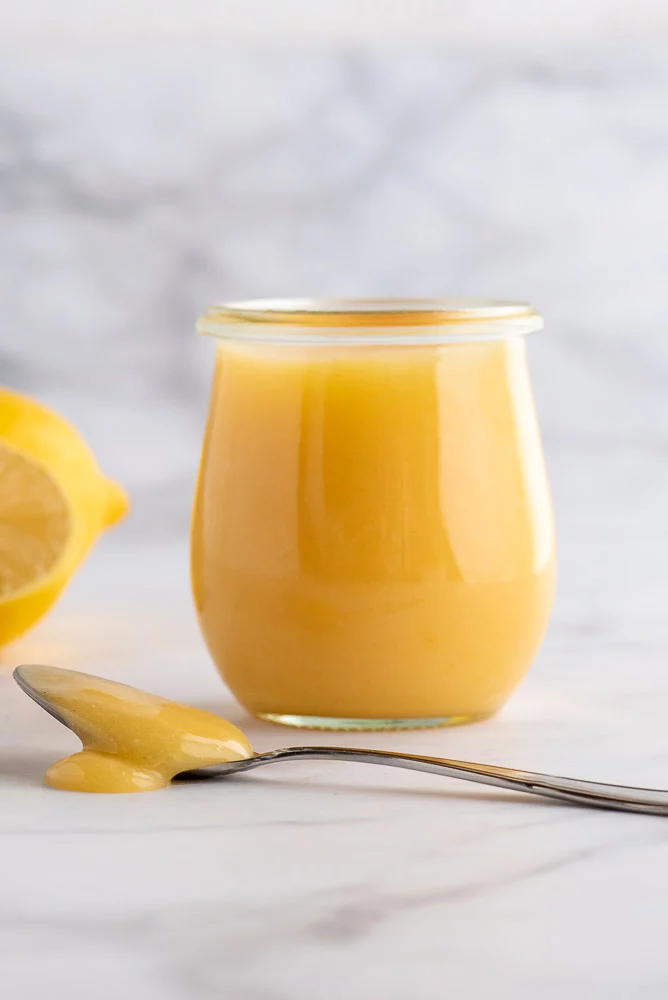 Super easy and so delicious you'll be making this homemade lemon curd time and time again. Made from five simple ingredients and comes together quickly on the stove.
What is lemon curd?
Lemon curd is a spread like a creamy lemon jam. It has a buttery, sweet, tart lemon flavour and once you make it, I guarantee you'll be smothering it on everything!
Perfect for:
Spreading on scones, waffles, English muffins, crumpets, biscuits, toast or croissants.
Topping a pavlova or in a lemon meringue pie. Both perfect recipes for using up your egg whites!
Filling macarons, choux pastry, pancakes or ice cream bars.
Beating into buttercream, whipping cream or mascarpone for filling or topping cakes and cupcakes.
Stirring into yogurt, cottage cheese, or slathered over ice cream.
Once you've made my homemade version, you'll never be tempted to pick up a jar at the shops again, no sketchy ingredients or thickeners and it tastes amazing.
If you decide to give this recipe a try, let me know! Leave a comment below and rate it – it's really helpful to me and the other readers. And don't forget to take a picture and tag it #thegourmetlarder on Instagram! I love seeing what you come up with 🙂
RECIPE HIGHLIGHTS
Ease: super easy and quick to prepare.
Diet: this recipe is gluten and nut free.
Great for: spreading on toast, filling cakes, biscuits, cupcakes, scones, tarts, topping muffins, ice cream and more!
Taste and texture: sweet, creamy, smooth and intensely tangy.
Makes: 400g / 14oz
---
WHAT LARDER INGREDIENTS WILL I NEED FOR THIS RECIPE?
For this recipe all you need are these ingredients:
Fresh lemons (approx. 2 medium lemons) – are the hero of our recipe for both the zest and juice. As we are using the peel of the lemon, it is highly recommended to buy organic if you can. Otherwise look for unwaxed lemons. Do not use bottled juice, it is too acidic.
Caster or granulated sugar – is to balance out the tartness of the lemons. Alternatively, honey or coconut sugar can be used. See the variations section for more details. Don't use brown sugar as it will alter the colour of the curd.
Medium eggs – this recipe calls for both a whole egg and two egg yolks for richness. The eggs create that creamy thick texture like in crème brûlée or custard.
Butter – adds more creamy richness and also acts as a thickener. The more the lemon curd is chilled in the fridge the thicker it will become.
I highly recommend adding a good pinch of salt to your sweet sauces. It would seem counter productive, but it's not, I promise. Salt helps balance out the sweetness and richness. It also elevates the other ingredients, bringing out the best characteristics of any sauce recipe. In a seemingly absurd or contradictory way, salt intensifies the mouth's ability to taste sweetness. Sodium sends signals to move glucose into the sweet taste receptor cells in our tongue, triggering the cells to register sweetness. The result is that salt not only alerts our 'salt sensitivity', but also our 'sweet sensitive' taste buds.
---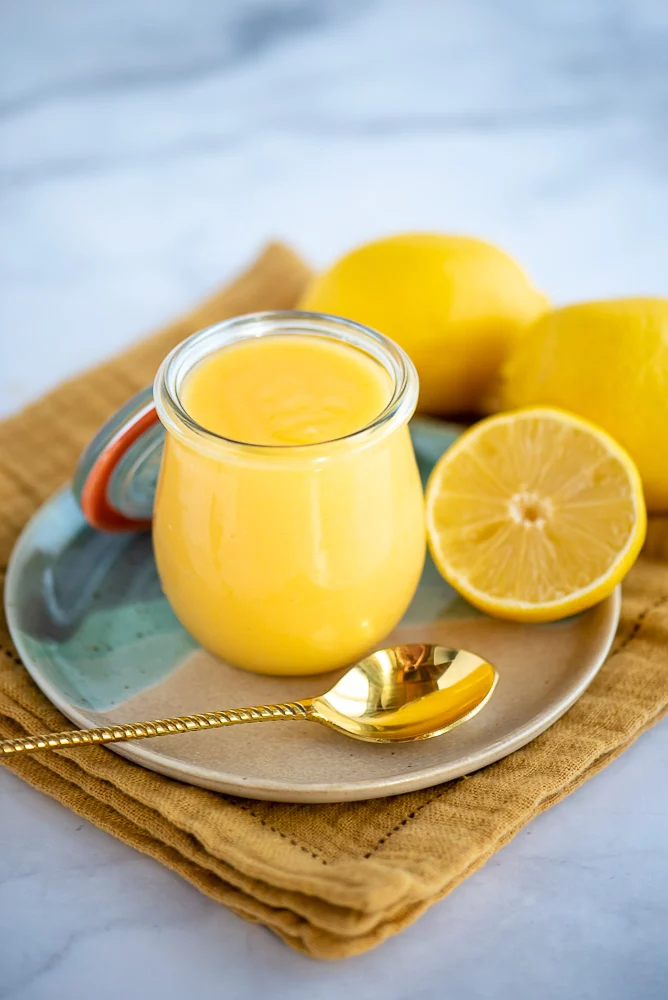 ---
WHAT VARIATIONS AND SUBSTITUTIONS CAN I MAKE?
Alternative fruit – if you fancy mixing it up a little then replace the lemon with oranges, limes or lemon and passion fruit.
Sugar free options – for a healthier option replace the cane sugar with 80g of honey.
Dairy-free – replace the butter with 50g refined coconut oil or Naturli vegan block or Flora plant based block butter alternative, not margarine. Most can be found in large supermarkets and online.
If you experiment I would love to know how you get on and share it with the other readers.
---
NUTRITION
Serving: 15g / one tablespoon
Nutrition information can vary for a recipe based on factors such as precision of measurements, brands, ingredient freshness, or the source of nutrition data.
I strive to keep the information as accurate as possible but make no warranties regarding its accuracy.
I encourage you to make your own calculations based on the actual ingredients used in your recipe, using your preferred nutrition calculator.
---
STORAGE
You can store this lemon curd in an airtight container or sterilised jar in the refrigerator for up to a week.
Freezing: You can freeze this spread for up to three months, after simply thaw it in the fridge overnight.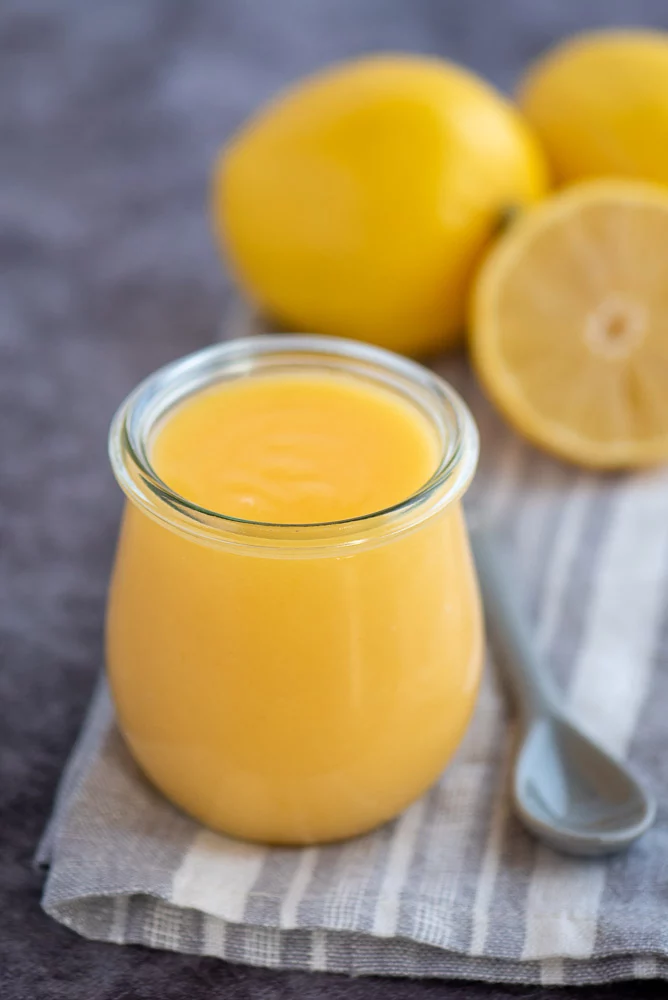 © THE GOURMET LARDER. All images and content are copyright protected.
Please read my FAQ's, if you would like to use or share any part of this post.
---
TOOLS YOU'LL NEED
Here are some kitchen tools that I use and recommend for this recipe.
When it comes to baking, I highly recommend using metric measurements and a digital scale, rather than cup measurements. You will find it much easier, less messy and you will get far better, consistent results weighing your ingredients. 🙂
---
READY TO MAKE YOUR HOMEMADE LEMON CURD ?
ENJOY!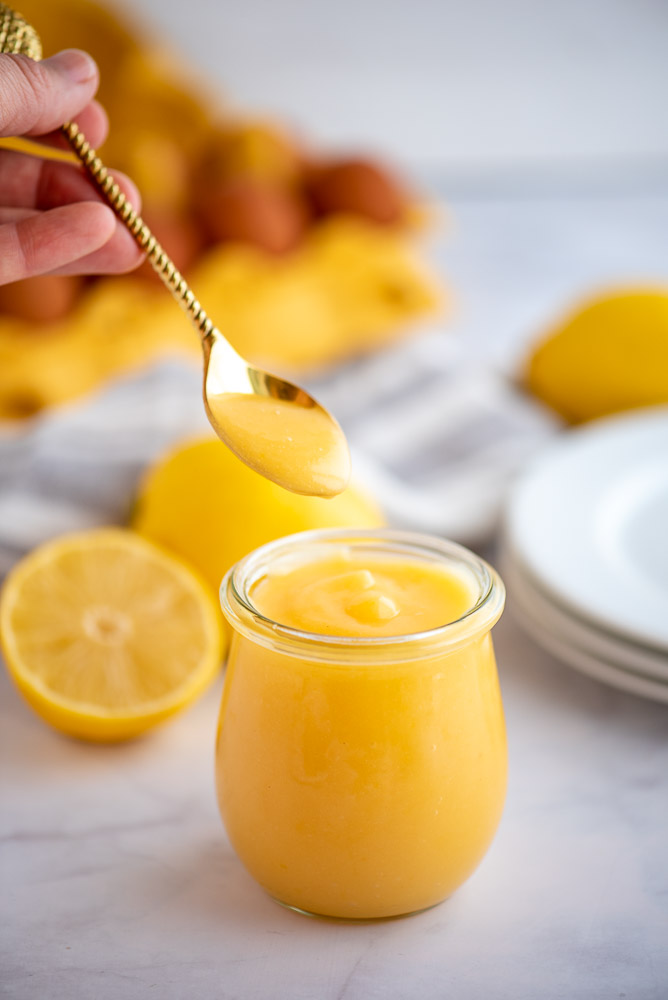 Homemade Lemon Curd
Super easy and so delicious you'll be making this lemon curd time and time again. Made from five simple ingredients and comes together quickly on the stove.
INGREDIENTS LIST
100

g

fresh lemon juice

(approx. 2 lemons)

1

tbsp

lemon zest

(from 1 lemon)

160

g

caster or granulated white sugar

1

medium / US large

egg

2

medium / US large

egg yolks

100

g

butter

(cut into small cubes)

a

pinch

of fine sea salt
Preparation
Into a small saucepan, add the lemon juice, lemon zest, eggs and sugar. Whisk to combine and place over medium heat and cook, stirring continuously for 2-3 minutes until the sugar has dissolved and it just starts to bubble and coat the back of your wooden spoon.

*If you are going to use this lemon curd for filling and decorating cakes, I recommend adding one and half teaspoons of cornstarch with the mix before heating. This will stabilise the curd and allow you to add it to cream or butter frosting.

Remove the saucepan from the heat, then add the cold, cubed butter, stirring continuously until melted.

Strain immediately into a medium bowl or storage jar to remove any bits of zest.

If you use a bowl, make sure to cover the surface with plastic wrap to prevent a skin from forming and refrigerate for 1 hour or until cold.

www.thegourmetlarder.com
---
RECIPE TIPS
Avoid overcooking the eggs – by keeping the stove heat level low and continually whisking. Overheating or not whisking will cause the eggs to coagulate and scramble. Alternatively, you can use a double boiler.
If you do get lumps in your curd – they should get removed with the zest when you pass it through a sieve. If it's still lumpy give it a quick blend with a liquidiser or hand blender until smooth.
The curd is ready when – it has noticeably thickened and coats the back of a wooden spoon.
To avoid a skin forming on the lemon curd – cover with cling film ensuring the film is in direct contact with the curd.
Ensure the curd has been chilled completely – prior to filling cakes or it will run out as it has not had time to thicken to the right consistency.
---
PLEASE LET ME KNOW HOW IT TURNED OUT FOR YOU!
If you tried this Homemade Lemon Curd or any other recipe on my website, please let me know how you got on in the comments below. I love hearing from you. Also, please leave a star rating whilst you're there!
Don't forget to subscribe to my newsletter, so that you don't miss out on more delicious recipes and follow me on social media.
HUNGRY FOR MORE? FOLLOW ME!
---
PIN THIS RECIPE FOR LATER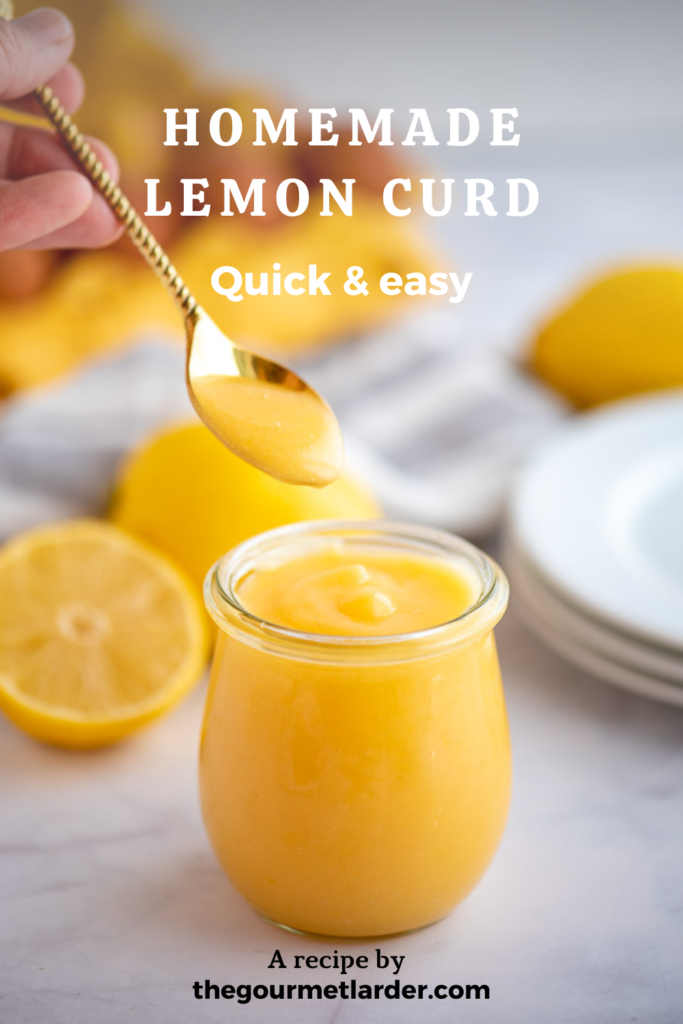 ---
If you liked this homemade lemon curd recipe,
take a look at my inspirational recipe collection for more ideas.
---
---