Orange & Lemon Curd Biscuits
19 September 2022
No Comments.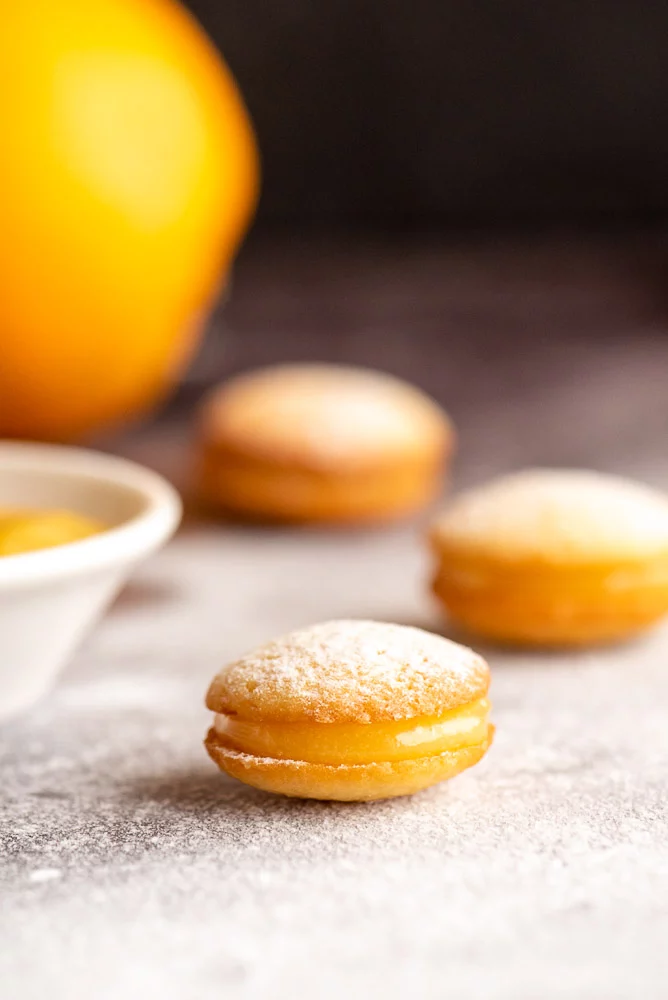 The perfect citrus hint in each and every bite of these orange and lemon curd biscuits will get you craving more. The perfect treat to sit down to on a Sunday afternoon or any time, really!
This recipe is a combination of a delicious soft centred biscuit and my homemade lemon curd recipe. Of course, you can always mix it up and make orange curd instead.
If you decide to give this recipe a try, let me know! Leave a comment below and rate it – it's really helpful to me and the other readers. And don't forget to take a picture and tag it #thegourmetlarder on Instagram! I love seeing what you come up with 🙂
RECIPE HIGHLIGHTS
Ease: easy.
Diet: for a gluten free option please refer to my variations section.
Great for: afternoon tea and picnics.
Taste and texture: a delicious orange biscuit soft in the middle and crisp around the edges, filled with homemade lemon curd.
Serve: alongside a cup of tea for the perfect afternoon snack.
---
WHAT LARDER INGREDIENTS WILL I NEED FOR THIS RECIPE?
For this recipe all you need are these ingredients:
Butter – adds structure and flavour. I use salted butter for most of my baking as it intensifies the flavours, but feel free to use unsalted if you prefer. Make sure it's at room temperature before using.
Caster or granulated white sugar – adds sweetness and structure.
Egg – builds structure and brings richness to this recipe. Make sure it is at room temperature before use.
Orange – use organic if possible as we are using the zest as well as the juice of the orange to flavour our biscuits.
Pure vanilla extract or vanilla paste – adds a little extra flavour to these biscuits.
Plain or all-purpose flour – builds structure and holds all the other ingredients together.
Baking powder – increases the volume and lightens the texture during baking.
Lemon curd – is the perfect smooth creamy filling to sandwich between these biscuits. It adds the perfect amount of citrus kick to complement the crisp outer shell and the soft inside of the biscuits.
I highly recommend adding a good pinch of salt to your biscuit doughs. It would seem counter productive, but it's not. Salt, helps balance out the sweetness and richness. It also elevates the other ingredients, bring out the best characteristics of any recipe. In a seemingly absurd or self-contradictory way, salt intensifies the mouths ability to taste sweetness. It is the sodium that sends signals to move glucose into the sweet taste receptor cells, thus triggering the cells to register sweetness. The result is that salt not only alerts our 'salt sensitivity', but also triggers our 'sweet sensitive' taste buds.
---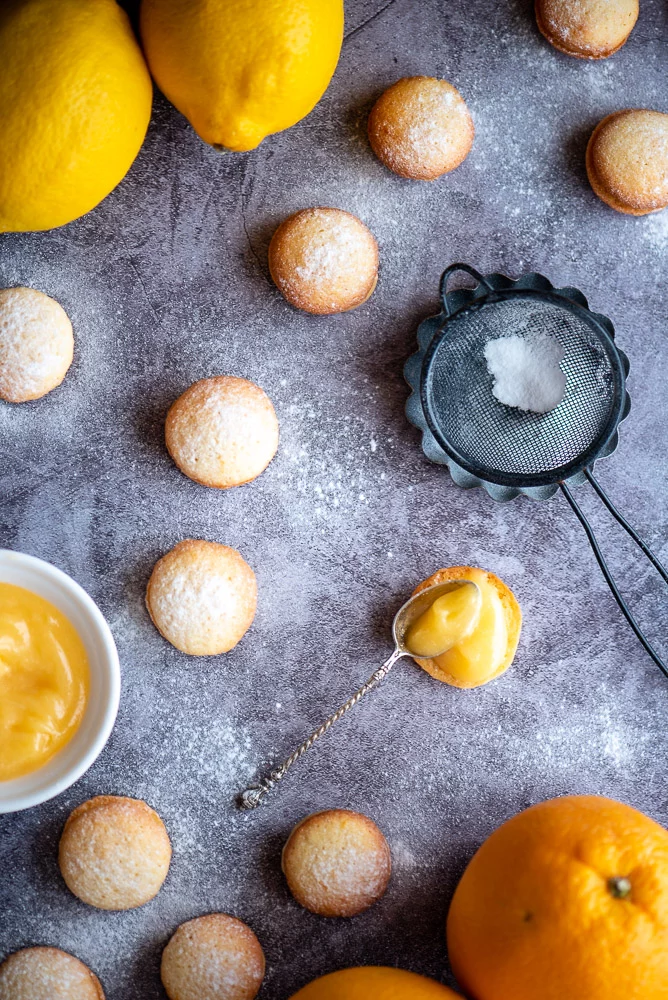 ---
WHAT VARIATIONS AND SUBSTITUTIONS CAN I MAKE?
Lemon biscuits – for lemon biscuits, simply replace the orange with lemon zest and juice in the biscuit recipe.
Gluten free – replace the gluten flour with a 1:1 alternative gluten free flour. If possible, choose a flour which contains xanthan gum or alternatively, add 1 tsp to your batter for stability.
Sugar options – if you want a healthier option replace the cane sugar with coconut sugar which contains minerals, electrolytes and has a lower-glycaemic index.
If you experiment I would love to know how you get on and share it with the other readers.
---
NUTRITION
Serving: one sandwich biscuit
Nutrition information can vary for a recipe based on factors such as precision of measurements, brands, ingredient freshness, or the source of nutrition data.
I strive to keep the information as accurate as possible but make no warranties regarding its accuracy.
I encourage you to make your own calculations based on the actual ingredients used in your recipe, using your preferred nutrition calculator.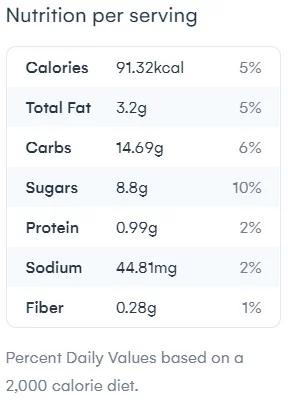 ---
STORAGE
These biscuits can be kept in the fridge for 2-3 days. Because of the filling the biscuits start to go soft after this time.
Freezing: These completed biscuits can be frozen for up to a month. To defrost remove from the freezer and place in the fridge to defrost overnight.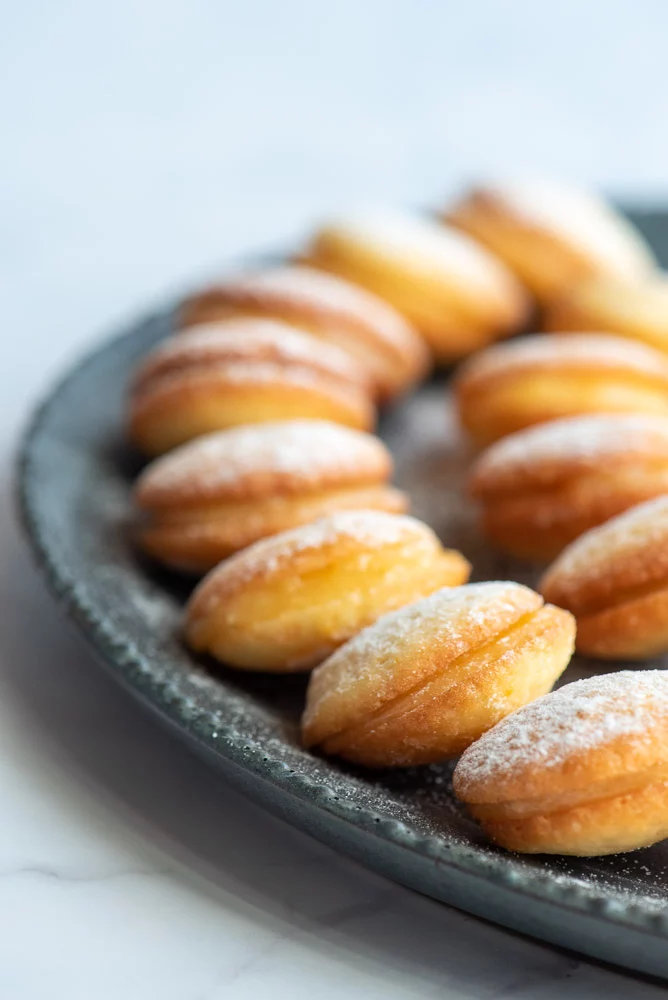 © THE GOURMET LARDER. All images and content are copyright protected.
Please read my FAQ's, if you would like to use or share any part of this post.
---
TOOLS YOU'LL NEED
Here is a list of some kitchen equipment that I use and recommend for this recipe.
When it comes to baking, I highly recommend using metric measurements and a digital scale, rather than cup measurements. You will find it much easier, less messy and you will get far better, consistent results weighing your ingredients. 🙂
---
READY TO MAKE YOUR ORANGE AND LEMON CURD BISCUITS ?
ENJOY!
Orange & Lemon Curd Biscuits
Servings:
30
sandwich biscuits
The perfect citrus hint in each and every bite of these orange and lemon curd biscuits will get you craving more. The perfect treat to sit down to on a Sunday afternoon or any time, really!
INGREDIENTS LIST
100

g

butter

(at room temperature)

180

g

caster or granulated white sugar

1

medium / US large

egg

(50g)

1

organic

orange zested and juiced

(50ml juice)

1

tsp

pure vanilla extract or 1/4 tsp of vanilla paste

200

g

plain or all-purpose flour

1/2

tsp

baking powder

1/2

tsp

fine sea salt
Other
150

g

lemon curd

(with added cornstarch)

30

g

icing sugar (US powdered sugar)
Preparation
I love making my homemade lemon curd for this recipe ensuring to add the cornflour as explained in step one of the recipe. If you want to use shop bought lemon curd, you may find that it is a little runny. To fix this you can mix 1 teaspoon of cornflour with a little cold water and add it to a small saucepan with 300ml lemon curd. Bring the mixture to a slow boil, whisking continuously and then remove from the heat and allow to cool.

Biscuits: Preheat the oven to 170°C fan / 375°F / Gas 5.

In a bowl, cream the butter and sugar together until light and fluffy.

Add the egg and mix until well combined.

Add the zest of an orange and 50ml (1/4 cup) of juice. Mix well.

Add the vanilla, flour, salt and baking powder into the bowl and mix together to create a wet creamy dough.

I like to make small 2cm round biscuits, but you can also make larger versions and there are a couple of ways to portion the individual biscuits. I like to place the mixture into a piping bag fitted with a plain nozzle and pipe out small mounds onto a parchment or silicone-lined baking tray. Alternatively, you can use two teaspoons to drop a small amount of mixture onto the tray. Make sure to leave 2cm between each biscuit to allow for expansion during baking.

The mixture will happily flatten out during baking to create a nice round disk.

Baking: Bake for 6-8 minutes, until slightly browned around the edges.

Remove from the oven and let rest on the baking tray for 5 minutes before transferring to a wire rack to cool.

Assembly: Once cooled, spoon or pipe small amounts of the lemon curd onto half of the biscuits. Place a second biscuit on top and place on a plate to serve.Optional: Dust with icing sugar (powdered sugar) to decorate.

KEYWORDS
afternoon tea, lemon curd, orange biscuits

www.thegourmetlarder.com
---
RECIPE TIPS
Use room temperature – butter and eggs for best results.
Don't overwork the dough – Once the dough has come together do not continue mixing or the biscuits will become tough.
Ensure to add the cornflour – to the lemon curd or it will be too runny for sandwiching between the biscuits.
---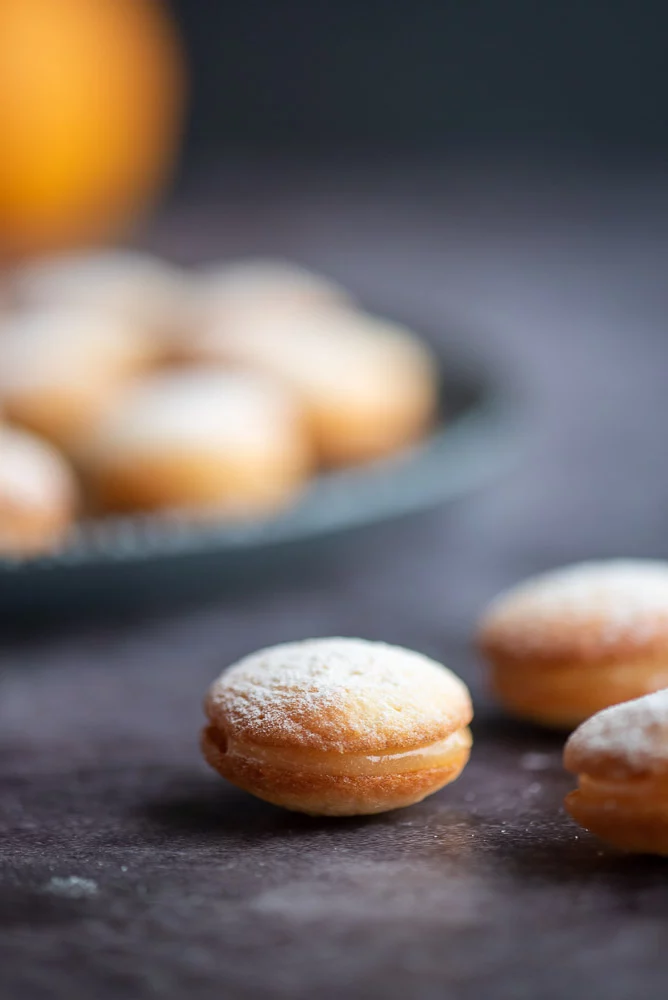 PLEASE LET ME KNOW HOW IT TURNED OUT FOR YOU!
If you tried these Orange and Lemon Curd Biscuits or any other recipe on my website, please let me know how you got on in the comments below. I love hearing from you. Also, please leave a star rating whilst you're there!
Don't forget to subscribe to my newsletter, so that you don't miss out on more delicious recipes and follow me on social media.
HUNGRY FOR MORE? FOLLOW ME!
---
PIN THIS RECIPE FOR LATER
---
If you liked this orange and lemon curd biscuit recipe,
take a look at my inspirational recipe collection for more ideas.
---
---