Strawberries & Cream Semifreddo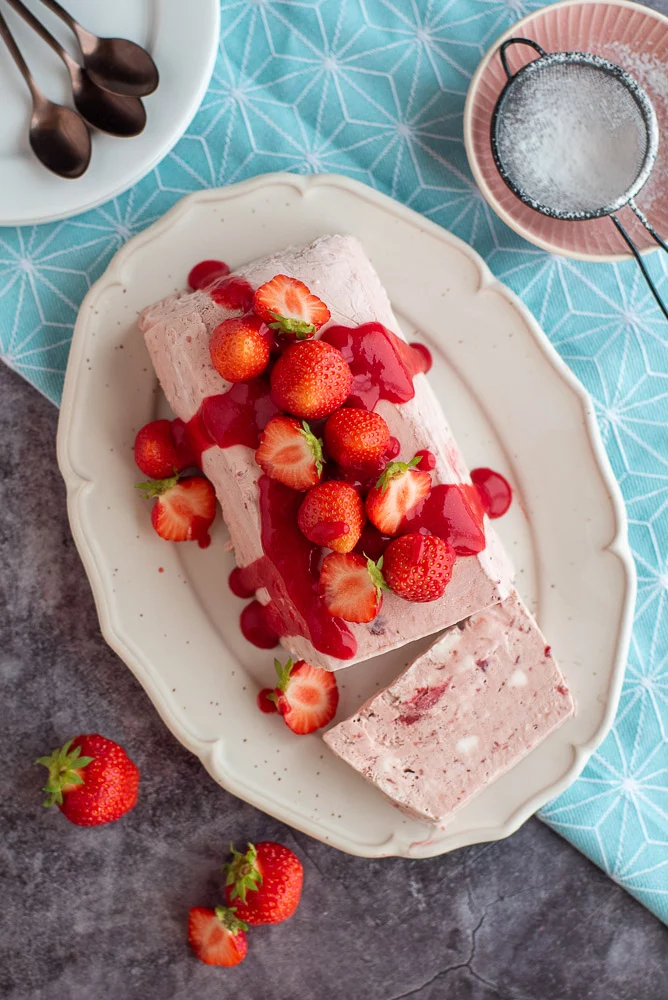 This heavenly strawberries and cream semifreddo is super creamy and full of fresh strawberries, picked from the garden. The perfect cooling dessert to prepare and eat on a hot summer's day.
While homemade ice cream is delicious, it is not without it's complications and most of us just go and buy some. Semifreddo is the easy answer, skip churning ice cream and try an easier dessert. It takes 15 minutes to prepare and then it just needs to be poured into a suitable container and frozen for a minimum of 6 hours or overnight.
Make sure to use good quality, ripe strawberries. You should be able to smell their sweet scent from across the room. Bite into one of these plump, juicy red berries and you'll get a big burst of sweetness in your mouth. Farmers' markets are a great place to find fresh ripe strawberries. If you're making this in the autumn or winter, you can use frozen ones.
If you decide to give this recipe a try, let me know! Leave a comment below and rate it – it's really helpful to me and the other readers. And don't forget to take a picture and tag it #thegourmetlarder on Instagram! I love seeing what you come up with 🙂
RECIPE HIGHLIGHTS
Ease: easy.
Diet: this recipe is free from gluten, for sugar-free options, please refer to my variations section.
Great for: everyday dessert, weekend baking, BBQ, friends and family visiting.
Taste and texture: a light, creamy, fruity ice cream.
Serving: delicious served with additional fresh fruit or a summer berry coulis.
---
WHAT LARDER INGREDIENTS WILL I NEED FOR THIS RECIPE?
For this recipe all you need are these ingredients:
Fresh strawberries – are the summer hero of this recipe. Look for good quality, ripe ones from farmers' markets.
Caster or granulated white sugar – sweetens the semifreddo just a little.
Strawberry liquor (optional) – adds an extra boost of flavour.
Double cream or whipping – strawberries and cream, one of the best combinations.
Vanilla extract or vanilla paste – adds flavour and enhances the other ingredient flavours.
Eggs – add lightness and structure to the semifreddo.
I highly recommend adding a good pinch of salt to your sweet creations. It would seem counter productive, but it's not I promise.
Salt, helps balance out the sweetness and richness. It also elevates the other ingredients, bring out the best characteristics of the recipe. In a seemingly absurd or contradictory way, salt intensifies the mouth's ability to taste sweetness. Sodium sends signals to move glucose into the sweet taste receptor cells in our tongue, triggering the cells to register sweetness. The result is that salt not only alerts our 'salt sensitivity', but also our 'sweet sensitive' taste buds.
---
---
---
WHAT VARIATIONS AND SUBSTITUTIONS CAN I MAKE?
Spices and herbs – try adding 1/2 teaspoon of cinnamon, cardamom or nutmeg to the cream. Basil or mint also adds a nice alternative flavour.
Citrus fruit – for a bit of zing, add lemon, lime, or orange zest to the sugar.
Try different fruits – this recipe works well with many other fruits. Try blueberries, raspberries, peaches, cherries or whatever's in season.
Sugar free options – if you want a healthier option replace the cane sugar with coconut sugar which contains minerals, electrolytes and has a lower-glycaemic index. Alternately, xylitol or erythritol can also be used.
Serve it with a berry coulis – simply wash, hull and quarter 250g strawberries or other soft fruits. Add 50g icing sugar and a 1/2 teaspoon of lemon juice (optional). Leave to sit for 10-15 minutes then blend into a smooth sauce using a hand blender. Finally, pass through a fine sieve for an extra an smooth finish.
If you experiment I would love to know how you get on and share it with the other readers.
---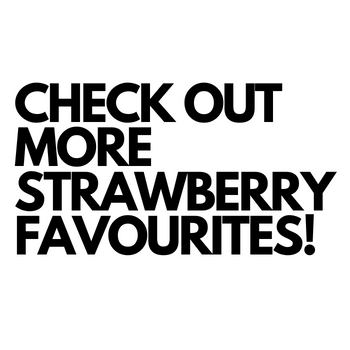 ---
NUTRITION
Serving: one slice
Nutrition information can vary for a recipe based on factors such as precision of measurements, brands, ingredient freshness, or the source of nutrition data.
I strive to keep the information as accurate as possible but make no warranties regarding its accuracy.
I encourage you to make your own calculations based on the actual ingredients used in your recipe, using your preferred nutrition calculator.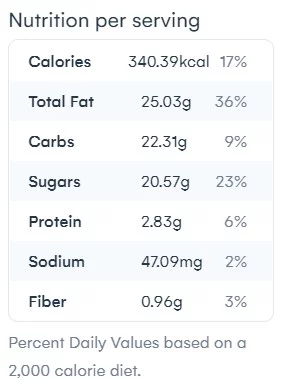 ---
STORAGE AND FREEZING
Freezing: This semifreddo is best eaten within a month. It's still perfectly edible after that, but it might start to form ice crystals through it.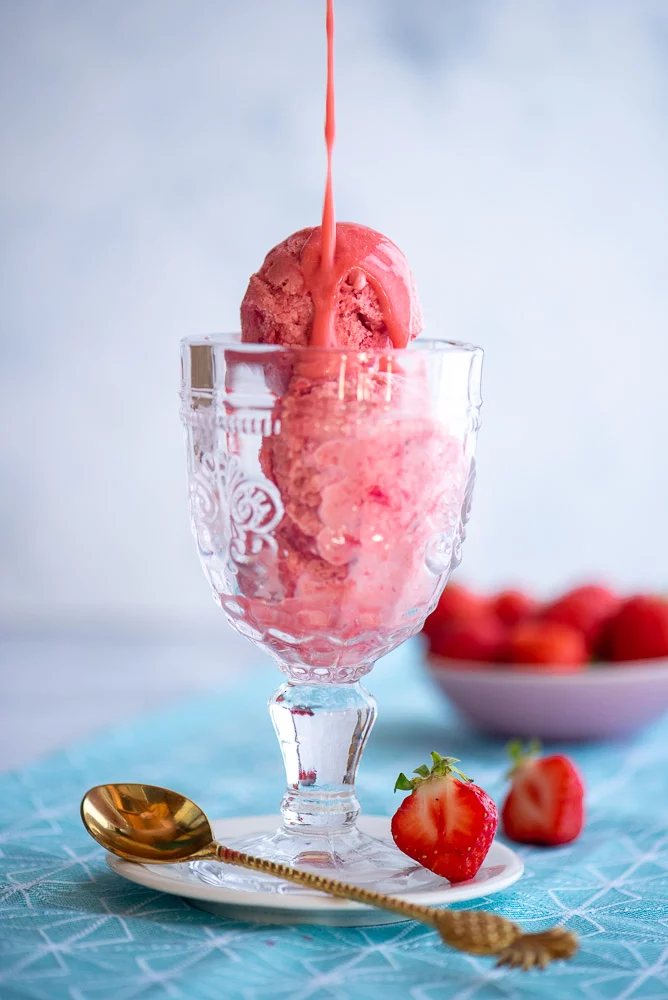 © THE GOURMET LARDER. All images and content are copyright protected.
Please read my FAQ's, if you would like to use or share any part of this post.
---
EQUIPMENT RECOMMENDATIONS
Here is a list of some kitchen equipment that I use and recommend for this recipe.
Loaf tin / pan – 900g (2 lb)
Hand blender & mini food processor
When it comes to baking, I highly recommend using metric measurements and a digital scale, rather than cup measurements. You will find it much easier, less messy and you will get far better, consistent results weighing your ingredients. 🙂
---
READY TO MAKE YOUR STRAWBERRIES AND CREAM SEMIFREDDO ?
Strawberries & Cream Semifreddo
This heavenly strawberries and cream semifreddo is super creamy and full of fresh strawberries, the perfect cooling dessert to prepare and eat on a hot summer's day.
INGREDIENTS LIST
300

g

strawberries

(washed and stalks removed)

100

g

caster or granulated white sugar

25

ml

strawberry liquor

(optional)

300

ml

double cream or heavy cream

1

tsp

pure vanilla extract or 1/4 tsp of vanilla paste

2

medium / US large

eggs

(120g)
Preparation
Line a 900g (2lb) loaf tin or earthenware dish with cling film, leaving an overhang of 5-6 cm (2 inches) on all the ends. Chill the tin / dish in the freezer at least 20 minutes before you are ready to start.

Place half the strawberries, sugar and liquor (if using) into a small saucepan over a medium heat and stir to dissolve. Simmer until reduced by half (8-10 minutes).

In a large mixing bowl, pour in the cream and vanilla extract and whip the cream at high speed until soft peaks form, about 2-3 minutes.

Return the bowl with the cream to the fridge while proceeding with the next steps.

In a large mixing bowl, beat the eggs on medium speed until foamy, about 1 minute. With the mixer running, slowly add the hot strawberry mixture into the eggs in a thin stream. Continue beating until the mixture is very light and fluffy and feels cool to the touch (approx. 8 minutes).

Cut the remaining strawberries into halves or quarters and add them to the egg mix with the whipped cream. Gently fold them in until incorporated.

Remove the prepared pan / dish from the freezer and pour or spoon the mixture into it. Cover securely with the overhanging plastic wrap and return to the freezer. Freeze until set, at least 6 hours, preferably overnight.

Unwrap and invert onto a serving plate or serve in the earthenware dish, lift off the pan and remove the plastic wrap. decorate with additional strawberries and serve immediately. Enjoy!

www.thegourmetlarder.com
ENJOY!
---
RECIPE TIPS
Avoid over-mixing the cream, as we want a nice light cream with soft peaks.
When folding in the egg whites, gently turn the mixture in on itself with a cutting motion, not stirring. I tend to use a large spoon or spatula to do this. This way, you won't loose all the air that you have spent time whisking into the eggs.
---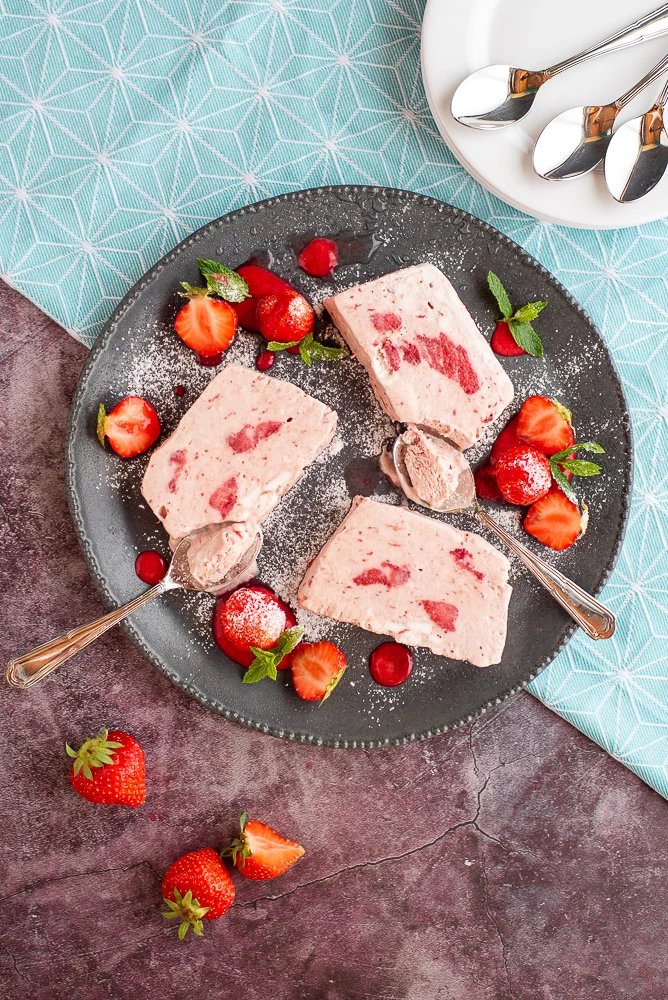 PLEASE LET ME KNOW HOW IT TURNED OUT FOR YOU!
If you tried this Strawberries & Cream Semifreddo or any other recipe on my website, please let me know how you got on in the comments below. I love hearing from you. Also, please leave a star rating whilst you're there!
Don't forget to subscribe to my newsletter, so that you don't miss out on more delicious recipes and follow me on social media.
HUNGRY FOR MORE? FOLLOW ME!
---
PIN THIS RECIPE FOR LATER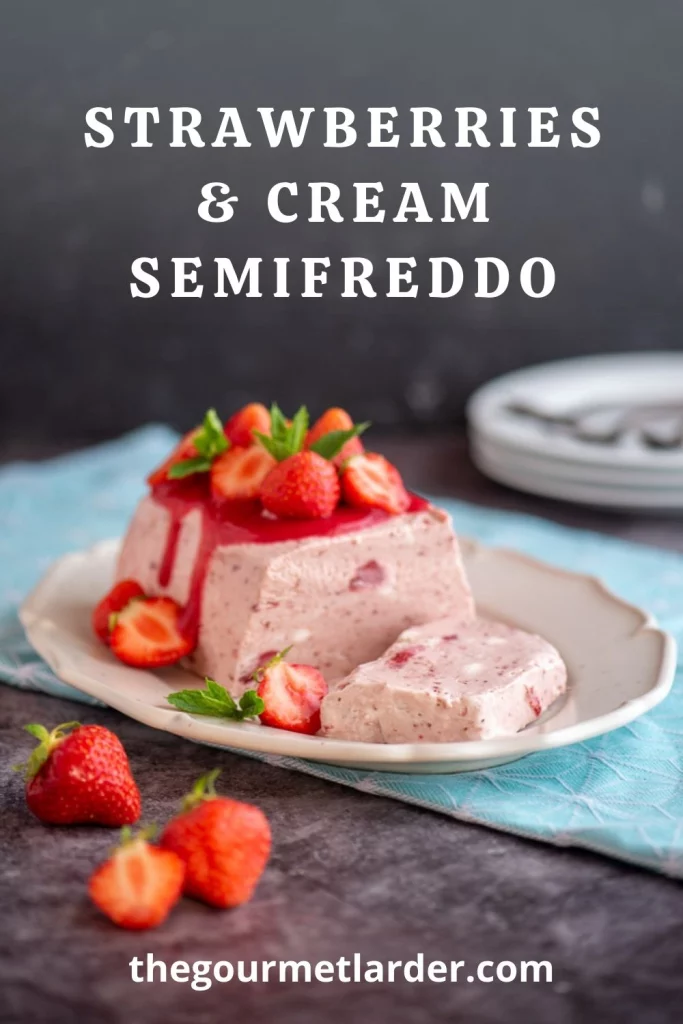 ---
If you liked this strawberries and cream semifreddo recipe,
take a look at my inspirational recipe collection for more ideas.
---
---