Strawberry & Rhubarb Crumble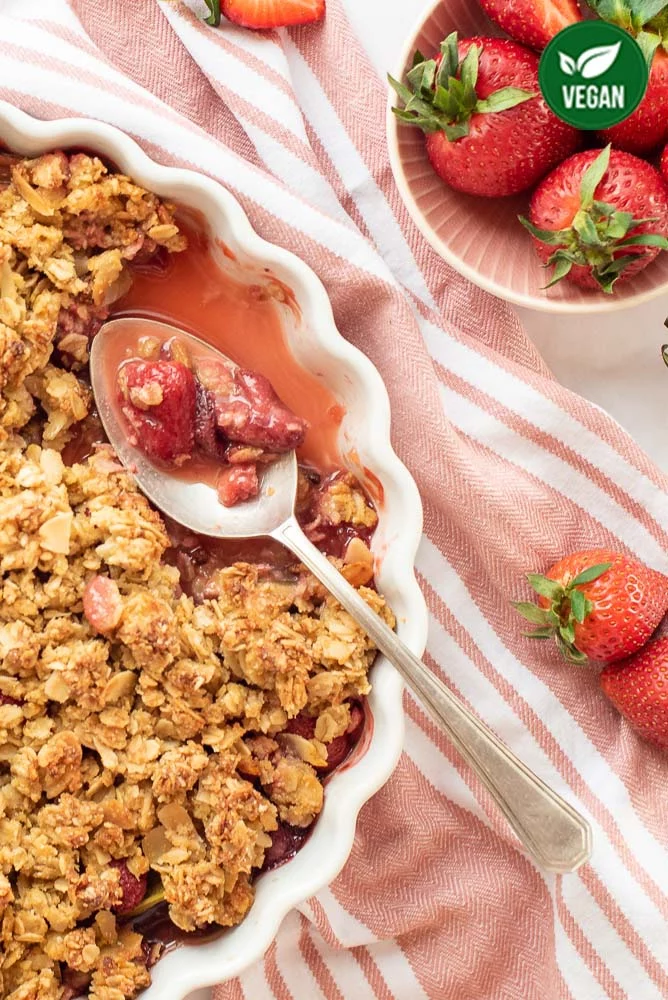 This strawberry and rhubarb crumble is so easy to make and perfect for serving after a Sunday roast with a generous portion of vanilla custard, a really comforting heavenly dessert for all the family to enjoy!
Tart rhubarb and sweet strawberries create a juicy filling with just the right amount of sweetness. All topped off with my crunchy crumble topping. Click here for the crumble topping to go with this delicious fruit filling. Plus it's vegan, gluten free and I think tastes even better than regular crumble made with flour and butter.
Fruit crumble can be made throughout the year, check out my variations section for alternative fruit and combo flavours.
If you decide to give this recipe a try, let me know! Leave a comment below and rate it – it's really helpful to me and the other readers. And don't forget to take a picture and tag it #thegourmetlarder on Instagram! I love seeing what you come up with 🙂
RECIPE HIGHLIGHTS
Ease: simple and comes together quickly.
Diet: this recipe is egg-free, dairy-free and gluten-free.
Great for: mid-week or weekend lunch, friends and family visiting.
Taste and texture: the combination of juicy sweet strawberries and tangy rhubarb with a crunchy oat crumble.
Serving: can be served hot or cold served with custard, cream or ice cream.
---
WHAT LARDER INGREDIENTS WILL I NEED FOR THIS RECIPE?
For this recipe all you need are these ingredients:
Crumble oat topping – is the perfect vegan and gluten free crumble topping for this dessert.
Strawberries and rhubarb – are the two-star fruits in this recipe that create the most amazing combination from sweet and tart flavours.
Fresh lemon juice – is optional but helps to soften and elevate the rhubarb's flavour.
Light brown sugar – adds sweetness and a light caramel flavour to the fruit.
Cornflour (US cornstarch) – is gluten-free and used as a thickening agent to create a delicious sauce from the fruit's juices during baking.
I highly recommend adding a good pinch of salt to your desserts. It would seem counter productive, but it's not. Salt, helps balance out the sweetness and richness. It also elevates the other ingredients, bring out the best characteristics of any recipe. In a seemingly absurd or contradictory way, salt intensifies the mouths ability to taste sweetness. It is the sodium that sends signals to move glucose into the sweet taste receptor cells in our tongue. The result is that salt not only alerts our 'salt sensitivity', but also our 'sweet sensitive' taste buds.
---
---
WHAT VARIATIONS AND SUBSTITUTIONS CAN I MAKE?
Crumble flavour variation – ideas are available in the variations section of the crumble recipe.
Fruits – can be combined in so many different ways to create something different throughout the year. Try some of these combos: pear, peach and ginger, apple and blackberry, spiced plum with star anise, rhubarb and elderberry.
Sugar free – is not really an option with crumble. Sugar creates that crunchy texture, if you want a healthier option replace the sugar with coconut sugar which contains minerals, electrolytes and has a lower-glycaemic index.
If you experiment, I would love to know how you get on and share it with the other readers.
---
---
NUTRITION
Serving: per serving including crumble topping
Nutrition information can vary for a recipe based on factors such as precision of measurements, brands, ingredient freshness, or the source of nutrition data.
I strive to keep the information as accurate as possible but make no warranties regarding its accuracy.
I encourage you to make your own calculations based on the actual ingredients used in your recipe, using your preferred nutrition calculator.
---
STORAGE AND FREEZING
This crumble will keep well for up to 5 days in the fridge and can be reheated before serving.
Freezing: Due to the crisp crumble this dessert does not freeze well.
© THE GOURMET LARDER. All images and content are copyright protected.
Please read my FAQ's, if you would like to use or share any part of this post.
---
EQUIPMENT RECOMMENDATIONS
Here is a list of some kitchen equipment that I use and recommend for this recipe.
When it comes to baking, I highly recommend using metric measurements and a digital scale, rather than cup measurements. You will find it much easier, less messy and you will get far better, consistent results weighing your ingredients. 🙂
---
READY TO MAKE YOUR STRAWBERRY & RHUBARB CRUMBLE ?
HAPPY BAKING!
Strawberry & Rhubarb Crumble
This strawberry and rhubarb crumble is so easy to make and perfect for serving after a Sunday roast with a generous portion of vanilla custard, a really comforting heavenly dessert to enjoy for all the family!
INGREDIENTS LIST
Crumble oat topping
1

crumble oat topping

(see top of blog for recipe)
Strawberry & rhubarb filling
400

g

rhubarb

(cut into slices 3cm thick)

400

g

strawberries

(left whole)

2

tbsp

fresh lemon juice

100

g

light brown sugar

2

tbsp

cornstarch
Preparation
Preheat oven to 160°C fan / 350°F / Gas 4.

In a medium mixing bowl, mix together the chopped rhubarb, brown sugar, lemon juice and cornflour.

Leave to marinate while you prepare all the other ingredients.

Crumble topping: Make the crumble topping as per the recipe.

Filling: Wash and remove the stalks from the strawberries, then add them to the rhubarb mix.

Fill a flan dish or suitable baking dish with the fruit filling. Please refer to my equipment recommendations for ideas.

Scatter the crumble topping over the top.

Baking: Place in the pre heated oven for 35-40 minutes until golden brown.

Leave to cool for 10 minutes. and then serve with vanilla custard or cream.

www.thegourmetlarder.com
---
RECIPE TIPS
Marinating the rhubarb – allows the rhubarb to become more tender. Only add the strawberries once you are ready to assemble the crumble, there is no need to marinate the strawberries as they will just become too mushy.
---
PLEASE LET ME KNOW HOW IT TURNED OUT FOR YOU!
If you tried this Strawberry & Rhubarb Crumble or any other recipe on my website, please let me know how you got on in the comments below. I love hearing from you. Also, please leave a star rating whilst you're there!
Don't forget to subscribe to my newsletter, so that you don't miss out on more delicious recipes and follow me on social media.
HUNGRY FOR MORE? FOLLOW ME!
---
PIN THIS RECIPE FOR LATER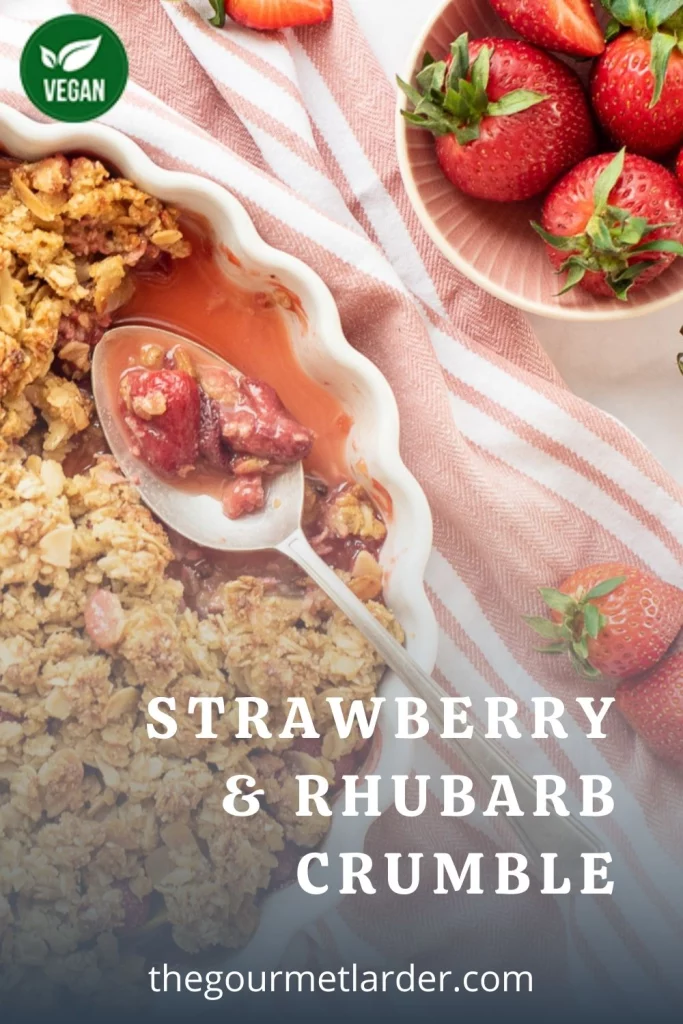 ---
If you liked this strawberry and rhubarb crumble recipe,
take a look at my inspirational recipe collection for more ideas.
---
---