These homemade brioche burger buns are incredibly soft, fluffy and easy to make! – Nothing competes! Just fill them with your favourite patty, caramelised onions, crunchy lettuce, a slice of tomato and some pickled gherkins.
With the weather warming up, this weekend we decided to have a BBQ here in Hungary. One of the family favourites is a nice juicy burger and I like to make these buns, which you absolutely have to give a try.
They are really quite easy to make especially if you have a stand mixer. You can also knead the dough by hand but you might be tempted to add more flour as it is very soft and sticky, DON'T DO IT ! Stick to the recipe, more flour will produce a tough bun.
Additionally, the flavour possibilities are endless and so easy. Check out my variations section for making onion and herb or cheese buns!
Next time you want to grill some burgers, elevate your burger game with this homemade bun recipe. Plus they freeze beautifully, so be ready to enjoy a summer BBQ, make a couple of batches and load up the freezer.
If you like the sound of these fabulous burger buns, you might also like my pita bread or my naan bread recipes.
RECIPE HIGHLIGHTS
Ease: simple. They just require a little patience, while waiting for the dough to rest.
Great for: weekend baking and perfect for freezing so they are always at hand.
Taste: deliciously rich and buttery.
Texture: light, soft and fluffy.
Serving: perfect accompaniment to the summer BBQ for all your favourite burgers.
---
WHAT LARDER INGREDIENTS WILL I NEED FOR THIS RECIPE?
For this recipe all you need are these 8 ingredients:
Milk – this is one of those key ingredients when making an enriched dough.
Fresh or dried yeast – ferments the sugars in the flour and releases carbon dioxide, but because the dough is elastic and stretchable the carbon dioxide cannot escape, causing the dough to rise.
Strong white bread or all-purpose flour – is made from hard, high-protein varieties of wheat, which have a higher gluten content than other flours. Gluten is the substance that makes the dough more elastic and stretchable, giving the final baked product its fluffiness and lightness.
Sea salt – elevates the other ingredients and brings out the best characteristics of these buns.
Caster or granulated white sugar – is more to help feed the yeast than to add sweetness.
Butter – again is a key ingredient to an enriched dough, giving it that rich butter flavour and shine to the finished bun.
Egg – another key ingredient to an enriched dough, helping to build structure and flavour.
Sesame seeds – add a little flavour and decoration to the final burger bun.
---
USING FRESH OR DRIED YEAST
I try to include both fresh and dried yeast quantities in all my recipes, but if you need further guidance on the type and quantity of yeast to use in a recipe, please read my guide: Using fresh or dried yeast
---
WHAT VARIATIONS AND SUBSTITUTIONS CAN I MAKE?
Whole-wheat buns – simply substitute three quarters of the flour with whole wheat flour.
Flavoured buns –
Cheese – add 100g / 1/2 cup of grated cheddar cheese with the flour prior to mixing. After the final rise, brush each bun with the egg wash and top with more grated cheese, around 1 tbsp per bun. Bake as per the method in the recipe.
Onion – add 1 teaspoon of onion powder to the flour prior to mixing the dough. You can also add 1 teaspoon of herbes de Provence or rosemary if you like.
Gluten free – you could try a 1:1 gluten-free bread flour, although I have not tested it yet.
Dairy free – the butter and milk can be replaced with vegan versions but the egg is what makes this an enriched traditional bread. Unfortunately, it is not easily replaced without it becoming just a classic bread recipe.
Sugar free – the sugar can be omitted completely, alternatively try using coconut sugar or honey instead.
If you experiment, I would love to know how you get on and share it with the other readers.
---
NUTRITION
Serving: one bun
Nutrition information can vary for a recipe based on factors such as precision of measurements, brands, ingredient freshness, or the source of nutrition data.
I strive to keep the information as accurate as possible but make no warranties regarding its accuracy.
I encourage you to make your own calculations based on the actual ingredients used in your recipe, using your preferred nutrition calculator.
---
STORAGE AND FREEZING
These buns are best eaten on the day or will keep reasonably fresh in an airtight container for a day or two. If they start getting tired you could slice them in half and toast them – which I like to do for my burgers even when fresh.
Freezing: These buns freeze beautifully for up to 2 months! Simply remove the buns from the freezer and they will be ready to use in about 30 minutes.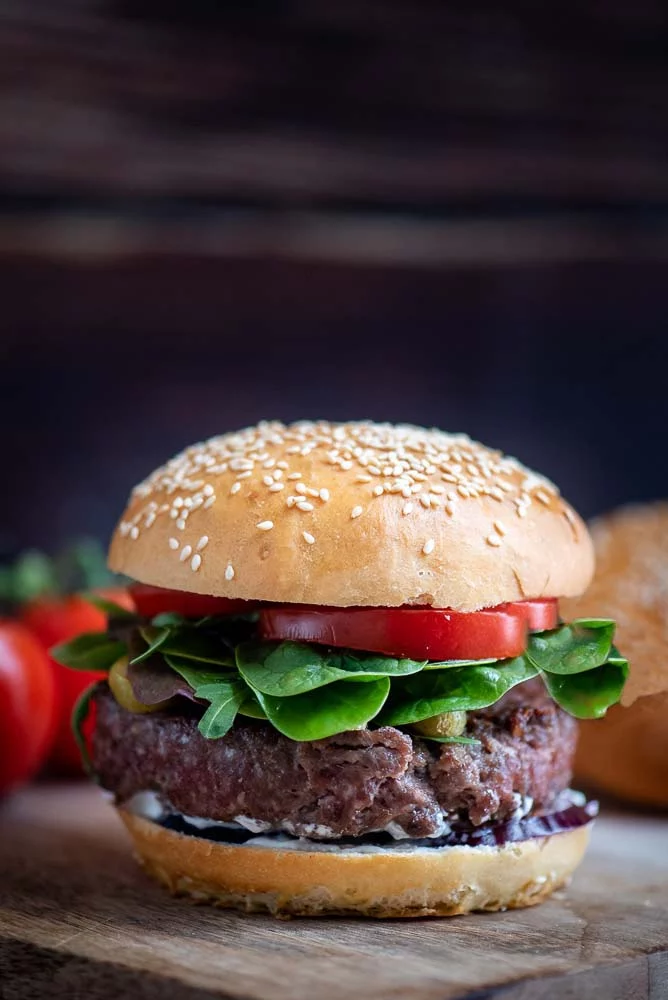 © THE GOURMET LARDER. All images and content are copyright protected.
Please read my FAQ's, if you would like to use or share any part of this post.
---
EQUIPMENT RECOMMENDATIONS
Here is a list of some kitchen equipment that I use and recommend for this recipe.
When it comes to baking, I highly recommend using metric measurements and a digital scale, rather than cup measurements. You will find it much easier, less messy and you will get far better, consistent results weighing your ingredients. 🙂
---
READY TO MAKE YOUR BRIOCHE BURGER BUNS ?
HAPPY BAKING!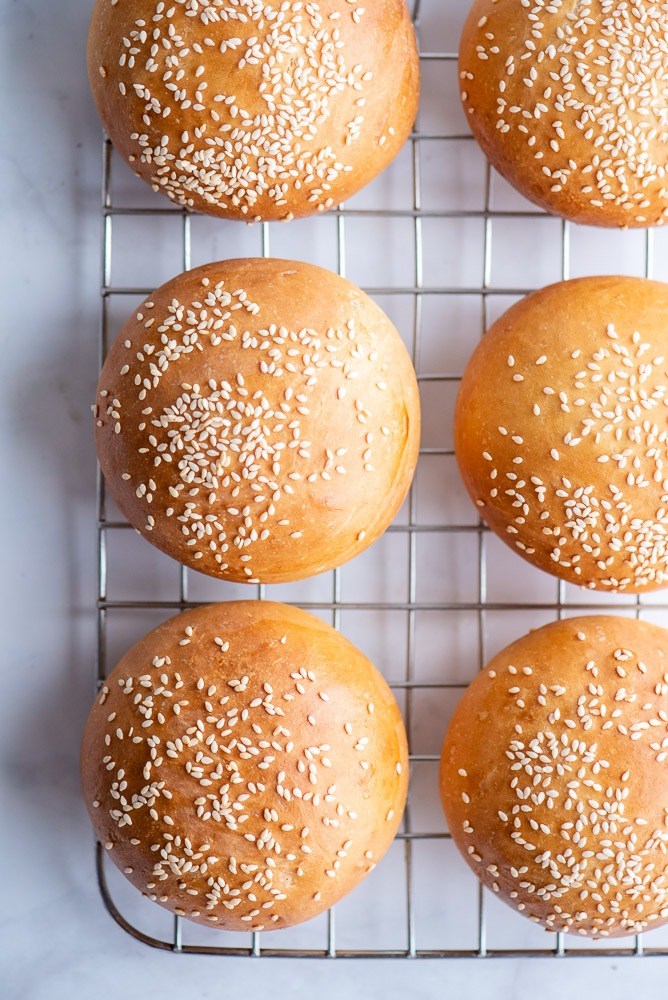 Brioche Burger Buns
These homemade brioche burger buns are incredibly soft, fluffy and easy to make! – Nothing competes! Just fill them with your favourite patty, caramelised onions, crunchy lettuce, a slice of tomato and some pickled gherkins.
INGREDIENTS LIST
170

ml

milk

(lukewarm)

15

g

fresh yeast

(5g / 1 tsp dried yeast)

300

g

strong white bread flour or all-purpose

1

tsp

fine sea salt

(5g)

1

tsp

caster or granulated sugar

(5g)

20

g

butter

(at room temperature)

1

medium/US large

egg
Topping
1

tsp

sesame seeds

(or seeds of your choice)

1

tsp

cold water*

1.5

tbsp

butter

(melted)
Preparation
Yeast: In a small saucepan, heat the milk gently until it reaches body temperature 37°C/98°F. You should be able to comfortably put your finger in it and hold it there. If it's too hot it will kill the yeast.

Remove from the heat and stir in the yeast. Set aside until needed.

In a large mixing bowl or stand mixer, add together the flour, salt, sugar and butter.

In a small bowl whisk the egg and reserve one tablespoon for the egg wash. Make a well in the centre of the flour and add the remaining egg and yeast mixture.

Use your hands or stand mixer to knead the dough to make a smooth, soft dough (approx. 5-8 minutes by hand). The dough will be quite sticky and you might be tempted to add more flour, DON'T DO IT !

First prove: Cover with a damp cloth and leave to rise in a dry place for about 1 – 2 hours until it has at least doubled in size. (You can also place it in the oven with it turned off and only the light on.)

To shape the buns: Gently deflate the dough and divide it into six pieces and shape each piece into a ball.

Place the balls onto a lined baking tray or silicone mat and flatten each ball with your three middle fingers. This will stop them being skinny and tall, and more bun shape.

Second prove: Cover with a damp cloth and let rise again until doubled in size and puffy (approx. 45-60 minutes).

Preheat the oven 180°C fan / 400°F / Gas 6.

Add 1 teaspoon of cold water to the egg wash reserved earlier and brush each of the buns. Sprinkle the buns with sesame seeds.

Baking: Place in the oven for 16-18 minutes, until golden. Remove them from the oven and brush very gently with the melted butter, avoid brushing the seeds off the buns. This will give the buns a satiny, buttery crust.

www.thegourmetlarder.com
---
RECIPE TIPS
Avoid adding additional flour: to get the best results, you want to avoid as best you can add additional flour when kneading. This type of bread dough is very soft and sticky and adding more flour will cause the buns to be heavy and tough. Kneading helps to work the gluten, which is crucial to the texture and crumb of these buns. Set a timer and watch some Netflix while kneading to help the time go by faster.
Proving the dough: these buns have two proofs which are essential, so be patient. In summer it will probably rise more quickly. These separate proves help ensure light, beautiful, rounded buns.
Identical sized buns: this is not super important but if you want to have equal sized rolls like me, weigh the whole dough and then divide the total weight by 6. Mine are usually around 85-90g each.
Even egg wash: be sure to brush the whole bun around and right to the bottom. Not only will this ensure your seeds stick but any bare spots left from your brushing will leave pale areas on the finished buns. You may be able to see this in some of my pictures. Nobody is perfect 🙂
---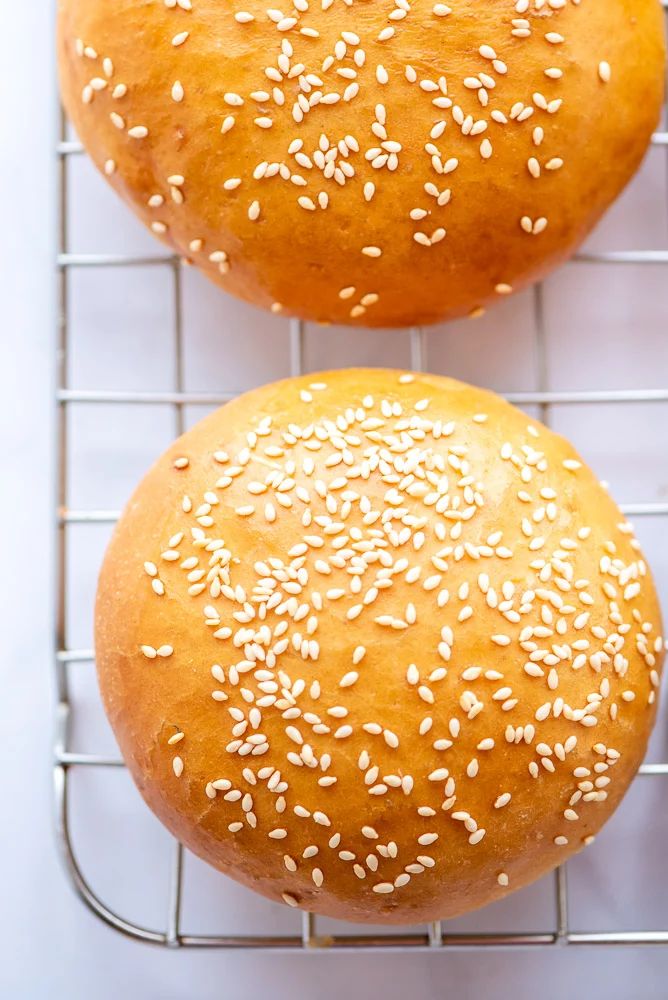 PLEASE LET ME KNOW HOW IT TURNED OUT FOR YOU!
If you tried these Brioche Burger Buns or any other recipe on my website, please let me know how you got on in the comments below. I love hearing from you. Also, please leave a star rating whilst you're there!
Don't forget to subscribe to my newsletter, so that you don't miss out on more delicious recipes and follow me on social media.
HUNGRY FOR MORE? FOLLOW ME!
---
PIN THIS RECIPE FOR LATER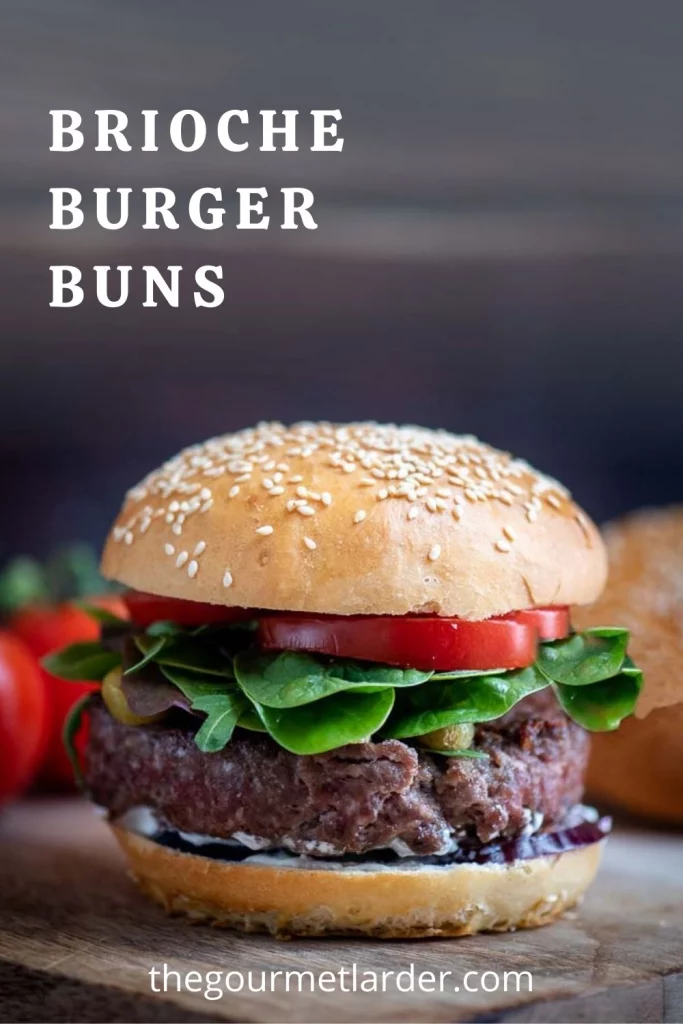 ---
If you liked this brioche burger bun recipe,
take a look at my inspirational recipe collection for more ideas.
You'll also find a lot more brilliant bread recipes as well.
---
---