Raspberry Passion Fruit Tiramisu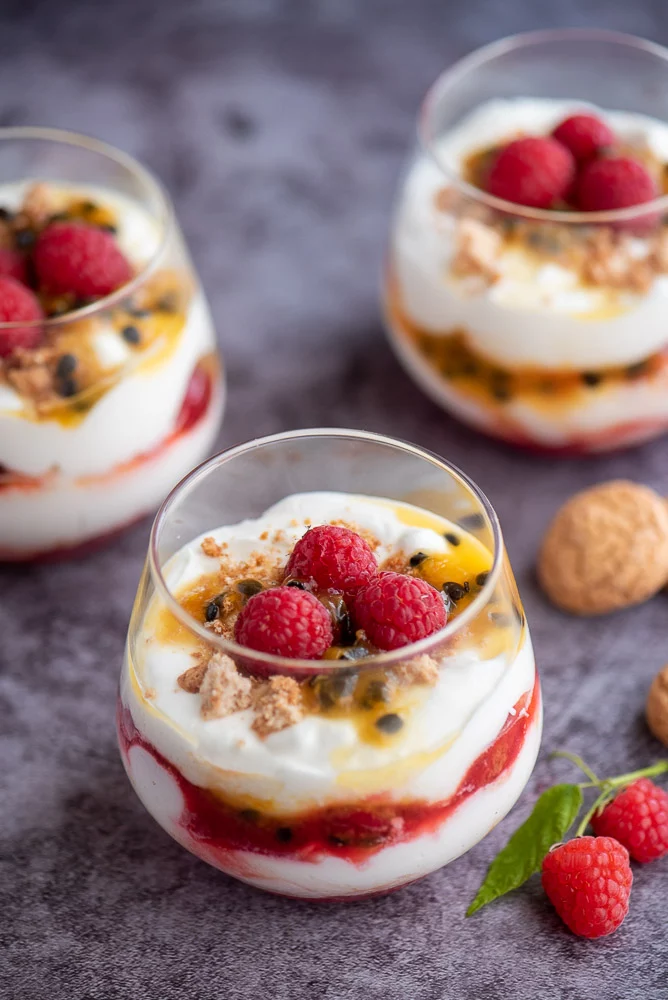 A summer twist on the Italian classic, this raspberry passion fruit tiramisu is fruity, light, and creamy. Plus, it can be made in just 25 minutes and there is no baking involved.
Tiramisu is one of the most famous Italian desserts in the world, born in Treviso, near Venice. This tantalising version I developed a while ago and have been eagerly waiting for the raspberries and passion fruit to be in season, so I can share it with you. Don't despair, if you want to make this dessert when both raspberries and passion fruit are not in season then you can use frozen raspberries and tinned passion fruit pulp instead.
One other change I have made, is to remove eggs from the recipe. Traditional Tiramisu contains eggs in the cream but, due to the debate over eating raw eggs, I decided to avoided using them or go through the extra steps of tempering them. I believe this dessert still tastes amazing without impacting on flavour.
This recipe is perfect for a romantic meal for two or family gatherings. Simply half the recipe for two or you can double it to make a large dish for eight or more.
For some other inspirational ideas for this recipe check out my variations section for more details.
If you like this recipe, check out my strawberry chiffon cake, mango passion fruit cake or my strawberry mascarpone roulade.
If you decide to give this recipe a try, let me know! Leave a comment below and rate it – it's really helpful to me and the other readers. And don't forget to take a picture and tag it #thegourmetlarder on Instagram! I love seeing what you come up with 🙂
RECIPE HIGHLIGHTS
Ease: easy, no-bake
Diet: this recipe does not contain raw eggs. Please refer to my variations section regarding gluten-free options.
Great for: romantic dinner, everyday dessert, weekend baking, BBQ's, picnics, friends and family visiting.
Taste and texture: a delicious light creamy dessert with amaretti biscuits, raspberries and passion fruit.
Serving: this recipe makes four large individual portions.
---
WHAT LARDER INGREDIENTS WILL I NEED FOR THIS RECIPE?
For this recipe all you need are these ingredients:
Fresh raspberries – are the hero of this recipe and add the perfect summer taste to this dessert.
Caster or icing sugar – is used to sweeten the raspberry syrup and mascarpone cream just a little. I use icing sugar or powdered sugar in the cream so that the finished cream is smooth and not gritty.
Limoncello – is an Italian liqueur produced from lemon peel and adds a little sharpness to the raspberry syrup. If you want an alcohol free version just omit it or alternatively, add a little lemon juice.
Mascarpone – creates that creamy filling, so famous in Tiramisu.
Whipping or double cream – helps to lighten the mascarpone cream.
Pure vanilla extract or vanilla paste – adds flavour and enhances the other ingredient flavours.
Passion fruit – also known as maracuja, gives a tart and fruity exotic flavour to the dessert. If you get a medium-ripe one, it's both tart and sweet but primarily tart.
Amaretti biscuits – are deliciously crunchy and have a distinct intense marzipan type flavour. A beautiful match for this dessert. Alternatively, use sponge fingers or savoiardi, or ladyfingers as you might hear them called in the UK.
I highly recommend adding a good pinch of salt to your desserts. It would seem counter productive, but it's not. Salt, helps balance out the sweetness and richness. It also elevates the other ingredients, bring out the best characteristics of any recipe. In a seemingly absurd or contradictory way, salt intensifies the mouths ability to taste sweetness. It is the sodium that sends signals to move glucose into the sweet taste receptor cells in our tongue. The result is that salt not only alerts our 'salt sensitivity', but also our 'sweet sensitive' taste buds.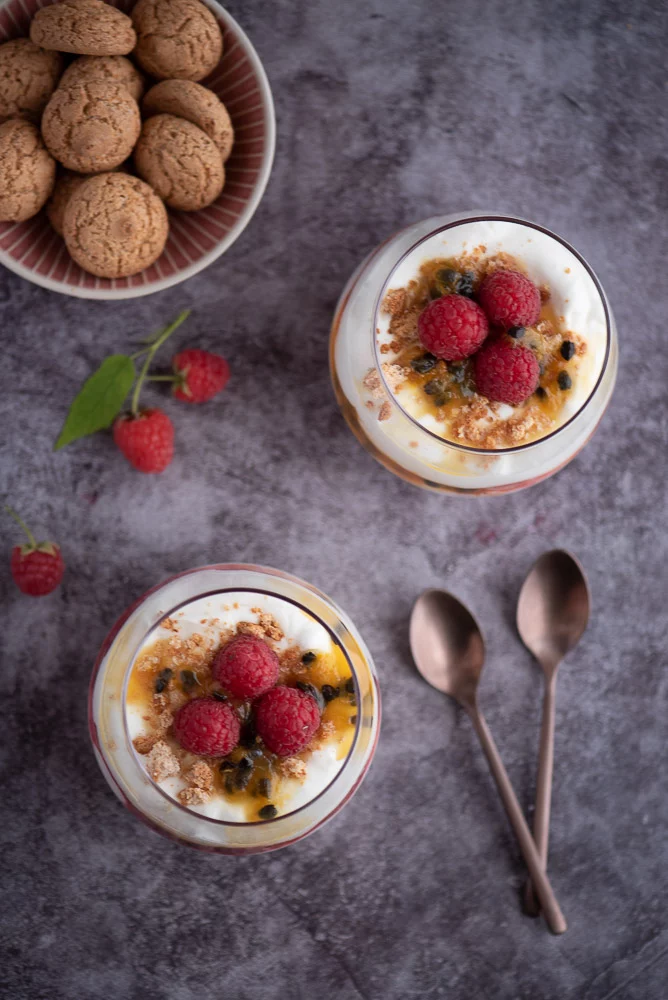 ---
WHAT VARIATIONS AND SUBSTITUTIONS CAN I MAKE?
Can I make this tiramisu alcohol free? – yes of course! Just omit the limoncello from the raspberry syrup. Alternatively, add a little water or some lemon juice.
Is there an alternative alcohol I could use? – if you can't find limoncello or would simply prefer an alternative, try marsala instead.
Use other fruits – this tiramisu would work well with strawberries or mango as well, and they can also be used frozen. Simply omit from the decoration and use some of the crushed amaretti or a little cocoa dusted over the top.
Gluten free – make sure to use gluten-free amaretti biscuits or sponge fingers.
Sugar options – if you want a healthier option replace the cane sugar with coconut sugar which contains minerals, electrolytes and has a lower-glycaemic index. Alternately, xylitol or erythritol can also be used. As this recipe uses a low amount of sugar and it is only used to sweeten, honey or maple syrup can make great alternatives.
If you experiment, I would love to know how you get on and share it with the other readers.
---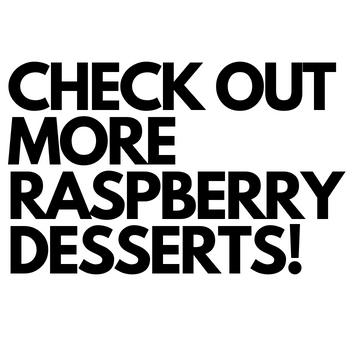 ---
NUTRITION
Serving: one serving
Nutrition information can vary for a recipe based on factors such as precision of measurements, brands, ingredient freshness, or the source of nutrition data.
I strive to keep the information as accurate as possible but make no warranties regarding its accuracy.
I encourage you to make your own calculations based on the actual ingredients used in your recipe, using your preferred nutrition calculator.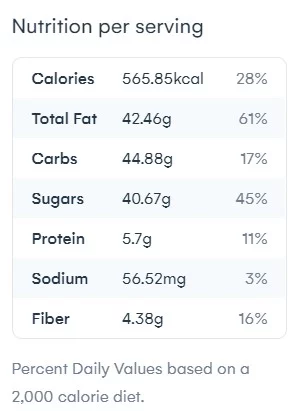 ---
STORAGE AND FREEZING
This tiramisu is best kept in the fridge and eaten within 2-3 days.
Freezing: The dessert is not suitable for freezing, but it can be made in advance and kept in the fridge.
© THE GOURMET LARDER. All images and content are copyright protected.
Please read my FAQ's, if you would like to use or share any part of this post.
---
EQUIPMENT RECOMMENDATIONS
Here is a list of some kitchen equipment that I use and recommend for this recipe.
Hand blender & mini food processor
Alternatively, double the recipe and use a ceramic dish like this:
Ceramic rectangle dish 25 x 19cm
---
READY TO MAKE YOUR RASPBERRY PASSION FRUIT TIRAMISU ?
Raspberry Passion Fruit Tiramisu
Servings:
4
large portions
A summer twist on the Italian classic, this raspberry passion fruit tiramisu is fruity, light, and creamy. Plus, it can be made in just 25 minutes and there is no baking involved.
INGREDIENTS LIST
Raspberry syrup
125

g

fresh raspberries

50

g

caster or granulated white sugar

25

g

water

25

g

limoncello

(optional)
Mascarpone cream
150

g

mascarpone cheese

250

ml

whipping or double cream

30

g

icing sugar (US powdered sugar)

1

tsp

pure vanilla extract or 1/4 tsp of vanilla paste
Filling and decoration
125

g

fresh raspberries

100

g

passion fruit pulp

(4-5 pieces or from a can)

80

g

amaretti biscuits

(I used 6 small biscuits per serving. Alternatively, you can use sponge fingers.)
Preparation
Raspberry syrup: In a small saucepan, add the raspberries, sugar and water, bring to a simmer for 1 minute. The raspberries will break down and the sugar will dissolve.

Remove from the heat and use a hand blender to break down the raspberries and then pass the mixture through a sieve to remove the seeds. (If you don't have a hand blender pushing the mixture through a sieve will also break down the raspberries.)

Add the limoncello (if using) and then leave to cool on the side.

Mascarpone cream: In a medium bowl, whisk the mascarpone with the cream, vanilla and sugar, until it becomes thick and forms soft peaks.

Assembly: Organise the raspberries for decorating by placing 2-3 pieces aside. The rest you can use for the middle of the tiramisu shortly.Soak twelve amaretti biscuits in the raspberry syrup and then place three into the bottom of your four glasses. If you are using sponge fingers break them in half and use two halves in each glass.

Add a teaspoon of passion fruit pulp on top and then divide half the mascarpone cream between the four glasses.

Repeat a layer of twelve amaretti biscuits or sponge fingers and this time two teaspoons of passion fruit.

Scatter the whole raspberries reserved for the middle and then top with the remaining mascarpone cream. Smooth off the cream around the edges. Place in the fridge to chill for 1-2 hours.

Decoration: Crush 2-3 amaretti biscuits or a sponge finger and sprinkle the crumbs over the top of each glass. Place your reserved raspberries on top and finally a teaspoon of passion fruit to finish.
TOOLS YOU'LL NEED
4 glass tumblers or double the recipe and use a ceramic dish

www.thegourmetlarder.com
ENJOY!
---
RECIPE TIPS
Remove the mascarpone from the fridge half an hour before starting, this will avoid it being lumpy when mixing it with the cream.
This dessert is perfect for making in advance, I would suggest only decorating it prior to serving, to avoid the passion fruit drying out.
---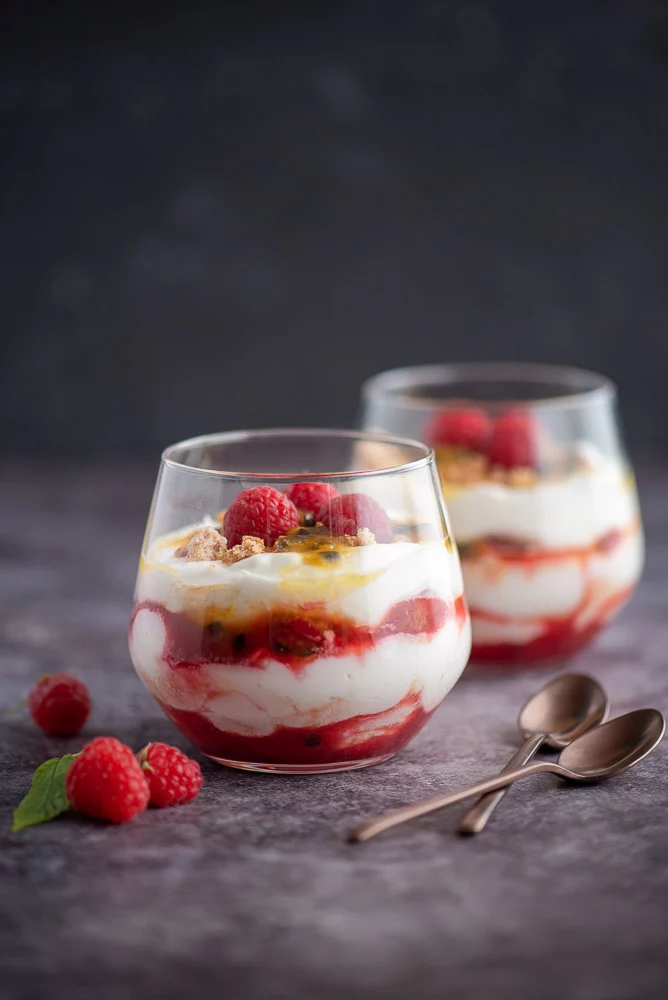 PLEASE LET ME KNOW HOW IT TURNED OUT FOR YOU!
If you tried these Raspberry Passion Fruit Tiramisu or any other recipe on my website, please let me know how you got on in the comments below. I love hearing from you. Also, please leave a star rating whilst you're there!
Don't forget to subscribe to my newsletter, so that you don't miss out on more delicious recipes and follow me on social media.
HUNGRY FOR MORE? FOLLOW ME!
---
PIN THIS RECIPE FOR LATER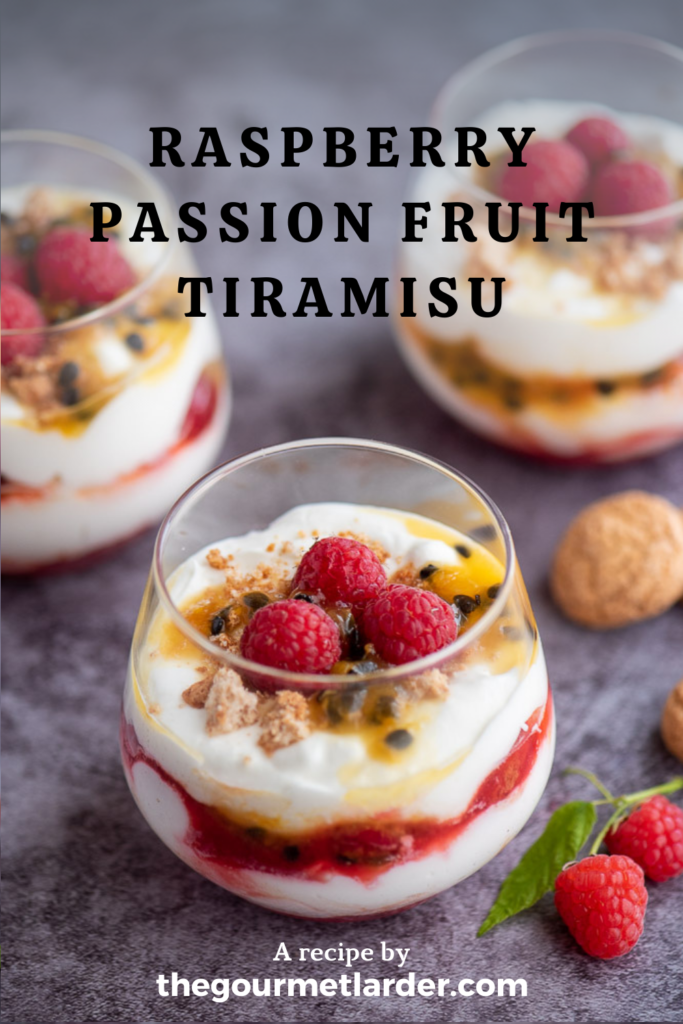 ---
If you liked this raspberry passion fruit tiramisu recipe,
take a look at my inspirational recipe collection for more ideas.
---
---