Rhubarb Marzipan Cake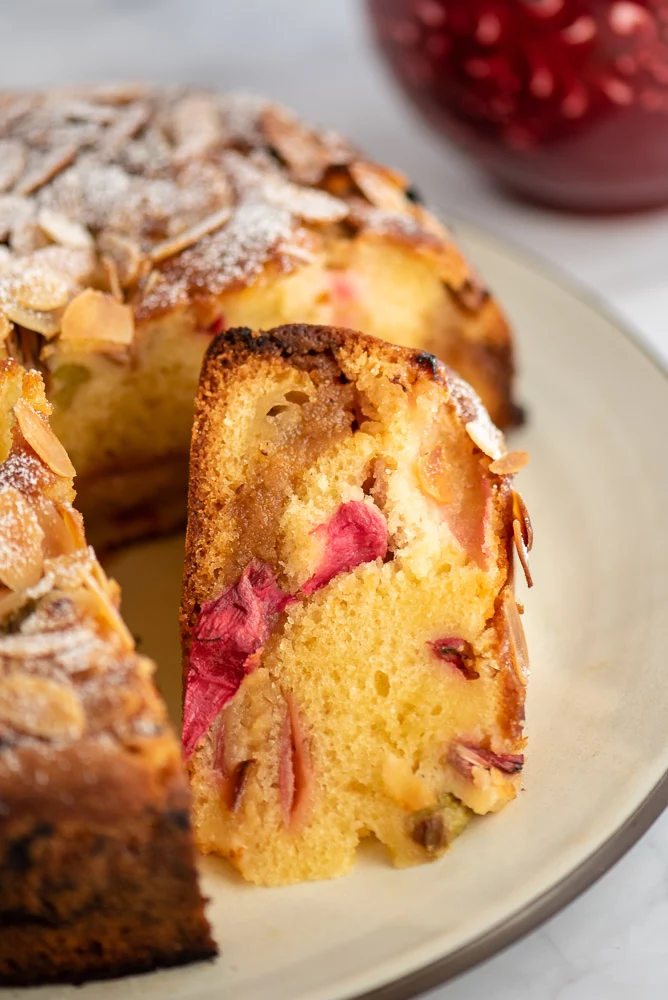 This rhubarb marzipan cake has a light, moist vanilla sponge with tender rhubarb throughout and a layer of delicious sweet marzipan in the centre.
As a kid we often had rhubarb desserts as it grew in abundance in the garden. Not one of my favourite fruits as a child because of its tangy sour taste and I don't think I was alone. It has slowly become more popular, combining it with strawberries in pies has become a big hit and my strawberry rhubarb crumble is one of the family favourites. This time I am paring it with marzipan, store bought or home-made it adds a sweet caramel flavour, blending beautifully with the sourness of the rhubarb and creating a moist cake.
If you want to add some further flavour twists, take a look at my variations section.
If you decide to give this a try, let me know! Leave a comment and rate it – it's really helpful to me and the other readers. And don't forget to take a picture and tag me @thegourmetlarder and #thegourmetlarder on Instagram! I love seeing what you come up with. 🙂
RECIPE HIGHLIGHTS
Ease: easy.
Diet: options available in the VARIATIONS section.
Great for: everyday dessert, weekend baking, friends and family visiting.
Taste and texture: a light, moist vanilla sponge, tender, tangy rhubarb and sweet marzipan.
Serving: delicious just served on its own or with a cup of tea or coffee.
---
WHAT LARDER INGREDIENTS WILL I NEED FOR THIS RECIPE?
For this recipe all you need are these ingredients:
Plain or all-purpose flour – to build structure.
Baking powder – is a chemical leavening which increases the volume of the ingredients, helping to create a nice light texture.
Caster or granulated sugar – sweetens the cake.
Vanilla extract or vanilla paste – adds flavour and enhances the other ingredient flavours.
Eggs – add structure. Make sure they are at room temperature before using.
Neutral-tasting oil (coconut, vegetable or sunflower oil) – creates moisture, makes the cake light and lengthens the cake's life span.
Rhubarb – the star of this cake, gives it that tangy flavour, which is absolutely delicious and moist.
Marzipan (bought or home-made) – adds sweetness and notes of caramel to the cake.
Icing sugar – for rolling out the marzipan and dusting the finished cake.
Flaked almonds – gives a little texture and adds decoration to the top of the cake.
I highly recommend adding a good pinch of salt to your cakes. It would seem counter productive, but it's not. Salt helps balance out the sweetness and richness. It also elevates the other ingredients, bringing out the best characteristics of any recipe. In a seemingly absurd or contradictory way, salt intensifies the mouth's ability to taste sweetness. It is the sodium that sends signals to move glucose into the sweet taste receptor cells in our tongue, triggering the cells to register sweetness. The result is that salt not only alerts our 'salt sensitivity', but also our 'sweet sensitive' taste buds.
---
---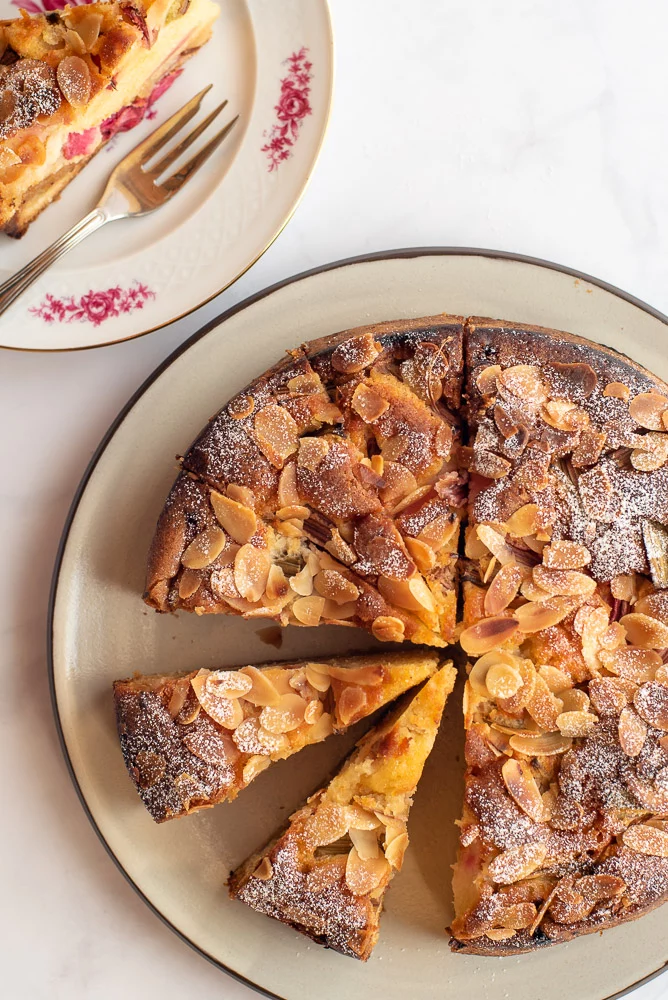 ---
WHAT VARIATIONS AND SUBSTITUTIONS CAN I MAKE?
Try some of these flavour twists.
Spices – add an exotic twist, by adding 1/2 teaspoon of cinnamon or a 1/4 tsp of ground cardamom to the cake batter. Both go really well with rhubarb.
Citrus fruit – for a bit more zing, add the finely grated zest of 1 lemon.
Oil vs butter – I use oil in this cake to give it that light, moist texture. If you don't want to use oil it can be replaced with an equal amount of butter. Simply beat the sugar and butter together first until pale and fluffy, continue mixing adding the eggs one at a time. Finally, add the baking powder and flour.
Try different fruits – this recipe works well with many other fruits. I particularly like glacier cherries or mixed peel. Fresh apricots, apple or pear also work perfectly.
Gluten free – replace the gluten flour with a 1:1 alternative gluten free flour.
Sugar free options – if you want a healthier option replace the cane sugar with coconut sugar which contains minerals, electrolytes and has a lower-glycaemic index. Alternately, xylitol or erythritol can also be used.
If you experiment I would love to know how you get on and share it with the other readers.
---
NUTRITION
Serving: one slice
Nutrition information can vary for a recipe based on factors such as precision of measurements, brands, ingredient freshness, or the source of nutrition data.
I strive to keep the information as accurate as possible but make no warranties regarding its accuracy.
I encourage you to make your own calculations based on the actual ingredients used in your recipe, using your preferred nutrition calculator.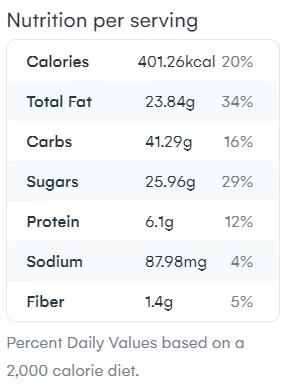 ---
STORAGE AND FREEZING
This cake will keep well for up to 5 days in an airtight container.
Freezing: This cake will freeze well, wrapped in clingfilm for up to 3 months.
© THE GOURMET LARDER. All images and content are copyright protected.
Please read my FAQ's, if you would like to use or share any part of this post.
---
EQUIPMENT RECOMMENDATIONS
Here is a list of some kitchen equipment that I use and recommend for this recipe.
When it comes to baking, I highly recommend using metric measurements and a digital scale, rather than cup measurements. You will find it much easier, less messy and you will get far better, consistent results weighing your ingredients. 🙂
---
---
READY TO MAKE YOUR RHUBARB MARZIPAN CAKE ?
ENJOY!
Rhubarb Marzipan Cake
This rhubarb marzipan cake has a light, moist vanilla sponge with tender rhubarb studded throughout and a layer of delicious sweet marzipan in the centre.
INGREDIENTS LIST
Cake
200

g

plain or all-purpose flour

1.5

tsp

baking powder

200

g

caster or granulated white sugar

1

tsp

pure vanilla extract or 1/2 tsp of vanilla paste

3

medium

eggs

200

g

neutral-tasting oil

(or butter)

350

g

rhubarb (trimmed and cut into roughly 2cm / ¾ inch lengths
Marzipan and decoration
225

g

marzipan

(bought or home-made)

2

tbsp

icing sugar – to help roll out the marzipan and dusting the cake

20

g

flaked almonds
Preparation
If you are using store bought marzipan you can move on to the next step. For a really good cake I recommend making half of my home-made marzipan recipe, you can find the recipe here.

Pre-heat the oven to 180°C fan / 400°F / Gas 6.

Line a 20cm springform pan with baking paper.

In a large bowl or food processor add all the dry ingredients for the cake. Start mixing and finally add the liquids (egg, oil and vanilla). Continue mixing until you have a nice smooth batter.

Sprinkle some icing sugar on the worktop and roll out the marzipan into a circle, roughly the same size as the pan.

Spoon half the cake batter into the prepared pan and even out the top. Scatter over half of the prepared rhubarb.

Lay the marzipan on top of the cake batter in the cake pan then add the other half of the batter and even out the top.

Scatter over the remaining rhubarb and the flaked almonds.

Baking: Place the cake on the middle shelf and bake for 1 hour 20-30 minutes, covered with kitchen foil for the first 60 minutes.

Test the cake to see if it has fully baked with a skewer or toothpick inserted into the centre. Be aware, a little marzipan may stick to the skewer meaning it doesn't come out clean, even when the cake is fully baked through.

Once baked, remove from the oven and leave to cool in the pan for about 30 minutes, then remove from the pan and transfer to a wire rack and allow to cool.

Once cooled dust with some icing sugar and serve.

www.thegourmetlarder.com
---
RECIPE TIPS
Make sure to cover the cake with foil for the first hour, this will help avoid it over browning.
A little marzipan may stick to the skewer when testing the cake to see if it has baked through. making it hard to check if it has fully cooked. Try testing in a couple of places and make sure you leave it for at least 1 hour 20 minutes as a minimum baking time.
---
PLEASE LET ME KNOW HOW IT TURNED OUT FOR YOU!
If you tried this Rhubarb Marzipan Cake or any other recipe on my website, please let me know how you got on in the comments below. I love hearing from you. Also, please leave a star rating whilst you're there!
Don't forget to subscribe to my newsletter, so that you don't miss out on more delicious recipes and follow me on social media.
HUNGRY FOR MORE? FOLLOW ME!
---
PIN THIS RECIPE FOR LATER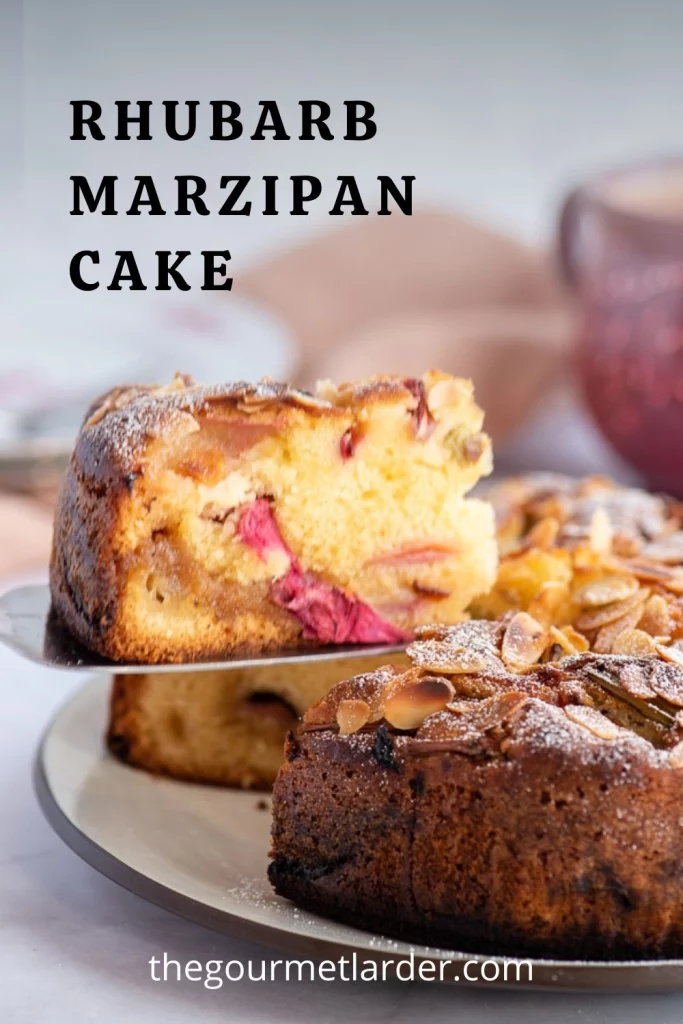 ---
If you liked this vegan rhubarb marzipan cake recipe,
take a look at my inspirational recipe collection for more ideas.
---
---