Crisp, buttery apple rose tartlets are beautiful to look at and make great little apple pies for dinner parties. A great combination of apples, cinnamon sugar and puff pastry.
Simple to create and really make a great impression on friends and family. You can use your favourite apple and they are even more delicious served with my vanilla custard.
Plus, if you want to make that extra effort you can make my flaky pastry for an even more crispy, buttery pastry taste and finish.
RECIPE HIGHLIGHTS
Ease: Easy.
Great for: Breakfast or they make a beautiful after dinner dessert.
Taste: Buttery puff pastry with sweet apples and cinnamon.
Texture: Crisp pastry with sumptuous soft, sticky apple slices.
---
EQUIPMENT SUGGESTIONS
Recommendations include:
---
RECIPE TIPS
Avoid over cooking the apple slices – they need to just be pliable enough to not break when rolling them up with the pastry.
When it comes to cakes and desserts, I highly recommend using metric measurements and a digital scale, rather than cup measurements. You will find it much easier, less messy and you will get far better, consistent results weighing your ingredients. 🙂
---
WHAT LARDER INGREDIENTS WILL I NEED FOR THIS RECIPE?
For this apple rose tartlet recipe all you need are these 8 ingredients:
Puff pastry or my flaky pastry – for that buttery, crisp bite.
Plain or all-purpose flour – for dusting the work surface, to stop the pastry dough from sticking to it.
Apples – are the heros of this recipe.
Lemon juice – stops the apples from oxidising and turning a brown colour, if the apples turn brown their nutritional value and flavour are altered.
Egg – is used to help the sugar stick to the pastry dough, alternatively, melted butter can be used.
Caster or granulated white sugar – adds sweetness.
Ground cinnamon – adds flavour.
Powdered / Icing sugar – adds refined sweetness and makes the finished dessert look nice.
I especially recommend adding a pinch of sea salt to your batters and doughs, when making desserts or baked goods. The salt elevates the other ingredient flavours and when used with restraint, does not make food taste salty, it just brings out the best characteristics of the food.
---
WHAT VARIATIONS AND SUBSTITUTIONS CAN I MAKE?
Pears – make a great alternative to apples. Choose a pear that is slightly under-ripe as pears are a lot juicier than apples.
---
NUTRITION
Serving: one tartlet
Nutrition information can vary for a recipe based on factors such as precision of measurements, brands, ingredient freshness, or the source of nutrition data.
I strive to keep the information as accurate as possible but make no warranties regarding its accuracy.
I encourage you to make your own calculations based on the actual ingredients used in your recipe, using your preferred nutrition calculator.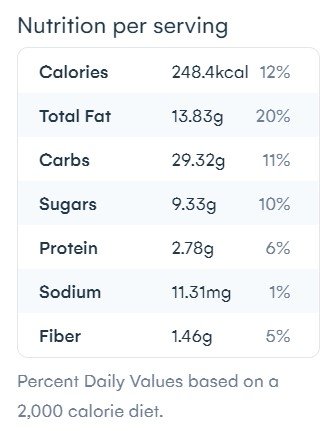 ---
STORAGE AND FREEZING OPTIONS
These tartlets are best eaten on the day while the pastry is nice and crisp, but they will keep in an airtight container inside the fridge for 3-4 days.
Freezing: They can be frozen for up to 2 months. Defrost and reheat in the oven before serving.
© THE GOURMET LARDER. All images and content are copyright protected.
Please follow my Sharing Policy if you would like to use or share any part of this post.

---
READY TO MAKE YOUR APPLE ROSE TARTLETS ?
Apple Rose Tartlets
Beautiful and easy to make, these little apple pies are perfect for entertaining friends and family.
INGREDIENTS LIST
2

packs

readymade puff pastry

(or my flaky pastry)

2

tbsp

plain or all-purpose flour

(to sprinkle the counter)

4

whole

apples

(use your favourite)

1/2

whole

lemon

(juiced)

2

tbsp

caster or granulated white sugar

1

tsp

ground cinnamon

2

tbsp

icing or powdered sugar

(for decorating)
Preparation
If you want to use my flaky pastry instead of puff pastry, check the link at the top of this blog post for the recipe.

Apples: Prepare a medium heat-proof bowl and squeeze the lemon juice inside it. Cut the apples in half and remove the core using a teaspoon spoon. Leave the skins on.

Using a mandolin or a shape knife, cut the apples into thin slices about 3mm (1/8-inch) thick. We won't be using the first couple of slices at the ends, these can be discarded. Toss the sliced apples in the bowl with lemon, so that they don't brown.

Cover the bowl with cling film and microwave for about 3 minutes, to make them slightly softer and easier to roll.

Alternatively, place them over a pan of boiling water for 10 minutes on the stove.

The apple slices should be cooked just enough to bend without breaking.

Pastry: Lightly dust your work surface with flour.

Unwrap the readymade pastry and cut out rectangles, each one being 24 x 5cm (10 × 2 inches), until you have 12 strips in total.

If using my flaky pastry, divide the dough in half and roll out one half into a 24 x 30cm (10 × 12 inches) rectangle 3mm thick. Cut the dough into six rectangles, each one being 24 x 5cm (10 × 2 inches). Repeat with the other dough until you have 12 strips in total.

Preheat the oven to 160°C fan / 350°F / Gas 4.

Lay one strip on the work surface in front of you and brush with egg wash.

Mix the sugar and the cinnamon together and sprinkle over the pastry with the egg wash and then arrange 10 apple slices along half of the strip overlapping each other.

Fold over the bottom part of the pastry tightly and press down firmly.

Gently roll up the pastry strip until it looks like a rose and then place it in a greased muffin tin.

Do the same for all the remaining 11 roses.

Baking: Place on the middle shelf for about 40-45 minutes, until dough is fully cooked.

Let rest for 5 minutes after removing from the oven, then dust with icing sugar and serve warm or cold.
Notes & Tips
Avoid over cooking the apple slices – they need to just be pliable enough to not break when rolling them up with the pastry.

www.thegourmetlarder.com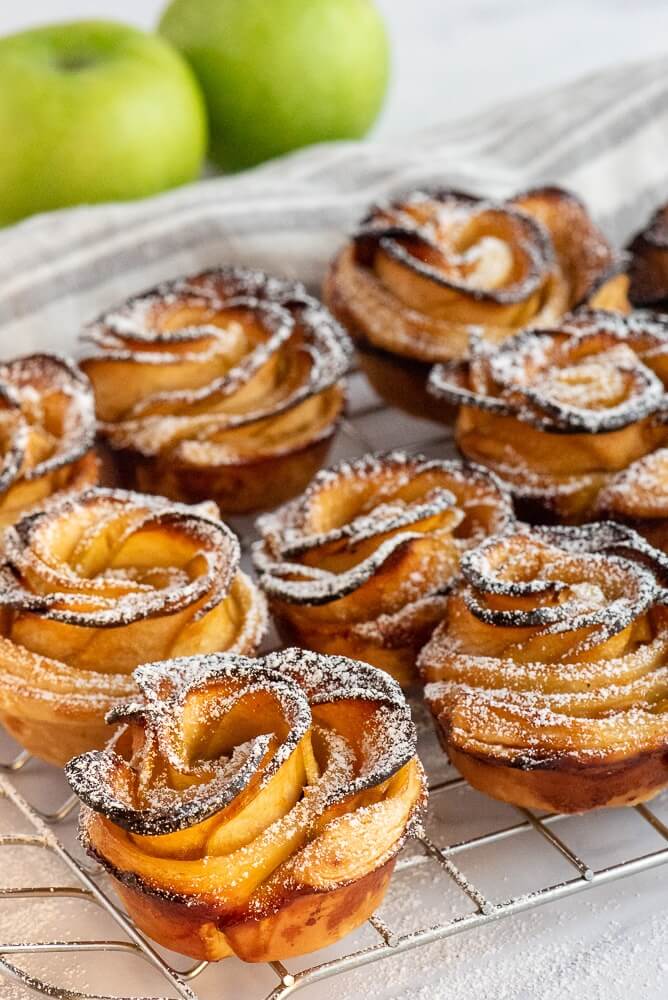 ---
LOOKING FOR MORE DELICIOUS PASTRY RECIPES?
If you're looking for more tasty recipes, be sure to check out my recipe index. You can also find a lot more pastry recipes as well.
---
PIN THIS RECIPE FOR LATER: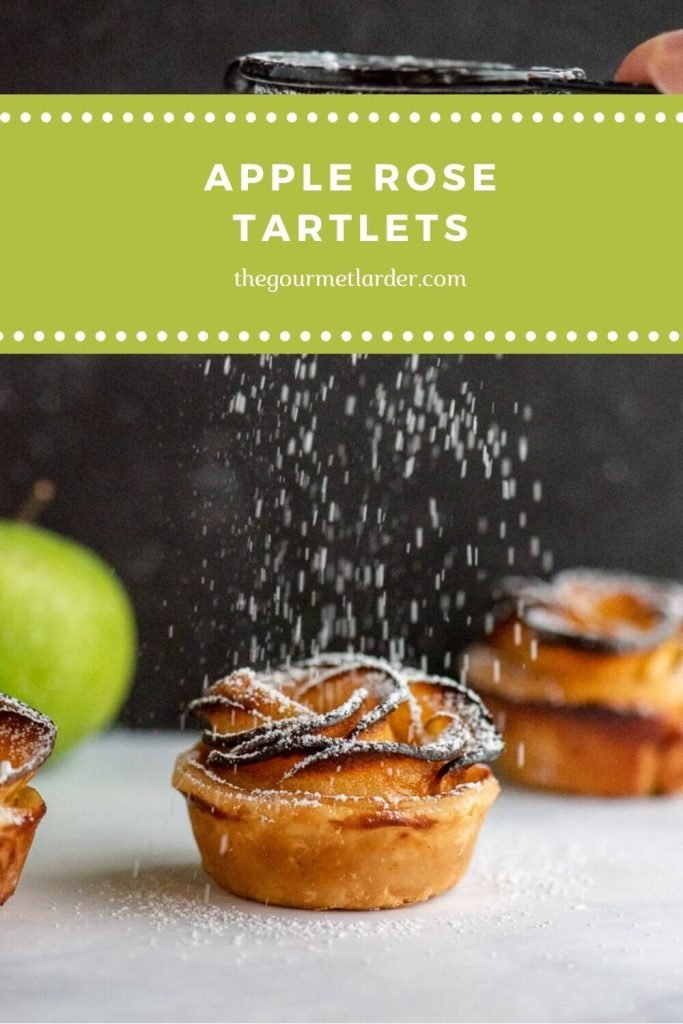 ---
IF YOU LIKED THIS APPLE ROSE TARTLET RECIPE YOU MIGHT ALSO LIKE:

Please let me know how it turned out for you!
I love to hear your feedback and I am always looking to improve the Gourmet Larder blog, please leave your thoughts and a rating using the comments section below!

Hungry for more, follow me!
---
---