Shortcrust Pastry
Home-made shortcrust pastry is perfect for all your savoury pies, tarts or quiches and it is made using only a handful of ingredients: flour, butter, salt, egg (optional) and water.
Shortcrust pastry doesn't include leavening agents or sugar and once baked is flaky and crisp rather than puffed and layered.
This is an easy recipe and is best made by hand rather than in a food processor. We want to handle the dough as little as possible and keep it cold throughout the making of it. This way the dough won't shrink so much and become tough after baking. Another important factor is resting the dough, it's best to rest it after it's made and then again once you have rolled it out and filled your baking form.
The French call this pastry pâte à foncer or pâte brisée, although the latter uses a slightly higher ratio of fat to flour, which makes the pastry a little richer in taste. Check out my variations section for the French version, pâte brisée.
While this recipe does contain egg, it is entirely optional. The egg aids in the richness and adds a little elasticity, I personally prefer to not use it when making a quiche as the custard already contains egg.
Here is a great recipe for this shortcrust pastry: asparagus and leek quiche.
RECIPE HIGHLIGHTS
Ease: quick to make and is best made ahead.
Diet: this recipe is nut-free, check out my gluten-free and dairy-free options in the WHAT VARIATIONS AND SUBSTITUTIONS CAN I MAKE? section.
Great for: savoury pies, quiches, tarts and galettes.
Taste and texture: flaky, buttery, crispy savoury crust.
Quantity: this recipe is enough to line a maximum of 25cm (10 inch) flan tin or eight 10cm (4 inch) tartlet tins.
---
WHAT LARDER INGREDIENTS WILL I NEED FOR THIS RECIPE?
For this recipe all you need are these ingredients:
Plain or all-purpose flour – is ideal for the pastry as it does not contain high levels of gluten.
Butter – gives the pastry a nice rich buttery taste and should be chilled to ensure the pastry dough remains cold to avoid overheating while mixing.
Fine sea salt – enhances the ingredient flavours, bringing out the best characteristics of any recipe.
Egg or egg yolks – are completely optional for this recipe. They add richness and elasticity to the dough but are not fundamental to the dough working. A little extra water can be used in its place.
Water (chilled is better) – helps to bring the dough together.
---
WHAT VARIATIONS AND SUBSTITUTIONS CAN I MAKE?
Using alternative fat – such as lard was a method often used by my grandmother. The lard creates a better texture although the flavour won't be quite as rich as when using only butter. A common way around this is to use 50 / 50 split of both butter and lard.
Pâte Brisée – is simple to make just follow the recipe, increasing the butter quantity to 160g. You may need less water so add slowly until it comes together into a ball.
Flavouring – can be added by using dried herbs in the pastry such as thyme or rosemary.
Gluten free – as this recipe does not require large amounts of gluten, the flour can be replaced with a 1:1 alternative gluten-free flour.
Dairy free – use vegetable shortening or vegan butter.
If you experiment, I would love to know how you get on and share it with the other readers.
---
NUTRITION
Serving: per 100g
Nutrition information can vary for a recipe based on factors such as precision of measurements, brands, ingredient freshness, or the source of nutrition data.
I strive to keep the information as accurate as possible but make no warranties regarding its accuracy.
I encourage you to make your own calculations based on the actual ingredients used in your recipe, using your preferred nutrition calculator.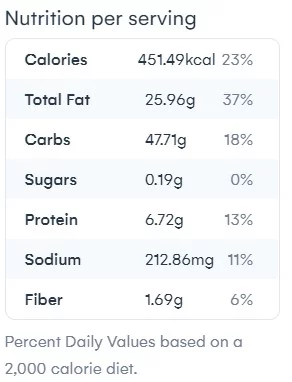 ---
STORAGE AND FREEZING
This dough will keep well for up to 5 days, wrapped well in the fridge.
Freezing: Once prepared this dough can be wrapped in clingfilm and frozen for up to 2 months.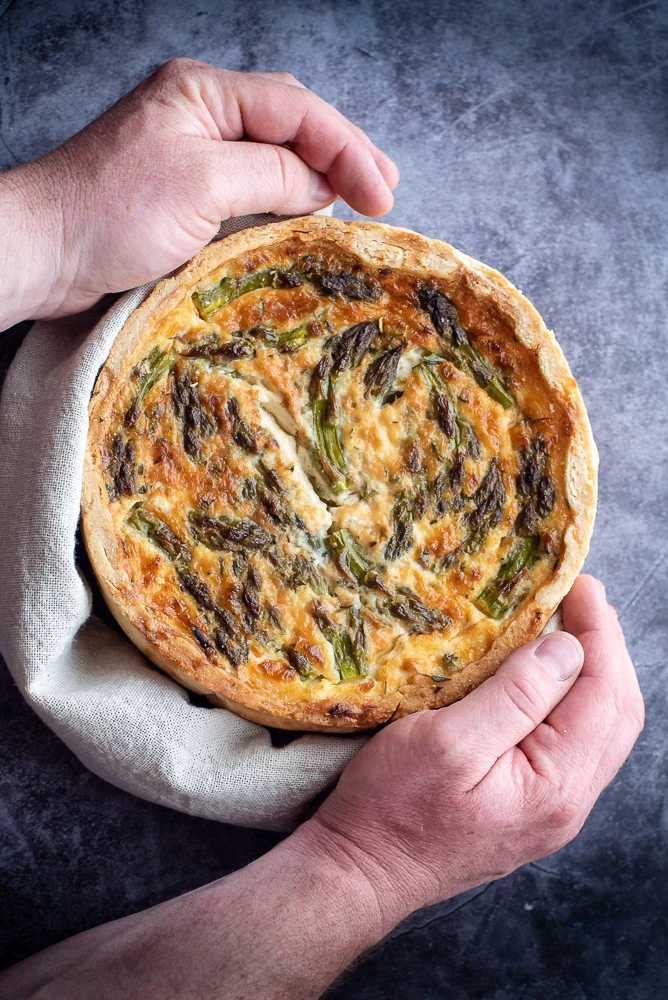 © THE GOURMET LARDER. All images and content are copyright protected.
Please read my FAQ's, if you would like to use or share any part of this post.
---
EQUIPMENT RECOMMENDATIONS
Here is a list of some kitchen equipment that I use and recommend for this recipe.
When it comes to baking, I highly recommend using metric measurements and a digital scale, rather than cup measurements. You will find it much easier, less messy and you will get far better, consistent results weighing your ingredients. 🙂
---
READY TO MAKE YOUR SHORTCRUST PASTRY ?
HAPPY BAKING!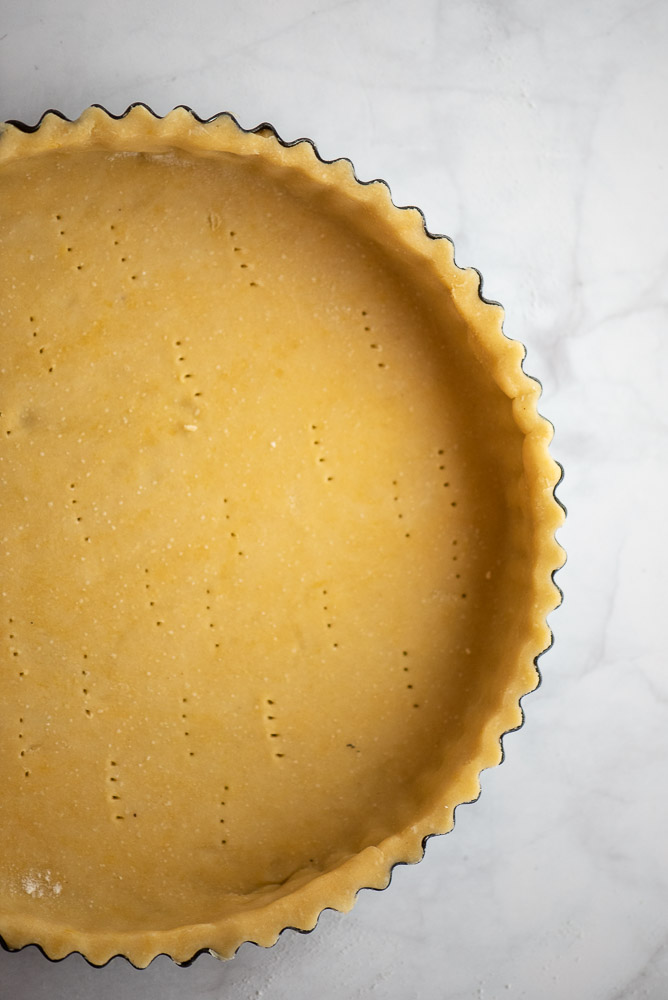 Shortcrust Pastry
This quantity of pastry will line a 25cm (10 inch) flan tin or eight 10cm (4 inch) tartlet tins.
INGREDIENTS LIST
250

g

plain or all-purpose flour

125

g

butter

(diced)

1/2

tsp

fine sea salt

1

medium/US large

egg or two egg yolks

(optional)

2-3

tbsp

water

(40ml cold)
Preparation
Sift the flour and salt into a large bowl, add the diced butter and rub in with your fingertips until the mixture resembles fine breadcrumbs. Try not to overwork the dough as it will start to warm and will become too elastic and shrink when baked. It is because we don't want the dough overheating that I don't recommend using a food processor for this type of pastry.

Add the egg (if using) and enough cold water to bring the dough together. (If you decide not to use the egg you may need a little more water.) Knead the dough 2 or 3 times with the palm of your hand. If the dough is not coming together you can add an extra tablespoon of water.

The key to a good shortcrust dough is keeping it cold and not overhandling it. Shape the dough into a flat disk, wrap in greaseproof paper or cling film and place in the fridge for at least 1/2 hour to relax the gluten.

It will keep well for up to a week in the fridge or can be frozen.
Notes & Tips
Quantity – If you want to make more pastry to fill a larger pan or dish, remember the proportions – half fat to flour – and add enough water to bring it together into a ball.

www.thegourmetlarder.com
---
RECIPE TIPS
The golden rule of making shortcrust pastry is to keep the ingredients, equipment, and your hands as cool as possible. With this in mind, gather together all your equipment and weigh all the ingredients before you begin.
Don't skip resting the dough. This will allow the gluten in the dough to relax, making it easier to roll and decrease the amount of shrinking during baking.
Make sure to use flour that is low in gluten (proteins). Plain or cake flour are usually the best, alternatively 00 is good.
To get a really crisp bottom on your tart shell, place a heavy baking tray in the oven while it is heating up, then place the tart or pie directly on it.
---
PLEASE LET ME KNOW HOW IT TURNED OUT FOR YOU!
If you tried this Shortcrust Pastry or any other recipe on my website, please let me know how you got on in the comments below. I love hearing from you. Also, please leave a star rating whilst you're there!
Don't forget to subscribe to my newsletter, so that you don't miss out on more delicious recipes and follow me on social media.
HUNGRY FOR MORE? FOLLOW ME!
---
PIN THIS RECIPE FOR LATER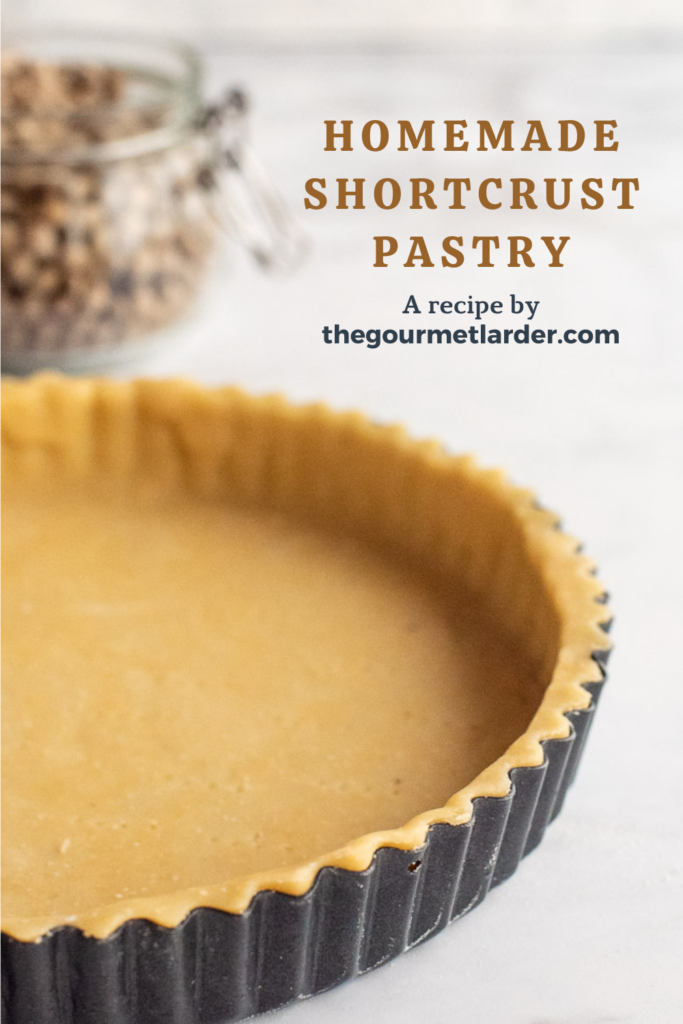 If you liked this shortcrust pastry recipe,
take a look at my inspirational recipe collection for more ideas.
---
---