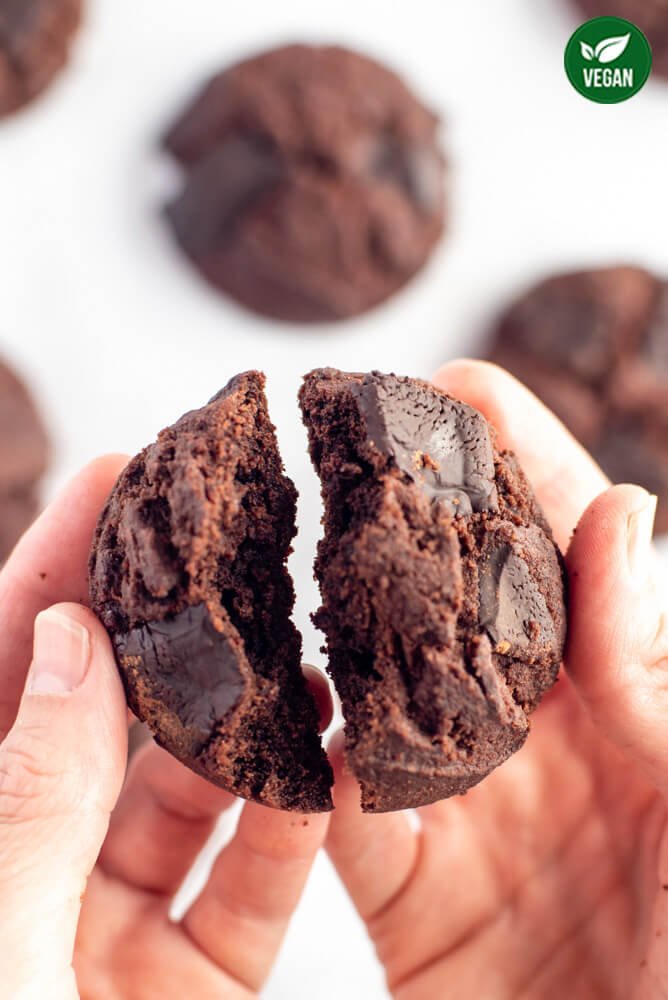 How to make the ultimate super easy vegan double chocolate cookies. Crunchy around the edges with soft centres and delicious all over.
This recipe is adapted from my chocolate chip cookie recipe and you wouldn't know they are vegan unless someone told you, they're basically everything a chocolate chip cookie should be and more.
WHAT LARDER INGREDIENTS WILL I NEED FOR THIS RECIPE?
For these awesome vegan double chocolate cookies all you need are these 11 ingredients:
Coconut oil or any other flavourless oil
Brown sugar
Granulated white sugar
Vanilla paste, sugar or extract
Plain flour (BL55)
Dutch cocoa powder
Sea salt
Baking soda
Baking powder
Non-dairy milk (almond, oat, rice, soy milk or alternatively water)
Dark chocolate chips or chunks
---
WHAT VARIATIONS AND SUBSTITUTIONS CAN I MAKE?
I really like these cookies made with nuts also, simply add 100 g of coarsely chopped pecans, pistachios, almonds, walnuts or even pumpkin seeds.
If you want to try something different, try pushing a few smarties or M&M's into the top of the cookies before baking.
I love the chopped dark chocolate in these cookies but feel free to simply swap it for milk or white chocolate. You can also use chocolate chips.
What flavour combination would you choose for your double chocolate cookie recipe?
Let me know in the comments!
---
EQUIPMENT SUGGESTIONS
---
NUTRITION
Serving: one double chocolate cookie
Nutrition information can vary for a recipe based on factors such as precision of measurements, brands, ingredient freshness, or the source of nutrition data.
I strive to keep the information as accurate as possible but make no warranties regarding its accuracy.
I encourage you to make your own calculations based on the actual ingredients used in your recipe, using your preferred nutrition calculator.
---
STORAGE AND FREEZING OPTIONS
These cookies are best served on the day of baking, warm and crispy from the oven. Store them in an airtight container for up to a week, they will soften as time goes by.
Freezing: I recommend shaping the dough into balls or disks and freezing them. Remove from the freezer and place them on a lined baking tray to defrost for 30 minutes. This way you will have perfect cookies at a moment's notice!
Alternatively, they can be frozen once baked for up to 1 month.
© THE GOURMET LARDER. All images and content are copyright protected.
Please read my FAQ's, if you would like to use or share any part of this post.
---
READY TO MAKE YOUR DOUBLE CHOCOLATE COOKIES ?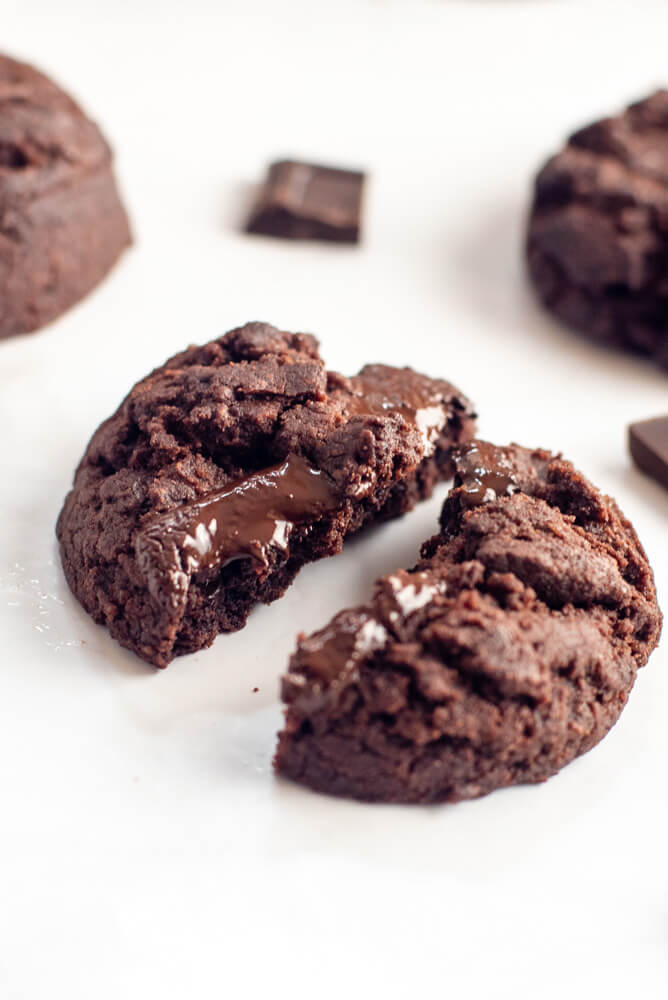 Double Chocolate Cookies (Vegan)
How to make the ultimate super easy vegan double chocolate cookies. Crunchy around the edges with soft centres and delicious all over.
INGREDIENTS LIST
100

g

neutral-tasting oil

(coconut, vegetable or sunflower oil)

100

g

soft brown sugar

50

g

caster or granulated white sugar

3

tbsp

non-dairy milk (almond, oat, rice or soy milk)

(or water)

1

tsp

pure vanilla extract or 1/2 tsp of vanilla paste

160

g

plain or all-purpose flour

30

g

dutch cocoa powder

½

tsp

bicarbonate of soda or baking soda

½

tsp

baking powder

1

pinch

fine sea salt

100

g

dark chocolate (minimum 65-70%)

(chips or chunks)
Preparation
Cookie dough: In a medium bowl, whisk together the coconut oil, brown sugar and caster sugar together until light and fluffy.

Add the non-dairy milk and vanilla and mix together.

Sift the flour, cocoa, salt, baking soda and baking powder into the bowl.

When fully combined, stir in the coarsely chopped chocolate or chips.

Shaping: There are one of two methods you can use for forming your cookies:Method 1. Use a 2 tbsp ice cream scoop to create balls out of the mixture and place them on a parchment or silicone-lined baking tray.Method 2. Roll the dough out into a log shape about 4 cm (2 inches) wide. If you want bigger cookies roll it to about 5-6 cm in diameter. Wrap it in clingfilm or plastic wrap.

Resting: This stage is optional. Place them in the refrigerator for a couple of hours or overnight. This helps to allow the dough to rest, firm up and mature the flavours.Freezing the dough: At this stage, the dough can also be frozen for baking another day.

Preheat the oven to 180°C fan / 400°F / Gas 6.

Method 2: For shaping, simply slice the log in 1 cm slices and place on a parchment or silicone-lined baking tray.

Baking: Bake for 12-14 minutes. Remove from the oven and let them rest on the baking tray for 5 minutes before transferring to a wire rack to cool.

If you are baking cookie dough that has been frozen, allow the dough to thaw for about 30 minutes at room temperature before slicing and baking as above.

KEYWORDS
biscuits and cookies, dairy free, egg free, nut free, soy free, vegan

www.thegourmetlarder.com
---
---
PIN THIS RECIPE FOR LATER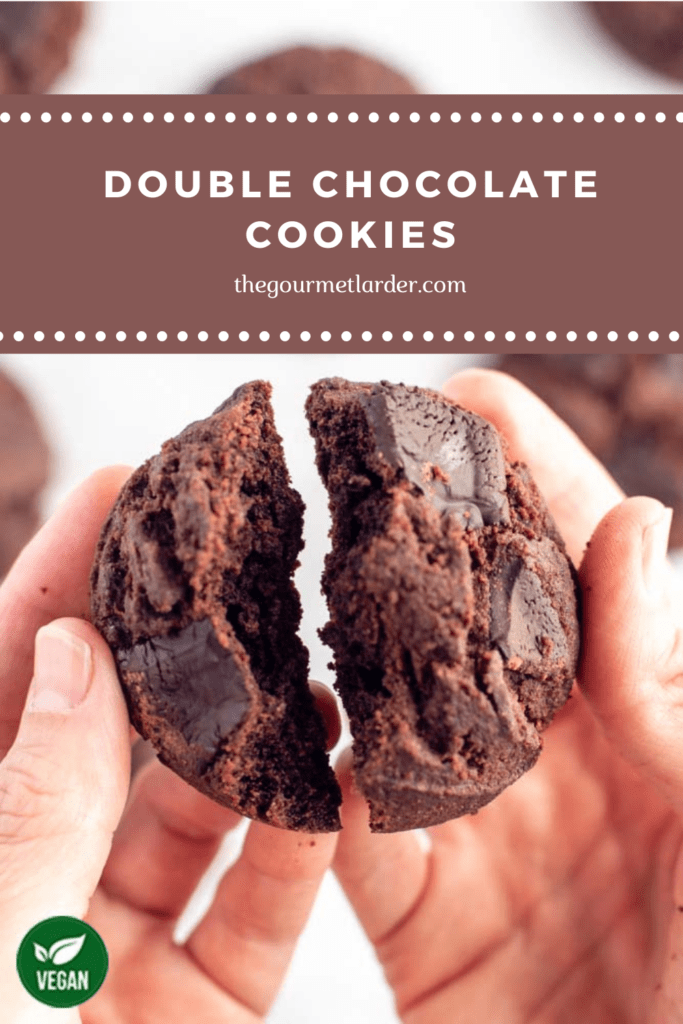 ---
CHECK OUT MORE CRAVE-WORTHY
BISCUIT FAVOURITES:
If you liked this double chocolate cookies recipe and are looking
for more tasty recipes, be sure to check out my recipe index.
You can also find a lot more biscuit recipes as well.
---
---