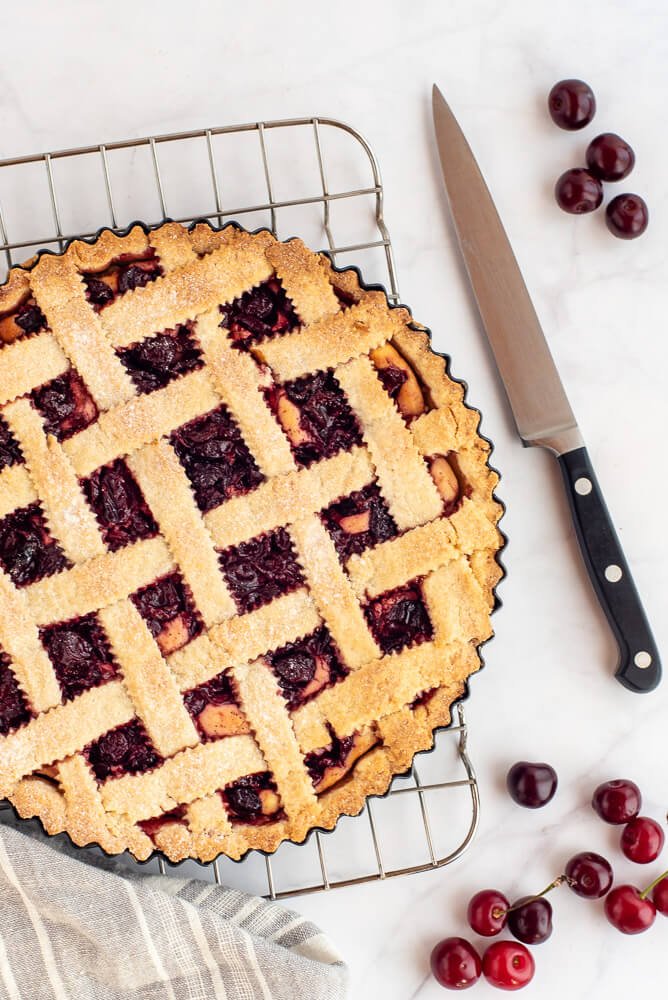 This sour cherry ricotta tart originates from southern Italy where crostata di ricotta is common. The buttery tart shell is filled with creamed ricotta and topped with sour cherries. And for that extra treat, it can be served with cream or ice cream.
WHAT LARDER INGREDIENTS WILL I NEED FOR THIS RECIPE?
For this recipe all you need are these 10 ingredients:
Plain flour
Sea salt
Butter
Caster or granulated sugar
Eggs
Ricotta
Vanilla extract or sugar or vanilla paste
Sour cherries
Light brown or demerara sugar
Ground cinnamon
---
WHAT VARIATIONS AND SUBSTITUTIONS CAN I MAKE?
Fruit: This recipe also works great with raspberries, strawberries, apricots or peaches.
---
EQUIPMENT SUGGESTIONS
Deep loose bottomed cake or tart pan 22cm x 4cm (8.5 x 1.5 inch)
---
NUTRITION
Serving: one tart slice
Nutrition information can vary for a recipe based on factors such as precision of measurements, brands, ingredient freshness, or the source of nutrition data.
I strive to keep the information as accurate as possible but make no warranties regarding its accuracy.
I encourage you to make your own calculations based on the actual ingredients used in your recipe, using your preferred nutrition calculator.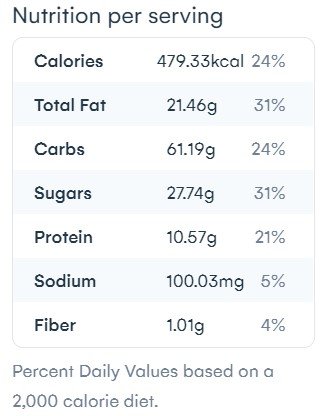 ---
STORAGE AND FREEZING OPTIONS
Keeps in the refrigerator for up to 5 days.
Freezing: This tart is not ideal for freezing.
© THE GOURMET LARDER. All images and content are copyright protected.
Please follow my Sharing Policy if you would like to use or share any part of this post.

---
READY TO MAKE YOUR SOUR CHERRY RICOTTA TART ?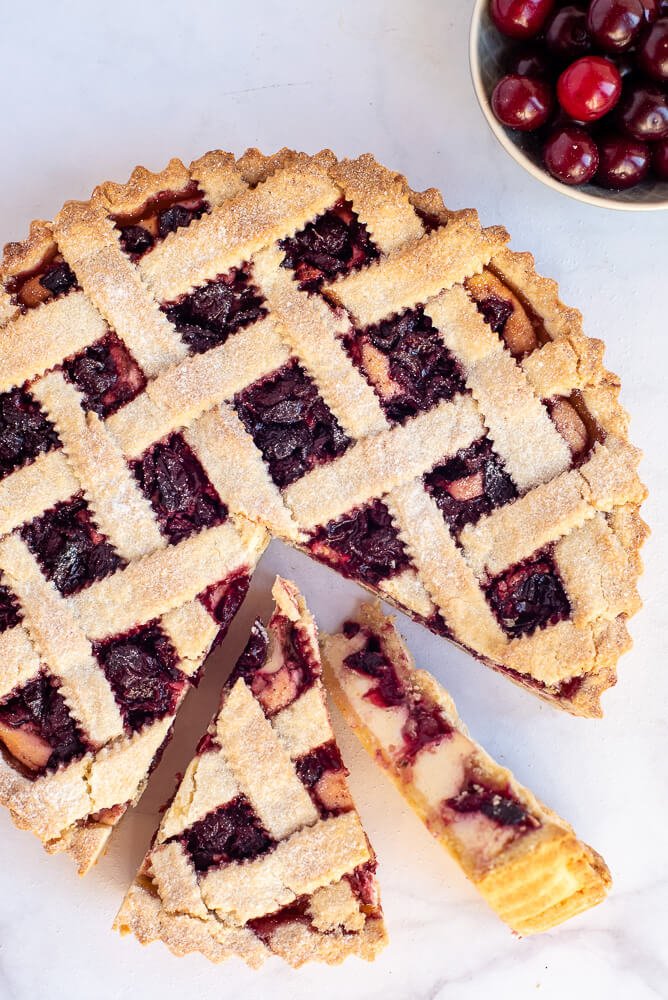 Sour Cherry Ricotta Tart
This sour cherry ricotta tart is a combination of two desserts in one, a cheesecake and a tart. The buttery tart shell is filled with creamed ricotta and topped with sour cherries. And for that extra treat serve with clotted cream or ice cream.
INGREDIENTS LIST
Sweet pastry
300

g

plain or all-purpose flour

1

pinch

fine sea salt

125

g

butter

125

g

caster or granulated white sugar

2

medium

eggs

1

medium

egg yolk
Filling
500

g

ricotta

100

g

caster or granulated white sugar

2

medium

eggs

1

tsp

vanilla extract, sugar or 1/2 tsp of vanilla paste

500

g

sour cherries

50

g

soft brown sugar

tsp

ground cinnamon
Preparation
Sweet pastry: In a medium bowl, add the flour and butter. Work it with your fingertips until it is soft and turns into fine crumbs.

Alternatively, add both the flour and butter to a food processor and mix for 30 seconds to create a fine crumb.

Add the caster sugar and a pinch of salt, mix well then add the eggs and mix again until a dough forms. (If it isn't coming together, add a little cold water – no more than 1-2 tbsp.)

Roll the dough into a ball and cut 1/3 off, for the tart lattice top.

Reform both pieces into balls, flatten slightly, wrap in cling film and then put in the freezer for 20 minutes to rest.

Sour cherries: In a medium bowl add the pitted sour cherries, 50g light brown sugar and 1 tsp of ground cinnamon. Mix and set aside for half an hour.

Ricotta filling: In a medium bowl, mix together the ricotta, sugar, vanilla and eggs. Once mixed place in the refrigerator until needed.

Sour cherries: In a shallow pan or frying pan, bring the sour cherry mix to the boil and reduce the liquid until it almost disappears. If a little liquid remains it is not a problem. This should take no more than 5-6 minutes. Then set aside to cool.

Tart base: To prepare the base, remove the larger pastry dough you made earlier from the refrigerator.

Dust your work surface with flour and gently roll out the dough until it is about 5 mm (1/8 inch) thick and 24-25 cm in diameter.

Carefully wrap the dough around the rolling pin and place it into a 22 cm x 4 cm tart tin.

Gently press the dough into the corners and up the sides. There should only be a little overhang on the edges. Leave this hanging for now and place it in the freezer for 10 minutes or the fridge for 30 minutes to rest again. This will help to avoid the dough shrinking when baking.

Preheat the oven to 160°C fan / 350°F / Gas 4.

Remove the smaller piece of dough from the fridge and roll it out until it is about 5 mm (1/8 inch) thick and 23 cm in diameter. Then cut long 1 cm wide strips for the lattice. You will need 10 strips in all, long enough to cross the tart across the top. It may be necessary to repeat the rolling process with any scraps you have leftover.

Assembly: Remove the tart base from the fridge or freezer and, using a sharp knife, gently cut around the top to remove the excess dough.

Fill the tart with the ricotta filling and level flat with a spatula or spoon.

Then spoon over the sour cherry mix evenly across the top of the surface.

Lattice:

1. Lay 5 pastry strips across the top of the tart filling, then fold back the 2nd and 4th strip to the middle. Lay a new strip across the middle and fold back the bottom strips.

2. Fold back the 1st, 3rd and 5th strip on the bottom and lay another new strip across. Fold back the bottom strips.

3. Fold back the 2nd and 4th stripes again and lay another new strip across returning the bottom stripes back after.

4. Repeat this process with the opposite side until finally, you have a nice lattice pattern on the top.

Lastly, cut the ends of the strips to fit inside the tart shell.

Baking: Place the tart on the middle shelf of the oven and bake for 30-35 minutes until golden brown.

www.thegourmetlarder.com
---
IF YOU LIKED THIS SOUR CHERRY RICOTTA TART YOU MIGHT ALSO LIKE THESE CHERRY RECIPES:
---
LOOKING FOR MORE DELICIOUS TART RECIPES ?
If you're looking for more tasty recipes, be sure to check out my recipe index. You can also find a lot more tart recipes as well.
---
---

Please let me know how it turned out for you!
I love to hear your feedback and I am always looking to improve the Gourmet Larder blog, please leave your thoughts and a rating using the comments section below!

Hungry for more, follow me!
---
---