Marzipan
Delicious home-made vegan marzipan is the way to go! Incredibly easy using only three ingredients, plus it's less expensive than the shop bought variety.
To be honest, I had never been a big fan of marzipan, somehow the taste is just too intense and artificial, that is until I made my own at home. The great thing about home-made marzipan is that you know exactly what goes into it, no artificial colourings or preservatives and I do not use raw egg whites.
Marzipan is traditionally made of almonds, sugar and either egg white or a liquid sweetener. Some recipes also include almond extract and rose water to enhance the flavour. I personally like to keep it simple and just use the natural flavour of the ground almonds.
Ground almonds can be used to make both marzipan and almond paste. While they are very similar, they are slightly different in the amount of sugar used in the recipe. Marzipan contains more sugar than almonds in the recipe, which allows it to dry out over time and hold its shape. This is especially useful when making moulded figurines or miniature fruits for decoration.
Almond paste, on the other hand, contains less sugar, allowing it to remain soft and to be used with other ingredients to flavour baked goods or to make fillings.
Renowned all over the world, marzipan is used in a number of ways. In England, Christmas cake, wedding cakes and Battenberg are famous for being covered in marzipan. A German favourite is Stollen, a fruit and marzipan bread found throughout the festive season. And from Austria, Mozart chocolates are famous for their almond, nougat and marzipan centres coated with rich dark chocolate.
I use marzipan in my rhubarb marzipan cake or roll it into small balls and dip into cocoa powder or melted chocolate for a treat.
RECIPE HIGHLIGHTS
Ease: really easy to make.
Diet: gluten-free and dairy-free.
Great for: covering cakes or making sweet treats.
Taste and texture: a sweet and nutty almond flavour with a soft texture.
Quantity: this recipe makes 450g, which is enough to cover a small 24cm single layer cake.
---
WHAT LARDER INGREDIENTS WILL I NEED FOR THIS RECIPE?
For this recipe all you need are these ingredients:
Ground almonds – are ideal for making marzipan. Alternatively, you can use blanched almonds or flour.
Icing sugar – gives the marzipan its sweetness and texture.
Liquid sweetener or water – use corn syrup, golden syrup, glycerine, rice syrup, honey or water to bring the mixture together making it malleable.
Almond extract (optional) – adds that extra boost of natural flavour. Purchase almond extract online here.
Rose water (optional) – can add a delicate floral flavour. Purchase rose water online here.
---
WHAT VARIATIONS AND SUBSTITUTIONS CAN I MAKE?
Flavouring with rose water – can add a delicate floral flavour common in Europe and the middle east. Purchase rose water online here.
Colouring – the marzipan can be done using food colouring gels kneaded into the almond dough.
Sugar – You can use powdered erythritol in place of sugar for a sugar-free option, the erythritol will need to be turned into a finer powder, which can be achieved by using a coffee grinder.
If you experiment, I would love to know how you get on and share it with the other readers.
---
NUTRITION
Serving: per 50g
Nutrition information can vary for a recipe based on factors such as precision of measurements, brands, ingredient freshness, or the source of nutrition data.
I strive to keep the information as accurate as possible but make no warranties regarding its accuracy.
I encourage you to make your own calculations based on the actual ingredients used in your recipe, using your preferred nutrition calculator.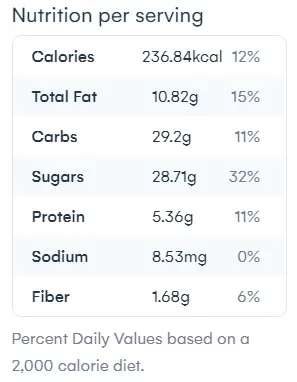 ---
STORAGE AND FREEZING
Both marzipan and almond paste keep well if wrapped well in the fridge, for up to 5-6 weeks. Make sure to bring the marzipan to room temperature before using, it will be easier to mould and shape.
Freezing: Once prepared, this dough can be wrapped in clingfilm or placed in an airtight container for up to 3 months.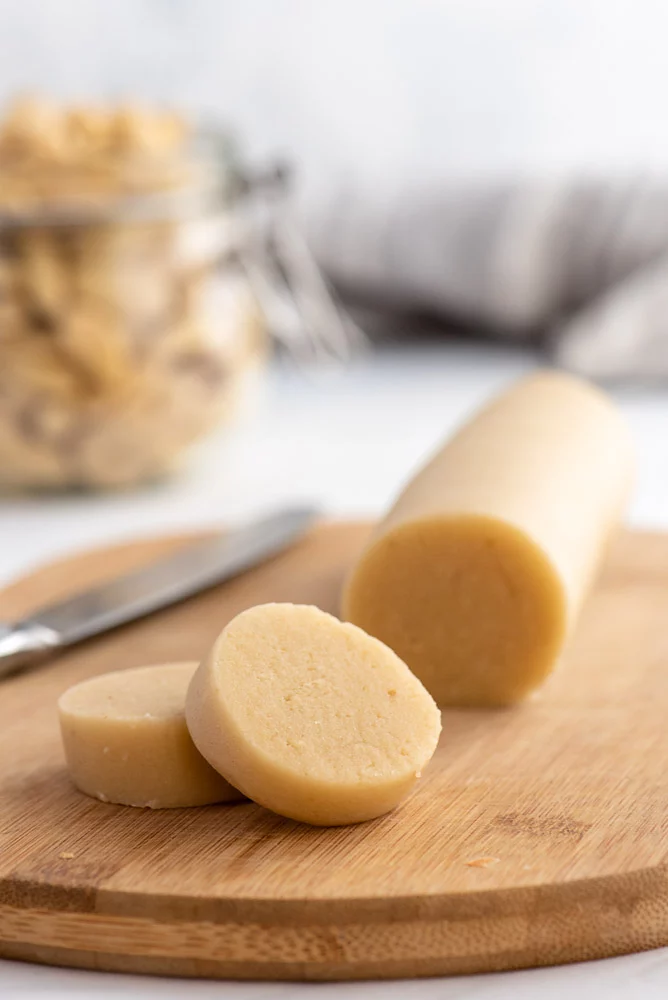 © THE GOURMET LARDER. All images and content are copyright protected.
Please read my FAQ's, if you would like to use or share any part of this post.
---
EQUIPMENT RECOMMENDATIONS
Here is a list of some kitchen equipment that I use and recommend for this recipe.
Food processor
When it comes to baking, I highly recommend using metric measurements and a digital scale, rather than cup measurements. You will find it much easier, less messy and you will get far better, consistent results weighing your ingredients. 🙂
---
---
READY TO MAKE YOUR SHORTCRUST PASTRY ?
HAPPY BAKING!
Marzipan
Delicious home-made vegan marzipan is the way to go! Incredibly easy using only three ingredients, plus it's less expensive than the shop bought stuff.
INGREDIENTS LIST
150

g

ground almonds

(or almond flour)

180

g

icing sugar (US powdered sugar)

80-120

ml

liquid sweetener or water

(6-8 tbsp)

1/4

tsp

almond extract

(optional)
Preparation
Place the ground almonds and icing sugar into a food processor bowl and pulse until the almonds are a very fine meal.

Add a pinch of salt and any flavourings (if using). While running the machine, add enough liquid sweetener or water until the mixture is smooth, homogenous and a dough forms. If it becomes too wet, you can add a little more icing sugar.

Turn out onto a countertop. If you wish to colour your almond paste, you can knead in a few drops of food colouring at this point. Knead into a ball, it may be a bit sticky, but will firm further in the fridge.

Wrap in plastic wrap, and place in the fridge. If you are not using it straight away then place it in an airtight container.

Bring to room temperature before using in recipes.

www.thegourmetlarder.com
---
RECIPE TIPS
if you cover a cake in marzipan that you are then going to cover in icing, It is important to allow the marzipan to completely dry out, before you then cover it with icing.
---
PLEASE LET ME KNOW HOW IT TURNED OUT FOR YOU!
If you tried this Marzipan or any other recipe on my website, please let me know how you got on in the comments below. I love hearing from you. Also, please leave a star rating whilst you're there!
Don't forget to subscribe to my newsletter, so that you don't miss out on more delicious recipes and follow me on social media.
HUNGRY FOR MORE? FOLLOW ME!
---
If you liked this marzipan recipe,
take a look at my inspirational recipe collection for more ideas.
---
---