Chocolate Sauce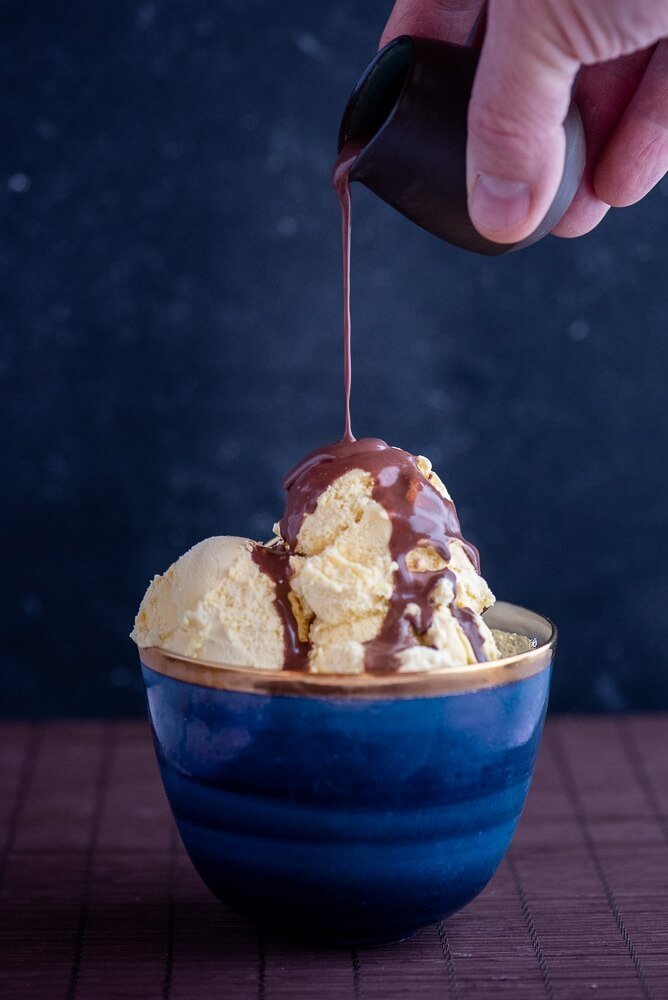 Homemade chocolate sauce is a quick and easy silky smooth, creamy topping that is perfect with ice cream, pancakes, great for dipping and so many other cakes or desserts.
This delicious sauce can be served either hot or cold, and it's easy to swap out some of the ingredients to make it vegan too.
This chocolate sauce goes perfectly with so many desserts, like praline pear meringue cake, raspberry lime panna cotta or raspberry vanilla custard profiteroles.
If you decide to give this a try, let me know! Leave a comment and rate it – it's really helpful to me and the other readers. And don't forget to take a picture and tag me @thegourmetlarder and #thegourmetlarder on Instagram! I love seeing what you come up with. 🙂
RECIPE HIGHLIGHTS
Ease: Easy.
Great for: Accompanying any cake or dessert.
Taste: Sweet chocolaty and smooth.
Texture: Smooth and silky.
---
WHAT LARDER INGREDIENTS WILL I NEED FOR THIS RECIPE?
For this chocolate sauce recipe all you need are these 6 ingredients:
Double or heavy cream– creates creaminess and consistency.
Caster or granulated white sugar – adds sweetness.
Vanilla extract, sugar or vanilla paste – to enhance the flavour.
Dark or milk chocolate bar – choose your favourite chocolate for that beautiful rich flavour.
Butter – adds structure and flavour. I use salted butter for most of my baking as it intensifies the flavours, but feel free to use unsalted if you prefer.
Dutch cocoa powder – adds a beautiful rich chocolate flavour.
I highly recommend adding a good pinch of salt to your sweet sauces. It would seem counter productive, but it's not, I promise. Salt helps balance out the sweetness and richness. It also elevates the other ingredients, bringing out the best characteristics of any sauce recipe. In a seemingly absurd or contradictory way, salt intensifies the mouth's ability to taste sweetness. Sodium sends signals to move glucose into the sweet taste receptor cells in our tongue, triggering the cells to register sweetness. The result is that salt not only alerts our 'salt sensitivity', but also our 'sweet sensitive' taste buds.
---
---
WHAT VARIATIONS AND SUBSTITUTIONS CAN I MAKE?
This recipe is quite versatile:
Coffee – add 1 tsp of instant coffee to the chocolate ingredients.
Alternative flavours – try chocolate bars that are flavoured with orange, mint or chilli.
Alcohol – add a little brandy, rum, Baileys, Kahlúa, Malibu or your favourite tipple for that extra kick.
Sweeteners – can be used instead of sugar or try honey or maple syrup.
Vegan – simply swap out the chocolate, cream, sugar and butter for vegan alternatives.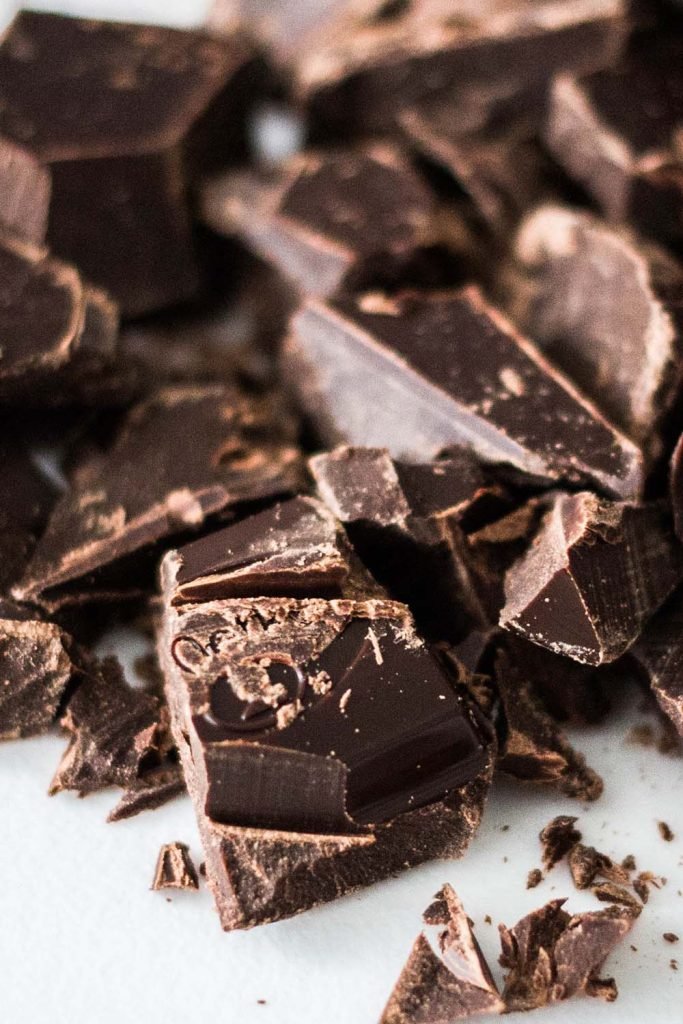 ---
NUTRITION
Serving: one chocolate sauce serving (2.5 tbsp)
Nutrition information can vary for a recipe based on factors such as precision of measurements, brands, ingredient freshness, or the source of nutrition data.
I strive to keep the information as accurate as possible but make no warranties regarding its accuracy.
I encourage you to make your own calculations based on the actual ingredients used in your recipe, using your preferred nutrition calculator.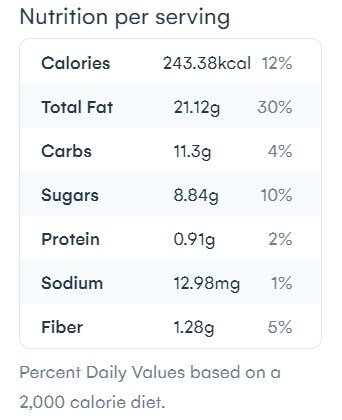 ---
STORAGE AND FREEZING OPTIONS
This sauce will keep well in an airtight jar in the fridge for up to 2 weeks. It will solidify in the fridge so it will need to be left to come to room temperature or reheated gently.
Freezing: Not freezable, but it takes around 5 minutes to make if you have the ingredients at home.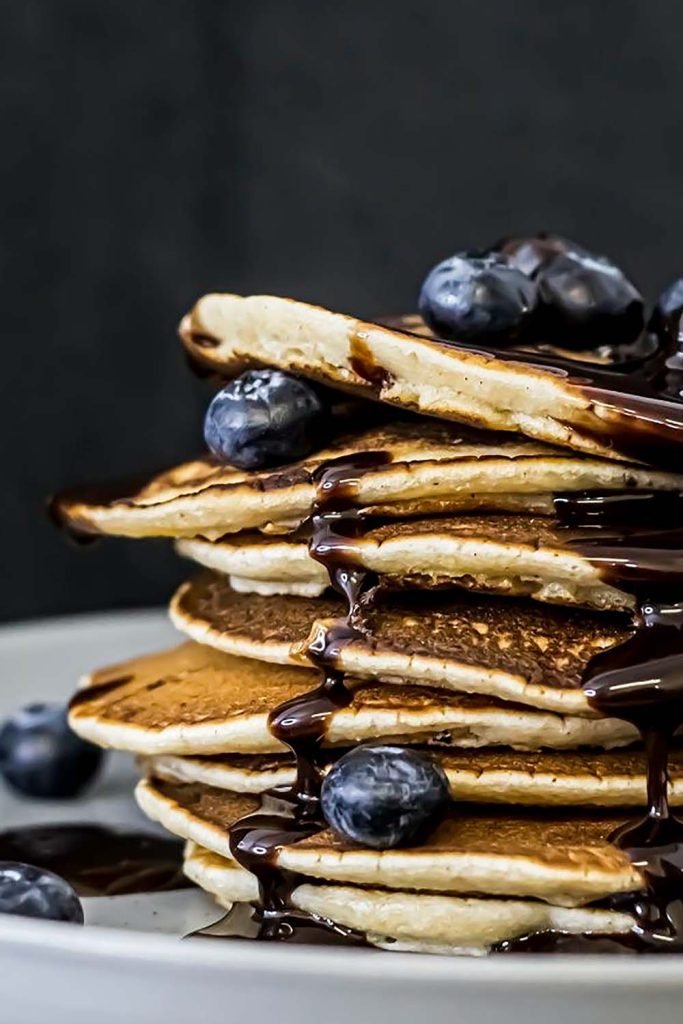 © THE GOURMET LARDER. All images and content are copyright protected.
Please read my FAQ's, if you would like to use or share any part of this post.
---
EQUIPMENT SUGGESTIONS
Recommendations include:
When it comes to baking, I highly recommend using metric measurements and a digital scale, rather than cup measurements. You will find it much easier, less messy and you will get far better, consistent results weighing your ingredients. 🙂
---
---
READY TO MAKE YOUR CHOCOLATE SAUCE ?
HAPPY BAKING!
Chocolate Sauce
Homemade chocolate sauce is a quick and easy silky smooth, creamy rich topping that is perfect with ice cream, pancakes, dipping and so many other cakes or desserts.
INGREDIENTS LIST
200

ml

double or heavy cream

(non-dairy alternative – coconut milk)

2

tbsp

caster or granulated white sugar

1/2

tsp

pure vanilla extract or 1/4 tsp of vanilla paste

100

g

milk or dark chocolate

4

tbsp

butter

(60g non-dairy alternative – vegan butter)

2

tbsp

Dutch cocoa powder
Preparation
Measure the cream, sugar and vanilla into a saucepan and bring it to a boil over a medium heat.

Chop the chocolate and place it in a medium heatproof bowl with the butter and cocoa.

Once the cream mixture has come to a boil, pour it over the chocolate in the bowl and whisk together until the chocolate has melted and the sauce is smooth.

Finally, pour it into a serving jug or airtight container for storing.

www.thegourmetlarder.com
---
RECIPE TIPS
Thicker chocolate sauce – can be achieved by adding a couple of extra tablespoons of butter if you are going to serve it cold. It you want to serve it hot, add a teaspoon of cornflour with a little milk to the cream while it comes to the boil. Remember to stir the cream continuously to avoid lumps forming. If it does get a little lumpy simply pass it through a strainer.
---
---
PIN THIS RECIPE FOR LATER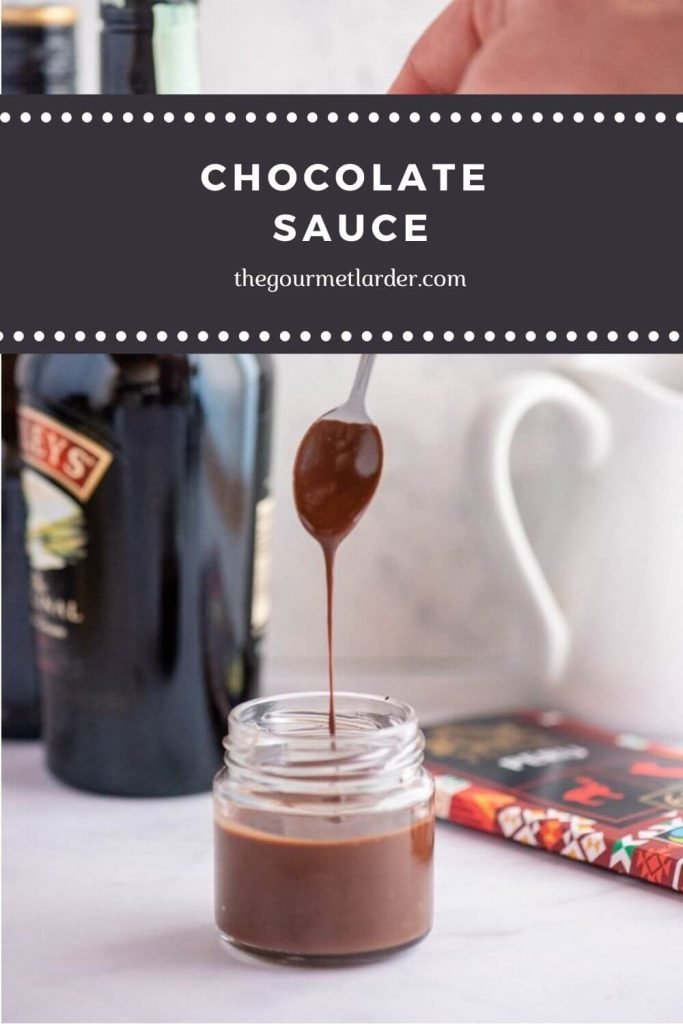 ---
If you liked this chocolate sauce recipe,
take a look at my inspirational recipe collection for more ideas.
---
---