Praline Pear Meringue Cake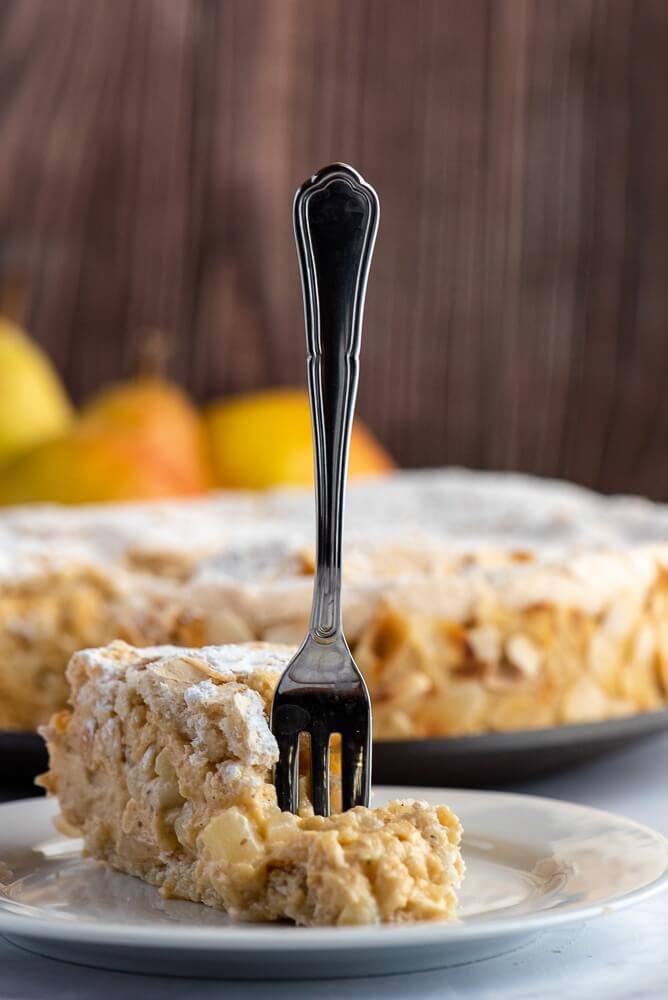 This praline pear meringue cake just melts in the mouth, two layers of crisp almond meringue filled with a praline custard and juicy pears.
This cake is so creamy and delicious. It makes a great start to the pear season. Serve it with chocolate sauce and it is even more amazing. There is also the option to make a coffee version or use different fruits.
If you decide to give this a try, let me know! Leave a comment and rate it – it's really helpful to me and the other readers. And don't forget to take a picture and tag me @thegourmetlarder and #thegourmetlarder on Instagram! I love seeing what you come up with. 🙂
RECIPE HIGHLIGHTS
Ease: Intermediate – the sugar in the praline can be a little tricky not to over caramelise.
Great for: A delicious dessert or treat.
Taste: Sweet, nutty caramel notes with juicy pears.
Texture: crisp meringue filled with a creamy, nutty mousseline custard.
---
WHAT LARDER INGREDIENTS WILL I NEED FOR THIS RECIPE?
For this praline pear meringue cake recipe all you need are these 12 ingredients:
Caster or granulated white sugar – adds sweetness and structure.
Whole almonds – adds texture and flavour
Whole Hazelnuts – adds texture and flavour.
Medium eggs – adds structure. Make sure they are at room temperature before use.
Ground almonds – adds flavour, moisture, texture and structure to the recipe.
Whole milk – creates creaminess, but this can also be replaced with non-dairy milk if prefered.
Vanilla extract, sugar or vanilla paste – to enhance the flavour.
Cornflour (US cornstarch) – is gluten-free and used as a thickening agent to build the structure.
Butter – adds structure and flavour. I use salted butter for most of my baking as it intensifies the flavours, but feel free to use unsalted if you prefer. Make sure it's at room temperature before using.
Whole pears – add flavour, texture and moisture.
Powdered / Icing sugar – adds sweetness and a decorative finish to the cake.
Flaked almonds – add texture and a decorative finish to the cake.
I highly recommend adding a good pinch of salt to your cakes. It would seem counter productive, but it's not. Salt helps balance out the sweetness and richness. It also elevates the other ingredients, bringing out the best characteristics of any recipe. In a seemingly absurd or contradictory way, salt intensifies the mouth's ability to taste sweetness. It is the sodium that sends signals to move glucose into the sweet taste receptor cells in our tongue, triggering the cells to register sweetness. The result is that salt not only alerts our 'salt sensitivity', but also our 'sweet sensitive' taste buds.
---
---
WHAT VARIATIONS AND SUBSTITUTIONS CAN I MAKE?
This recipe can be adapted to other flavours, for example:
Coffee – add 2 tbsp of instant coffee to the boiled milk in the mousseline and leave out the pears.
Fruit – try adding apple compote to the finished mousseline instead of the pears. Avoid adding any additional liquid or the mousseline will become too runny.
Vegan – I haven't tried it but this recipe could be adapted for vegans using aquafaba in the meringues as well as non-dairy milk and vegan butter in the mousseline.
---
NUTRITION
Serving: one cake slice
Nutrition information can vary for a recipe based on factors such as precision of measurements, brands, ingredient freshness, or the source of nutrition data.
I strive to keep the information as accurate as possible but make no warranties regarding its accuracy.
I encourage you to make your own calculations based on the actual ingredients used in your recipe, using your preferred nutrition calculator.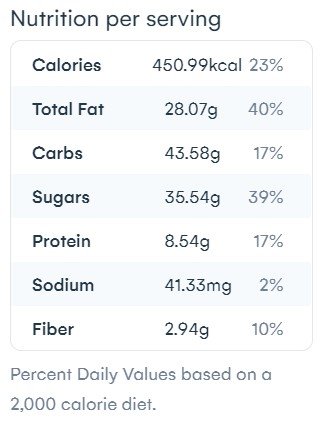 ---
STORAGE AND FREEZING OPTIONS
This cake can be stored in the fridge for up to 4 days, the meringue will soften as time goes by.
Freezing: This cake can also be frozen by wrapping it in clingfilm, but the meringue will become soft.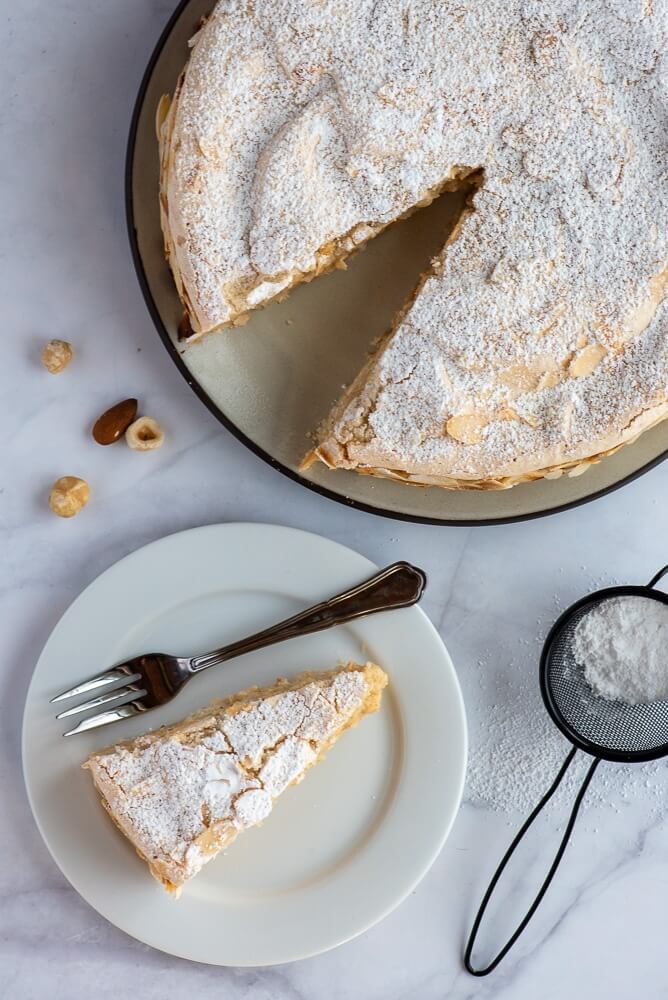 © THE GOURMET LARDER. All images and content are copyright protected.
Please follow my Sharing Policy if you would like to use or share any part of this post.
---
EQUIPMENT SUGGESTIONS
For this recipe, it is ideal to own a food processor to make the praline.
Food processor
When it comes to baking, I highly recommend using metric measurements and a digital scale, rather than cup measurements. You will find it much easier, less messy and you will get far better, consistent results weighing your ingredients. 🙂
---
---
READY TO MAKE YOUR PRALINE PEAR MERINGUE CAKE ?
HAPPY BAKING!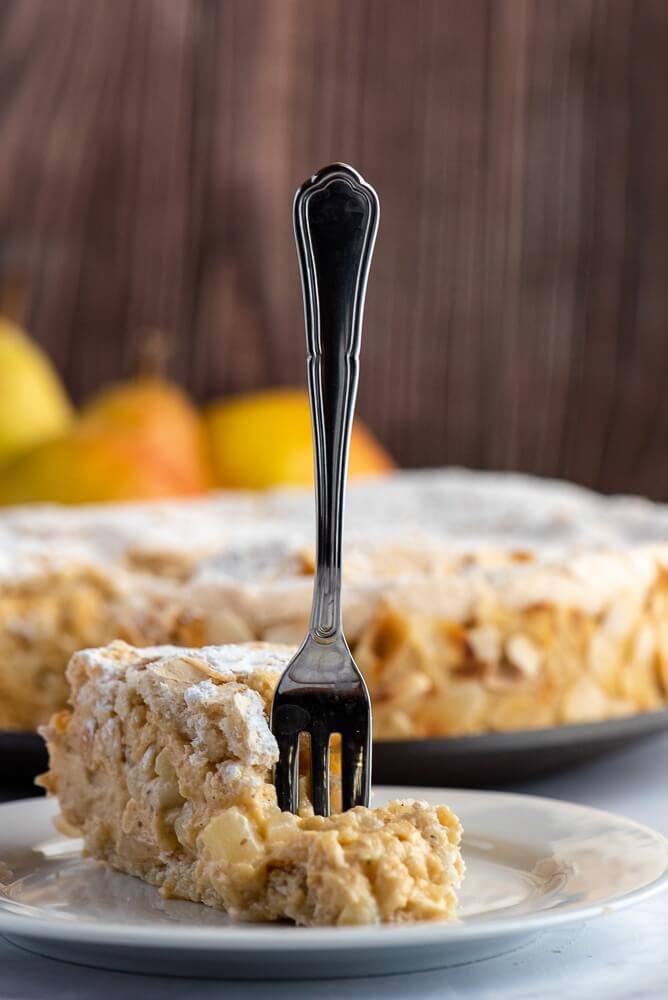 Praline Pear Meringue Cake
This praline pear meringue cake just melts in the mouth, two layers of crisp almond meringue filled with a praline custard and juicy pears. Serve with chocolate sauce for something really special.
INGREDIENTS LIST
Praline
125

g

caster or granulated white sugar

50

g

whole almonds

50

g

whole roasted hazelnuts

30

ml

water
Meringue
100

g

ground almonds

4

medium/US large

egg whites

200

g

caster or granulated white sugar

30

g

flaked almonds
Mousseline
500

ml

milk

1

tsp

pure vanilla extract or 1/2 tsp of vanilla paste

4

medium/US large

egg yolks

30

g

caster or granulated white sugar

(2 tbsp)

60

g

cornflour (US -cornstarch)

200

g

butter

all the praline
Assembly
2

whole

pears

(or tinned)

2

tbsp

icing sugar (US powdered sugar)

30

g

flaked almonds

(toasted)
Preparation
If you are unable to get pre-roasted shelled nuts, then here is a way to remove the skins.

Toast the nuts in a preheated oven at 180°C fan / 400°F / Gas 6 for 15 minutes.

Once roasted place them in a kitchen cloth and rub them until the skins come off.

Praline: Bring the sugar and water to a boil in a tall, heavy saucepan over a medium heat; boil until the sugar melts and the liquid starts to turn a light amber colour, swirling the pan occasionally. Avoid stirring the sugar mixture, otherwise it will crystalise and become grainy. (Approx. 5 minutes or less.)

Once the sugar has changed colour, remove the pan from the heat and add the nuts. Stir to ensure all the nuts are coated and then pour out onto a baking tray lined with a piece of baking parchment. Set aside to cool.

Preheat the oven to 140°C fan / 320°F / Gas 3.

Line 2 baking trays with baking parchment and draw a 20cm circle on each paper.

Almond meringue: Beat the egg whites in a clean mixing bowl until stiff peaks have formed. Then gradually beat in the caster sugar 1 dessert spoon at a time until the mixture is thick, stiff and glossy.

Fold in the ground almonds using a large metal spoon or spatula.

Put a small dab of meringue mixture under each corner of the baking paper to hold it in place.

Divide the meringue equally between the centres of the 2 circles. Then shape the meringue, spreading out the mix to the edges and evenly around the circles. Sprinkle each meringue circle with the sliced almonds.

Baking: Place the meringues into the oven and reduce the temperature to 120°C fan / 275F / Gas 1.

Bake for 1 hour, then allow the meringues to cool in the oven with the door propped ajar with a wooden spoon handle.

Praline: Break up the cooled praline and place the pieces into a food processor and blitz until it forms a thick paste, about 6-8 minutes.

Pears: If you are using fresh pears, remove the skin and then dice the pears into 1 cm pieces. Place in a saucepan with a tablespoon of water and let them simmer gently for 10 minutes with a lid on. Then leave to cool.

If you are using tinned pear, you only need to drain and then dice the pears.

Mousseline: Pour the milk into a saucepan and add the vanilla. Bring to a boil over a medium heat.

In the meantime, beat the egg yolks with the sugar until the mixture is light and pale, add the cornstarch and continue whisking.

Add 1/3 of the milk to the egg mixture and whisk quickly to avoid scrambling the eggs. Pour the mixture into the saucepan with the rest of the milk and simmer, stirring constantly. Once the custard has thickened, let it cool for about 10 minutes.

Cut the butter into small pieces and then mix half of it into the custard.

Pour the custard into a container to cool and cover it with clingfilm, ensuring the clingfilm touches the custard to avoid skin forming.

Leave the remaining butter covered on the side to use later.

Once the custard has cooled, give it a good whisk to make it smooth and creamy. Add the remainder of the butter and continue whisking until well combined.

Add all the praline and whisk again until incorporated and finally, fold in the cooled diced pear.

Assembly: Line a 20cm / 8inch springform pan with clingfilm or acetate around the side to stop the cake from sticking. Place one of the meringues into the springform pan and pour in the mousseline cream. Make sure the mousseline is evenly distributed and then place the other meringue on top.

Chill for an hour to set or place in the freezer for 20 minutes.

Once chilled, remove from the springform pan and then the clingfilm.

Finally, stick the toasted sliced almonds to the side of the cake and dust the top with icing sugar to serve.

www.thegourmetlarder.com
---
RECIPE TIPS
Use the right saucepan. It's best to use a heavy-bottomed saucepan when making the caramel, this will ensure an even heat.
Don't stir the caramelizing sugar! Stirring the sugar and water mixture will actually encourage crystallisation to form, causing the caramel to be grainy. Instead, gently swirl the pan, being careful not to make it go too high up the sides of the pan.
Crisp meringue – To get a good dry, crisp meringue, avoid taking it out the oven once the suggested baking time has passed. Turn off the oven and leave it cool down inside with the oven door ajar. It can even be made the day before.
Avoid scrambling the egg yolks – when making the mousseline, whisk continuously, whilst adding the milk to the egg yolk mix. While it does contain cornflour it can still cause the eggs to congeal if not whisked immediately.
---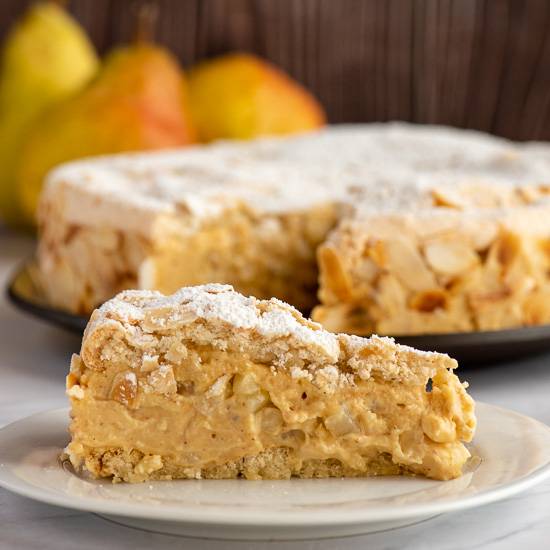 PLEASE LET ME KNOW HOW IT TURNED OUT FOR YOU!
If you tried this Praline Pear Meringue Cake or any other recipe on my website, please let me know how you got on in the comments below. I love hearing from you. Also, please leave a star rating whilst you're there!
Don't forget to subscribe to my newsletter, so that you don't miss out on more delicious recipes and follow me on social media below.
HUNGRY FOR MORE? FOLLOW ME!
---
PIN THIS RECIPE FOR LATER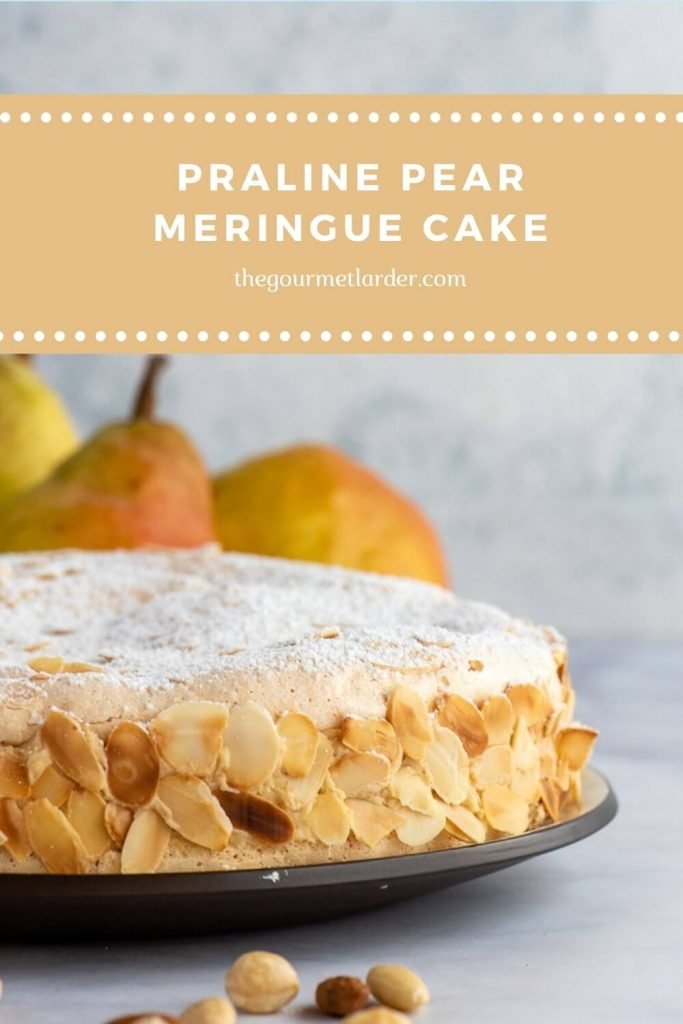 ---
If you liked this praline pear meringue cake recipe,
take a look at my inspirational recipe collection for more ideas.
---
---