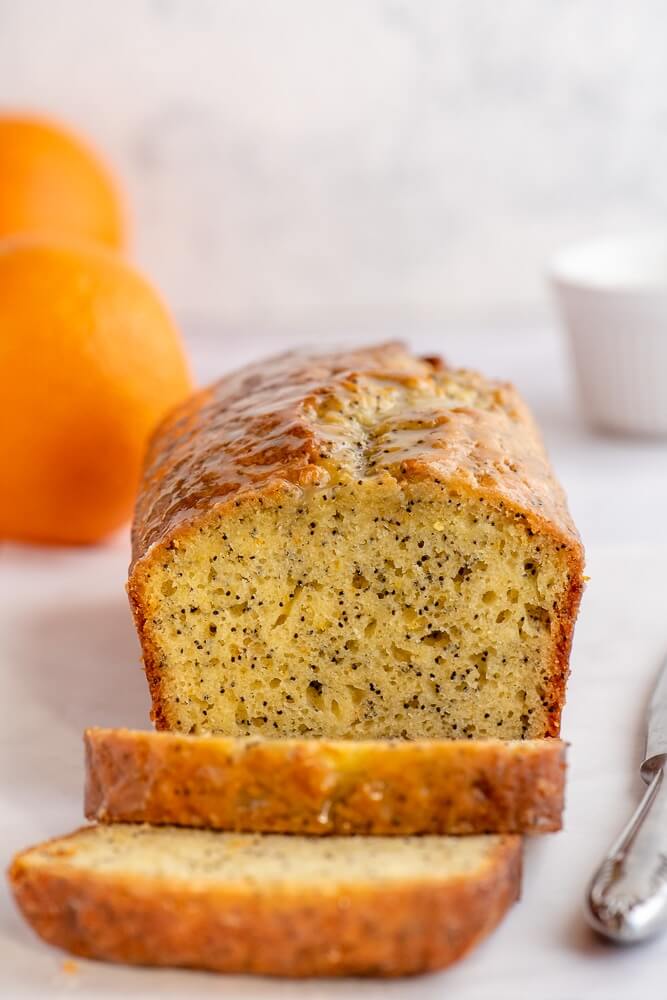 A pleasure to eat, this orange poppy seed drizzle cake has a soft, moist and delicate crumb. It's deliciously moreish and one of my favourite afternoon tea treats, it gets rave reviews.
It's delicious for breakfast, afternoon tea or whenever you want a treat alongside a cup of tea! The citrus flavour is just like adding a burst of sunshine to your day and if you liked this recipe you might like my Lemon crinkle cookies or Moreish lemon biscuits.
RECIPE HIGHLIGHTS
Ease: Easy.
Great for: Breakfast or afternoon treat.
Taste: A sweet pungent citrus sponge with poppyseeds.
Texture: A soft moist delicate sponge with little bites of poppy seed.
---
EQUIPMENT SUGGESTIONS
For this recipe, it is optional to use a food mixer, but it can be made without. Other recommendations include:
Loaf pan 2 lb (900 g),
about 21 cm long, 11 cm wide and 7 cm high (8x4x3 inches approx).
---
RECIPE TIPS
The orange zest in this recipe gives it the wonderful orange flavour! I always use organic oranges where possible, which are free from growth hormones, chemical herbicides and fungicides.
Sudden temperature changes can cause cakes to sink in the middle, to prevent this avoid opening the oven door before 3/4 of the baking time, even if you need to rotate your cake.
When it comes to cakes and desserts, I highly recommend using metric measurements and a digital scale, rather than cup measurements. You will find it much easier, less messy and you will get far better, consistent results weighing your ingredients. 🙂
---
WHAT LARDER INGREDIENTS WILL I NEED FOR THIS RECIPE?
For this orange poppy seed cake recipe all you need are these 10 ingredients:
Neutral-tasting oil (coconut, vegetable or sunflower oil) – creates moisture, makes the cake light and lengthens the cake's life span.
Medium eggs – build structure and richness to a recipe. Make sure they are at room temperature before use.
Oranges – natural flavouring.
Caster or granulated white sugar – adds sweetness and structure.
Vanilla extract, sugar or vanilla paste – adds flavour and enhances the other ingredient flavours in the recipe.
Natural or Greek yoghurt – adds moisture and creaminess to the finished cake.
Plain or all-purpose flour – to build a structure.
Baking powder – increases the volume and lightens the texture during baking.
Poppy seeds – add flavour and texture.
Powdered / Icing sugar – adds refined sweetness to the bake.
I especially recommend adding a pinch of sea salt to your batters and doughs, when making desserts or baked goods. The salt elevates the other ingredient flavours and when used with restraint, does not make food taste salty, it just brings out the best characteristics of the food.
---
WHAT VARIATIONS AND SUBSTITUTIONS CAN I MAKE?
This recipe also works great with other citrus fruits, try lemon, lime or grapefruit.
If you are not so keen on poppy seeds, they can be left out or substituted for mixed peel, raisins, sultanas, currants or chocolate chips.
This cake also tastes amazing when glazed with orange marmalade. Simply warm the orange marmalade in a small pan or in the microwave before brushing over the cake.
---
NUTRITION
Serving: one cake slice
Nutrition information can vary for a recipe based on factors such as precision of measurements, brands, ingredient freshness, or the source of nutrition data.
I strive to keep the information as accurate as possible but make no warranties regarding its accuracy.
I encourage you to make your own calculations based on the actual ingredients used in your recipe, using your preferred nutrition calculator.
---
STORAGE AND FREEZING OPTIONS
This cake will keep well in an airtight tin for 4-5 days.
Freezing: Wrap the unglazed cake in a layer of clingfilm or in a ziplock bag and freeze for up to 3 months. Defrost at room temperature. Finish the cake by making the glaze and drizzle over the defrosted cake before serving.
© THE GOURMET LARDER. All images and content are copyright protected.
Please follow my Sharing Policy if you would like to use or share any part of this post.

---
READY TO MAKE YOUR ORANGE POPPY SEED CAKE ?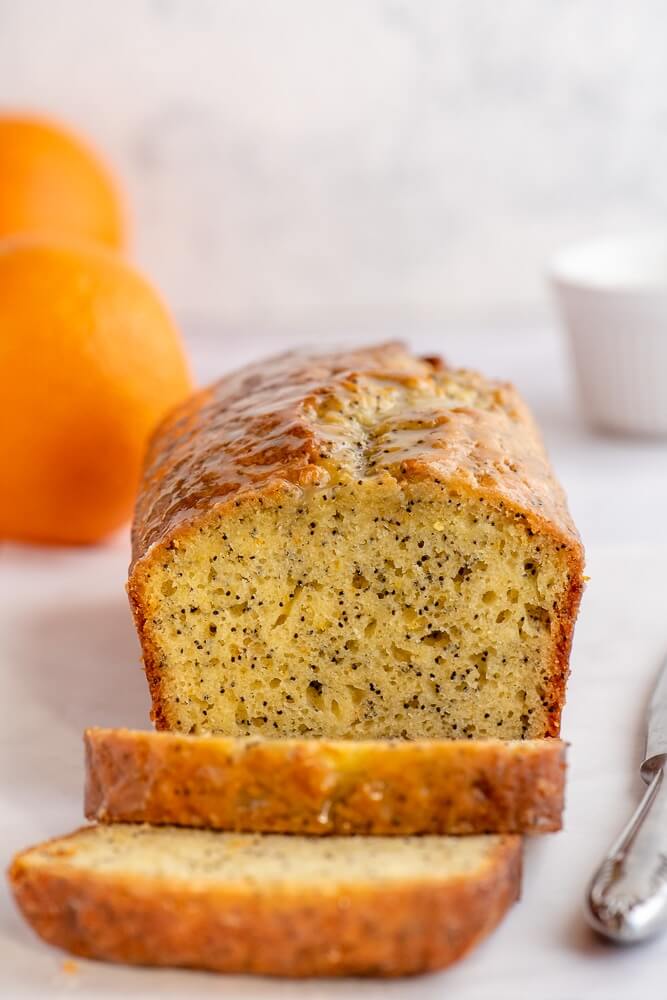 Orange Poppy Seed Cake
A pleasure to eat, this orange poppy seed drizzle cake has a soft, moist and delicate crumb. It's deliciously moreish and one of my favourite afternoon tea treats, it gets rave reviews.
INGREDIENTS LIST
100

ml

neutral-tasting oil

(coconut, vegetable or sunflower oil)

3

medium

eggs

1

large

orange

(juice and zest)

200

g

caster or granulated white sugar

1

tsp

vanilla extract, sugar or 1/2 tsp of vanilla paste

100

ml

natural or greek yoghurt

1

pinch

fine sea salt

225

g

plain or all-purpose flour

1

tsp

baking powder

2

tbsp

poppy seeds
Orange glaze:
100

g

icing or powdered sugar

2

tbsp

orange juice
Preparation
Preheat the oven to 170°C fan / 375°F / Gas 5 and grease and line the base of a 900g loaf tin with greaseproof paper.

Zest and juice the orange, reserving 2 tablespoons of the orange juice for the glaze.

In a large mixing bowl, whisk together the eggs, oil, sugar, salt, vanilla, yoghurt, orange zest and juice, until combined and the sugar has dissolved.

Sift the flour and baking powder over the top of the egg mixture and gently fold in with 2 tbsp of poppy seeds.

Pour the batter into the prepared tin.

Baking: Place in the oven and bake for 55-60 minutes until golden and risen – the cake should split along its top. A skewer inserted into the centre of the cake should come out clean – if it doesn't, return the cake to the oven for a further 5 minutes and repeat as necessary.

Remove the cake from the oven and allow it to cool in the tin for 6 minutes on a wire rack, then turn out and place back on the rack, over a shallow tray.

Orange glaze: Start with combining 1 tbsp orange juice with the icing sugar, adding more orange juice as needed to get a glaze that is thick but not too runny. Pour the glaze over the warm cake. Remove the tray from underneath the rack and pour any excess glaze back over the cake. Return the tray underneath the cake, then leave the cake to cool completely before serving.

www.thegourmetlarder.com
---
LOOKING FOR MORE DELICIOUS CAKE RECIPES ?
If you're looking for more tasty recipes, be sure to check out my recipe index. You can also find a lot more cake recipes as well.
---
PIN THIS RECIPE FOR LATER:
---
IF YOU LIKED THIS ORANGE POPPY SEED CAKE RECIPE YOU MIGHT ALSO LIKE:

Please let me know how it turned out for you!
I love to hear your feedback and I am always looking to improve the Gourmet Larder blog, please leave your thoughts and a rating using the comments section below!

Hungry for more, follow me!
---
---