Maple Date Banana Bread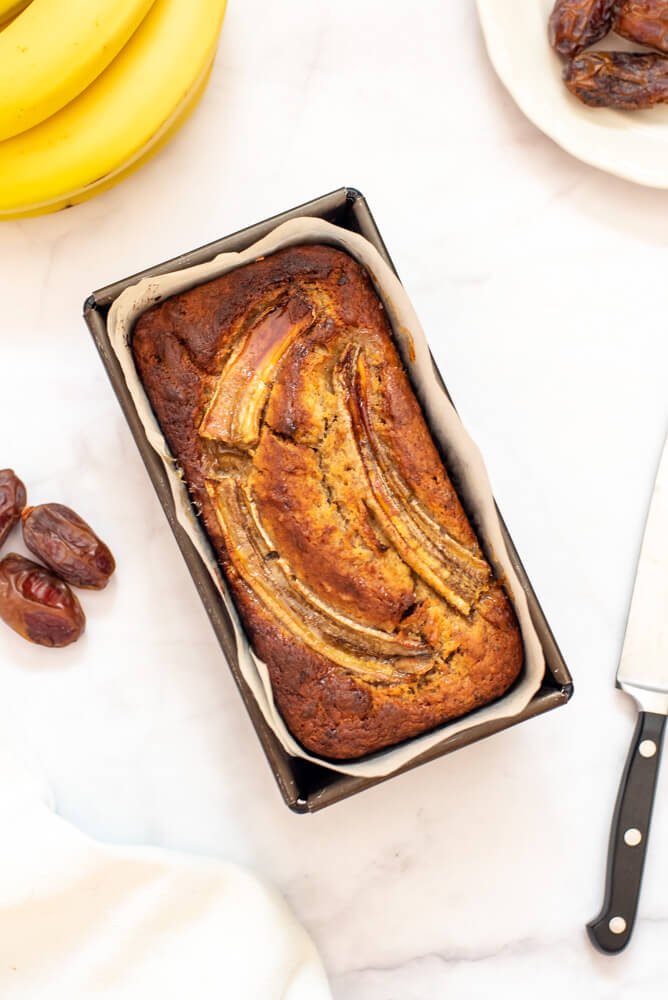 This maple date banana bread is one of those classic comfort recipes that warms and fills the whole house with delicious aromas making everything just feel better.
This recipe is a great way to use up brown bananas and you can freeze them so they are available when ever you feel like making banana bread. The banana is what makes this delicious cake moist and so easy to make and to give it that extra healthy boost and taste, it is naturally sweetened with maple syrup.
My all time favourite banana recipe. Sometimes I like to get even more creative with this recipe as it is so easily adaptable. I add shredded coconut, chocolate chips, raisins and nuts…the possibilities are endless!
If you decide to give this a try, let me know! Leave a comment and rate it – it's really helpful to me and the other readers. And don't forget to take a picture and tag me @thegourmetlarder and #thegourmetlarder on Instagram! I love seeing what you come up with. 🙂
RECIPE HIGHLIGHTS
Ease: easy.
Great for: breakfast, picnics, afternoon tea or weekend baking.
Taste: sweet maple banana bread with succulent dates.
Texture: moist cake with soft pieces of bananas and dates.
---
WHAT LARDER INGREDIENTS WILL I NEED FOR THIS RECIPE?
For this delicious recipe all you need are these ingredients:
Medjool dates
Coconut oil
Maple syrup
Large ripe bananas
Medium eggs
Plain or all-purpose flour (BL55)
Baking powder
I highly recommend adding a good pinch of salt to your cakes. It would seem counter productive, but it's not. Salt helps balance out the sweetness and richness. It also elevates the other ingredients, bringing out the best characteristics of any recipe. In a seemingly absurd or contradictory way, salt intensifies the mouth's ability to taste sweetness. It is the sodium that sends signals to move glucose into the sweet taste receptor cells in our tongue, triggering the cells to register sweetness. The result is that salt not only alerts our 'salt sensitivity', but also our 'sweet sensitive' taste buds.
---
---
WHAT VARIATIONS AND SUBSTITUTIONS CAN I MAKE?
Fats: If you prefer not to use coconut oil, replace it with an equal amount of butter. For an additional flavour, you can also brown the butter before using it.
Water: I have used water in this recipe to soften the dates, but if you prefer you can use tea or alcohol such as rum or brandy as an additional flavour.
Fruit: While I have made dates the main component of this cake you can use other dried fruits like sultanas/raisins or apricots.
Maple syrup: If you can't find maple syrup or you would prefer an alternative, try honey or corn syrup instead.
Addition options: This recipe is easily adaptable, try adding 125 g of chocolate chips or nuts such as walnuts or pecans. Shredded coconut or raisins are also great options.
---
EQUIPMENT SUGGESTIONS
Loaf tin / pan – 900g (2 lb)
When it comes to baking, I highly recommend using metric measurements and a digital scale, rather than cup measurements. You will find it much easier, less messy and you will get far better, consistent results weighing your ingredients. 🙂
---
---
NUTRITION
Serving: one maple date banana bread slice
Nutrition information can vary for a recipe based on factors such as precision of measurements, brands, ingredient freshness, or the source of nutrition data.
I strive to keep the information as accurate as possible but make no warranties regarding its accuracy.
I encourage you to make your own calculations based on the actual ingredients used in your recipe, using your preferred nutrition calculator.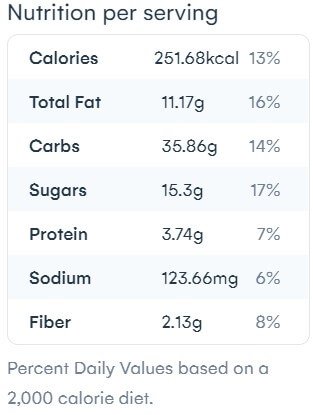 ---
STORAGE AND FREEZING OPTIONS
This banana bread is a moist cake so it will keep stored in an airtight container for up to 3 days.
Freezing: It is also easy to freeze for up to 6 months. I recommend slicing it first so that grabbing one slice at a time when you want it is easy.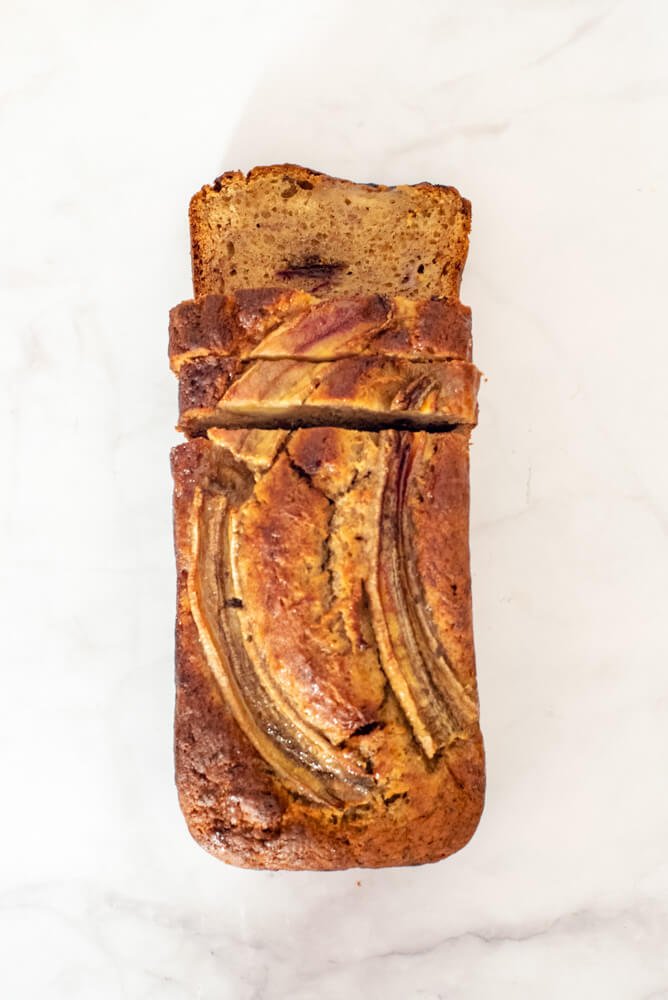 © THE GOURMET LARDER. All images and content are copyright protected.
Please read my FAQ's, if you would like to use or share any part of this post.
---
READY TO MAKE YOUR MAPLE DATE BANANA BREAD ?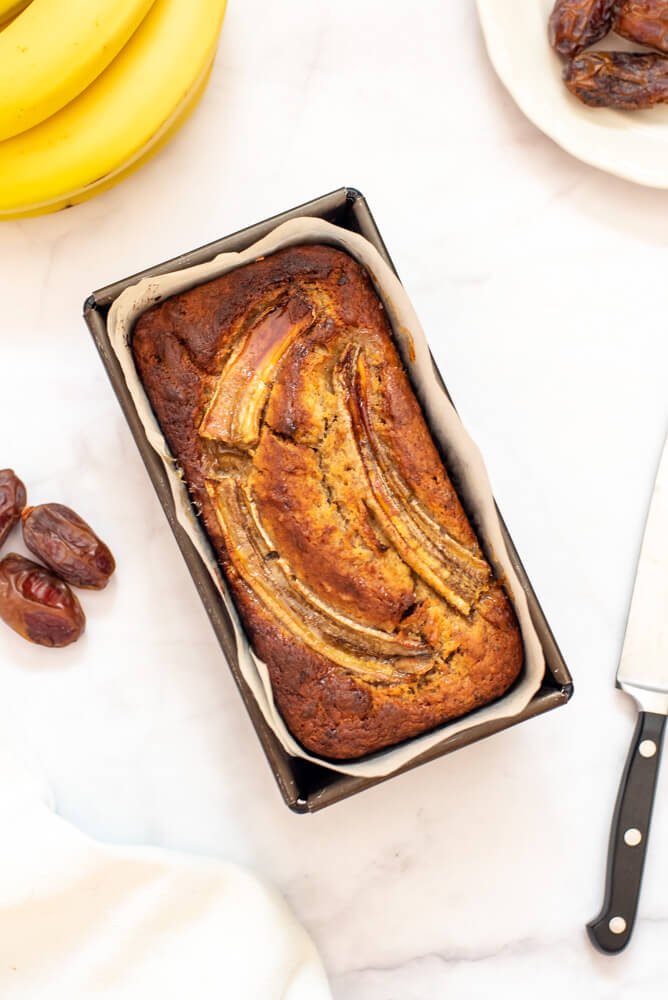 Maple Date Banana Bread
This maple date banana bread recipe, has only a few simple ingredients and is naturally sweetened with maple syrup.
INGREDIENTS LIST
100

g

medjool dates

(pitted and chopped)

50

ml

water

100

g

coconut oil

70

g

maple syrup

3

large

ripe bananas

2

medium/US large

eggs

200

g

plain or all-purpose flour

(BL55)

2

tsp

baking powder

1

pinch

fine sea salt
Preparation
Cake mix: Place the dates, water and coconut oil into a saucepan, gently bring to the boil. Allow to bubble for a minute and then remove from the heat. The dates should have started to break down into a paste – if not, heat for another minute or two. Then leave to cool.

Preheat your oven to 160°C fan / 350°F / Gas 4.

Line a 900 g (23×13 cm) loaf pan with baking parchment.

Mash 2 bananas, add the maple syrup and then add it to the date mixture.

In a separate bowl, beat the 2 eggs until well aerated and pale, approximately 1 minute. Stir in the date mixture.

Now sift the flour and baking powder and add to the wet egg mixture, add any additional options if you are using them and gently fold in to combine.

Pour into your lined loaf tin. It is quite a liquid mixture so will level out easily by itself.

Cut the third banana in half and lay on top of the mixture in the loaf pan.

Baking: Bake for 55-60 minutes, until a toothpick or skewer, inserted into the centre, comes out clean.

Remove from the oven and if you would like the top to be a little glossy you could pour over some extra maple syrup.

Allow to cool for 10 minutes in the loaf pan, then remove from the pan and leave to cool or slice it into 10 slices and enjoy it warm.
Notes & Tips
Baking times can vary based on a number of factors. I find 50 minutes is usually about right, but it can vary depending on how hot your oven works, how big the bananas or eggs are, etc.
If you insert a toothpick or skewer in the centre and it comes out clean, you know it's ready but if it doesn't know that it may take a little longer to fully bake.

www.thegourmetlarder.com
---
---
If you liked this maple date banana bread recipe and are looking
for more tasty recipes, be sure to check out my recipe collection.
---
---