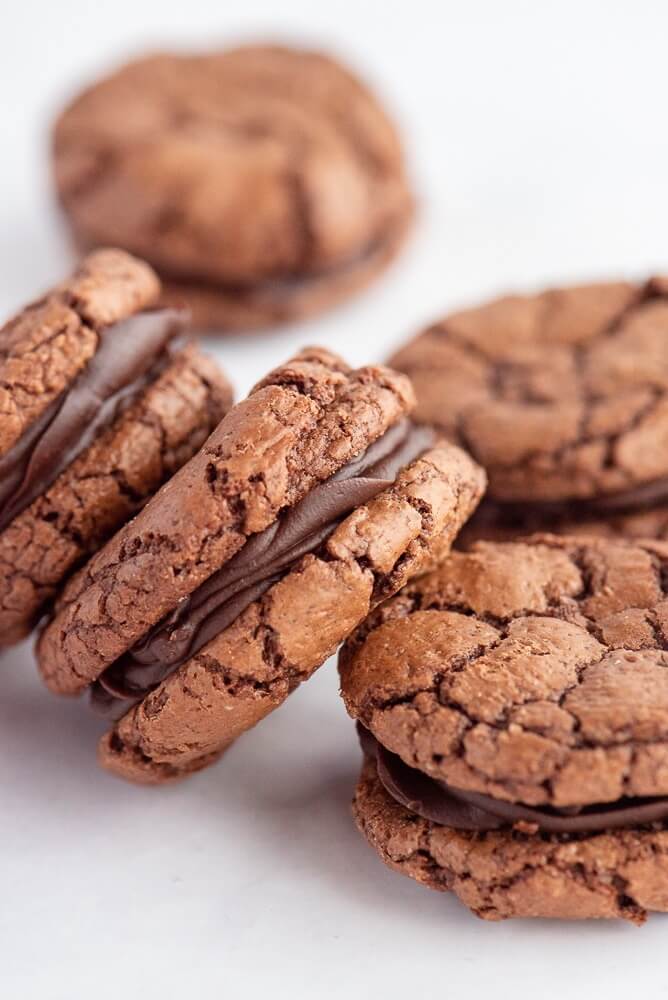 Warning!! These chocolate orange cookies are extremely moreish! I love these cookies as they are irresistible and have a rich intense chocolate orange centre.
These cookies really make an extra special indulgent treat and can even be enjoyed on their own without the chocolate filling. I make them a little smaller than my usual cookies, but don't worry it just means there are more of them 🙂
Plus you can make them all year round for any occasion.
If you like this sandwich cookie recipe you might also like my raspberry pistachio biscuit.
RECIPE HIGHLIGHTS
Ease: Easy
Great for: A treat.
Taste: Sweet, rich, orange and chocolaty.
Texture: Soft with fudge brownie like centre and crisp edges.
RECIPE TIPS
Every oven is different, so try to take the cookies out of the oven just before they look fully baked. The residual heat will set the centres as they cool and you will get the soft, fudgy texture you're looking for. If they overcook, they will be very dry.
The cookies will be very soft, so allow them to cool on the baking trays for at least 12 minutes before transferring to a wire rack to cool completely.
For perfection, you can use a round biscuit cutter to mould the cookies into the perfect shape.
When it comes to baking, I highly recommend using metric measurements and a digital scale, rather than cup measurements. You will find it much easier, less messy and you will get far better, consistent results weighing your ingredients. 🙂
---
WHAT LARDER INGREDIENTS WILL I NEED FOR THIS RECIPE?
For this chocolate brownie cookie recipe all you need are these 11 ingredients:
Dark chocolate plus orange flavoured (I use Lindt Excellence Dark Orange Intense) – any good quality chocolate works well for adding flavour and richness.
Butter – adds structure and flavour. I use salted butter for most of my baking as it intensifies the flavours, but feel free to use unsalted if you prefer. Make sure it's at room temperature before using.
Medium eggs – build structure and richness to this recipe. Make sure they are at room temperature before use.
Light brown sugar – adds sweetness, structure and caramel flavours.
Caster or granulated white sugar – adds sweetness and structure.
Vanilla extract, sugar or vanilla paste – adds flavour and enhances the other ingredient flavours in the recipe.
Plain or all-purpose flour – to build a structure
Dutch cocoa powder – adds a rich chocolate flavour and builds structure.
Baking powder – increases the volume and lightens the texture during baking.
Ground almonds – adds flavour, moisture, texture and structure to the recipe.
Cream – creates a soft, creamy truffle-like texture when mixed with chocolate for the ganache filling.
I especially recommend adding a pinch of sea salt to your batters and doughs, when making desserts or baked goods. The salt elevates the other ingredient flavours and when used with restraint, does not make food taste salty, it just brings out the best characteristics of the food.
---
WHAT VARIATIONS AND SUBSTITUTIONS CAN I MAKE?
This recipe is very versatile and you can have fun trying different flavour twists in both the cookies and the filling!
Here are a few suggestions:
Try adding 100g of white or dark chocolate chips to the cookie dough.
Peanut butter or any other type of nut butter makes a great filling to sandwich these cookies together.
Vanilla cream cheese filling: Mix together 50g icing sugar with 200g cream cheese or mascarpone and 1 tsp vanilla extract until smooth. Assemble the cookies by piping one cookie with the filling and then sandwich with another cookie.
Coffee flavoured chocolate filling: Add 1 tsp of instant espresso powder to the milk after boiling.
What combination would you choose for your chocolate cookie recipe?
Let me know in the comments!
---
EQUIPMENT SUGGESTIONS
For this recipe, it is optional to use a food mixer, but can easily be made without. Other recommendations include:
1 tablespoon ice cream scoop
---
NUTRITION
Serving: one chocolate orange cookie
Nutrition information can vary for a recipe based on factors such as precision of measurements, brands, ingredient freshness, or the source of nutrition data.
I strive to keep the information as accurate as possible but make no warranties regarding its accuracy.
I encourage you to make your own calculations based on the actual ingredients used in your recipe, using your preferred nutrition calculator.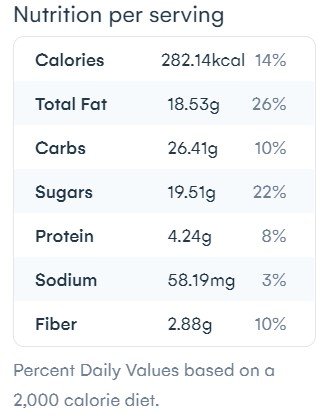 ---
STORAGE AND FREEZING OPTIONS
These cookies are best enjoyed on the day of baking. Store them in an airtight container for up to 3 days, they will soften as time goes by.
Freezing: These cookies can be frozen prior to baking as balls or once baked and stored in an airtight container. I do not recommend freezing them with the ganache.
© THE GOURMET LARDER. All images and content are copyright protected.
Please follow my Sharing Policy if you would like to use or share any part of this post.

---
READY TO MAKE YOUR CHOCOLATE ORANGE COOKIES?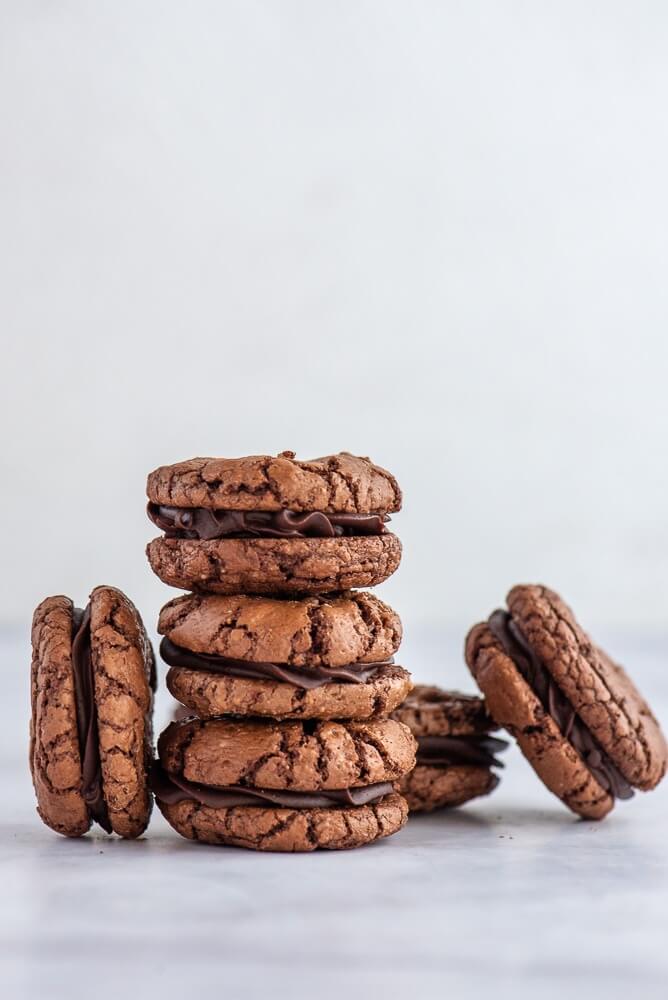 Chocolate Orange Cookies
Servings:
18
sandwich cookies
Warning!! These chocolate orange cookies are extremely moreish! You will love these brownie-like cookies filled with an irresistible rich orange chocolate cream centre.
INGREDIENTS LIST
200

g

dark chocolate

100

g

butter

2

medium

eggs

100

g

soft brown sugar

100

g

caster or granulated white sugar

1

tsp

vanilla extract, sugar or 1/2 tsp of vanilla paste

60

g

plain or all-purpose flour

2

tbsp

Dutch cocoa powder

1

tsp

baking powder

1

pinch

fine sea salt

80

g

ground almonds
Chocolate filling
200

g

orange chocolate chopped

200

ml

single cream
Preparation
Preheat the oven 170°C fan / 375°F / Gas 5.

Line two baking trays with baking paper or a silicone mat.

Cookie dough: In a small heatproof bowl, add the chopped chocolate and butter, then set over a pan of gently simmering water to create a double boiler. Stir occasionally until all the chocolate has melted. Remove the bowl from the heat and set it aside to cool a little.

In a large mixing bowl or a food mixer, whisk the eggs, sugars, and vanilla together until thick, pale & fluffy (the ribbon stage). Approximately 3-4 minutes on medium-high speed.

Continue mixing after the egg mixture has thickened. Pour in the slightly cooled chocolate mixture and mix until nice and smooth.

Add the ground almonds, sift the flour, cocoa powder, baking powder and salt into the bowl. Using a spatula, gently mix until just combined, ensuring you get all the dough from the bottom of the bowl.

The mix will be quite wet, so place it in the fridge for 5 minutes to firm up just a little.

Shaping: Use a one-tablespoon cookie scoop or teaspoon and place 9 cookies onto each of the prepared baking trays. Making sure to leave space between each cookie, to allow for spreading while baking.

(If you want to make larger cookies use a 2 tablespoon ice cream scoop and place 6 cookies on each tray.)

Baking: Bake the cookies for 7-8 minutes, preferably one tray at a time on the middle shelf of the oven.

(If you are making larger cookies allow 9-10 minutes for baking.)

Once baked, you can use a round biscuit cutter to mould the cookies into a round shape. They will be very soft so allow them to cool on the baking trays for at least 12 minutes before transferring to a wire rack to cool completely.

Chocolate filling: Add the cream to a small saucepan and bring to a boil. Place the chopped orange chocolate into a heatproof bowl and pour the hot cream over the chocolate, stir together until smooth.

Cool the filling until thick enough to pipe and then pipe some filling onto one cookie and sandwich it together with another.

KEYWORDS
Biscuits & Cookies, Brownie cookies, Chocolate, Christmas, Easter baking, Ganache, Mothers day, Orange chocolate

www.thegourmetlarder.com
---
LOOKING FOR MORE DELICIOUS BISCUIT RECIPES ?
If you're looking for more tasty recipes, be sure to check out my recipe index. You can also find a lot more biscuit recipes as well.
---
PIN THIS RECIPE FOR LATER:
---
IF YOU LIKED THIS CHOCOLATE ORANGE COOKIE RECIPE YOU MIGHT ALSO LIKE:

Please let me know how it turned out for you!
I love to hear your feedback and I am always looking to improve the Gourmet Larder blog, please leave your thoughts and a rating using the comments section below!

Hungry for more, follow me!
---
---