Chocolate Crinkle Cookies
25 December 2020
No Comments.
These chocolate crinkle cookies are the perfect festive treat and are great for making with children. And, if you are looking for a delicious gift idea then these delicious cookies are the answer.
If you've never had crinkle cookies before, they are fudgy, brownie-like and rolled in icing sugar before baking. As the cookies bake in the oven and spread, they create this crinkle effect on the top that not only looks impressive but tastes amazing too.
If you like this recipe, check out my classic chocolate chip cookies or my chocolate orange cookies for more inspiration.
If you decide to give this recipe a try, let me know! Leave a comment below and rate it – it's really helpful to me and the other readers. And don't forget to take a picture and tag it #thegourmetlarder on Instagram! I love seeing what you come up with 🙂
---
WHAT LARDER INGREDIENTS WILL I NEED FOR THIS RECIPE?
For this yummy chocolate crinkle cookie recipe all you need are these ingredients:
Neutral-tasting oil (vegetable or sunflower)
Dutch cocoa powder
Caster sugar or granulated white sugar
Vanilla extract, sugar or paste
Medium eggs
Plain or all-purpose flour (BL55)
Sea salt
Baking powder
Icing sugar
I highly recommend adding a good pinch of salt to your biscuit doughs. It would seem counter productive, but it's not. Salt, helps balance out the sweetness and richness. It also elevates the other ingredients, bring out the best characteristics of any recipe. In a seemingly absurd or self-contradictory way, salt intensifies the mouths ability to taste sweetness. It is the sodium that sends signals to move glucose into the sweet taste receptor cells, thus triggering the cells to register sweetness. The result is that salt not only alerts our 'salt sensitivity', but also triggers our 'sweet sensitive' taste buds.
---
WHAT VARIATIONS AND SUBSTITUTIONS CAN I MAKE?
Flour: These chocolate crinkle cookies are easily converted to being gluten-free. Just replace the flour with a 1:1 gluten-free baking flour.
This chocolate crinkle cookies recipe is very versatile and you can have fun trying different flavour twists!
Here are a few suggestions:
Coffee and chocolate cookies: Add 1 tsp of instant espresso powder with the oil.
Amaretto and chocolate cookies: Add 1/2-1 tsp almond extract with the oil.
Orange and chocolate cookies: Add the zest of an orange or a little oil extract.
---
EQUIPMENT SUGGESTIONS
When it comes to baking, I highly recommend using metric measurements and a digital scale, rather than cup measurements. You will find it much easier, less messy and you will get far better, consistent results weighing your ingredients. 🙂
---
NUTRITION
Serving: one chocolate crinkle cookie
Nutrition information can vary for a recipe based on factors such as precision of measurements, brands, ingredient freshness, or the source of nutrition data.
I strive to keep the information as accurate as possible but make no warranties regarding its accuracy.
I encourage you to make your own calculations based on the actual ingredients used in your recipe, using your preferred nutrition calculator.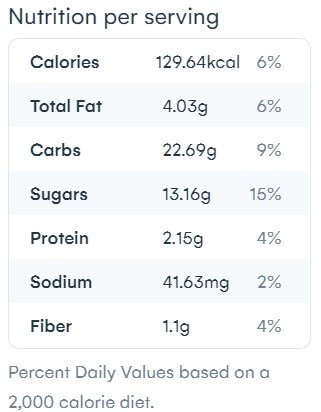 ---
STORAGE AND FREEZING OPTIONS
These chocolate crinkle cookies are best served on the day of baking, warm and crispy from the oven. Store them in an airtight container for up to a week, they will soften as time goes by.
Freezing: I recommend freezing the dough in balls without the icing sugar. Defrosting for half an hour, then coating them with the icing sugar prior to baking, to have perfect cookies at a moment's notice!
Alternatively, they can be frozen once baked for up to 1 month.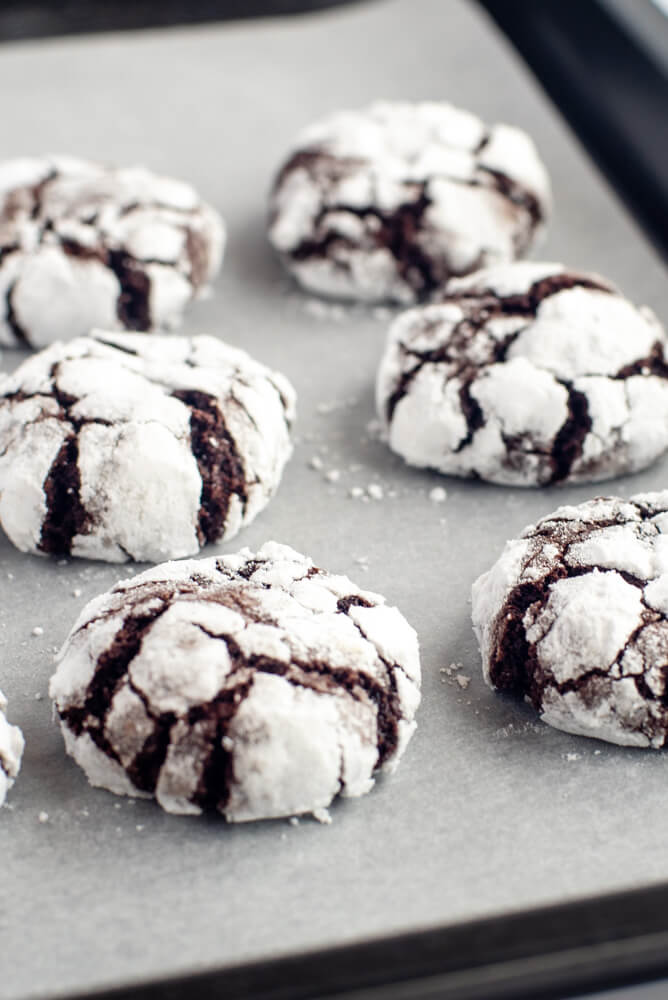 © THE GOURMET LARDER. All images and content are copyright protected.
Please read my FAQ's, if you would like to use or share any part of this post.
---
READY TO MAKE YOUR CHOCOLATE CRINKLE COOKIES ?
Chocolate Crinkle Cookies
These chocolate crinkle cookies are the perfect festive treat and are great for making with children. And, if you are looking for a delicious gift idea then these delicious cookies are the answer.
INGREDIENTS LIST
60

ml

neutral-tasting oil

(coconut, vegetable or sunflower oil)

50

g

Dutch cocoa powder

180

g

caster or granulated white sugar

1

tsp

pure vanilla extract or 1/2 tsp of vanilla paste

2

medium/US large

eggs

180

g

plain or all-purpose flour

(BL55)

1

pinch

fine sea salt

1

tsp

baking powder

60

g

icing sugar (US powdered sugar)
Preparation
Cookie dough: To a large bowl or a food mixer add the oil, cocoa powder, sugar and vanilla. Mix until well combined.

Add the eggs one at a time, mixing in-between each addition until smooth and shiny.

Add the sieved flour, baking powder and salt and stir until combined.

Resting the dough: Chill the dough for 2 hours or longer, even overnight if possible. (see notes)

Preheat the oven to 170°C fan / 375°F / Gas 5.

Line a baking tray with parchment paper or a silicone mat and set it aside.

Shaping: Place the icing sugar in a bowl. Divide the cookie dough into 16 balls and gently roll in the bowl of icing sugar to coat them heavily.Coating: To ensure you get the nice finish on these cookies, coat them heavily in the icing sugar. As with resting the dough (see notes) we want to avoid the cookies having a faded appearance.

Place the coated cookie balls on the prepared baking tray. (You may not be able to bake all the cookies at once as they need space around them as they bake to spread. I use a silicone mat (30×40 cm) on my baking tray and this allows me to bake a maximum of 20 cookies at one time.) I tend to bake them in 2 batches.

Baking: Bake for 7-8 minutes or until the edges are set. (See notes)

Allow the cookies to cool for 2-3 minutes on the baking sheet to continue setting, then transfer to a wire rack to cool.
Notes & Tips
Resting: If you want to get the best results, chilling the dough will help develop the flavour, texture and most importantly it will stop the icing sugar from being absorbed into the cookies as they cook and fading their appearance.
If you really can't wait with the resting, you can bake them straight away but for the reasons above they just won't be the same.
Baking: Just like baking brownies you need to have good control over the baking time. Try to take them out of the oven just before they look fully baked, the residual heat left will set the centres and you will get the soft, brownie-like texture you're looking for. If they overcook, they will be very dry.
For me, the cookies took around 8 minutes in my oven. For the best result, I recommend trying with one cookie and adjusting the time for the rest based on the result.

KEYWORDS
biscuits and cookies, chocolate crinkle cookies, christmas, crinkle cookies, dairy free

www.thegourmetlarder.com
---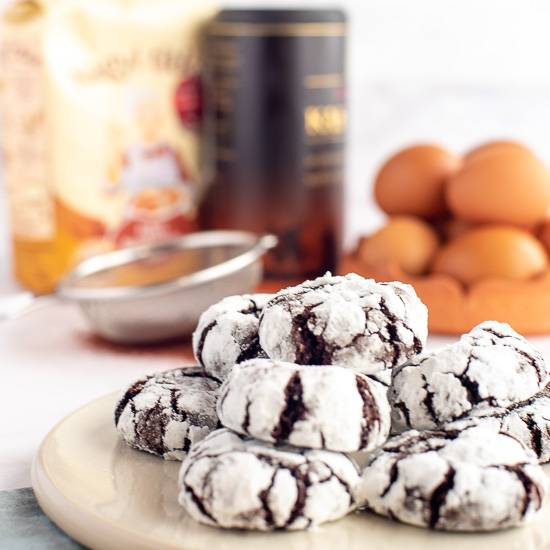 ---
PIN THIS RECIPE FOR LATER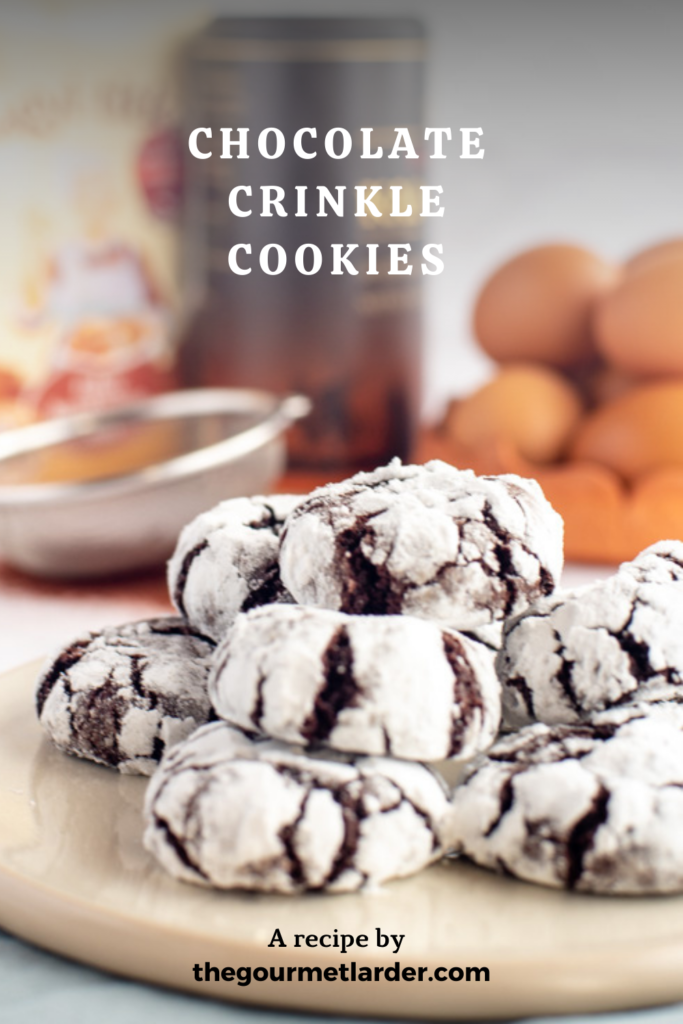 ---
If you liked this chocolate crinkle cookies recipe and are looking
for more tasty recipes, be sure to check out my recipe collection.
---
---