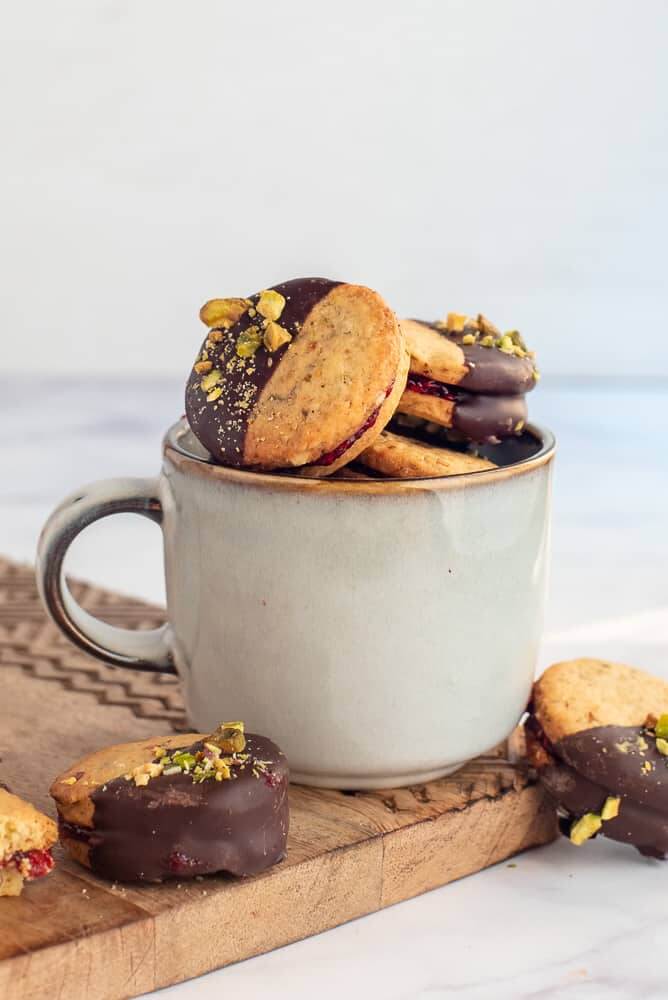 A firm favourite in my family, these raspberry Pistachio Biscuits take a simple biscuit and turn it into something quite special. Two pistachio biscuits filled with raspberry jam and dipped in chocolate.
WHAT LARDER INGREDIENTS WILL I NEED FOR THIS RECIPE?
For this biscuit recipe all you need are these 12 ingredients:
Pistachios
Plain or all-purpose flour
Brown sugar
Sea salt
Baking powder
Vanilla extract, sugar or vanilla paste
Butter
Whole milk
Fresh raspberries or raspberry jam
Caster or granulated white sugar
Cornflour
Dark or milk chocolate
---
WHAT VARIATIONS AND SUBSTITUTIONS CAN I MAKE?
Nuts: If you want to try a different type of nut other than pistachio, you can use ground almonds or hazelnuts.
---
EQUIPMENT SUGGESTIONS
Recommendations include:
---
NUTRITION
Serving: one biscuit (5cm)
Nutrition information can vary for a recipe based on factors such as precision of measurements, brands, ingredient freshness, or the source of nutrition data.
I strive to keep the information as accurate as possible but make no warranties regarding its accuracy.
I encourage you to make your own calculations based on the actual ingredients used in your recipe, using your preferred nutrition calculator.
---
STORAGE AND FREEZING OPTIONS
These sandwich biscuits will keep in an airtight container for 3-4 days, they will soften as time goes by.
Freezing: These biscuits can be frozen but they will not look as good as when made fresh. Alternatively, the baked biscuits can be frozen and the jam can be made in advance for assembling 2-3 days later.
© THE GOURMET LARDER. All images and content are copyright protected.
Please follow my Sharing Policy if you would like to use or share any part of this post.

---
READY TO MAKE YOUR RASPBERRY PISTACHIO BISCUITS ?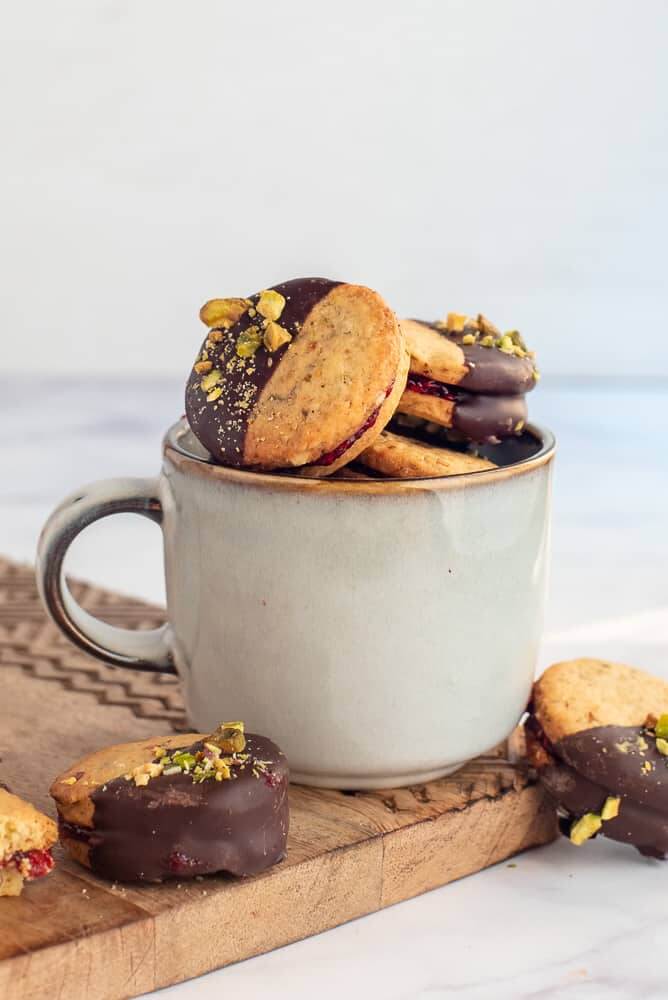 Raspberry Pistachio Biscuits
Two pistachio biscuits sandwiched between raspberry jam and dipped in chocolate.
INGREDIENTS LIST
85

g

whole roasted pistachios

150

g

plain or all-purpose flour

80

g

soft brown sugar

1

pinch

fine sea salt

1

tsp

baking powder

1

tsp

vanilla extract, sugar or 1/2 tsp of vanilla paste

100

g

melted butter

2

tbsp

milk
Raspberry Jam filling
100

g

fresh raspberries

(see notes)

50

g

caster or granulated white sugar

2

tsp

cornflour (US -cornstarch)
Chocolate
100

g

milk or dark chocolate
Preparation
Biscuit dough: Measure the butter and place it into a small saucepan or in the microwave to melt.

To make the crushed pistachios, simply place the required amount in a small bag or between two pieces of paper and use a heavy object or rolling pin to crush the nuts. They do not have to be super fine. 

In a large bowl, mix 45g of the crushed pistachios, flour, sugar, salt, baking powder and vanilla.

(The remaining crushed pistachios will be used to decorate.)

Add the milk and butter to the dry ingredients and bring them together to form a dough.

Preheat your oven to 160°C fan / 350°F / Gas 4.

Chill the dough in the fridge for 15-30 minutes to make the dough easier to roll out. Roll out between two pieces of parchment paper to a thickness of about 4mm (1/4 inch).

Use a round 5cm (2inch) cookie cutter to cut out the biscuits and arrange them on a lined baking tray. They do not spread so I managed to fit them on one tray.

Baking: Place the tray on the middle shelf and bake for 15-20 minutes.

Once baked, leave to cool completely.

Jam: Place 100g of fresh raspberries and 50g of white sugar into a small saucepan. Gently simmer the mixture until it has reduced and thickened, approx. 10-15 minutes. Start over low heat and stir often so the sugar doesn't burn. (You can add a splash of water to help get it started if you would like.)

I add a little cornflour to the jam to ensure it doesn't run out between the biscuits. If you decide to buy jam instead of making it, then as long as it is quite thick you don't need to worry about the cornflour.

If you are going to use the cornflour, mix it with a little cold water to form a thin paste and pour it into the jam, stir continuously to avoid lumps forming.

Remove from the heat after about a minute.

Then using a sift or fine mesh strainer push the raspberry mixture through to remove as many of the seeds as you would like. Use a silicone spatula or the back of a spoon to press the sauce through the strainer.

Set aside to cool completely. This can also be done a couple of days in advance and kept in the fridge until ready to use.

Assembly: Once the biscuits and jam have completely cooled, dollop a teaspoon of jam onto one of the biscuits and press another one onto it.

Chocolate: Melt 2/3 of the chocolate in a small bowl over a pan of boiling water or in the microwave for 30 seconds at a time and stirring until melted.

Once fully melted, add the remaining chocolate and stir until completely dissolved.

Dip the sandwiched biscuits into the chocolate and place them on a wire rack, sprinkle each biscuit with some of the remaining crushed pistachios and leave to cool.
Notes
Raspberry filling: If you don't want to make your own jam filling, you can use shop-bought instead, just make sure it's not too liquidy or it will run out between the biscuits.
And if you already have some jam and want to thicken it, simply follow the steps in the recipe for adding cornflour.

KEYWORDS
Biscuits & Cookies, Chocolate, Pistachios, Sandwich cookies

www.thegourmetlarder.com
---
IF YOU LIKE THESE RASPBERRY PISTACHIO BISCUITS YOU MIGHT ALSO LIKE THESE OTHER RASPBERRY RECIPES:
---
LOOKING FOR MORE DELICIOUS BISCUIT RECIPES ?
If you're looking for more tasty recipes, be sure to check out my recipe index. You can also find a lot more biscuit recipes as well.
---

Please let me know how it turned out for you!
I love to hear your feedback and I am always looking to improve the Gourmet Larder blog, please leave your thoughts and a rating using the comments section below!

Hungry for more, follow me!
---
---