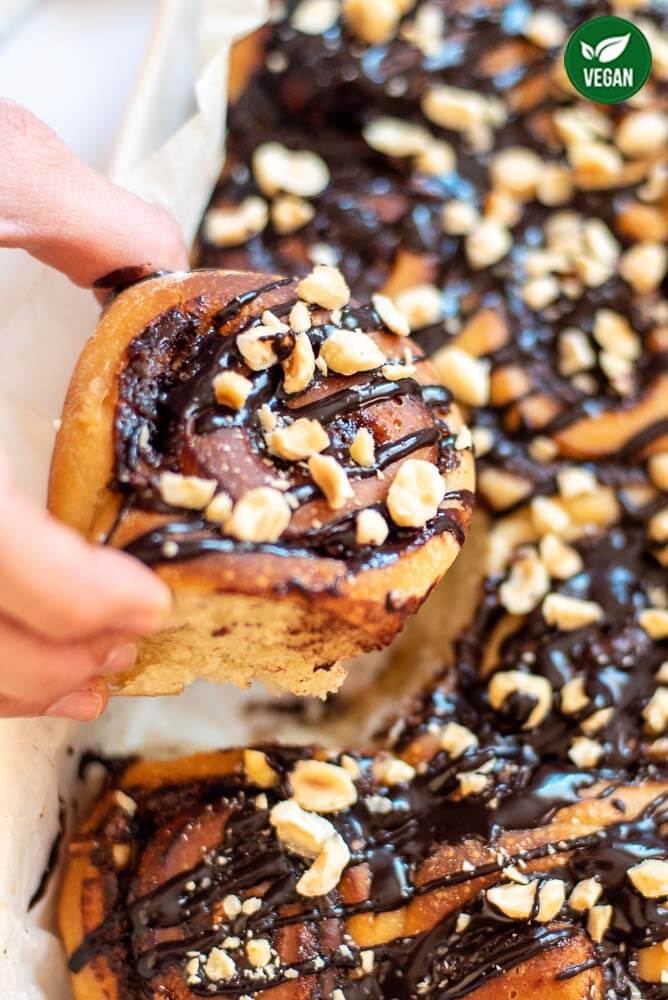 These Nutella and hazelnut buns are filled with my delicious homemade Nutella and topped with rich chocolate icing and hazelnuts.
These buns, or rolls as they are known in America, just like the popular cinnamon rolls, are easy to make and get rave reviews from my family. Another great thing about this recipe is it is not just vegan but dairy-free and egg-free.
And you can also get vegan versions of Nutella in the shops now, so if you don't have the time or the equipment, it couldn't be simpler.
If you want to enjoy these freshly baked for breakfast, I have included an overnight method in the recipe.
RECIPE HIGHLIGHTS
Ease: Easy to intermediate, some knowledge of kneading is required or you can use a stand mixer.
Great for: Breakfast, brunch or an afternoon treat.
Taste: Sweet, chocolaty and nutty.
Texture: Chewy, soft, tender and sticky.
---
CHECK OUT MORE MOUTH-WATERING
BREAD FAVOURITES:
---
WHAT LARDER INGREDIENTS WILL I NEED FOR THIS RECIPE ?
For this Nutella and hazelnut bun recipe all you need are these 11 ingredients:
Non-dairy milk (such as almond, oat, rice or soy milk) – adds flavour and replaces regular cows milk typicaly used in this type of recipe.
Neutral-tasting oil (coconut, vegetable or sunflower oil) – creates moisture, makes the cake light and lenghtens the cakes life span.
Fresh or dried yeast– ferments the sugars in the flour and releases carbon dioxide, but because the dough is elastic and stretchable the carbon dioxide cannot escape, causing the dough to rise.
Strong white bread or all-purpose flour – is made from hard, high-protein varieties of wheat, which have a higher gluten content than other flours. Gluten is the substance that makes the dough more elastic and strechable, giving the final baked product its flufiness and lightness.
Caster or granulated white sugar – adds sweetness and structure.
Fine sea salt – you only need a pinch, enhances flavour.
Whole hazelnuts – adds texture and flavour.
Vanilla extract, sugar or vanilla paste – to enhance the flavour.
Powdered / Icing sugar – creates the ultimate shiny glaze when combined with the chocolate.
Dutch cocoa powder – adds a rich chocolate flavour and builds structure.
---
USING FRESH OR DRIED YEAST
I try to include both fresh and dried yeast quantities in all my recipes, but if you need further guidance on the type and quantity of yeast to use in a recipe, please read my guide: Using fresh or dried yeast
---
NUTRITION
Serving: one Nutella and hazelnut bun
Nutrition information can vary for a recipe based on factors such as precision of measurements, brands, ingredient freshness, or the source of nutrition data.
I strive to keep the information as accurate as possible but make no warranties regarding its accuracy.
I encourage you to make your own calculations based on the actual ingredients used in your recipe, using your preferred nutrition calculator.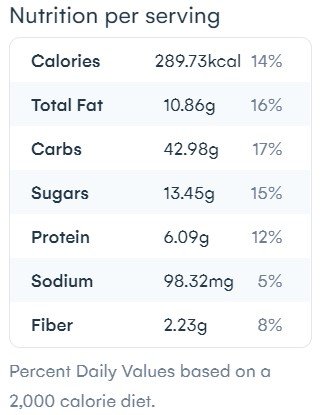 ---
STORAGE AND FREEZING OPTIONS
These Nutella and hazelnut buns will stay fresh in an airtight container for 2 days at room temperature, especially if you warm them up a bit before serving.
Freezing: They also freeze well for up to 2 months, but are best frozen without the icing. To defrost simply leave on the kitchen worktop for half an hour and glaze as per recipe.
---
EQUIPMENT SUGGESTIONS
For this recipe, it is optional to use a stand mixer, but it can easily be made without one.
---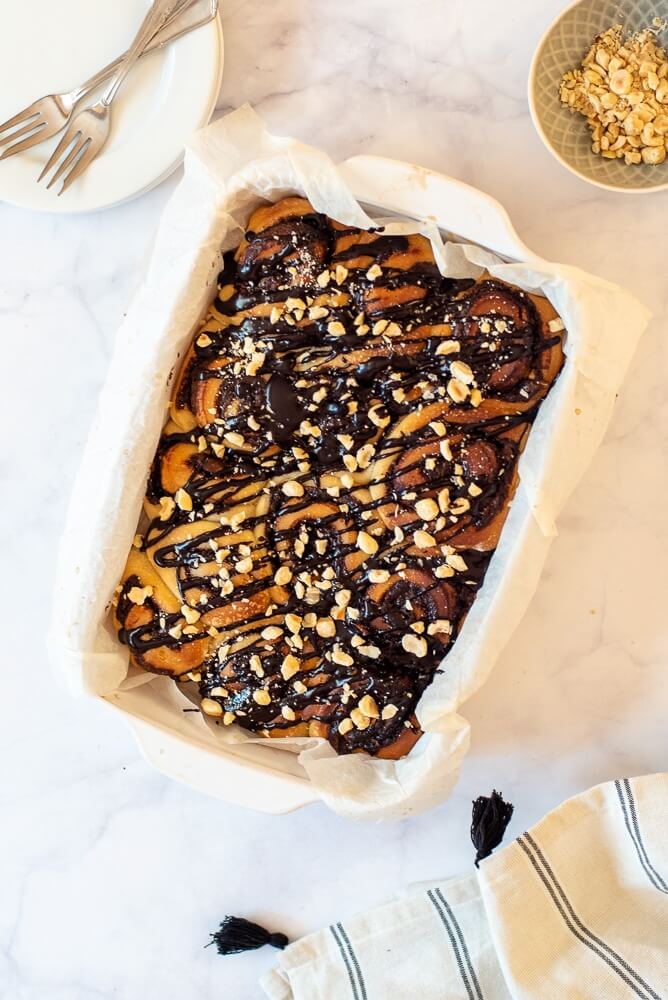 © THE GOURMET LARDER. All images and content are copyright protected.
Please follow my Sharing Policy if you would like to use or share any part of this post.
---
---
READY TO MAKE YOUR NUTELLA AND HAZELNUT BUNS ?
HAPPY BAKING!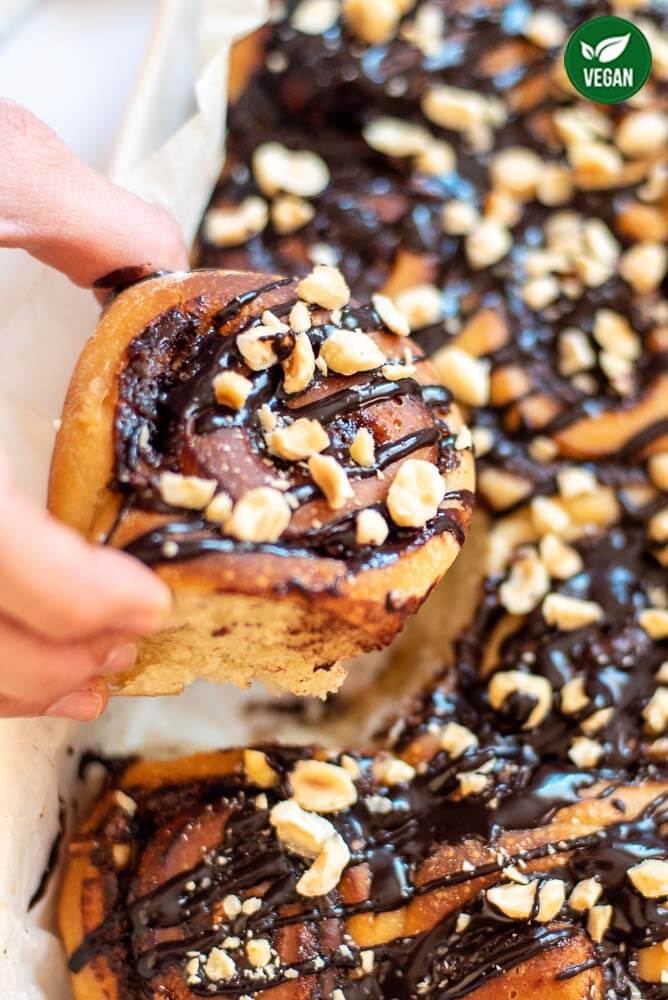 Nutella And Hazelnut Buns
These Nutella and hazelnut buns are filled with my delicious homemade Nutella and topped with rich chocolate icing and hazelnuts.
INGREDIENTS LIST
Dough
250

g

non-dairy milk (almond, oat, rice or soy milk)

15

g

fresh yeast

(5g dried yeast)

50

g

neutral-tasting oil

(vegan butter, coconut, vegetable or sunflower oil)

450

g

strong white bread flour or all-purpose

60

g

caster or granulated white sugar

(4 tbsp)

1/2

tsp

fine sea salt
Filling
130

g

vegan nutella or homemade
Topping
40

g

icing sugar (US powdered sugar)

150

g

dutch cocoa powder

2

tsp

non-dairy milk (almond, oat, rice or soy milk)

20

g

whole roasted hazelnuts

(chopped )
Preparation
Dough: In a small saucepan, place the milk and oil, heating gently until it reaches body temperature 37°C/98°F. You should be able to comfortably put your finger in it and hold it there. If it's too hot it will kill the yeast.

Remove from the heat and stir in the yeast. Set aside until needed.

In a large bowl, mix together the flour, sugar and salt, then make a well in the middle and add the milk mixture. Using a wooden spoon or electric mixer, combine all the ingredients until they form a rough dough.

Tip the dough out onto an un-floured surface (you shouldn't need to add extra flour as this will make the dough too dry) and knead it for about 10 minutes. It will be sticky at first but become smooth and elastic as you knead it.

If, like me, you're too lazy, you can also place the dough into an electric stand mixer until it's smooth and elastic.

Once kneaded, shape the dough into a ball and place it in an oiled bowl. Cover and set aside to rise for about 1-2 hours in a warm place, until doubled.

Shaping: Once the dough has proved and doubled in size, turn out the bowl and place the dough on a clean work surface that has been lightly dusted with flour. Punch it down and knead briefly. Then roll it out to a 30x40cm (12×16 inch) rectangle.

Line or grease a 30x20cm (12×8 inch) baking dish with vegan butter.

Assembly: Spread the Nutella filling across the rectangle of dough. I find it best not to overdo the filling, otherwise, it oozes out when rolling it up.

Roll up the dough starting with one of the longer sides, so you end up with a long rolled sausage shape.

Use a sharp knife or a piece of cotton thread to cut the dough into 12 equal buns. If you are using a piece of cotton thread, wrap it around the sausage shape dough and pull the ends in opposite directions to cut the dough.

Arrange cut side down on the prepared baking tray or dish. It is ideal if they are not too far spaced apart, so that when they have proved the sides of the buns touch each other (this avoids them dryig out and being tough).

Overnight choice: At this stage, the buns can be placed in the fridge overnight and continue in the morning. The next morning, remove the rolls from the fridge. Put your oven on its lowest setting, the ideal temperature is 30°C/ 86°F, and put the baking dish or tray into the oven for 20-25 minutes so they prove. Then after proving, remove them from the oven and rest on the side, while you preheat the oven to 180°C fan / 400°F / Gas 6.

Once the oven is preheated, continue to follow the instructions below from baking!

Second proving: Cover with a damp tea towel and leave to proof again for 30 minutes.

Preheat the oven to 180°C fan / 400°F / Gas 6.

Baking: Place the buns in the preheated oven for 20-25 minutes. I like to cover the dish with a piece of foil for the first 10 minutes, to avoid them getting too much colour.

Leave to cool in the tin for 30 minutes then carefully lift them out and place on a wire rack.

Glazing: Sift the icing sugar and cocoa into a small bowl and gradually stir in the plant milk until it forms a thick pourable icing. Drizzle over the cooled buns.

www.thegourmetlarder.com
---
RECIPE TIPS
When heating the plant-based milk make sure that it is not too hot (ideal temperature is body temperature at 37°C/98°F), you should be able to comfortably put your finger in it and hold it there. If its too hot it will kill the yeast.
Use an extra sharp knife or a piece of cotton thread, when cutting the individual buns, otherwise the dough gets squashed and the filling runs out.
Be extra careful not to over bake the buns as it results in them drying out.
When it comes to cakes and desserts, I highly recommend using metric measurements and a digital scale, rather than cup measurements. You will find it much easier, less messy and you will get far better, consistent results weighing your ingredients. 🙂
PIN THIS RECIPE FOR LATER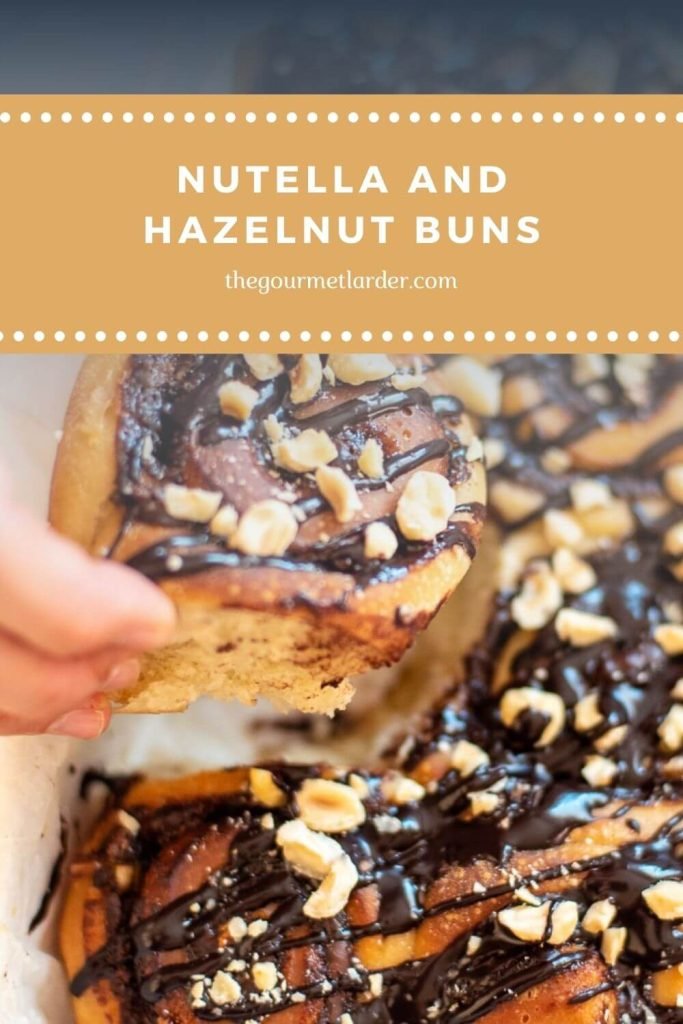 ---
If you liked this Nutella and hazelnut buns recipe and are looking
for more tasty recipes, be sure to check out my recipe index.
You can also find a lot more bread recipes as well.
---
---