Jianbing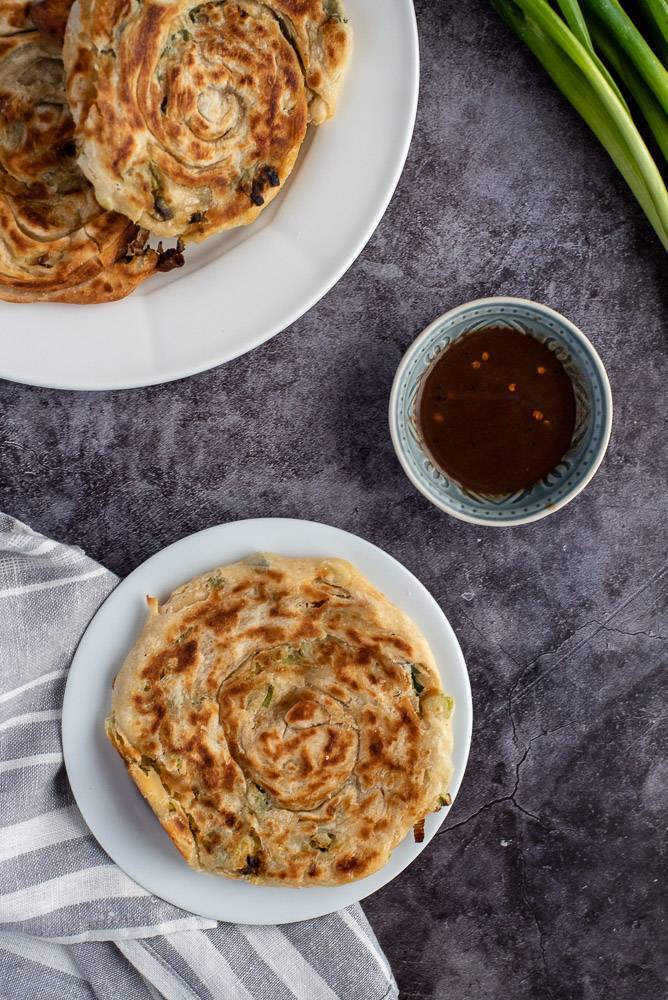 Jianbing has a golden crusty outside which, when torn apart, reveals springy flaky layers of pastry. Easy to make with very few ingredients, making a tasty snack or side dish.
While traditionally Jianbing is a Chinese fried pancake, to me it's more of an enriched bread dough. It is typically street food eaten for breakfast. It can be topped with different fillings and sauces, such as ham, spring onions, coriander, chilli sauce or hoisin sauce to name a few.
If you decide to give this recipe a try, let me know! Leave a comment below and rate it – it's really helpful to me and the other readers. And don't forget to take a picture and tag it #thegourmetlarder on Instagram! I love seeing what you come up with 🙂
RECIPE HIGHLIGHTS
Ease: Easy.
Great for: A snack, breakfast, everyday meals, picnics.
Taste: Savoury onion bread.
Texture: Crisp, flaky and chewy layers.
---
WHAT LARDER INGREDIENTS WILL I NEED FOR THIS RECIPE?
For this jianbing recipe all you need are these 5 ingredients:
Plain or all-purpose flour – is used as we don't want this dough to rise. Otherwise, it is very hard to roll out.
Boiling water – cooks the proteins in the flour, minimizing gluten development, enabling easier rolling.
Medium egg – helps to enrich the dough and make it more elastic. Make sure it is at room temperature before use.
Spring onions – create a nice flavour for this flatbread.
More plain or all-purpose flour – is used in the oil paste to stop the oil from leaking out the dough.
Neutral-tasting oil (coconut, vegetable or sunflower oil) – creates the layers.
---
WHAT VARIATIONS AND SUBSTITUTIONS CAN I MAKE?
Oil – is traditionally used to make the paste but you can change it for melted butter.
Spring onions – are optional and you can add other ingredients such as diced ham, bacon, coriander, or parsley.
Spices – are another option, try adding 1/2 tsp of five-spice mix to the flour or 1 tsp of onion seeds.
---
NUTRITION
Serving: one jianbing
Nutrition information can vary for a recipe based on factors such as precision of measurements, brands, ingredient freshness, or the source of nutrition data.
I strive to keep the information as accurate as possible but make no warranties regarding its accuracy.
I encourage you to make your own calculations based on the actual ingredients used in your recipe, using your preferred nutrition calculator.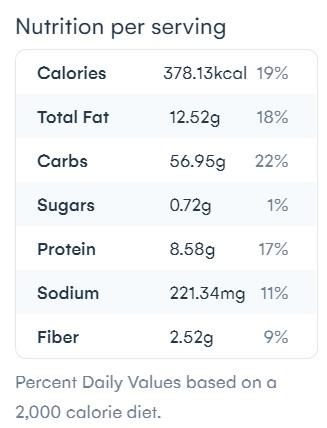 ---
STORAGE AND FREEZING
These are best eaten on the day but they can be frozen.
Freezing – Once the Jianbing is ready for cooking they can be stacked on top of each other with baking parchment between them. Place them in a freezer bag and store them for up to a month.
© THE GOURMET LARDER. All images and content are copyright protected.
Please read my FAQ's, if you would like to use or share any part of this post.
---
EQUIPMENT SUGGESTIONS
Recommendations include:
Non-stick frying pans
When it comes to baking, I highly recommend using metric measurements and a digital scale, rather than cup measurements. You will find it much easier, less messy and you will get far better, consistent results weighing your ingredients. 🙂
---
READY TO MAKE YOUR OWN JIANBING ?
HAPPY BAKING!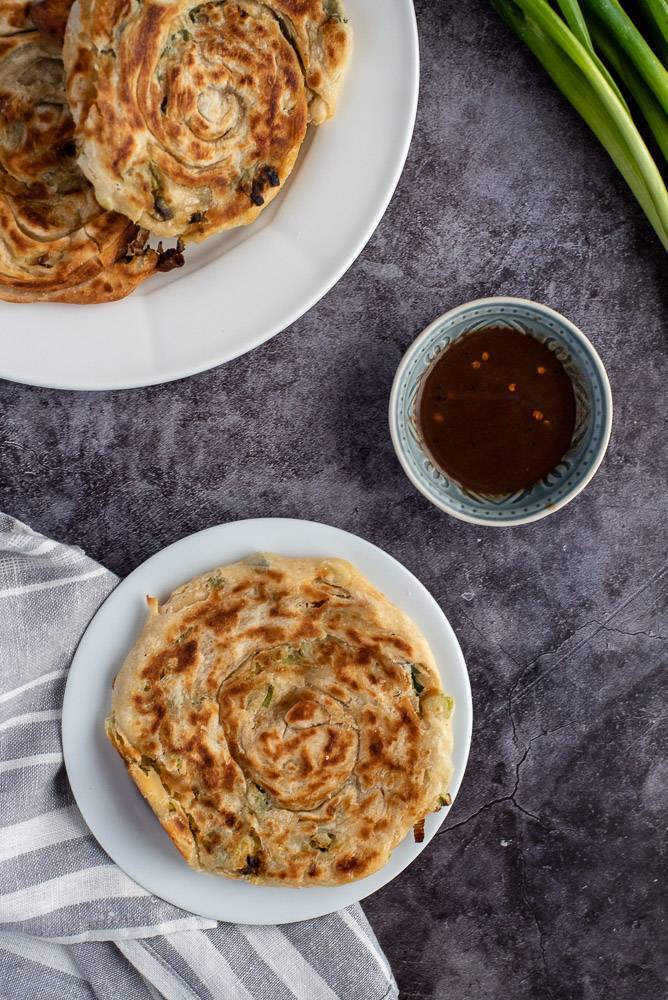 Jianbing
Jianbing has a golden crusty outside which, when torn apart, reveals springy flaky layers of pastry. Easy to make with very few ingredients, making a tasty snack or side dish.
INGREDIENTS LIST
500

g

plain or all-purpose flour

(best alternatives: Asian flour or cake flour)

250

ml

boiling water and 50ml cold water

1

tsp

fine sea salt

1

medium/US large

egg
Oil paste
6

pieces

spring onion

(180g sliced)

80

g

plain or all-purpose flour

100

ml

neutral-tasting oil

(coconut, vegetable or sunflower oil)
Preparation
Dough: Boil some water and into a large mixing bowl add the flour, salt and 250ml of boiling water.

Stir the mixture with a fork then add the egg and the cold water incorporating the dry flour on the sides of the bowl, until a ball of dough forms.

Leave for 15 minutes to rest in the bowl, covered with a kitchen cloth.

Turn the dough out onto a floured surface and knead for 1-2 minutes until smooth (the dough will be slightly sticky). Brush with oil to prevent it from drying out, then cover and let rest for at least 30-60 minutes or chill overnight in the fridge for the best results.

Oil paste: In a small saucepan, heat 100ml of oil. Slice the spring onions and place them in a heat-resistant bowl along with the flour. Once the oil is hot, carefully pour it over the onion and flour mixture (oil will sizzle a little), stir to form a thin paste.

Roll dough: Divide the dough into 8 equal portions, roughly weighing 100g each. Place all but one piece back into the bowl and cover. On a lightly oiled surface, roll out the first portion into a thin rectangle.

Spoon or brush an even layer of oil paste over the rectangle dough.

Roll up the rectangle from the bottom to the top.

Coil it right to left (snail-style) to form a circle, tucking the end securely in.

Flatten gently with your palm and then roll each coil into a thin circle with the rolling pin.

Repeat with the remaining dough portions.

Cooking: Brush a non-stick pan with a little oil and place over a medium low heat. Lay one jianbing inside the pan, cover with a lid and cook for 3 minutes, or until the bottom is golden. Then flip it over, cover again and cook for another 2 minutes.

Remove the lid and roughly push the sides of the jianbing with two spatulas to loosen the layers. Flipping once or twice until the pancake is crispy and a deep golden brown.

Brush the pan with a new layer of oil and repeat with the remaining jianbang.

Serve plain or with a dipping sauce.
TOOLS YOU'LL NEED
A frying pan

(see equipment suggestions on blog page)

www.thegourmetlarder.com
---
RECIPE TIPS
Asian flour – is ideal for this recipe as it has a much lower gluten content than plain flour. if you can't find Asian flour then try using cake flour. This recipe is similar to other asian flatbreads in that it does not have any raising agent. Unlike normal bread dough we are aiming for a non-rising structure which makes it easier to roll out.
Using boiling water – is known as the tang technique. The hot water cooks the proteins in the flour, minimizing the gluten development.
Cooking the spring onions – in the oil paste is important to avoid the thin, rolled out dough being damaged when rolling them up. If you prefer not cooking them, use the green part of the spring onion only as they are much softer.
Rolling out – is best done on a lightly oiled work surface. It is ok to use flour instead but it will be a lot harder to roll out thin.
Cooking – the jianbings in a non-stick pan with a lid helps the dough to cook through.
---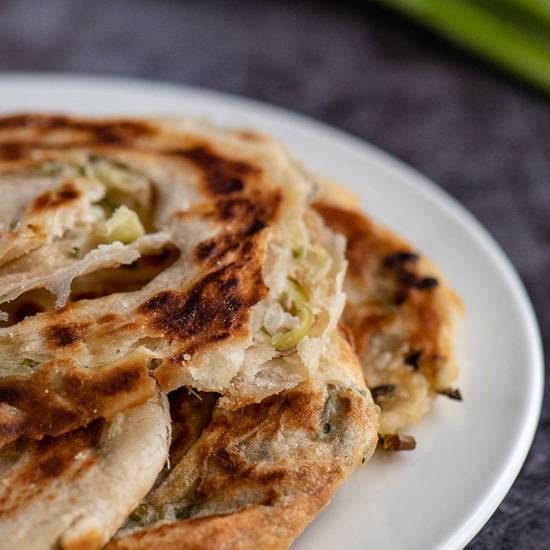 PLEASE LET ME KNOW HOW IT TURNED OUT FOR YOU!
If you tried these Jianbing or any other recipe on my website, please let me know how you got on in the comments below. I love hearing from you. Also, please leave a star rating whilst you're there!
Don't forget to subscribe to my newsletter, so that you don't miss out on more delicious recipes and follow me on social media below.
HUNGRY FOR MORE? FOLLOW ME!
---
PIN THIS RECIPE FOR LATER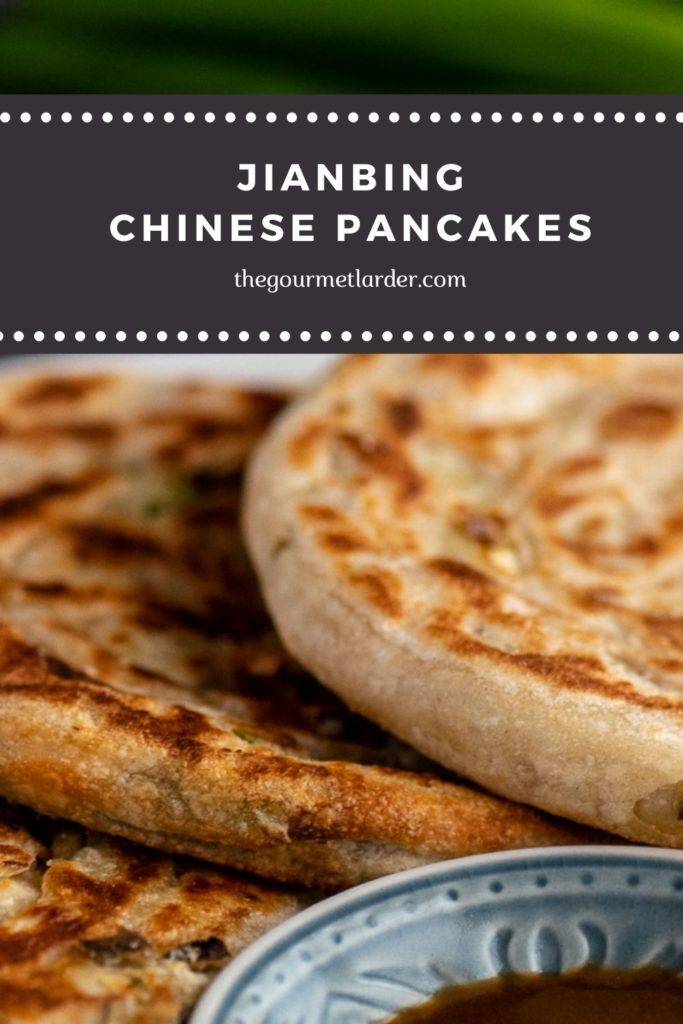 ---
If you liked this Jianbing recipe,
take a look at my inspirational recipe collection for more ideas.
---
---