Nutella Babka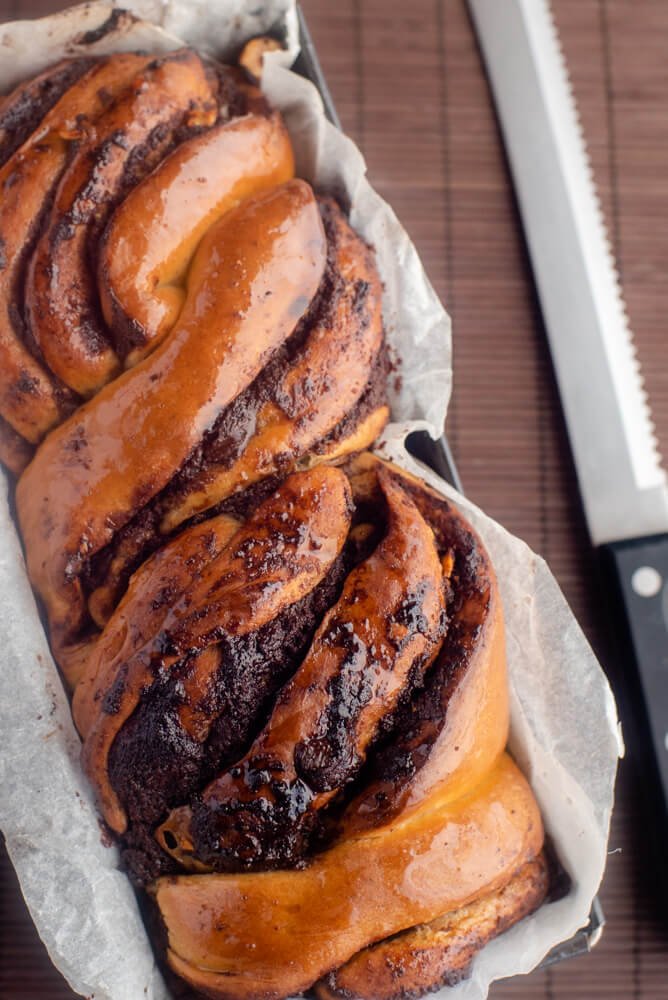 This Nutella babka has a soft enriched dough, filled with Nutella, added chocolate chunks and roasted hazelnuts. Good on any day for breakfast with a cup of tea or coffee.
Babka is a sweet bread prepared from an enriched yeast-leavened dough with eggs and butter, similar to Brioche or Kalács. Originating in the Jewish communities, it is now popular the world over. Bakeries sell it filled with a filling such as cinnamon, fruit, or cheese and then rolled up and braided before baking.
Why not make it extra special and make my homemade Nutella, eats easy and I think it tastes even better than the original. You just need to own a mini food processor to make it. You can find my homemade recipe here.
If you decide to give this a try, let me know! Leave a comment and rate it – it's really helpful to me and the other readers. And don't forget to take a picture and tag me @thegourmetlarder and #thegourmetlarder on Instagram! I love seeing what you come up with. 🙂
---
WHAT LARDER INGREDIENTS WILL I NEED FOR THIS RECIPE?
For this recipe all you need are these ingredients:
Strong white bread flour (BL80)
Granulated sugar
Fast-action dried yeast or fresh yeast
Milk
Eggs
Unsalted butter
Homemade Nutella or store-bought
Dark chocolate
Roasted hazelnuts
I highly recommend adding salt to your doughs and pastry. Salt helps balance out the sweetness and richness. It also elevates the other ingredients, bring out the best characteristics of any recipe.
---
EQUIPMENT SUGGESTIONS
When it comes to baking, I highly recommend using metric measurements and a digital scale, rather than cup measurements. You will find it much easier, less messy and you will get far better, consistent results weighing your ingredients. 🙂
---
---
NUTRITION
Serving: one Nutella babka slice
Nutrition information can vary for a recipe based on factors such as precision of measurements, brands, ingredient freshness, or the source of nutrition data.
I strive to keep the information as accurate as possible but make no warranties regarding its accuracy.
I encourage you to make your own calculations based on the actual ingredients used in your recipe, using your preferred nutrition calculator.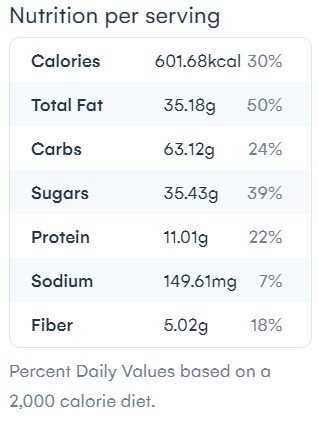 ---
STORAGE AND FREEZING OPTIONS
This Nutella Babka will stay fresh for 24 hours in an airtight container at room temperature. Do not place it in the fridge.
Freezing: It also freezes well for up to 2 months. To defrost simply leave on the kitchen worktop for a couple of hours. Or you can pre-slice the whole Babka into 10 slices and freeze them individually. Perfect for a little treat now and again and you don't need to worry about the leftovers drying up.
© THE GOURMET LARDER. All images and content are copyright protected.
Please read my FAQ's, if you would like to use or share any part of this post.
---
READY TO MAKE YOUR NUTELLA BABKA ?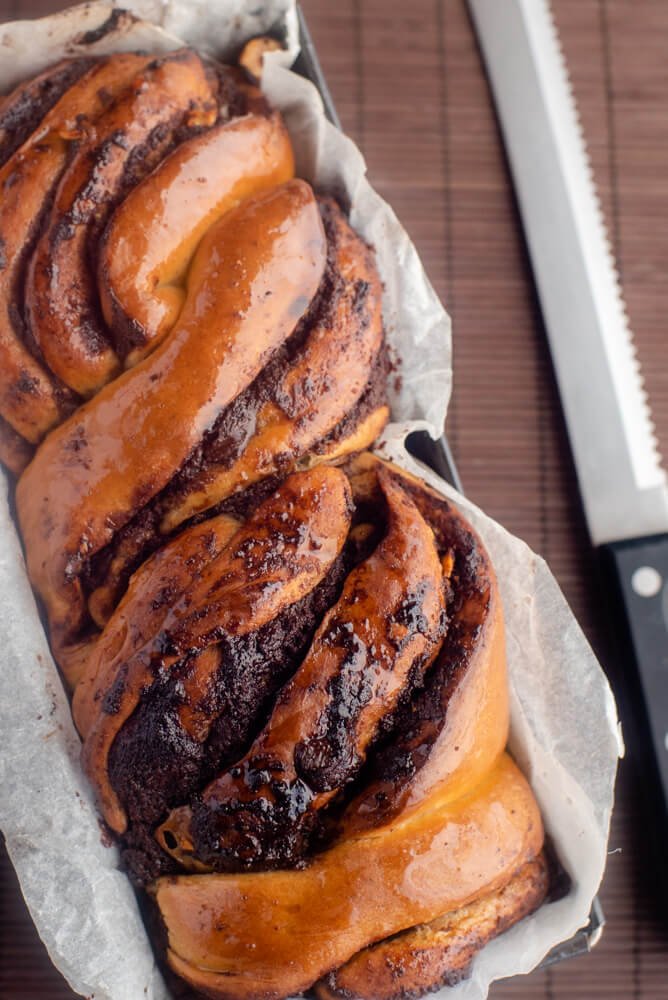 Nutella Babka
This Nutella Babka has a soft enriched dough, filled with homemade Nutella, added chocolate chunks and roasted hazelnuts. Good on any day for breakfast or with a cup of tea or coffee.
INGREDIENTS LIST
Dough
280

g

strong white bread flour or all-purpose

(BL80)

15

g

caster or granulated white sugar

½

tsp

fine sea salt

17

g

fresh yeast

(5 g fast-action dried yeast)

100

ml

milk

1

medium/US large

egg plus 1 egg yolk

60

g

butter
Filling
150

g

homemade Nutella

(see recipe at bottom of blog page)

30

g

dark chocolate (minimum 65-70%)

30

g

whole roasted hazelnuts

(without shell)
Sugar syrup: (optional, makes the babka shiny and keeps fresher for longer)
100

ml

water

70

g

caster or granulated white sugar
Preparation
Prepare the dough: Add the flour into the bowl of a food mixer fitted with the dough hook, add the dried yeast if you're not using fresh to one side of the bowl and the sugar and salt to the other side.

(If you are using the fresh yeast, warm the milk a little and then mix in the yeast.) Make a well in the centre and pour in the eggs and milk, then mix on a slow speed for 2–3 minutes, until combined.

While the mixer is running, add a few cubes of butter at a time. Mix well allowing the butter to incorporate before adding each addition, about 5 minutes.

Once you have added all the butter, continue through the sticky stage, until the dough is completely smooth, silky and elastic and pulls away from the sides of the bowl.

Grease a 900 g loaf tin with a little butter or neutral oil and line the bottom of the pan with parchment paper, to help release it after baking. Set aside.

Shaping: Lightly flour a work surface and roll out the dough to form a 35×28 cm rectangle, with a long side closest to you. (see shaping post section)

Using an offset spatula, spread the homemade Nutella spread over the rectangle, leaving a ½ inch/1 cm border all around.

Break up the chocolate and hazelnuts into small pieces and sprinkle on top the Nutella.

Starting from the long side closest to you, roll up the dough into a tight spiral like a roulade, with the seam underneath.

Turn the roll through 90° clockwise so that a short end is closest to you and using a large sharp knife, slice lengthways down through the middle of the dough, cutting it into 2 long even pieces.

With the cut-sides facing upwards, gently press the top end of each half together to seal, then lift the right half over the left half, followed by the left half over the right half. Repeat, twisting the dough to make two intertwined halves that form a stranded plait. Gently press the bottom ends together to seal.

Carefully lift the loaf into the lined tin, don't worry if there are gaps in the tin as the babka will rise and look good.

Proving: Cover with a clean tea towel. Leave at room temperature for about 1-1½ hours until doubled in size. (In extremely warm weather it can take 45 minutes.)

Fifteen minutes before the end of the proving time, preheat the oven to 200°C / 180°C fan 400°F / Gas Mark 6.

Baking: bake the babka for 10 minutes, then reduce the oven temperature to 170°C / 150°C fan / 325°F/ Gas 3 and cook for a further 25–30 minutes, until a skewer inserted into the centre comes out clean.

Glaze: While the babka is baking, make the syrup. In a small saucepan over medium heat, bring water and sugar to a boil. As soon as the sugar dissolves, reduce the heat and simmer, without stirring, for 5 minutes, until syrupy.

Once the babka is ready and is out of the oven, brush the syrup over the hot babka.

Let the babka cool in the tin until warm enough to handle. Turn out onto a wire rack and serve warm or at room temperature.

www.thegourmetlarder.com
---
---
PIN THIS RECIPE FOR LATER
---
If you liked this Nutella babka recipe and are looking
for more tasty recipes, be sure to check out my recipe collection.
---
---