Double Chocolate Espresso Muffins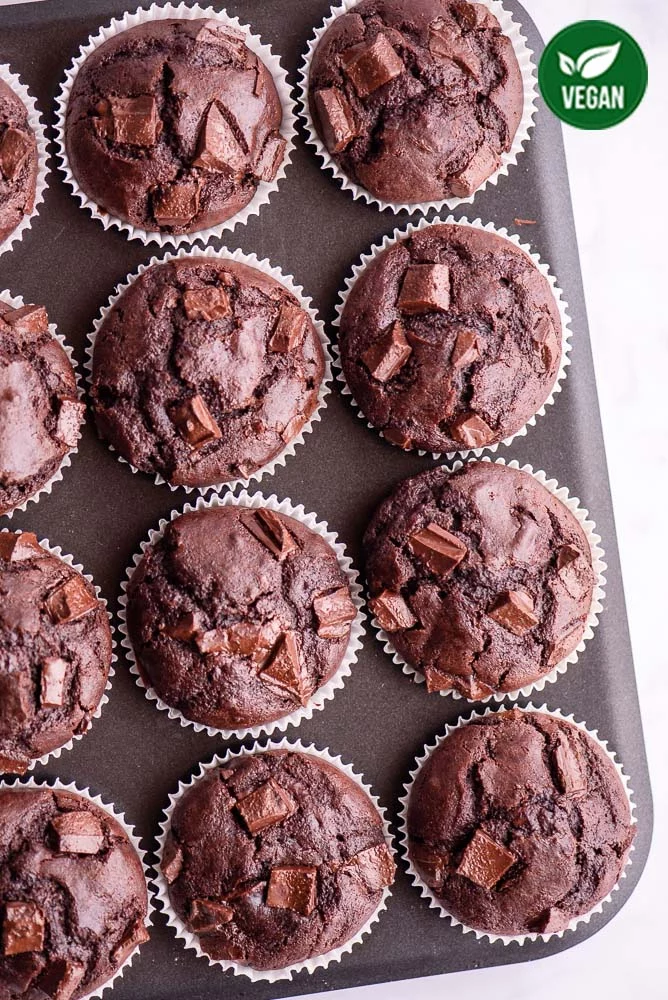 These vegan double chocolate espresso muffins are light, fluffy, moist and super chocolatey! Not to mention, they are incredibly easy to make, taking less than 30 minutes and you probably already have all the ingredients you need on hand.
If you like this delicious cake, you might also like my devils chocolate cake or my chocolate fondants.
If you decide to give this recipe a try, let me know! Leave a comment below and rate it – it's really helpful to me and the other readers. And don't forget to take a picture and tag it #thegourmetlarder on Instagram! I love seeing what you come up with 🙂
RECIPE HIGHLIGHTS
Ease: simple and takes less than 30 minutes to make.
Diet: this recipe is egg-free, dairy-free, nut-free and I have a gluten-free option in the variations section of this post.
Great for: gift giving, picnics and enjoying with friends and family.
Taste: delicious rich, decadent chocolate muffins with the perfect balance of sweetness.
Texture: tender, moist and full of gooey chocolate chunks.
---
WHAT LARDER INGREDIENTS WILL I NEED FOR THIS RECIPE?
Here is what you need to make the best ever double chocolate espresso muffins:
Plain or all-purpose flour / Gluten-free alternative: use oat flour – for adding structure and lightness.
Dutch cocoa powder – I prefer to use a high-quality Dutch cocoa powder over natural cocoa powder. It adds a rich chocolate flavour and builds structure.
Bicarbonate of soda or baking soda – is a chemical leavening which reacts with the acid in the cocoa powder prior to baking. Thus, carbon dioxide forms and causes the batter to expand, creating a nice light sponge texture.
Baking powder – is a chemical leavening similar to baking soda, except it starts to work once it reaches a certain temperature during baking. This recipe uses both to get the most lift and create a light airy textured muffin.
Neutral-tasting oil (coconut, vegetable or sunflower oil) – any neutral tasting oil is good, I use sunflower. Alternatively for more flavour, you can replace the oil with the same amount of melted butter.
Caster or granulated sugar – gives structure and sweetness.
No-dairy milk (such as almond, oat, rice or soy milk) or regular milk – adds moisture and flavour to the sponge.
Apple vinegar or lemon juice – the acidity reacts with the cocoa and baking soda when mixed together, making the muffins light.
Vanilla extract or vanilla paste – adds flavour and enhances the other ingredient flavours.
Espresso coffee – adds a delicious flavour to these muffins.
Good quality vegan chocolate – use a good quality, as it is one of the stars in this recipe.
I highly recommend adding a good pinch of salt to your muffins. It would seem counter productive, but it's not. Salt, helps balance out the sweetness and richness. It also elevates the other ingredients, bring out the best characteristics of any recipe. In a seemingly absurd or self-contradictory way, salt intensifies the mouths ability to taste sweetness. It is the sodium that sends signals to move glucose into the sweet taste receptor cells, thus triggering the cells to register sweetness. The result is that salt not only alerts our 'salt sensitivity', but also triggers our 'sweet sensitive' taste buds.
---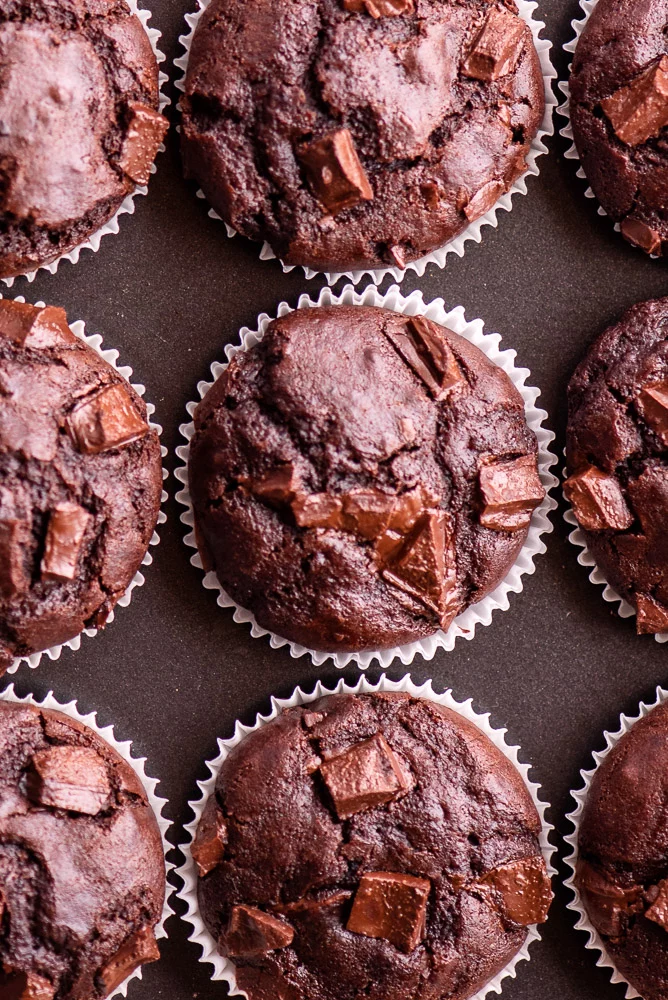 ---
WHAT VARIATIONS AND SUBSTITUTIONS CAN I MAKE?
Gluten-free option – oat flour is a great alternative to plain flour and some even say tastes better. Simply replace the regular flour with the same weight in oat flour.
Flavoured chocolate – If possible, use good quality chocolate. One that has natural oils added to it, such as orange, raspberry or mint. Lindt have some great options.
Nuts – try adding 100g / 3/4 cup of chopped hazelnuts or pecans for an awesome nutty taste.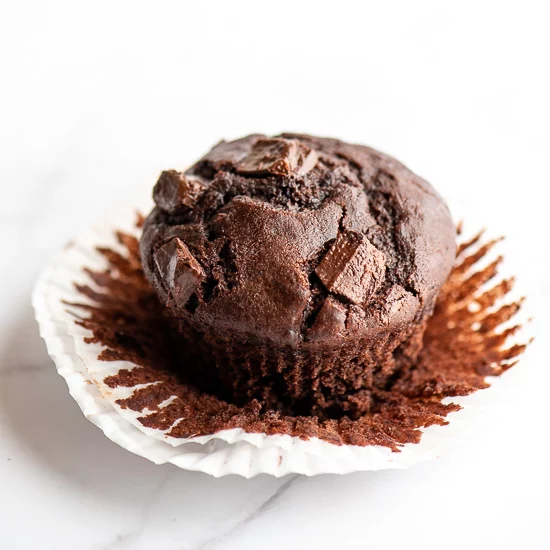 Gluten free – replace the plain flour with oat flour or a 1:1 alternative gluten free flour.
Sugar free – is not something I can offer for this recipe, if you want a healthier option replace the sugar with coconut sugar which contains minerals, electrolytes and has a lower-glycaemic index.
If you experiment, I would love to know how you get on and share it with the other readers.
---
NUTRITION
Serving: one muffin
Nutrition information can vary for a recipe based on factors such as precision of measurements, brands, ingredient freshness, or the source of nutrition data.
I strive to keep the information as accurate as possible but make no warranties regarding its accuracy.
I encourage you to make your own calculations based on the actual ingredients used in your recipe, using your preferred nutrition calculator.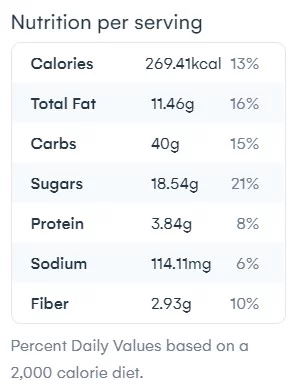 ---
STORAGE AND FREEZING
Keep these muffins in an airtight container or tin for up to 3 days.
Freezing: they freeze beautifully in an airtight container or freezer bag for up to three months. Allow to defrost for a couple of hours at room temperature.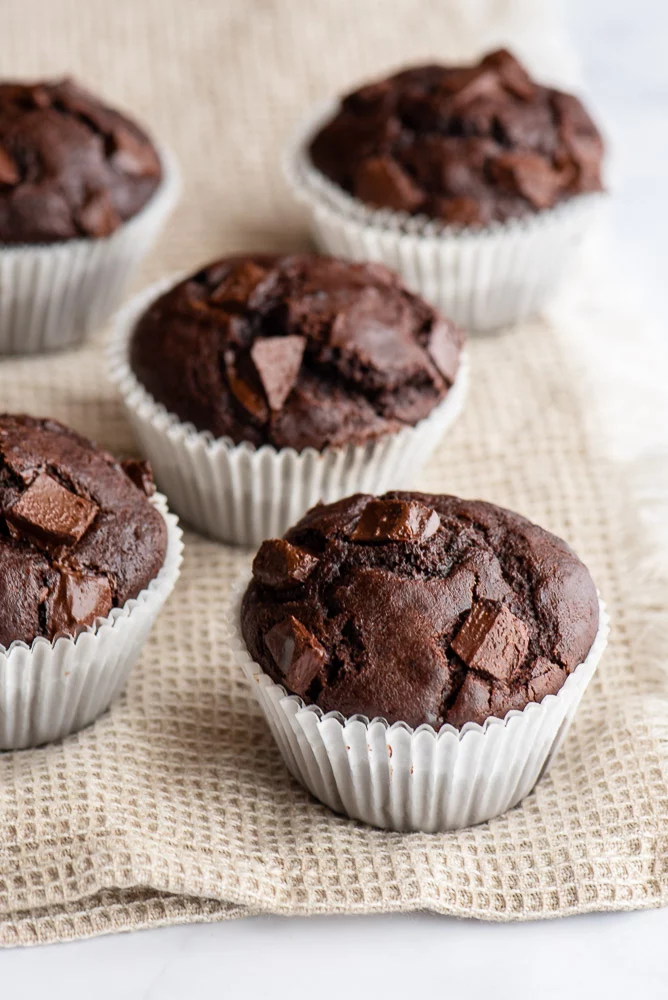 © THE GOURMET LARDER. All images and content are copyright protected.
Please read my FAQ's, if you would like to use or share any part of this post.
---
EQUIPMENT RECOMMENDATIONS
Here is a list of some kitchen equipment that I use and recommend for this recipe.
When it comes to baking, I highly recommend using metric measurements and a digital scale, rather than cup measurements. You will find it much easier, less messy and you will get far better, consistent results weighing your ingredients. 🙂
---
READY TO MAKE YOUR DOUBLE CHOCOLATE ESPRESSO MUFFINS ?
HAPPY BAKING!
Double Chocolate Espresso Muffins
These vegan double chocolate espresso muffins are light, fluffy, moist and super chocolatey!
INGREDIENTS LIST
250

g

plain or all-purpose flour

50

g

cocoa powder

1/2

tsp

baking soda

1

tsp

baking powder

1

pinch

fine sea salt

80

ml

neutral-tasting oil

(70g coconut, vegetable or sunflower oil)

150

g

caster or granulated sugar

240

ml

milk or non-dairy milk

(such as almond, oat, rice or soy milk)

1

tbsp

apple vinegar or lemon juice

(15g)

3

tbsp

espresso coffee

(45g)

150

g

chopped dark chocolate

(vegan)
Preparation
If you don't intend to rest the batter prior to baking preheat the oven to 180°C fan / 400°F / Gas 6.

Line a 12-hole muffin tin with 12 paper muffin cases. (I use 5 x 3.5cm cases)

In a medium bowl, whisk together the flour, cocoa powder, salt, baking soda, 100g chopped chocolate and baking powder.

In a large bowl, whisk together the oil, sugar, milk, lemon juice and coffee.

Add the dry ingredients into the wet ingredients and gently whisk together until just incorporated. Don't overmix or you'll have tough muffins.

Divide the batter between the muffin cases in the muffin tin, try and get an equal amount of batter in each one. Scatter with the remaining chopped chocolate.

If you are going to rest the batter place the tray of muffins in the fridge for 1 hour.

Baking: place the muffins in a preheated oven for 14-16 minutes. Checking that a toothpick comes out clean before removing from oven.

Leave to cool in the tin for 5 minutes then turn out onto a wire rack to cool completely.

www.thegourmetlarder.com
---
RECIPE TIPS
Good quality chocolate – A star ingredient, which makes all the difference to the finished result. Choose your favourite brand.
Avoid over mixing the batter – Too much mixing leads to tough, dense muffins. Only mix the dry and wet ingredients together until just combined.
Resting the batter – Is optional. allowing the batter to rest in the fridge for an hour will give you a beautiful rise during the baking.
---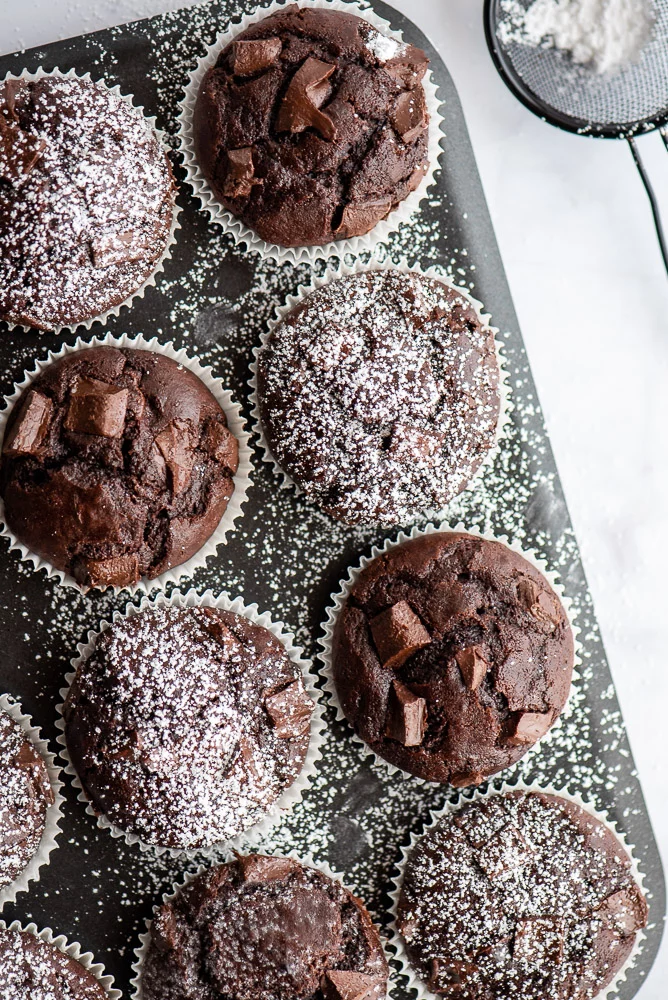 PLEASE LET ME KNOW HOW IT TURNED OUT FOR YOU!
If you tried these Double Chocolate Espresso Muffins or any other recipe on my website, please let me know how you got on in the comments below. I love hearing from you. Also, please leave a star rating whilst you're there!
Don't forget to subscribe to my newsletter, so that you don't miss out on more delicious recipes and follow me on social media.
HUNGRY FOR MORE? FOLLOW ME!
---
PIN THIS RECIPE FOR LATER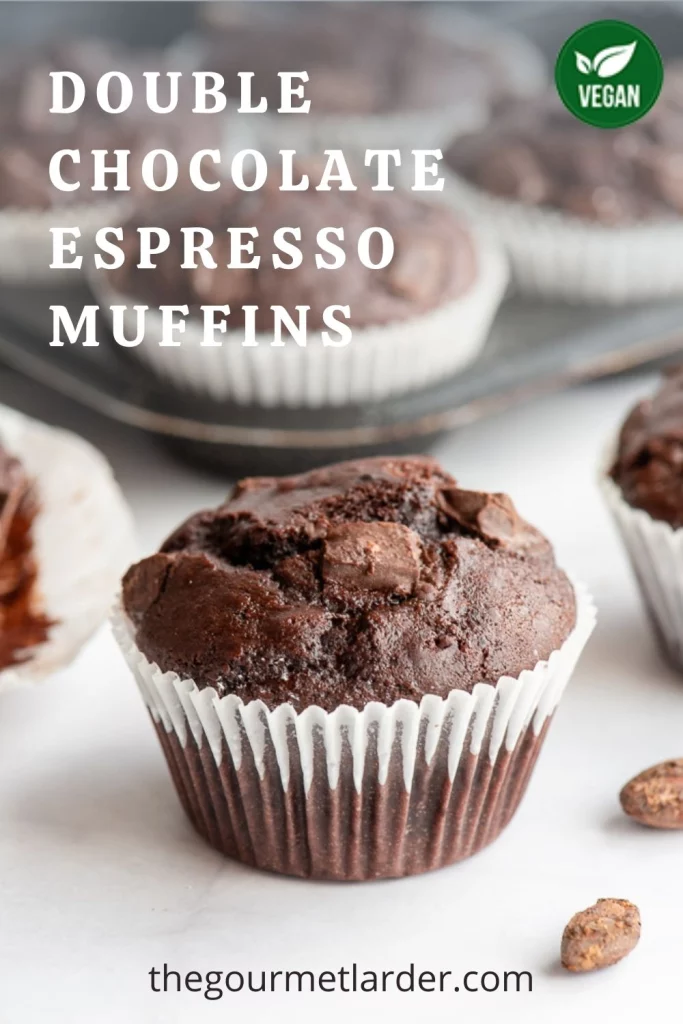 ---
If you liked this double chocolate espresso muffins recipe,
take a look at my inspirational recipe collection for more ideas.
---
---