Lemon Bars
When life gives you lemons, you make lemon bars. Surprisingly simple to make, with the perfect amount of shortbread crust to lemon filling ratio.
I played with this recipe until it turned out exactly how I wanted it to. The buttery shortbread biscuit base is so good, it has the right amount of sweetness to offset the tart lemon filling.
As well as lemon juice in this recipe, I use zest to give it a real zingy tang. If you love lemons you are going to love this dessert, if on the other hand you want a milder lemon taste it's easy to just reduce or omit the zest.
Check out my flavour twists for this dessert in the variation section.
If you like the sound of these delicious lemon bars, you might also like my moreish lemon biscuits or my lemon crinkle cookies.
If you decide to give these a try, let me know! Leave a comment and rate it – it's really helpful to me and the other readers. And don't forget to take a picture and tag me @thegourmetlarder and #thegourmetlarder on Instagram! I love seeing what you come up with. 🙂
RECIPE HIGHLIGHTS
Ease: super simple.
Great for: an everyday dessert or for friends and family visiting.
Taste: tart lemon filling with the perfect balance of sweetness on a buttery biscuit base.
Texture: silky smooth filling on a shortbread biscuit crust.
Serving: perfect on their own or with a cup of tea.
---
WHAT LARDER INGREDIENTS WILL I NEED FOR THIS RECIPE?
For this lemon bar recipe all you need are these 7 ingredients:
Butter – adds structure and a rich butter flavour to this biscuit base. I use a good quality salted butter for most of my baking as it intensifies the flavours, but feel free to use unsalted if you prefer, keeping in mind that good quality makes all the difference in taste.
Caster or granulated sugar – adds structure, moisture and sweetness to the bars. Getting the right balance of sweetness to tartness is a personal preference. It may be tempting to reduce the sugar, but it also adds structure and moisture.
Medium eggs – add structure and creaminess to the filling.
Vanilla extract or vanilla paste – adds flavour to the biscuit base and enhances the other ingredients in the recipe.
Plain or all-purpose flour – adds that perfect crumb to the biscuit base and structure to both the base and the filling.
Lemons – are our star ingredient in this recipe, I prefer to use fresh organic lemons when I am using the zest in a recipe.
Icing sugar (powdered sugar) – is perfect for dusting the tops of our luscious tangy lemon bars.
I highly recommend adding a good pinch of salt to your desserts. It would seem counter productive, but it's not. Salt, helps balance out the sweetness and richness. It also elevates the other ingredients, bring out the best characteristics of any recipe. In a seemingly absurd or contradictory way, salt intensifies the mouths ability to taste sweetness. It is the sodium that sends signals to move glucose into the sweet taste receptor cells in our tongue. The result is that salt not only alerts our 'salt sensitivity', but also our 'sweet sensitive' taste buds.
---
---
WHAT VARIATIONS AND SUBSTITUTIONS CAN I MAKE?
Try some of these flavour twists.
Lavender – adds an aromatic mild floral fragrance and taste to this classic. Prior to making the filling blend one third of the sugar with 1 tablespoon of lavender in a food processor for 15-20 seconds. Then add this back to the rest of the sugar and follow the recipe.
Almond essence – add a few drops of almond essence while beating the butter and sugar together in the biscuit base.
Summer fruits – make the filling as per the recipe. Place 60g (1/2 cup) of raspberries or blueberries into a small bowl and coat in a little flour to help reduce any moisture. Then add them to the finished filling mix and pour on to the biscuit base once pre-baked.
Citrus fruit – try orange or pink grapefruit bars. They are exactly like lemon bars, only not as tart or acidic. Simply replace the lemon juice and zest with either grapefruit or oranges.
Gluten free – replace the flour with a 1:1 alternative gluten free flour.
Dairy free – use a vegan block butter such as Naturli vegan block. Oils will not give the same result.
Sugar free – use a substitute, such as coconut sugar, xylitol or erythritol.
If you experiment, I would love to know how you get on and share it with the other readers.
---
NUTRITION
Serving: one lemon bar
Nutrition information can vary for a recipe based on factors such as precision of measurements, brands, ingredient freshness, or the source of nutrition data.
I strive to keep the information as accurate as possible but make no warranties regarding its accuracy.
I encourage you to make your own calculations based on the actual ingredients used in your recipe, using your preferred nutrition calculator.
---
STORAGE AND FREEZING
These lemon bars are great for making ahead of time. Store them in an airtight container in the fridge for up to 5 days.
Freezing: It is best to cut them into individual size portions and then wrap each bar with cling film (do not dust with icing sugar), store them for up to 3 months. To defrost, either place the bars in the fridge overnight or leave on the counter to come to room temperature. Serve dusted with icing sugar.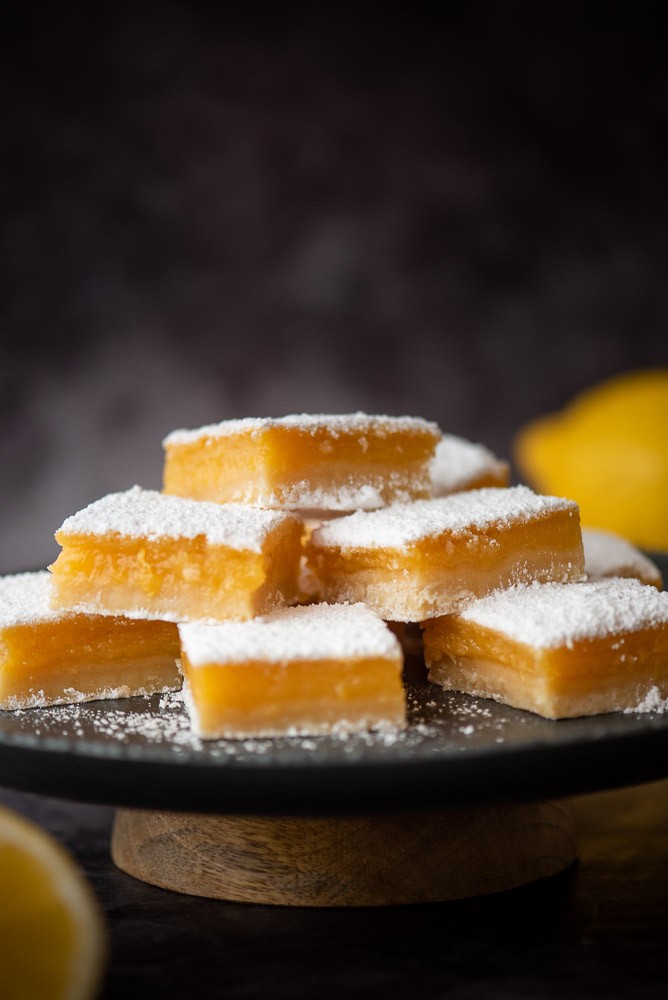 © THE GOURMET LARDER. All images and content are copyright protected.
Please read my FAQ's, if you would like to use or share any part of this post.
---
EQUIPMENT RECOMMENDATIONS
Here is a list of some kitchen equipment that I use and recommend for this recipe.
Square baking pan 20 x 20cm / 8″
When it comes to baking, I highly recommend using metric measurements and a digital scale, rather than cup measurements. You will find it much easier, less messy and you will get far better, consistent results weighing your ingredients. 🙂
---
---
READY TO MAKE YOUR LEMON BARS ?
HAPPY BAKING!
Lemon Bars
When life gives you lemons, you make lemon bars. Surprisingly simple to make, with the perfect amount of shortbread crust to lemon filling ratio.
INGREDIENTS LIST
Shortbread biscuit base
125

g

butter

50

g

caster or granulated sugar

1

pinch

sea salt

1/2

tsp

pure vanilla extract or 1/4 tsp of vanilla paste

180

g

plain or all-purpose flour
Lemon filling
4

medium/US large

eggs

(210g)

375

g

caster or granulated sugar

2

pieces of

organic lemon

(150ml juice and zest)

45

g

plain or all-purpose four

1

pinch

sea salt
Decoration
3

tbsp

icing sugar or powdered sugar
Preparation
Preheat the oven to 180°C fan / 400°F / Gas 6.

Line a baking pan 20x20cm (8x8inch) with baking parchment.

Shortbread biscuit base: In a medium bowl or stand mixer, beat together the butter and sugar until smooth and creamy.

Then add the vanilla, salt and sift in the flour.

Continue beating until the mixture comes together. The mixture will be crumbly.

Pour the dough into your prepared baking pan and press it down into an even layer.

Use a fork to make a few holes in the crust and bake for 10 minutes.

Lemon filling: While the base bakes, place the eggs, sugar, salt, flour, the zest and juice of 2 lemons into a large bowl or measuring jug. Whisk until just combined, the mixture will be thin.

Once the biscuit base is baked either open the oven and pour the filling directly on top of the biscuit base for ease or remove it from the oven and pour the lemon filling over the biscuit base.

Baking: continue baking for 20-25 more minutes or until the centre is slightly firm to the touch and no longer wobbles. Once baked remove from the oven and allow to cool.

Once completely cool, transfer to the fridge to set for 2 hours (or overnight).

Slice the lemon bars and dust with icing sugar before serving.
TOOLS YOU'LL NEED
Baking pan 20×20 cm (8×8 inch)

www.thegourmetlarder.com
---
RECIPE TIPS
Line your baking pan or silicone mould with baking parchment. It makes it so much easier to remove your finished dessert in one piece once baked and cooled.
Use good quality butter for this recipe, it makes all the difference to the finish result.
I highly recommend using only fresh lemon juice and, where possible, organic lemons because we use the zest.
This is not essential but, I like to use a large measuring jug to mix my lemon filling ingredients in. It makes it easier to fill the baking pan without having to remove the baked biscuit base from the oven and then juggle with it placing it back into the oven.
Don't rush the chilling time for the bars once baked. This gives them time to set, and overnight in the fridge is best.
---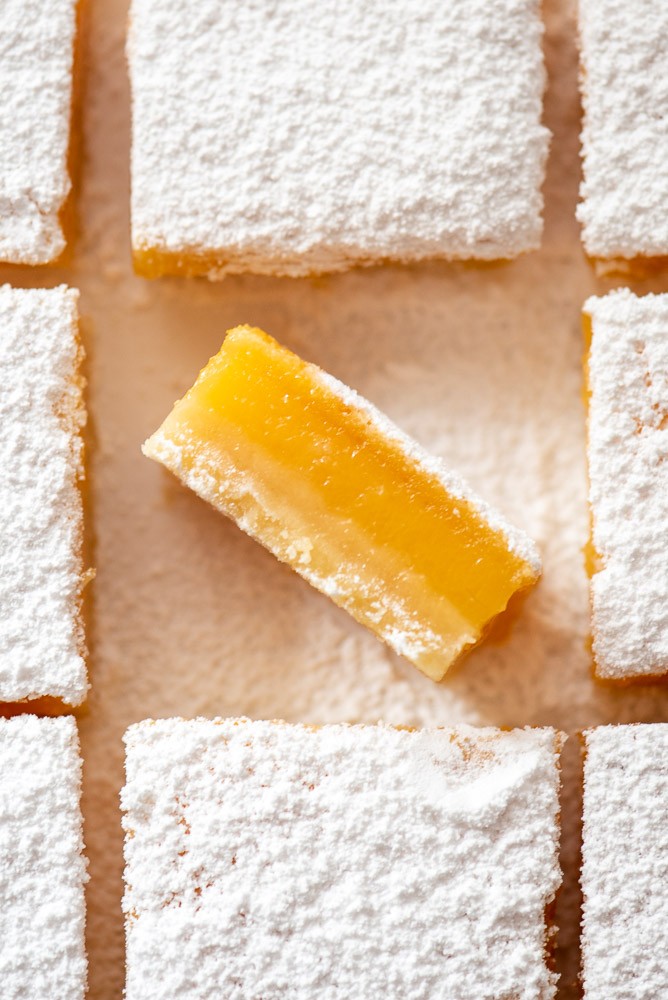 PLEASE LET ME KNOW HOW IT TURNED OUT FOR YOU!
If you tried these Lemon Bars or any other recipe on my website, please let me know how you got on in the comments below. I love hearing from you. Also, please leave a star rating whilst you're there!
Don't forget to subscribe to my newsletter, so that you don't miss out on more delicious recipes and follow me on social media.
HUNGRY FOR MORE? FOLLOW ME!
---
PIN THIS RECIPE FOR LATER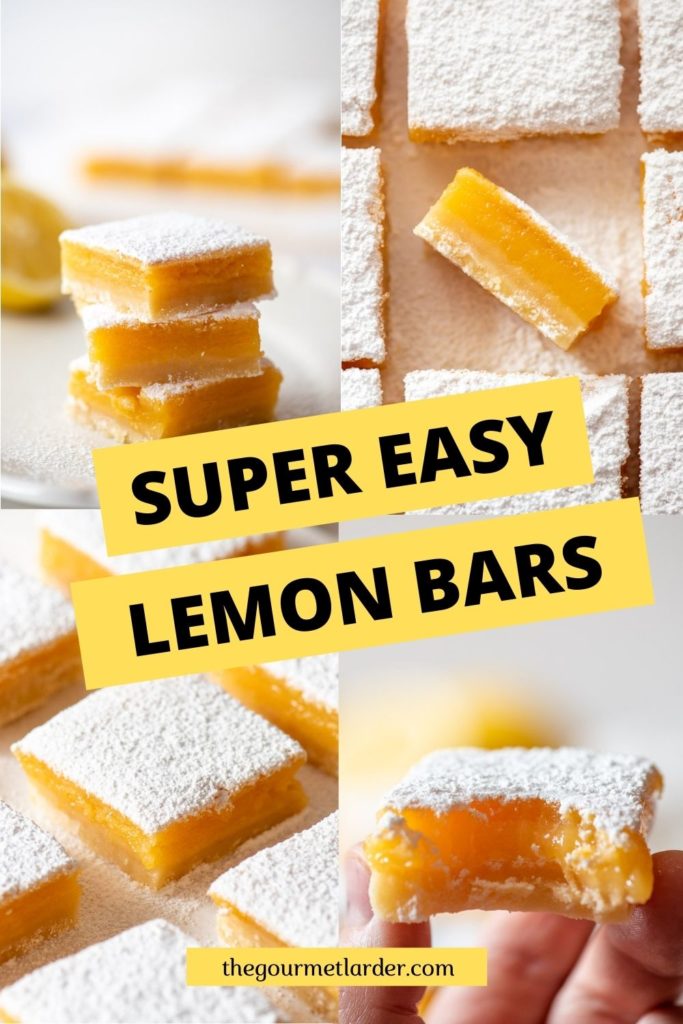 ---
If you liked this lemon bar recipe,
take a look at my inspirational recipe collection for more ideas.
You'll also find a lot more brilliant bar bakes as well.
---
---