Strawberry Chocolate Tart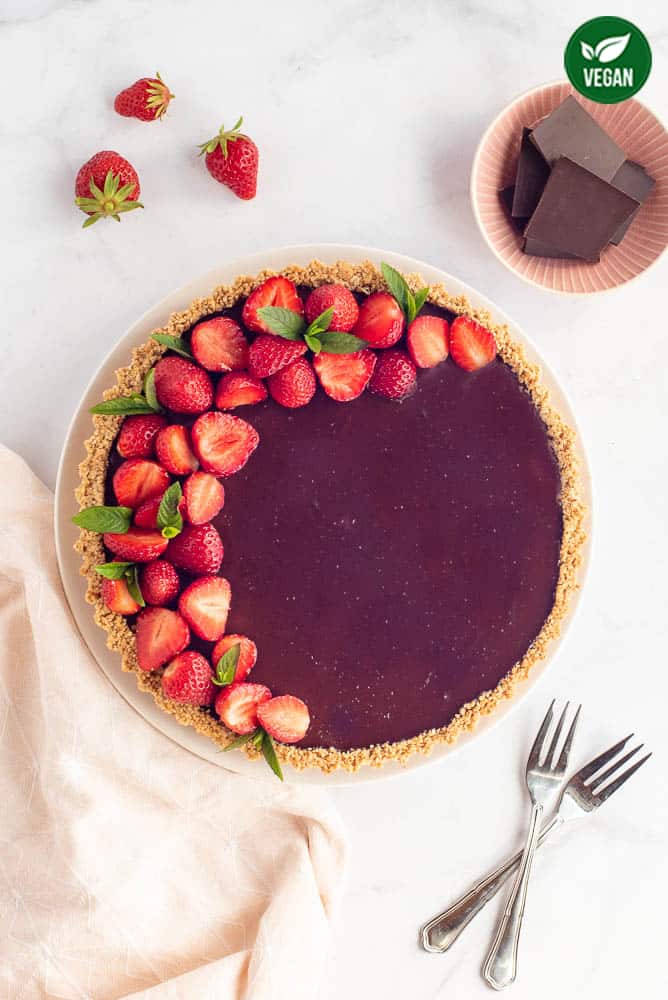 It was an abundance of strawberries in the garden that inspired this strawberry chocolate tart. Deliciously creamy and full of summer flavour.
I really wanted to combine the strawberries with chocolate and decided to take a look in the larder to see what I could find. After a quick look, I found the chocolate and then I saw a can of coconut milk and as I didn't have any cream I decided that it would be a great alternative for making a rich chocolate ganache.
For the base, I was conflicted about whether to bake a nice sable biscuit or almond crumb. In the end, I decided to go with a nut base, but as I didn't have almonds at hand I used salted peanuts instead.
After a little toing and froing I came up with this recipe and now we can all share in its delicious flavours.
If you decide to give this a try, let me know! Leave a comment and rate it – it's really helpful to me and the other readers. And don't forget to take a picture and tag me @thegourmetlarder and #thegourmetlarder on Instagram! I love seeing what you come up with. 🙂
RECIPE HIGHLIGHTS
Ease: easy.
Diets: dairy free, gluten free, egg free and vegan.
Great for: treat, lunch/dinner dessert, picnic, valentines day,
Taste: a delicious nutty base filled with a rich creamy chocolate cream.
Texture: crisp nutty base with a creamy filling and topped with strawberries.
---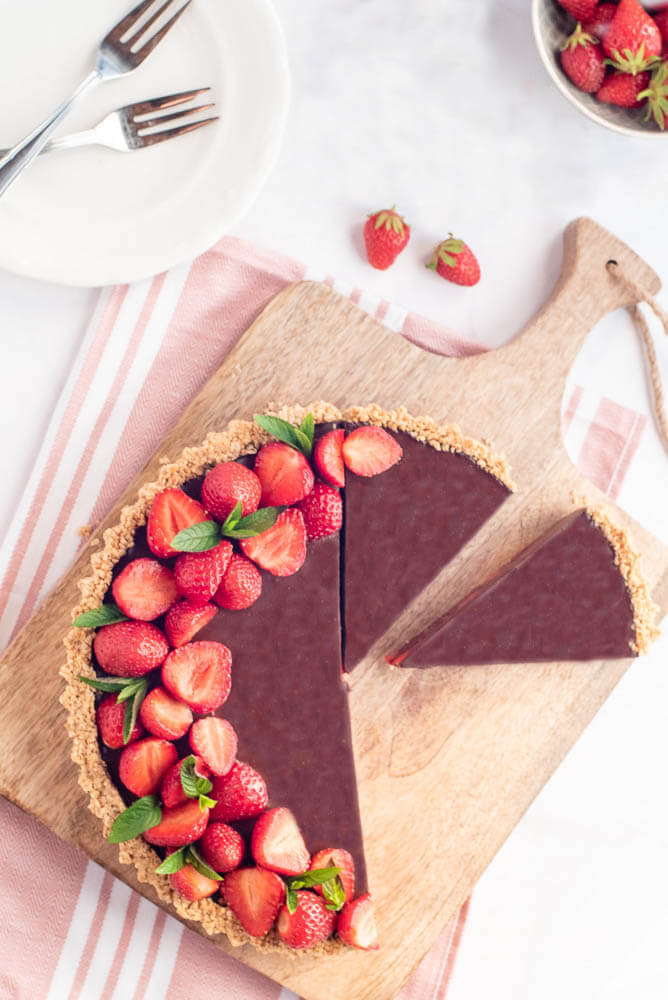 © THE GOURMET LARDER. All images and content are copyright protected.
Please read my FAQ's, if you would like to use or share any part of this post.
---
WHAT LARDER INGREDIENTS WILL I NEED FOR THIS RECIPE?
For this recipe all you need are these ingredients:
Peanuts
Oats
Coconut milk
Dark chocolate (min 70%) (vegan)
White sugar (vegan)
Coconut oil
Strawberries
I highly recommend adding a good pinch of salt to your desserts. It would seem counter productive, but it's not. Salt, helps balance out the sweetness and richness. It also elevates the other ingredients, bring out the best characteristics of any recipe. In a seemingly absurd or contradictory way, salt intensifies the mouths ability to taste sweetness. It is the sodium that sends signals to move glucose into the sweet taste receptor cells in our tongue. The result is that salt not only alerts our 'salt sensitivity', but also our 'sweet sensitive' taste buds.
---
---
WHAT VARIATIONS AND SUBSTITUTIONS CAN I MAKE?
Fruit: This recipe also works great with raspberries.
Sugar: The white sugar can be changed to brown or even coconut sugar.
Coconut oil: If you don't have coconut oil, any other neutral oil or butter can be used as an alternative.
---
EQUIPMENT SUGGESTIONS
When it comes to baking, I highly recommend using metric measurements and a digital scale, rather than cup measurements. You will find it much easier, less messy and you will get far better, consistent results weighing your ingredients. 🙂
---
---
---
NUTRITION
Serving: one strawberry chocolate tart slice
Nutrition information can vary for a recipe based on factors such as precision of measurements, brands, ingredient freshness, or the source of nutrition data.
I strive to keep the information as accurate as possible but make no warranties regarding its accuracy.
I encourage you to make your own calculations based on the actual ingredients used in your recipe, using your preferred nutrition calculator.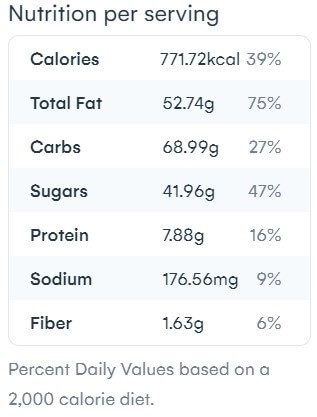 ---
STORAGE AND FREEZING OPTIONS
Keeps in the refrigerator for up to 5 days.
Freezing: This tart is not ideal for freezing.
---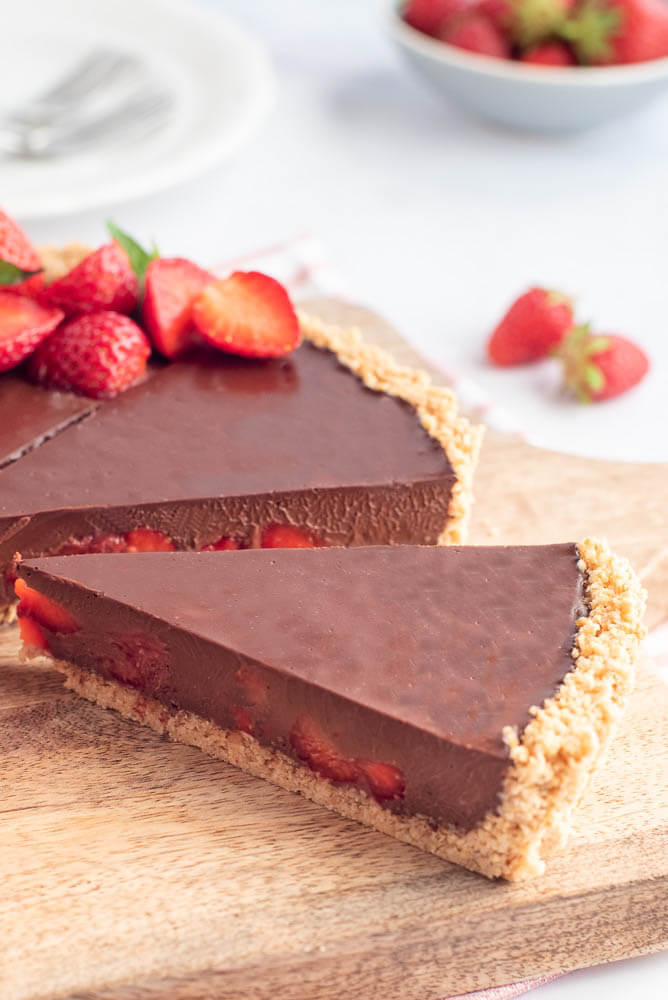 ---
READY TO MAKE YOUR STRAWBERRY CHOCOLATE TART ?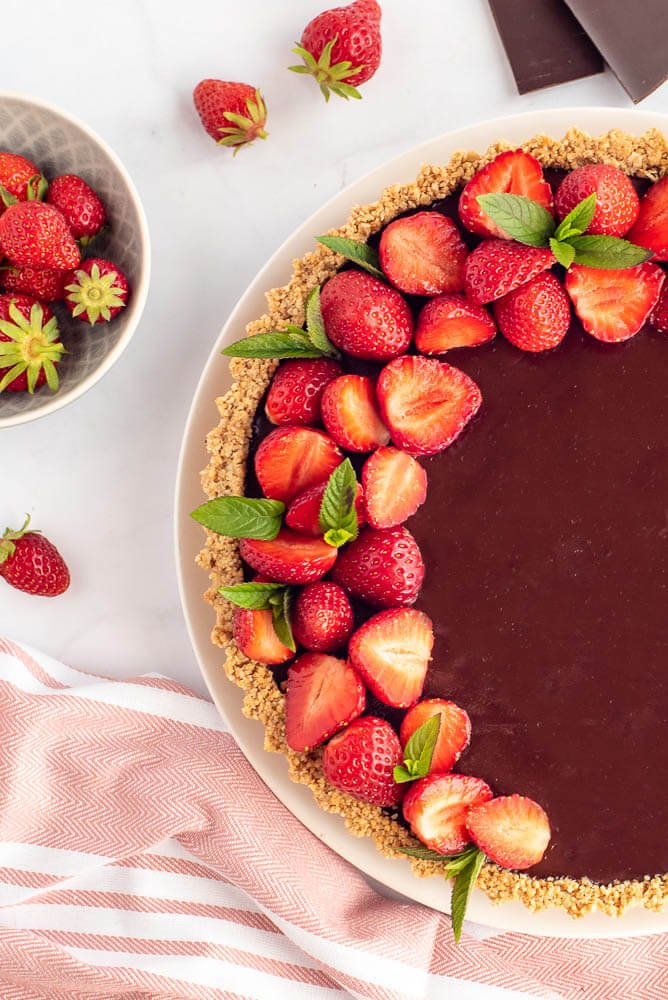 Strawberry Chocolate Tart
This strawberry chocolate tart tastes amazing and is made from strawberries, chocolate, coconut milk, and peanuts, plus it's vegan too.
INGREDIENTS LIST
Tart base:
150

g

peanuts

150

g

whole oats

65

ml

coconut oil

45

g

caster or granulated white sugar
Filling:
300

ml

coconut milk

240

g

dark chocolate (minimum 65-70%)

45

g

caster or granulated white sugar

36

g

coconut oil

300

g

fresh strawberries
Preparation
Preheat: Turn on the oven to 180°C fan / 400°F / Gas 6.

Tart base: Into an electric food processor, add peanuts, oats, sugar and coconut oil. Blend for 30 seconds to get a nice crumb.

Line a 23 cm tart tin with baking paper on the bottom and pour the crumb mix into the tart tin. Evenly distribute the crumbs around and up the sides of the tin and using a glass with a flat bottom and sides push down on the crumb mix to firm it down.

Baking: Bake the crust for 10 minutes or until firm, remove and leave to cool on a wire rack.

Ganache: Into a saucepan over a medium heat add the coconut milk, sugar and dark chocolate. Mix well until the chocolate has melted and become smooth.

Add the coconut oil, stir well and leave to rest for 5 minutes.

Strawberries: Clean and remove the stalks from the strawberries. Keep a little less than half for the decoration on the top and roughly dice the remaing strawberries into 1 cm pieces.

Add the diced strawberries to the cooled tart base and pour over the chocolate ganache.

Place the tart into the fridge to cool down completely.

Once the tart has cooled decorate with the remaining strawberries and serve.

www.thegourmetlarder.com
---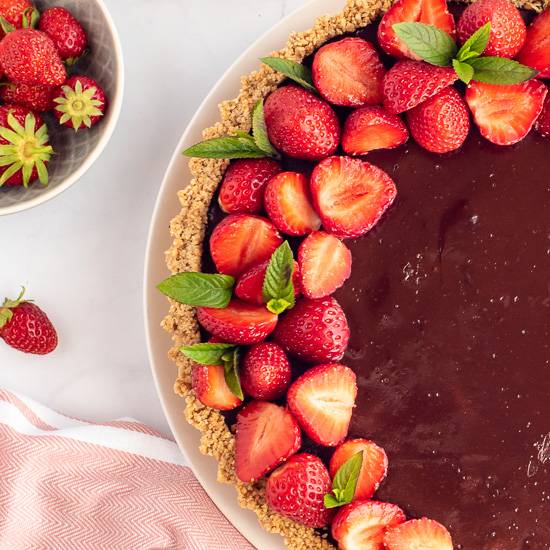 ---
PIN THIS RECIPE FOR LATER
---
---
If you liked this strawberry chocolate tart recipe and are looking
for more tasty recipes, be sure to check out my recipe collection.
---
---