Mango Coconut Cheesecake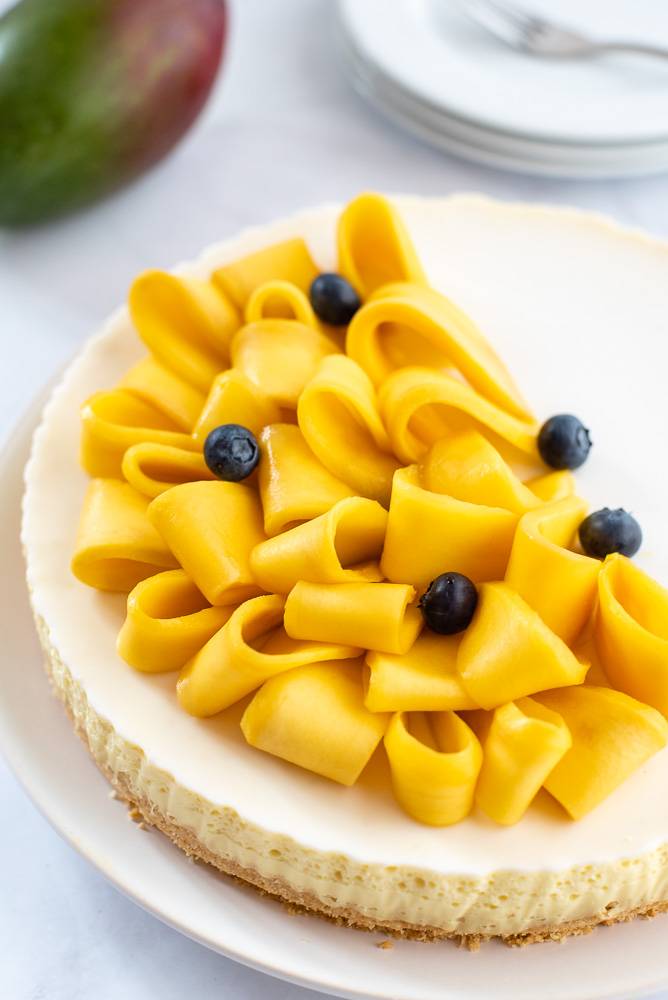 This no-bake mango coconut cheesecake is light, sweet, deliciously refreshing and super simple to make.
While I love traditional baked cheesecakes, I don't always have the time or effort to put into making one. That's why I love having a recipe at hand that is easier, eliminating all those complicated issues of over-baking and cracked tops. The only slight downside about no-bake cheesecakes is it has to be chilled for at least 2-3 hours to set the filling. Outside of that, it is super easy, will only take you a few minutes and will look and taste delicious, plus it isn't overly heavy.
I love that this cheesecake can be made ahead of time. It makes it perfect for when friends are coming over or parties!
If you like mango desserts or cheesecakes you might like my mango passion fruit cake, blueberry cheesecake bars or my strawberry couscous cheesecake.
If you decide to give this a try, let me know! Leave a comment and rate it – it's really helpful to me and the other readers. And don't forget to take a picture and tag me @thegourmetlarder and #thegourmetlarder on Instagram! I love seeing what you come up with. 🙂
RECIPE HIGHLIGHTS
Ease: Easy, no-bake.
Great for: Afternoon treat, everyday dessert, celebrations, friends and family.
Taste: Creamy mango and coconut mascarpone filling with a sweet buttery biscuit base.
Texture: Light, delicately flavoured mango and coconut mascarpone cream with a biscuit base.
---
WHAT LARDER INGREDIENTS WILL I NEED FOR THIS RECIPE?
For this mango coconut cheesecake recipe, all you need are these 10 ingredients:
Butter – adds a delicious buttery taste to the biscuit base and sticks the biscuit crumbs together to form a crust. I use salted butter for most of my baking as it intensifies the flavours, but feel free to use unsalted if you prefer.
Digestif or coconut biscuits – create that perfect base for the cheesecake.
Caster or granulated white sugar – adds sweetness and structure to the bake.
Fresh mango – is the hero in this recipe, adds an exotic fresh taste to the filling and makes a beautiful decoration.
Lemon juice – helps to add a little sharpness to the filling.
Coconut milk – gives the filling a creamy taste at the same time as keeping the cake light.
Mascarpone cheese – is made from two ingredients: heavy cream and citric or tartaric acid. The fat content is typically between 60-75 percent, making it great for using as a silky creamy spread.
Caster or granulated white sugar – adds a little sweetness and structure to the filling.
Vanilla extract, sugar or vanilla paste – adds flavour and enhances the other ingredient flavours in the recipe.
Gelatine – sets the filling and the topping to create a nice no-bake light cake.
I highly recommend adding a good pinch of salt to your cakes. It would seem counter productive, but it's not. Salt helps balance out the sweetness and richness. It also elevates the other ingredients, bringing out the best characteristics of any recipe. In a seemingly absurd or contradictory way, salt intensifies the mouth's ability to taste sweetness. It is the sodium that sends signals to move glucose into the sweet taste receptor cells in our tongue, triggering the cells to register sweetness. The result is that salt not only alerts our 'salt sensitivity', but also our 'sweet sensitive' taste buds.
---
---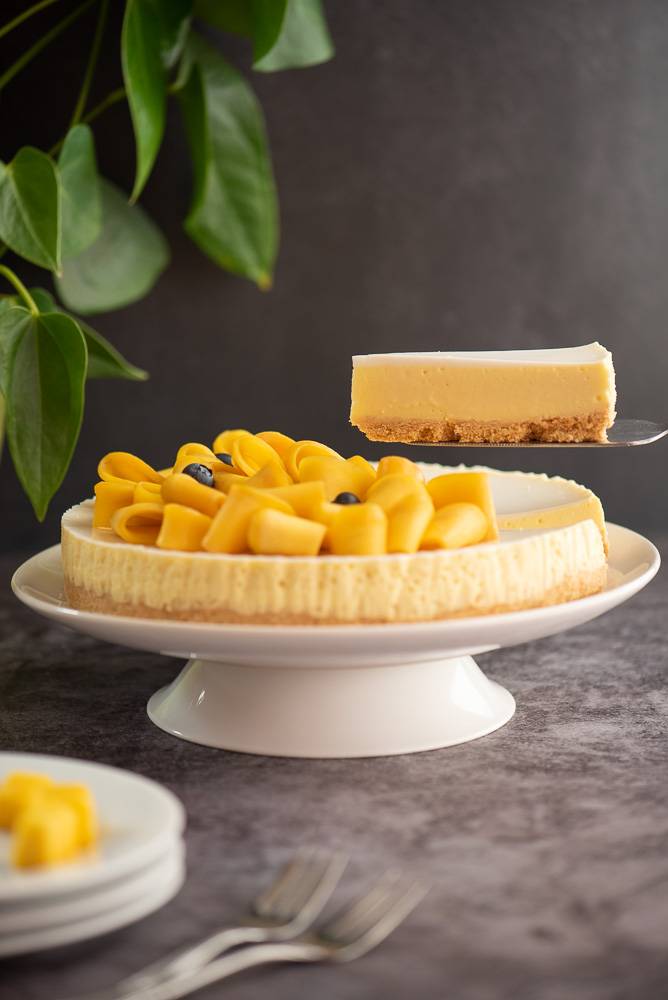 ---
WHAT VARIATIONS AND SUBSTITUTIONS CAN I MAKE?
Alternative topping to coconut – If you would rather have a bright yellow finish to the cake, exchange the coconut milk for 200ml of mango juice and then follow the recipe, adding two sheets of gelatine instead of one.
Sliced, diced or no mango – Decorating this cake can be kept very simple. If you are tight for time go with the alternative topping above or you can create the sliced ribbon effect as shown in the pictures or cubed mango for simplicity.
---
NUTRITION
Serving: one slice
Nutrition information can vary for a recipe based on factors such as precision of measurements, brands, ingredient freshness, or the source of nutrition data.
I strive to keep the information as accurate as possible but make no warranties regarding its accuracy.
I encourage you to make your own calculations based on the actual ingredients used in your recipe, using your preferred nutrition calculator.
---
STORAGE AND FREEZING
This cake will keep well in a container for 4-5 days in the fridge.
Freezing: If you want to freeze this cake place it in an airtight container and freeze for up to 2 months. Defrost at room temperature, before decorating.
© THE GOURMET LARDER. All images and content are copyright protected.
Please read my FAQ's, if you would like to use or share any part of this post.
---
EQUIPMENT RECOMMENDATIONS
Here is a list of some kitchen equipment that I use and recommend. For this recipe, a hand blender or liquidiser blender is ideal.
When it comes to baking, I highly recommend using metric measurements and a digital scale, rather than cup measurements. You will find it much easier, less messy and you will get far better, consistent results weighing your ingredients. 🙂
---
---
READY TO MAKE YOUR MANGO COCONUT CHEESECAKE?
HAPPY BAKING!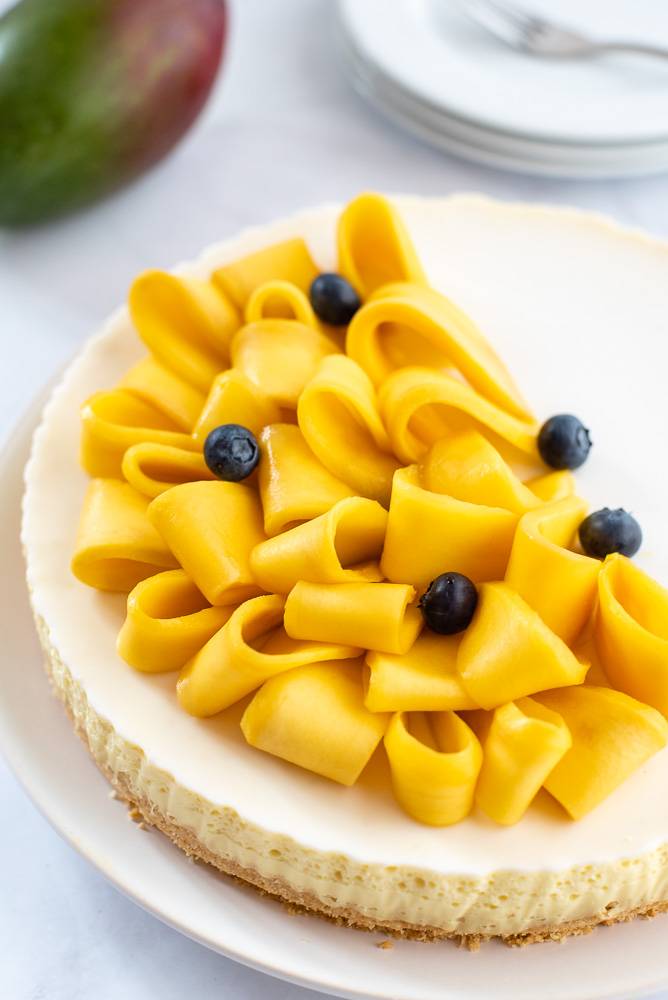 Mango Coconut Cheesecake
This no-bake mango coconut cheesecake is light, sweet, deliciously refreshing and super simple to make.
INGREDIENTS LIST
Biscuit base
100

g

butter

(melted)

200

g

digestif or coconut biscuits
Filling
250

g

mango

(1 large piece)

1

tbsp

lemon juice

300

ml

coconut milk

250

g

mascarpone

60

g

caster or granulated white sugar

1

tsp

pure vanilla extract or 1/4 tsp of vanilla paste

(sugar or 1/4 tsp of vanilla paste)

6

sheets

gelatine

(see notes)
Topping
100

ml

coconut milk

(see notes)

1

sheet

gelatine

(or 1/2 tsp powdered gelatine)

1

large

mango

(sliced or cut into chunks – optional)

6

pieces

mint leaves or tips

(optional)
Preparation
Biscuit base: melt the butter in a small saucepan or a microwave. Put the biscuits into a mini food processor or ziplock bag and crush them until they resemble coarse bread crumbs.

In a bowl, combine crushed biscuits and melted butter.

Line a 20 or 23cm springform pan with greaseproof paper to stop the cheesecake sticking to it.

Then pour the biscuit crumbs into the pan, pressing down with a back of a spoon or the bottom of a flat-bottomed tumbler to create an even layer over the base of the pan.

Place the pan into the fridge to set the crust.

In a small bowl soak the gelatine in some cold water for 5-6 minutes.

Filling: peel and remove the stone from a large mango.

Pulp the mango flesh and the lemon juice in a blender or use a hand blender in a large bowl.

Add the coconut milk (reserving 100ml for the topping), mascarpone, sugar and vanilla to the bowl or blender and mix again to get a nice smooth mixture.

Pour about a cup's worth (250ml) of the mixture into a small pan and gently heat it, but do not let it boil. Meanwhile remove the gelatine and squeeze out any excess water from it. Once the mixture is hot, remove it from the heat and stir in the gelatine until it completely dissolves.

Add the warn gelatine mixture to the rest of the mix and blend again or simply stir well. Then remove the pan from the fridge and pour the mixture over the biscuit base.

Place the pan back into the fridge for 2-3 hours until set.

Topping: Once the cake has had time to cool and is set, make the topping. See notes.

In a small bowl soak the gelatine in some cold water for 5-6 minutes.

Gently heat the remaining 100ml of coconut milk in a small saucepan until hot but not boiling. Remove the gelatine and squeeze out any excess water from it. Once the milk is hot, remove it from the heat and stir in the gelatine until it completely dissolves.

Pour the coconut milk mixture over the top of the cake and place it back in the fridge to set for 30 minutes.

To decorate: Peel and slice the mango in half, making sure to avoid the stone in the middle. Slice each half into strips.

Then take a slice and gently fold it in half, place it around the edge of the cake. Continue to place slices around and on top of each other to make a pattern.

Alternatively, dice the mango into large cubes to decorate and add some fresh mint tips to finish.
Notes & Tips
Alternative topping: If you don't want to decorate the cake with more mango, a simpler option is to heat 200ml of mango juice or smoothie and add 2 leaves of gelatine following the method for the topping in the recipe. Using gelatine sheets vs. powder: These two forms of gelatine are quite different and therefore there are different methods in using them in recipes. Always make sure you follow your gelatine packet instructions carefully to ensure your recipe sets properly. If you want to substitute sheets for powder: This cheesecake filling has about 550ml of liquid and therefore I use 6 sheets or 1 x 7gram (0.25 ounce) envelope of powder. As a guide 6 sheets or 1 envelope of 7g (0.25 ounce) powdered gelatine will: FIRMLY set 500ml (2 cups of liquid)/ This will set firmly and allow the unmoulding of a dessert such as a no-bake cheesecake or delice. SOFTLY set 750ml (3 cups of liquid). This type of dessert you will not be able to unmould. (I typically use this for desserts I serve in glasses, like my panna cotta.)

www.thegourmetlarder.com
---
RECIPE TIPS
Plan ahead to chill the cheesecake for at least 2-3 hours.
This recipe can also be made in a smaller 20cm springform, it will give a slightly higher cake.
Only once the cake has set firmly should you decorate it.
---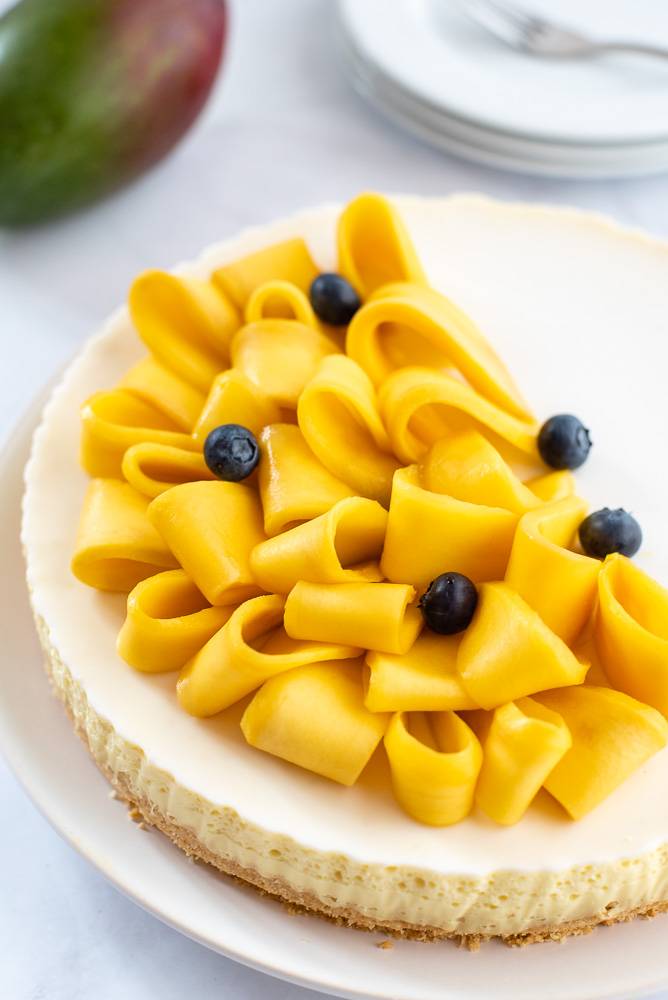 PLEASE LET ME KNOW HOW IT TURNED OUT FOR YOU!
If you tried these Mango coconut Cheesecake or any other recipe on my website, please let me know how you got on in the comments below. I love hearing from you. Also, please leave a star rating whilst you're there!
Don't forget to subscribe to my newsletter, so that you don't miss out on more delicious recipes and follow me on social media below.
HUNGRY FOR MORE? FOLLOW ME!
---
PIN THIS RECIPE FOR LATER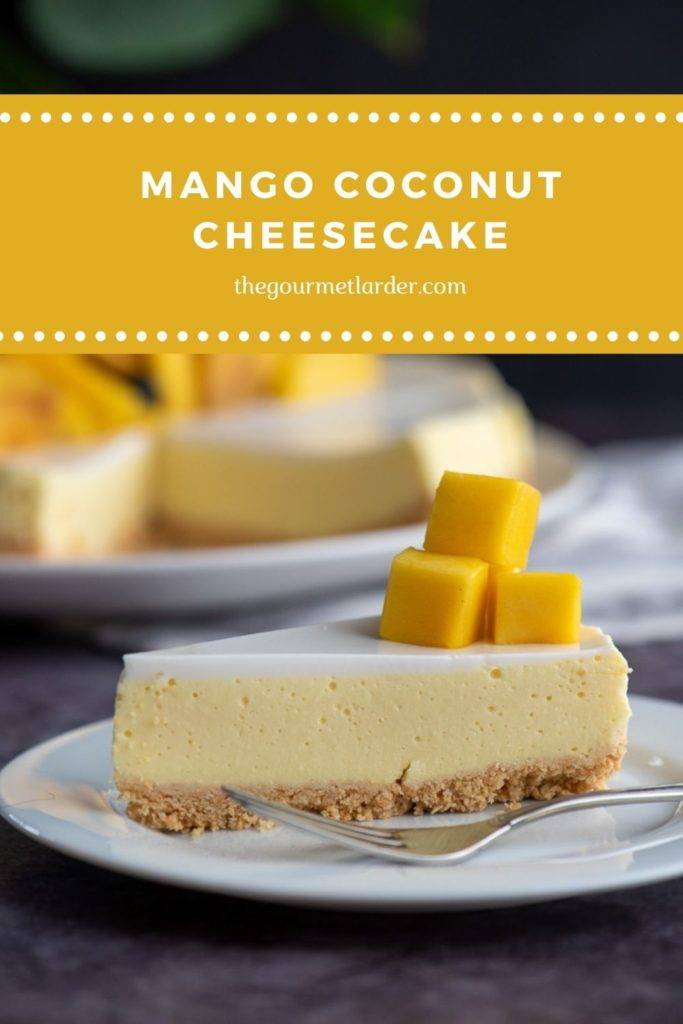 ---
If you liked this mango coconut cheesecake recipe,
take a look at my inspirational recipe collection for more ideas.
You can also find a lot more brilliant cake recipes as well.
---
---