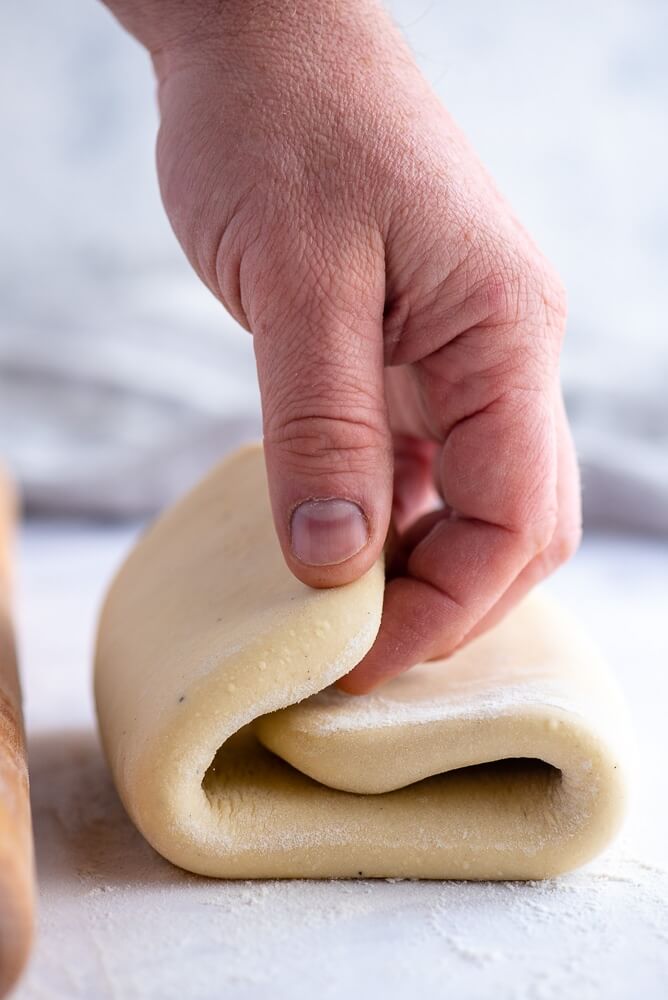 How to make a quick and easy flaky pastry. Delicious, light, crispy pastry, great for making pies, strudels and turnovers.
Making pastry can be daunting and overwhelming if you haven't made it before. However, once you have made this pastry it is very unlikely you'll want to buy pastry from the supermarket in the future. It's also cheaper to make and you know exactly what ingredients you're putting into it.
The sign of good flaky pastry dough is lamination. Repeatedly rolling and folding the dough with butter, results in paper-thin layers. It is these thin layers of butter between the layers of dough that make the pastry light and crispy. Perfect for making delicious desserts or savoury pies that are sure to impress family and friends. Try my Apricot semolina galette or these Apple rose tartlets.
This recipe will make (600g) enough for 2 large galettes or pies and it's freezer friendly.
Also check out the substitutions section on this page on how to adapt the recipe to make it vegan.
RECIPE HIGHLIGHTS
Ease: Easy.
Great for: Great for making pies, galettes, turnovers and anything that uses puff pastry.
Taste: Rich butter layers.
Texture: Crisp and flaky all the way through.
RECIPE TIPS
Chilling – is important to ensure the dough does not split during the rolling phase.
Use soft butter – at room temperature so that it will spread nicely between the dough layers. If the butter is to cold and hard it can rip the dough and equally if it is too hot.
To avoid the dough spliting – especially during summer days when it is particularly hot, the dough can get too warm. Place the dough in the fridge or freezer for 10 minutes to firm up.
When it comes to baking, I highly recommend using metric measurements and a digital scale, rather than cup measurements. you will find it much easier, less messy and you will get far better, consistent results weighing your ingredients. 🙂
---
WHAT LARDER INGREDIENTS WILL I NEED FOR THIS RECIPE?
For this flaky pastry recipe all you need are these 4 ingredients:
Plain or all-purpose flour – creates the structure and flexibility of the dough.
Caster or granulated white sugar – adds sweetness.
Butter – adds structure and flavour. I use salted butter for most of my baking as it intensifies the flavours, but feel free to use unsalted if you prefer.
Buttermilk or water – If you want to add a little bit more flavour to this recipe try adding buttermilk instead of water.
I especially recommend adding a pinch of fine sea salt to your batters and doughs, when making desserts or baked goods. The salt elevates the other ingredient flavours and when used with restraint, does not make food taste salty, it just brings out the best characteristics of the food.
---
WHAT VARIATIONS AND SUBSTITUTIONS CAN I MAKE?
Crispier pastry – can be achieved by replacing half of the butter with lard.
Vegan alternative – is simple to achieve by swapping the butter out for a vegan type and using water only.
---
EQUIPMENT SUGGESTIONS
Recommendations include:
---
NUTRITION
Serving: 100g of flaky pastry.
Nutrition information can vary for a recipe based on factors such as precision of measurements, brands, ingredient freshness, or the source of nutrition data.
I strive to keep the information as accurate as possible but make no warranties regarding its accuracy.
I encourage you to make your own calculations based on the actual ingredients used in your recipe, using your preferred nutrition calculator.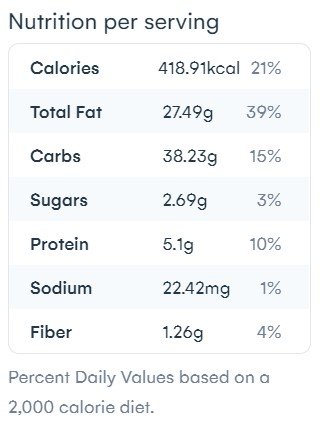 ---
STORAGE AND FREEZING OPTIONS
It keeps in the fridge for 4-5 days, wrap it in cling film to prevent it from drying out or absorbing other odours from your fridge.
Freezing: This pastry can be frozen for up to 3 months, as a block or rolled into a sheet for easy use.
© THE GOURMET LARDER All images and content are copyright protected.
Please follow my Sharing policy if you would like to use or share any part of this post.

---
READY TO MAKE YOUR FLAKY PASTRY ?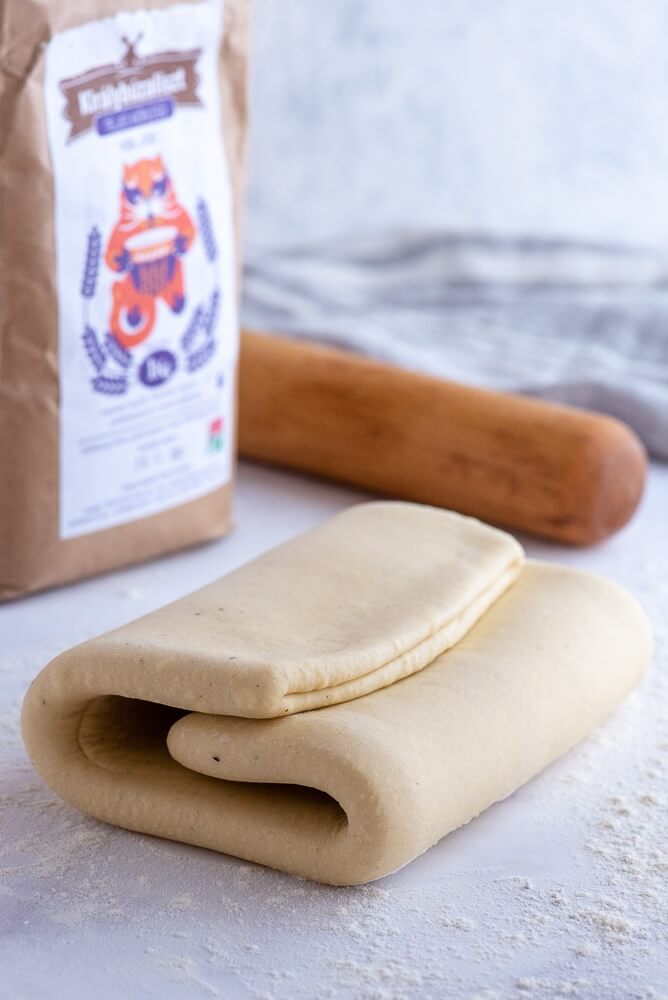 Flaky Pastry
How to make quick easy flaky pastry. Easy and delicious, light, crispy pastry that's great for making pies, strudels and turnovers.
INGREDIENTS LIST
280

g

plain or all-purpose flour

1

pinch

fine sea salt

2

tbsp

caster or granulated white sugar

(for sweet pastry items)

200

g

butter

(at room temperature)

125

ml

water or buttermilk

(see notes)
Preparation
Weigh out the butter and divide it into 4 equal amounts, or if you have a 200g block then it's easy to divide into 4 approximately.

In a medium bowl, add the flour, salt, sugar (omit for savoury pies) and one portion of the butter.

Add the water or buttermilk (see notes) and bring the mix to form a soft dough. Form a ball and then flatten it and wrap it in cling film, place it in the fridge for 20 minutes to chill. (This is important for the flour to have time to properly absorb the water content and for the dough to relax, making it easier to roll.)

Lightly flour the work surface, then roll the dough out to make a rectangle approximately 3-4mm thick.

Take another portion of butter and dot it or spread it evenly over two-thirds of the rectangle. (The butter should be at room temperature and soft, but not melted.)

Fold 1/3 of the dough without any butter, over the middle 1/3 of the dough with butter.

Then fold over the other 1/3 of the dough with butter, over the top. This completes one rollout.

Turn the dough 90 degrees and repeat steps 4 – 7 two more times with the remaining butter.

If it's summer and it is a particularly hot day, the dough might warm up and soften too much. Don't worry if this happens,  just put it in the fridge or freezer for 10 minutes to firm up.

Finally, once all the rolls have been completed, cover with cling film again and chill in the fridge for 30 minutes before using.

The flaky pastry dough is now ready to use for making delicious pies and desserts.
Notes & Tips
Buttermilk: If you don't have buttermilk, add 1 teaspoon of white vinegar or rice vinegar to 100 ml of milk, stir and leave to stand for 15 minutes before using.

www.thegourmetlarder.com
---
LOOKING FOR MORE DELICIOUS PASTRY RECIPES?
If you're looking for more tasty recipes, be sure to check out my recipe index. You can also find a lot more pastry recipes as well.
---
---
HERE ARE SOME MORE RECIPES USING FLAKY PASTRY:

Please let me know how it turned out for you!
I love to hear your feedback and I am always looking to improve the Gourmet Larder blog, please leave your thoughts and a rating using the comments section below!

Hungry for more, follow me!
---
---