A delicious and easy vegan plum crumble cake – a vanilla sponge with juicy cinnamon flavoured plums topped with crispy crumble.
I had almost forgotten about plum crumble cake until a recent trip to Germany. Thanks to my wife's uncle I managed to pick a few plums from his tree over the weekend and thought I would have a go at making a vegan version this time.
The next day we headed over to the in-laws for lunch and no sooner had it been placed on the table it was all gone. I think it was a success 🙂
RECIPE HIGHLIGHTS
Ease: Super easy.
Diet: dairy-free, nut-free and vegan.
Great for: gatherings and comfort food.
Taste: sweet and fruity.
Texture: the sponge is moist and fluffy, filled with juicy plums and topped with crispy crumble.
---
CHECK OUT MORE
MOUTH-WATERING CAKE FAVOURITES:
---
WHAT LARDER INGREDIENTS WILL I NEED FOR THIS RECIPE?
What you will need for this recipe are these 9 ingredients.
Plain or all-purpose flour (BL55)
Cornflour (cornstarch)
Soft brown sugar (Vegan)
Baking powder
Vanilla extract, sugar or 1/2 tsp of vanilla paste
Neutral-tasting oil (coconut, vegetable or sunflower oil) or vegan butter
Plant based milk
Fresh plums
Ground cinnamon
I highly recommend adding a good pinch of salt to your cakes. It would seem counter productive, but it's not. Salt, helps balance out the sweetness and richness. It also elevates the other ingredients, bring out the best characteristics of any recipe. In a seemingly absurd or contradictory way, salt intensifies the mouth's ability to taste sweetness. It is the sodium that sends signals to move glucose into the sweet taste receptor cells in our tongue, triggering the cells to register sweetness. The result is that salt not only alerts our 'salt sensitivity', but also our 'sweet sensitive' taste buds.
---
WHAT VARIATIONS AND SUBSTITUTIONS CAN I MAKE?
Fruits: This recipe works great with other fruits too. Try other stone fruits like apricots, peaches, gooseberries, pears or mix it up with apples and blackberries.
Oils: If you don't like the sound of using oil then you can replace it with vegan butter or of course for those non-vegans regular butter also works.
---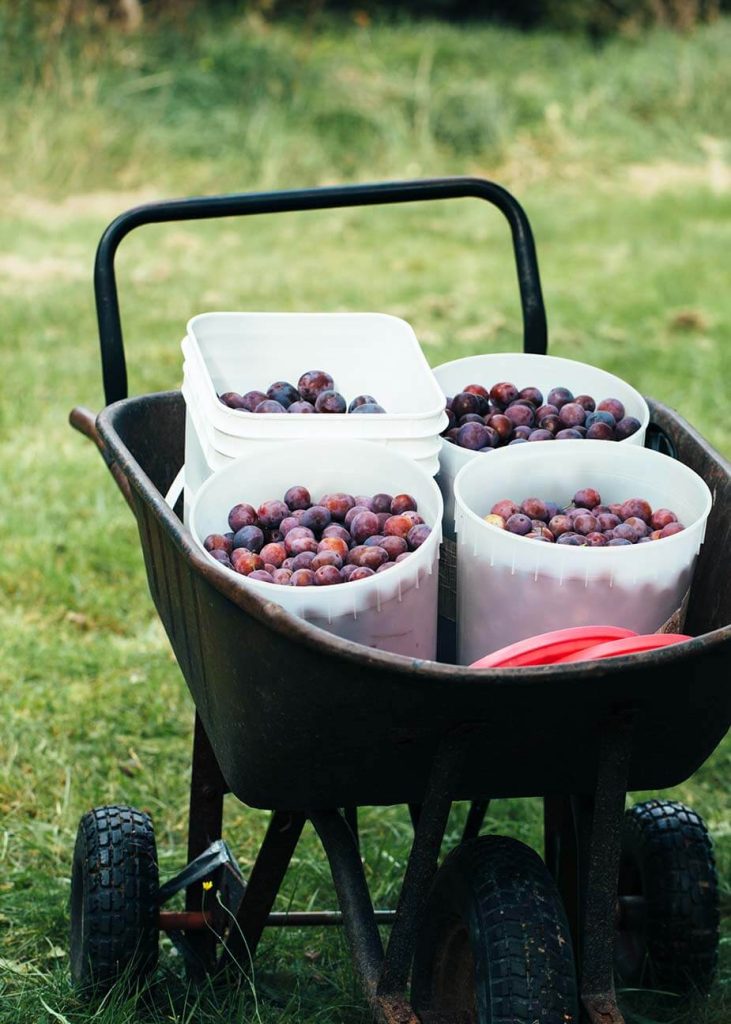 ---
NUTRITION
Serving: one cake slice.
Nutrition information can vary for a recipe based on factors such as precision of measurements, brands, ingredient freshness, or the source of nutrition data.
I strive to keep the information as accurate as possible but make no warranties regarding its accuracy.
I encourage you to make your own calculations based on the actual ingredients used in your recipe, using your preferred nutrition calculator.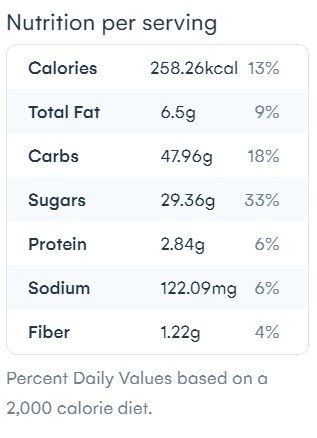 ---
STORAGE AND FREEZING
This cake can be stored in an airtight container for 3-4 days. The crumble topping will become less crispy over time.
Freezing: This cake can be frozen but it will lose its crispiness.
When it comes to baking, I highly recommend using metric measurements and a digital scale, rather than cup measurements. You will find it much easier, less messy and you will get far better, consistent results weighing your ingredients. 🙂
---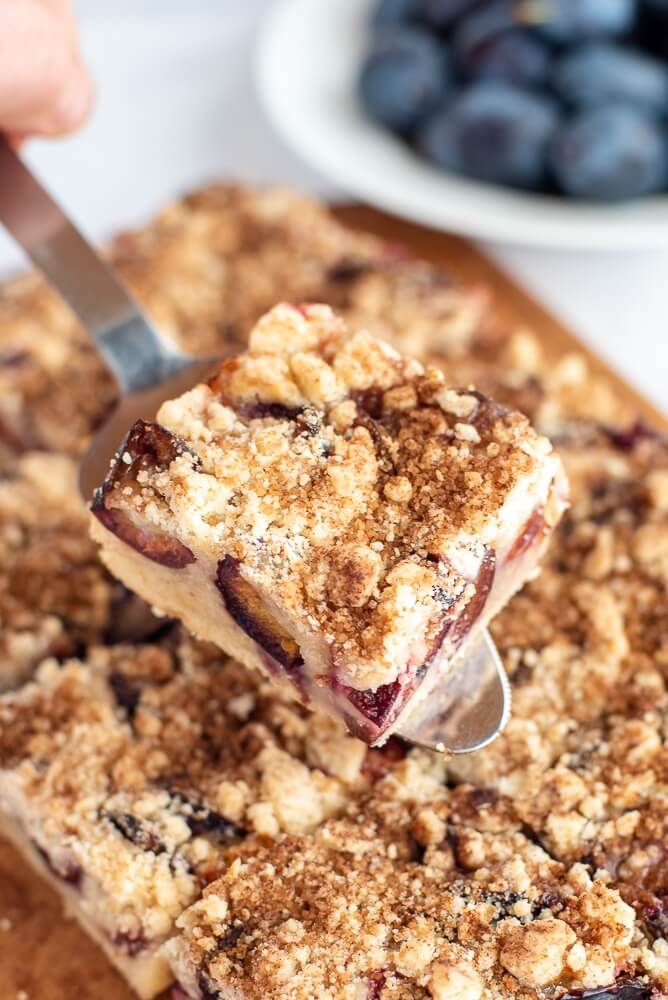 © THE GOURMET LARDER. All images and content are copyright protected.
Please read my FAQ's, if you would like to use or share any part of this post.
---
READY TO MAKE YOUR VEGAN PLUM CRUMBLE CAKE ?
HAPPY BAKING!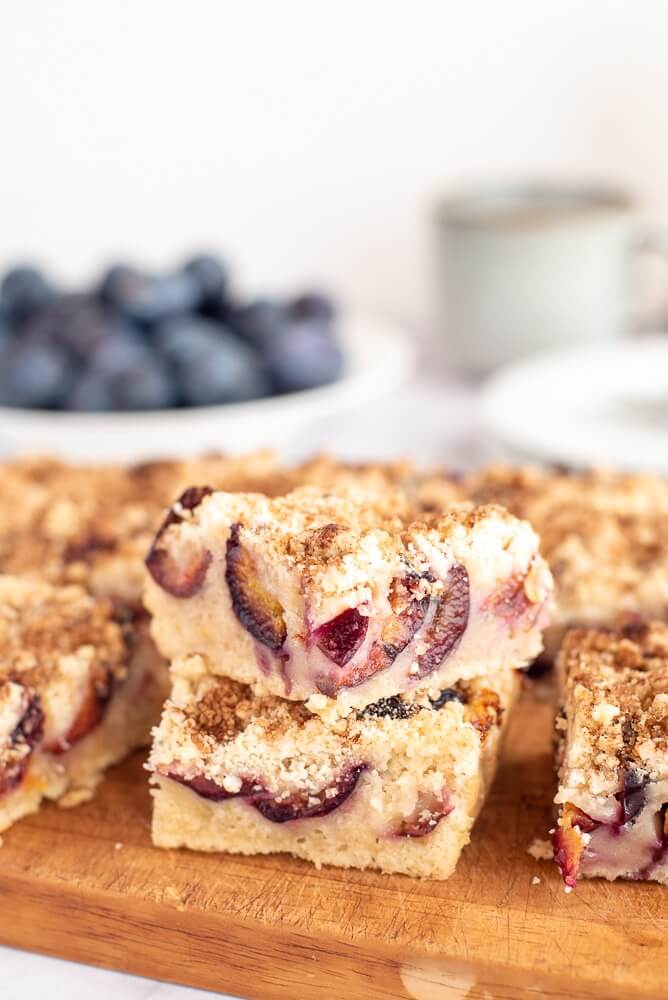 Vegan Plum Crumble Cake
A delicious and easy vegan plum crumble cake- a vanilla sponge with juicy cinnamon flavoured plums topped with crispy crumble.
INGREDIENTS LIST
Vegan sponge
150

g

plain or all-purpose flour

(BL55)

30

g

cornflour (US -cornstarch)

(cornstarch)

100

g

soft brown sugar

1

tsp

baking powder

1

tsp

pure vanilla extract or 1/2 tsp of vanilla paste

75

ml

neutral-tasting oil

(coconut, vegetable or sunflower oil)

150

ml

non-dairy milk (almond, oat, rice or soy milk)

(room temperature)

1

pinch

fine sea salt
Plums
500

g

fresh plums

30

g

soft brown sugar

(2 tbsp)

1/2

tsp

ground cinnamon
Crumble topping
100

g

plain or all-purpose flour

50

tsp

soft brown sugar

50

ml

coconut oil
Preparation
Crumble topping: In a large bowl, mix together the flour, sugar and cinnamon with a fork until well blended.

Make a well in the center and pour in the coconut oil. Gently rub the ingredients together with your fingertips until the crumble looks like chunky breadcrumbs. Don't over mix.

Spread onto a small baking sheet lined with parchment paper, cover with cling wrap and chill until you are ready to use.

Chilling will harden the coconut oil and will make the crumble crispier.

Pre-heat oven to 180°C fan / 400°F / Gas 6.

Line a baking tin approximately 20 x 27cm (8 x 10.5 inches) with baking parchment and leave a side until ready to use.

Plums: Wash and then cut the plums in half lengthways removing the stones. Place them in a bowl and mix in the cinnamon and brown sugar and leave to macerate.

Vegan sponge: In a large bowl add all the ingredients and whisk together until you have a smooth batter.

Pour the sponge batter into the prepared baking tin, ensuring it is evenly spread across the bottom.

Give the plums a stir and then arrange them vertically pushing them into the sponge batter.

Remove the crumble topping from the fridge and break it up with a fork and sprinkle it over the top of the plums.

Baking: Place the cake on the middle shelf of your pre-heated oven for 40-45 minutes or until lightly browned and crisp on top.

Leave to cool in the tin or serve warm with some vanilla custard.

www.thegourmetlarder.com
RECIPE TIPS
Use plums that are just ripe. If you use over ripe plums they will just be a mush in the middle. Unless you like that 🙂
---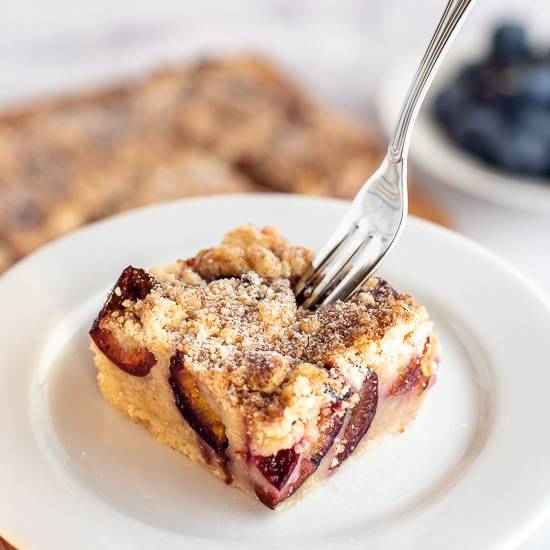 PLEASE LET ME KNOW HOW IT TURNED OUT FOR YOU!
If you tried this Plum Crumble Cake or any other recipe on my website, please let me know how you got on in the comments below. I love hearing from you. Also, please leave a star rating whilst you're there!
Don't forget to subscribe to my newsletter, so that you don't miss out on more delicious recipes and follow me on social media.
HUNGRY FOR MORE? FOLLOW ME!
---
PIN THIS RECIPE FOR LATER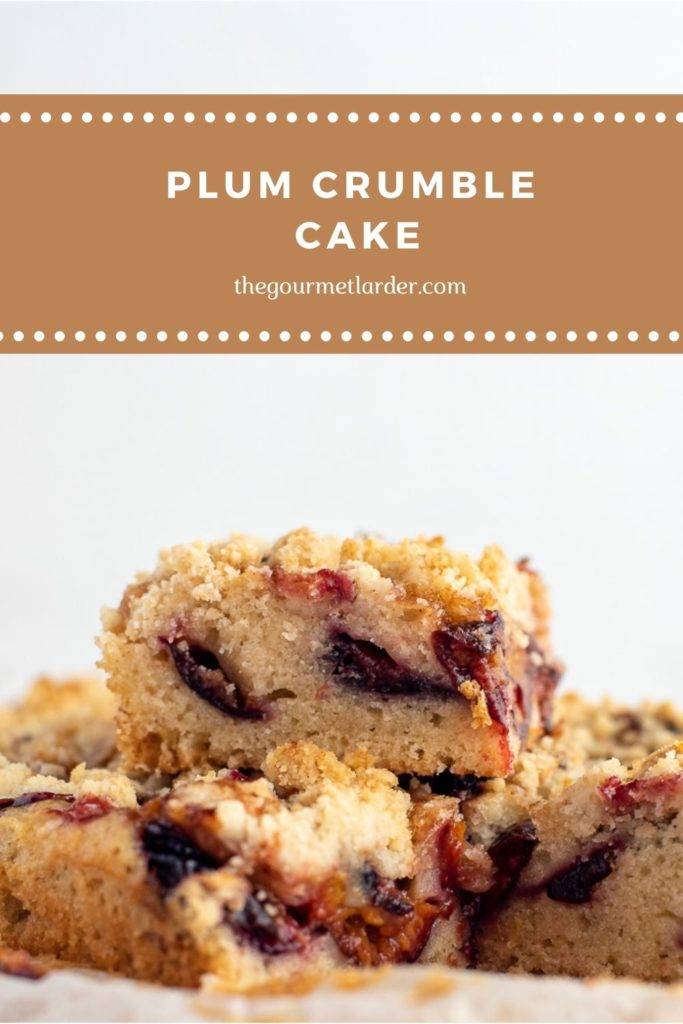 ---
If you liked this plum crumble cake recipe and are looking
for more tasty recipes, be sure to check out my recipe collection.
You can also find a lot more brilliant cake recipes as well.
---
---