Strawberry Mascarpone Roulade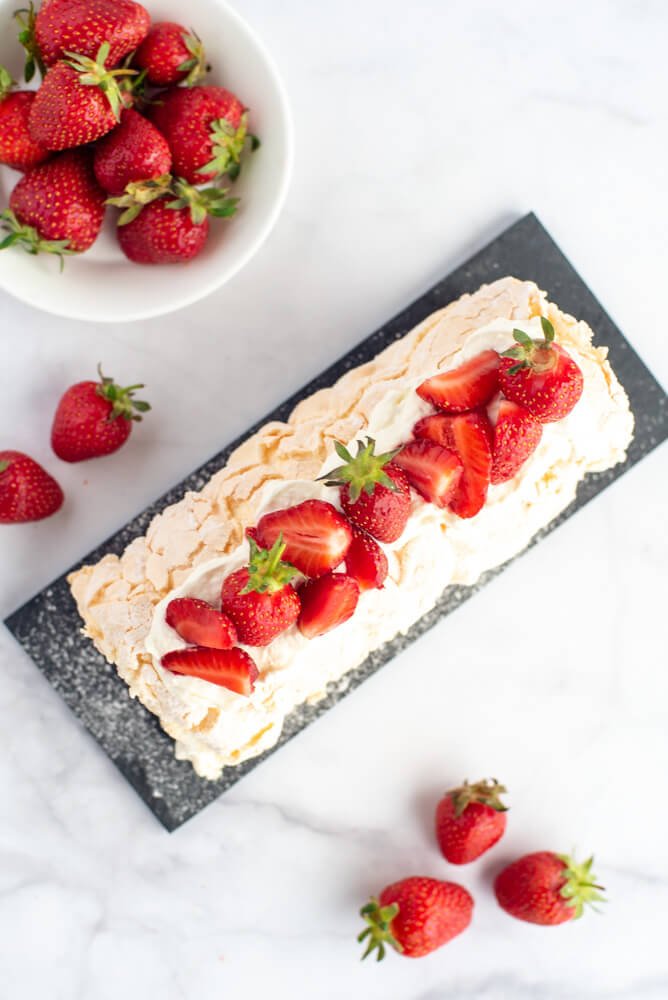 This easy strawberry mascarpone roulade is a perfect summery dessert. A classic light French meringue, which melts in the mouth together with mascarpone cream and fresh strawberries.
Strawberry season never lasts long enough, so try this great dessert with friends and family, they will love it.
This roulade will also work really well with raspberries or blackberries.
If you decide to give this recipe a try, let me know! Leave a comment below and rate it – it's really helpful to me and the other readers. And don't forget to take a picture and tag it #thegourmetlarder on Instagram! I love seeing what you come up with 🙂
RECIPE HIGHLIGHTS
Ease: easy.
Great for: afternoon treat, lunch/dinner dessert, celebrations.
Taste: melt in the mouth meringue filled with mascarpone cream and topped with fresh summer strawberries.
Texture: crisp meringue on the outside with a soft pillow texture inside filled with mascarpone cream and juicy strawberries.
---
WHAT LARDER INGREDIENTS WILL I NEED FOR THIS RECIPE?
For this recipe all you need are these ingredients:
Egg whites
Caster or granulated sugar
Cornflour
Mascarpone
Double or heavy cream
Icing sugar
Fresh strawberries
I highly recommend adding a good pinch of salt to your cakes. It would seem counterproductive, but it's not. Salt helps balance out the sweetness and richness. It also elevates the other ingredients, bringing out the best characteristics of any recipe. In a seemingly absurd or contradictory way, salt intensifies the mouth's ability to taste sweetness. It is the sodium that sends signals to move glucose into the sweet taste receptor cells in our tongue, triggering the cells to register sweetness. The result is that salt not only alerts our 'salt sensitivity', but also our 'sweet sensitive' taste buds.
---
EQUIPMENT SUGGESTIONS
When it comes to baking, I highly recommend using metric measurements and a digital scale, rather than cup measurements. You will find it much easier, less messy and you will get far better, consistent results weighing your ingredients. 🙂
---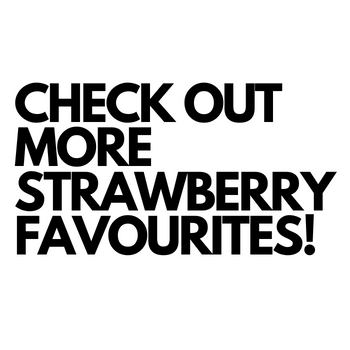 ---
NUTRITION
Serving: one roulade slice
Nutrition information can vary for a recipe based on factors such as precision of measurements, brands, ingredient freshness, or the source of nutrition data.
I strive to keep the information as accurate as possible but make no warranties regarding its accuracy.
I encourage you to make your own calculations based on the actual ingredients used in your recipe, using your preferred nutrition calculator.
---
STORAGE AND FREEZING OPTIONS
This dessert is best served and eaten on the day of making but will stay fresh in the refrigerator for up to 3 days in an airtight container. The meringue will get softer and softer as time goes by.
Freezer: Because of the French meringue in this recipe, it does not freeze well and is not recommended.
© THE GOURMET LARDER. All images and content are copyright protected.
Please read my FAQ's, if you would like to use or share any part of this post.
---
READY TO MAKE YOUR STRAWBERRY MERINGUE ROULADE ?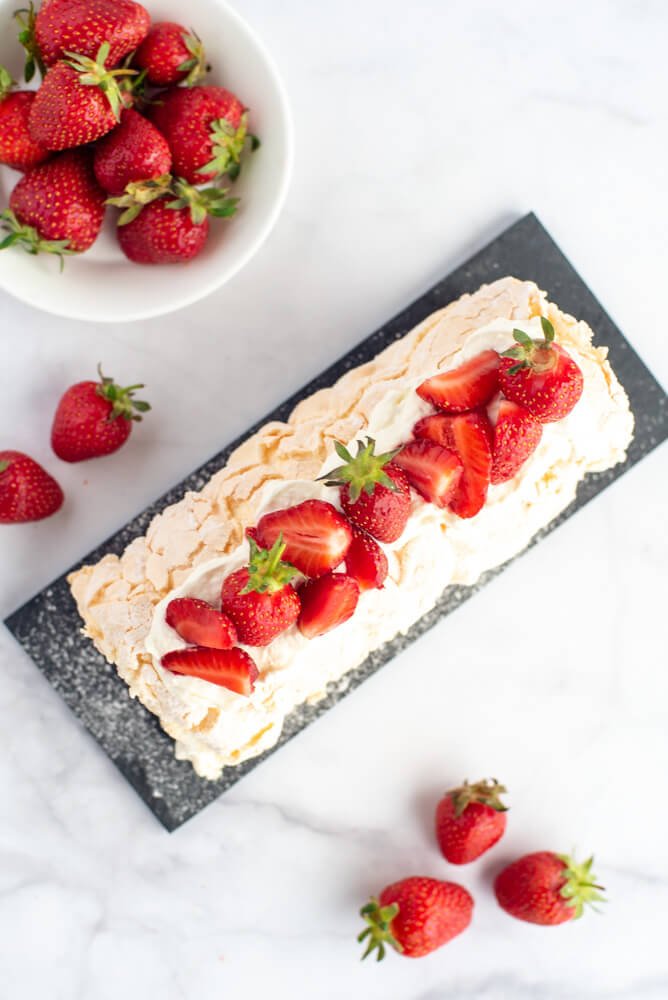 Strawberry Meringue Roulade
This easy strawberry Mascarpone roulade is a perfect summery dessert. A classic light French meringue, which melts in the mouth together with Mascarpone cream and fresh strawberries.
INGREDIENTS LIST
Meringue
4

medium/US large

egg whites

150

g

caster or granulated white sugar

1

tsp

cornflour (US -cornstarch)

1

pinch

fine sea salt
Mascarpone filling
200

g

Mascarpone

100

ml

double or heavy cream

2

tbsp

icing sugar (US powdered sugar)

150

g

fresh strawberries

1/2

tsp

pure vanilla extract or 1/4 tsp of vanilla paste
Topping
50

g

fresh strawberries

50

g

mascarpone filling
Preparation
Preheat the oven to 160°C fan / 350°F / Gas 4.

Line a baking tray or tin 30×25 cm (12×10 in) with baking paper.

Meringue: In order to get nice stiff peaks in the meringue mix, it is important not to get any additional fat in the egg whites. Fat can come from small amounts of egg yolk accidentally getting into the bowl or by using a plastic bowl that has residue in it even after being washed well. The best option is to use a glass or stainless-steel bowl.

Place the egg whites in a clean bowl and whisk them with an electric mixer on high speed until very stiff.

Gradually add the sugar, 1 teaspoon at a time, whisk well between each addition until all the sugar has been added and you have a very stiff and glossy meringue mix.

Add the cornflour and mix in to ensure no lumps remain.

Put the meringue mixture onto a tray lined with baking paper and spread it out into a rectangle as neatly as possible.

Baking: Place in the middle of the oven and bake for about 25 minutes until golden and firm to the touch.

Remove the meringue from the oven. Dust with icing sugar and then turn it upside down onto a new piece of baking paper. Now remove the paper from the base of the cooked meringue that was in the oven and allow it to cool.

Mascarpone filling: Whip the cream until the whisk leaves a trail behind it. Add the mascarpone and the sugar and mix together. Keep 50 g of the mix for decorating the top and spread the remaining mixture evenly over the meringue.

Strawberries: Clean and remove the stalks from the strawberries. Dice 150 g of strawberries and sprinkle over the mascarpone cream mixture.

From the long edge, roll up the meringue firmly, using the paper to help you. Keep the roll very tight, so that it doesn't fall apart.

Gently spread the reserved mascarpone filling over the very top of the roulade and decorate with strawberries.

Serving: Dust with icing sugar and cut into slices.

www.thegourmetlarder.com
---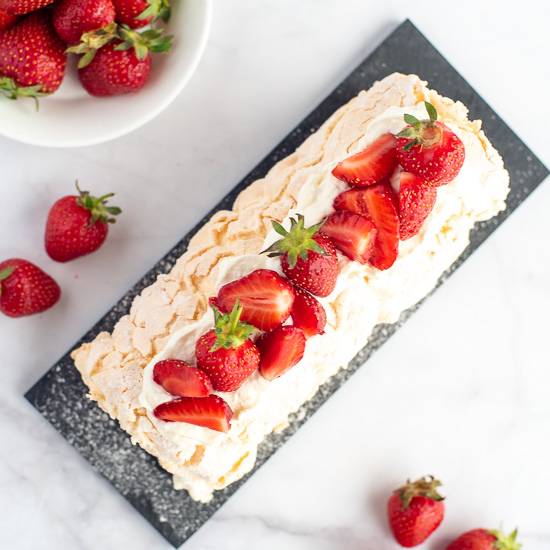 ---
PIN THIS RECIPE FOR LATER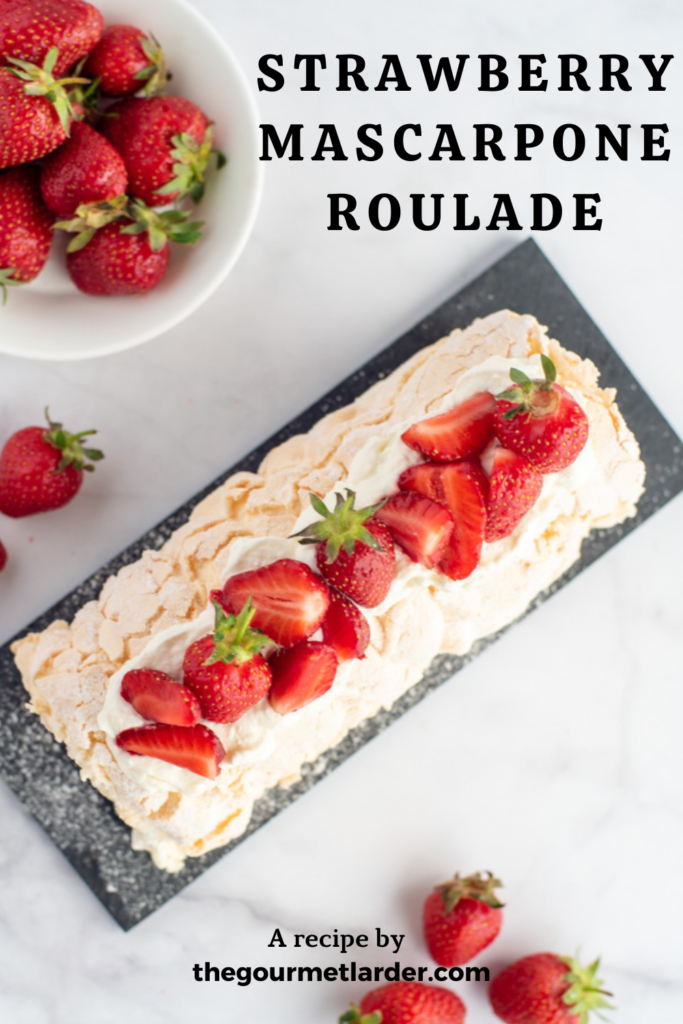 ---
If you liked this strawberry mascarpone roulade recipe and are looking
for more tasty recipes, be sure to check out my recipe collection.
---
---