English Muffins
My homemade English muffins are utterly delicious and one of my favourite breakfasts. I love them sliced, toasted, slathered in butter and jam or made into a sandwich with ham and eggs.
These English muffins are supper easy to recreate and you don't have to be a master baker. It requires just a little extra time and patience, like with any bread recipe, and the result will be incredibly tasty and taste so much better than anything bought in the shops.
If you like the sound of these English muffins, you might also like some of my other delicious breakfast recipes, like my maple date banana bread or my Nutella and hazelnut buns .
If you decide to give this recipe a try, let me know! Leave a comment below and rate it – it's really helpful to me and the other readers. And don't forget to take a picture and tag it #thegourmetlarder on Instagram! I love seeing what you come up with 🙂
RECIPE HIGHLIGHTS
Ease: Simple to make.
Great for: Perfect for breakfast, brunch, afternoon tea, picnics, family and friends visiting.
Taste: Delicious toasted.
Texture: Soft and fluffy crumb inside with a toasted brown exterior.
---
WHAT LARDER INGREDIENTS WILL I NEED FOR THIS RECIPE?
For this English muffin recipe all you need are these 8 ingredients:
Milk – I find whole milk gives the best flavour and keeps the muffins moist. Alternatively, you can use low-fat milk or even dairy-free.
Yeast – is essential in helping the muffins rise in this recipe.
Strong white bread flour or all-purpose – it is so important to measure the flour correctly and not to add more during the kneading! If you accidently add too much, your muffins will not have that soft crumb texture inside them.
Fine sea salt – I highly recommend adding salt to the dough as it will enhance all the other flavours and keep it from tasting bland.
Caster or granulated white sugar – helps to activate the yeast and add a little flavour.
A medium egg – enriches the dough, helps the bread rise and gives the interior a soft and fluffy texture. Make sure they are at room temperature before you start, so as not to cool the dough.
Butter – adds a rich butter flavour to these muffins. I use salted butter for most of my baking and it has been considered when adding additional salt to this recipe. The butter needs to be softened, so take it out of the fridge well in advance of making them.
Semolina flour or cornmeal – is ideal when shaping the muffins, thus avoiding too much additional flour in the dough.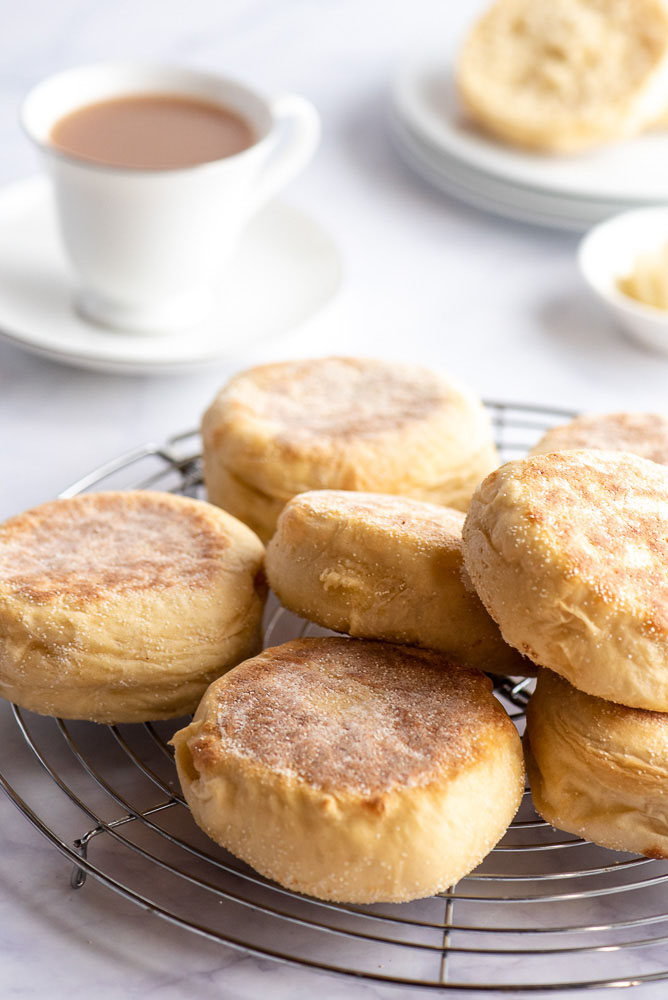 ---
WHAT VARIATIONS AND SUBSTITUTIONS CAN I MAKE?
As with most leavened doughs, they are very adaptable and this recipe is no exception. Sometimes I use whole wheat flour in my recipe but that's about it as I don't particularly like to add other flavours – which, of course, doesn't mean you shouldn't 🙂
Flours – replace 200g white flour with 180g whole wheat flour for a healthier version.
Flavour additions – try adding pecans, cinnamon, raisins, dried cranberries or chocolate chips.
---
NUTRITION
Serving: one English muffin
Nutrition information can vary for a recipe based on factors such as precision of measurements, brands, ingredient freshness, or the source of nutrition data.
I strive to keep the information as accurate as possible but make no warranties regarding its accuracy.
I encourage you to make your own calculations based on the actual ingredients used in your recipe, using your preferred nutrition calculator.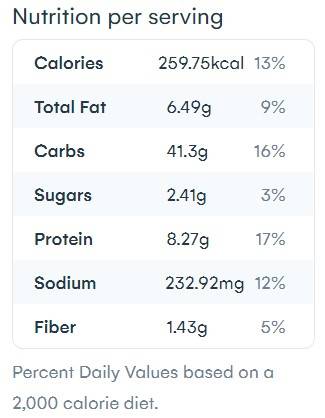 ---
STORAGE AND FREEZING
These English muffins will keep well at room temperature stored in a bread bag or airtight container for 3-5 days. Simply toast them to enjoy!
Freezing: Store them up to 3 months. Defrost overnight in the fridge and toast them before serving.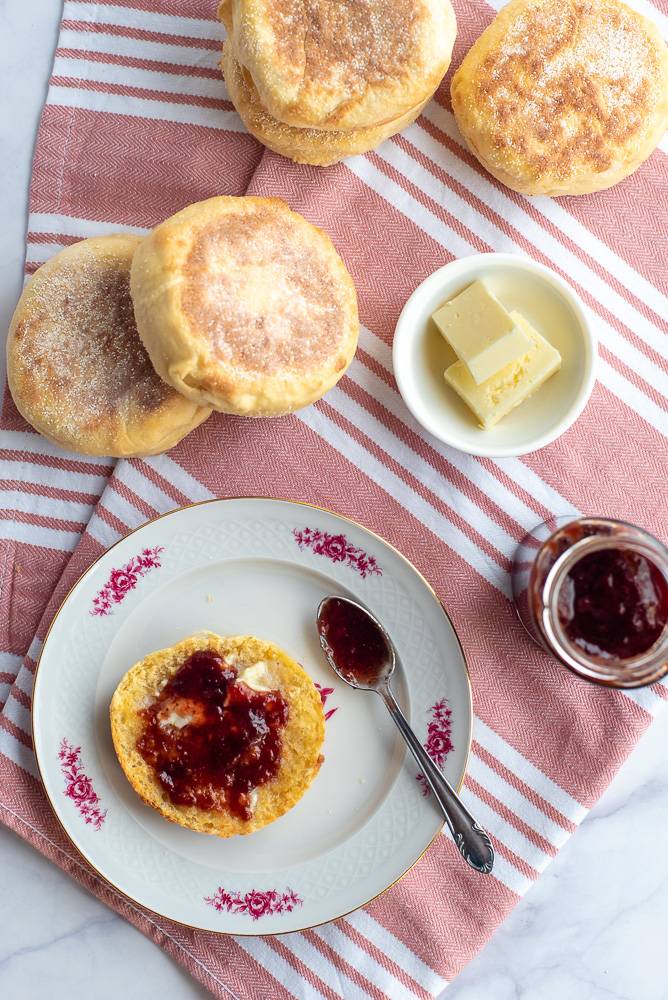 © THE GOURMET LARDER. All images and content are copyright protected.
Please read my FAQ's, if you would like to use or share any part of this post.
---
EQUIPMENT RECOMMENDATIONS
Here is a list of some kitchen equipment that I use and recommend for this recipe.
Non-stick frying pans
When it comes to baking, I highly recommend using metric measurements and a digital scale, rather than cup measurements. You will find it much easier, less messy and you will get far better, consistent results weighing your ingredients. 🙂
---
READY TO MAKE YOUR ENGLISH MUFFINS ?
HAPPY BAKING!
English Muffins
My homemade English muffins are utterly delicious and one of my favourite breakfasts. I love them sliced, toasted, slathered in butter and jam or made into a sandwich with ham and eggs.
INGREDIENTS LIST
250

ml

milk

15

g

fresh yeast

(5g dried yeast)

400

g

strong white bread flour or all-purpose

(plus extra for dusting worksurface)

5

g

fine sea salt

5

g

caster or granulated white sugar

1

medium/US large

egg

(lightly beaten)

40

g

butter

(softened)

30

g

semolina flour

(optional for dusting )
Preparation
Dough: In a small saucepan, gently heat the milk until it reaches body temperature 37°C/98°F. You should be able to comfortably put your finger in it and hold it there. If it's too hot it will kill the yeast.

Remove from the heat and stir in the yeast. Set it aside for 10 minutes for the yeast to react.

In a large bowl (or in a bowl of a stand mixer fitted with a dough hook), combine the flour, salt, sugar and egg.

Using your hands or a stand mixer, add the yeast mixture to the flour and knead into an elastic dough (4 minutes). The dough will be sticky, but avoid adding extra flour. (see notes)

When the dough is smooth, add the softened butter and continue to knead until there are no visible traces of butter left. This stage will be a little messy by hand but it will come together after a few minutes.

Once the butter has been absorbed, I like to let the dough sit for 10-15 minutes to allow the gluten to develop and then knead for another minute. I find this gives you a much smoother, elastic finish to the dough.

Cover the bowl with a kitchen cloth and leave to prove at room temperature for an hour or until doubled in size.

Shaping: Dust the work surface with a mixture of the semolina and flour. Turn out the dough onto the worksurface and divide the dough into eight equal parts. I usually cut the dough ball into 4 and then cut each wedge in half again for simplicity.

Shape each piece of dough into a round ball, then gently press the ball down (I like to use an 8-9 cm (3-4 inch) biscuit cutter to push the ball dough into, this helps to form a nice even shaped disk).

If you have the space, you can leave the muffins on the dusted worksurface covered with a kitchen towel to rise for 30-40 minutes or place them on a small tray sprinkled with semolina that fits in your fridge overnight if you want to bake them for breakfast. Ensure to leave some space between them so they can rise and let them come to room temperature for 30 minutes prior to cooking.

Preheat the oven to 180°C fan / 400°F / Gas 6.

Baking: Place a large cast-iron skillet or non-stick pan with a lid over a low-medium heat. In batches, brown the muffins for 2-3 minutes each side and then transfer them to a baking tray. Once all the muffins have been browned in the pan, finish baking them in the oven for 5-6 minutes.
Notes & Tips
Storage and freezing: These English muffins will keep well at room temperature stored in a bread bag or airtight container for 3-5 days. Simply toast them to enjoy! Store them up to 3 months in the freezer, just defrost them overnight in the fridge then toast before serving.

www.thegourmetlarder.com
---
RECIPE TIPS
Sticky dough: This dough is supposed to be wet and sticky, so avoid adding excess flour. The extra wetness will create that soft springy open crumb texture we are looking for. Use a hand mixer or stand mixer to make it easier for mixing.
Shaping: To form the classic flat muffin shape, I like to use an 8-9 cm (3-4 inch) biscuit/cookie cutter to push the dough balls into. If you don't have a round cutter simply shape the dough into rounds by hand.
Don't rush the process: The dough needs time to rise and double in size in a warm environment. It will take about an hour for the first prove and another 30-40 minutes for the second prove.
Cooking: Just as with shaping the dough, how they are cooked is just as important. If you were to place the muffins directly into a hot oven they would loose their shape and end up looking like regular bread rolls. So, to get that iconic flat shape they must be toasted in a cast-iron skillet or non-stick pan. You'll need to cook them in batches, on a low-medium heat for 2-3 minutes on each side covered with a lid (I prefer to use a lid as it helps to create steam, allowing them to rise more). Transfer them to a baking tray and once all the muffins have been browned in the pan, finish baking them in the oven for 5-6 minutes to bake their centres.
Making ahead: This dough recipe can be made and proved in the fridge overnight. Bring it to room temperature for 1 hour before continuing with the next steps. Alternatively, you can bake the English muffins in advance and toast them when you are ready to serve.
---
PLEASE LET ME KNOW HOW IT TURNED OUT FOR YOU!
If you tried these English Muffins or any other recipe on my website, please let me know how you got on in the comments below. I love hearing from you. Also, please leave a star rating whilst you're there!
Don't forget to subscribe to my newsletter, so that you don't miss out on more delicious recipes and follow me on social media.
HUNGRY FOR MORE? FOLLOW ME!
---
PIN THIS RECIPE FOR LATER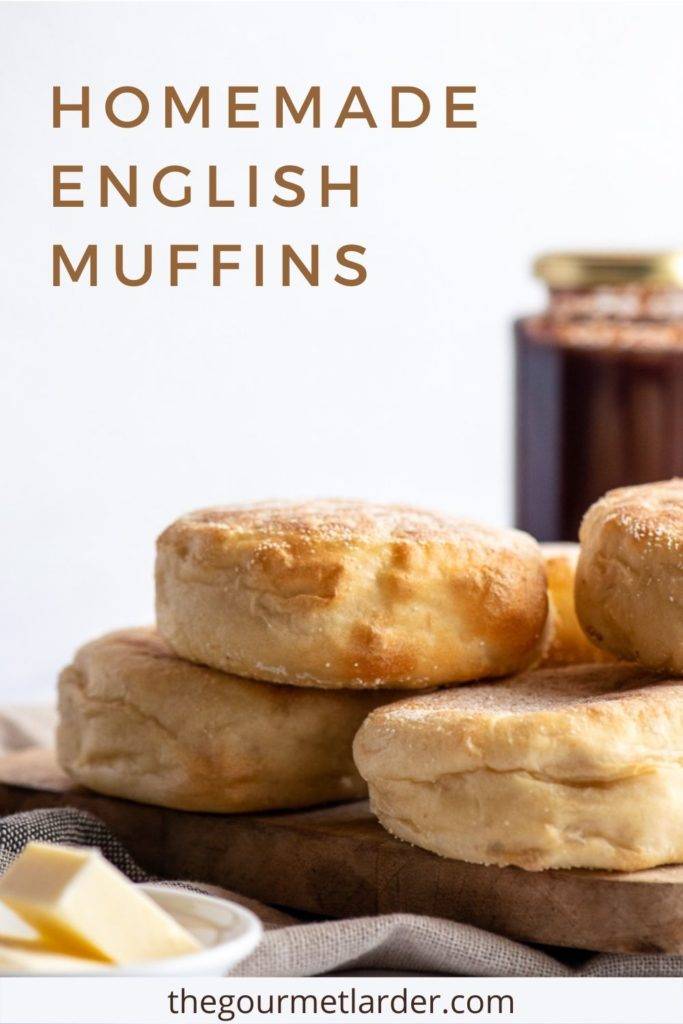 ---
If you liked this English muffin recipe,
take a look at my inspirational recipe collection for more ideas.
---
---