Apricot Semolina Galette
This apricot semolina galette has layers of crisp flaky pastry filled with creamy semolina custard and fresh apricots. Serve with vanilla ice cream or cream. It's sure to please family and friends.

The great thing about galettes is you don't need to form a shell and they still look and taste great. And even if you have never made flaky pastry, my step-by-step method is going to help you create a simple easy dessert.
If you decide to give this recipe a try, let me know! Leave a comment below and rate it – it's really helpful to me and the other readers. And don't forget to take a picture and tag it #thegourmetlarder on Instagram! I love seeing what you come up with 🙂
RECIPE HIGHLIGHTS
Ease: easy.
Great for: breakfast or great after a savoury meal.
Taste: buttery flaky pastry with a sweet creamy semolina pudding with tart apricots.
Texture: crisp pastry with sumptuous silky smooth cream and apricot fruit.
---
WHAT LARDER INGREDIENTS WILL I NEED FOR THIS RECIPE?
For this recipe all you need are these ingredients:
Buttermilk or water
Semolina
Butter
Vanilla extract, sugar or vanilla paste
Caster and granulated white sugar
Plain or all-purpose flour
Fresh cream
Medium eggs
Fresh apricots
Honey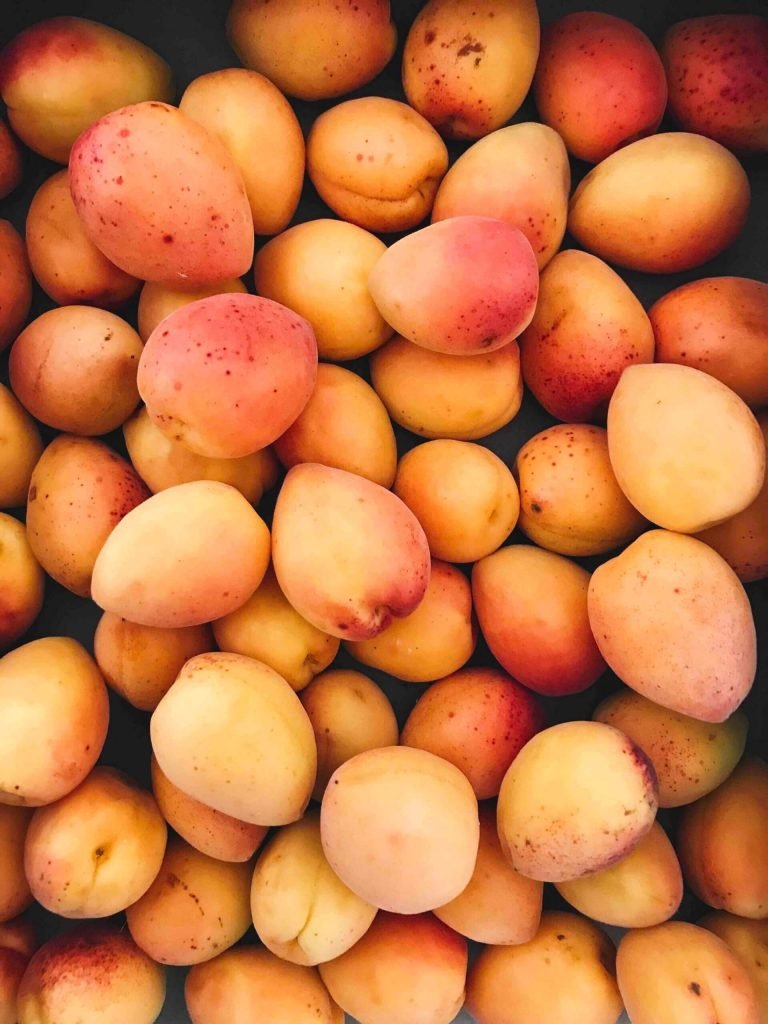 I highly recommend adding salt to your doughs and pastry. Salt helps balance out the sweetness and richness. It also elevates the other ingredients, bring out the best characteristics of any recipe.
WHAT VARIATIONS AND SUBSTITUTIONS CAN I MAKE?
Fruit: This recipe also works great with many other fruits such as strawberries, blueberries, peaches, apples and pears.
---
NUTRITION
Serving: one apricot semolina galette slice
Nutrition information can vary for a recipe based on factors such as precision of measurements, brands, ingredient freshness, or the source of nutrition data.
I strive to keep the information as accurate as possible but make no warranties regarding its accuracy.
I encourage you to make your own calculations based on the actual ingredients used in your recipe, using your preferred nutrition calculator.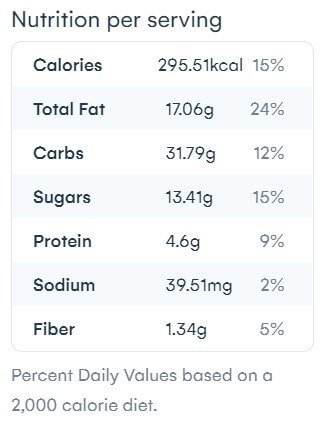 ---
STORAGE AND FREEZING
Keeps in the refrigerator for up to 5 days.
Freezing: This tart can be frozen but is better eaten fresh.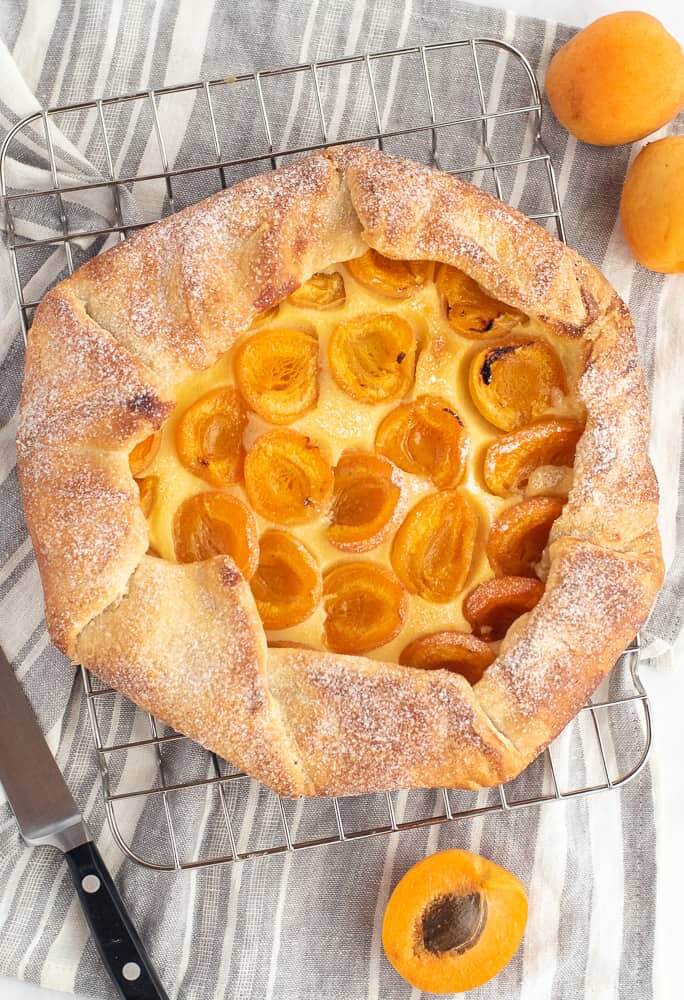 © THE GOURMET LARDER. All images and content are copyright protected.
Please read my FAQ's, if you would like to use or share any part of this post.
When it comes to baking, I highly recommend using metric measurements and a digital scale, rather than cup measurements. You will find it much easier, less messy and you will get far better, consistent results weighing your ingredients. 🙂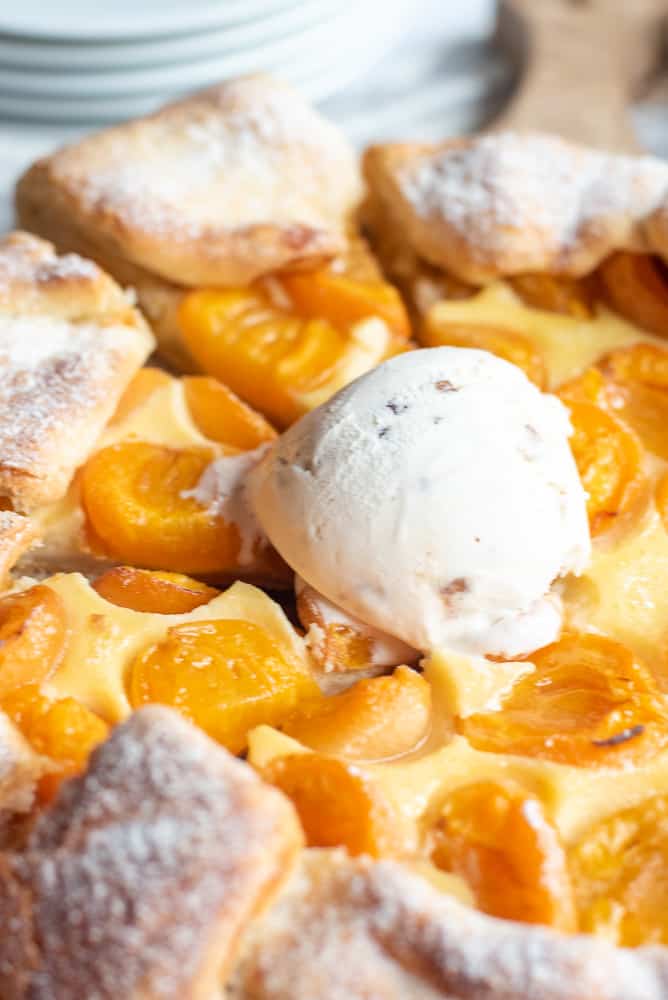 ---
READY TO MAKE YOUR APRICOT SEMOLINA GALETTE ?
Apricot Semolina Galette
This apricot semolina gallate has layers of crisp flaky pastry filled with creamy semolina custard and fresh apricots. Serve with vanilla ice cream or cream. It's sure to please family and friends.
INGREDIENTS LIST
Flaky pastry
200

g

plain or all-purpose flour

1

pinch

fine sea salt

1

tbsp

caster or granulated white sugar

160

g

butter

(at room temperature)

100

ml

buttermilk or water

(see notes)
Semolina filling
180

g

water

1

pinch

fine sea salt

25

g

semolina

20

g

butter

1

tsp

pure vanilla extract or 1/2 tsp of vanilla paste

30

g

caster or granulated white sugar

(2 tbsp)

1

tbsp

plain or all-purpose flour

30

ml

single cream

1

medium/US large

egg
Assembly
360

g

fresh apricots

(400g whole apricots)

1

medium/US large

egg

(for egg wash)

2

tbsp

runny honey

2

tbsp

caster or granulated white sugar

(for dusting the pastry)
Preparation
Flaky pastry: Weigh out the butter and divide it into 4 equal amounts.

In a medium bowl, add the flour, salt, sugar and one portion of butter.

Add the buttermilk and bring the mix to form a soft dough.

Roll out the dough to make a rectangle approximately 4mm thick.

Take another portion of butter and dot it over two thirds of the rectangle.

Fold the third without any butter on it over the middle third of the pastry. Bring the other third on top. Seal the edges with a rolling pin and turn the dough 90 degrees.

Chill for 10 minutes.

Repeat steps 4 – 5 two more times.

Finally, cover with plastic wrap and chill in the fridge for 30 minutes.

Semolina filling: In a small saucepan add the semolina, water and salt. Gently bring to a simmer and cook for 3-5 minutes until the semolina has thickened. Stir regularly, to avoid lumps and avoid it burning on the bottom of the pan.

Once cooked remove from the heat and stir in the butter, sugar, vanilla, flour and cream.

Finally, add the egg and mix until it is creamy. Set aside.

Forming pastry: Remove the dough from the fridge and make it into a ball. Roll the dough out into a circle approximately 35cm (14inch) wide. Roll the dough around the rolling pin and transfer it to the prepared baking sheet.

Preheat the oven to 180°C fan / 400°F / Gas 6. Line a baking tray with parchment paper.

Assemble: Pour the semolina into the centre of the pastry and using the back of a spoon level it out around the pastry leaving 5-6cm (2inch) from the edge.

Cut the apricots in half and remove the stones. Place the apricot halves on top of the semolina in a pattern of your choice.

Fold the edges of the pastry over the apricots. Brush the egg wash over the pastry edges and sprinkle the granulated white sugar all over the galette.

Finally, pour 2 tbsp of honey over the apricots. if your honey is too thick place it in the microwave for a few seconds to melt.

Baking: Place the galette in the oven and bake for 35 minutes, until the crust is golden brown. Serve with clotted cream or ice cream.
Notes & Tips
Buttermilk: If you don't have buttermilk, add 1 teaspoon of white vinegar or rice vinegar to 100 ml of milk, stir and leave to stand for 15 minutes before using.

www.thegourmetlarder.com
---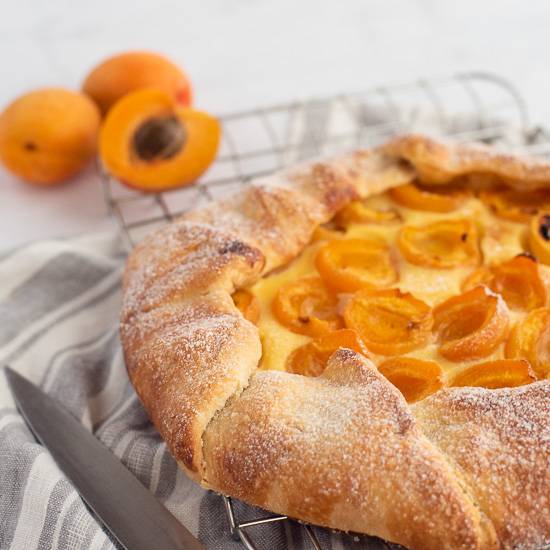 ---
PIN THIS RECIPE FOR LATER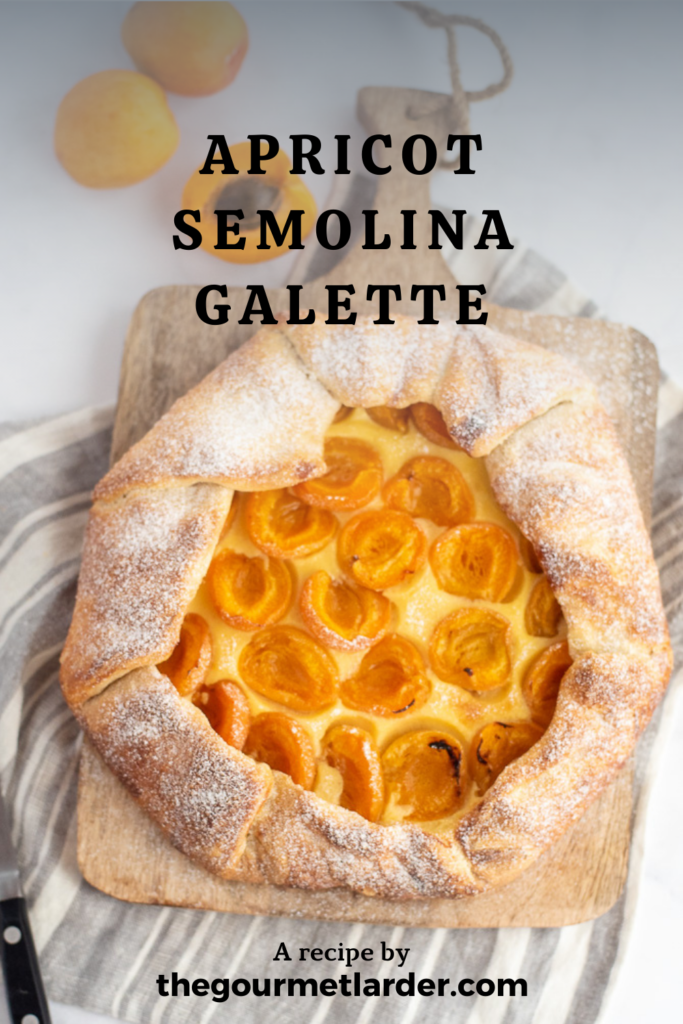 ---
If you liked this apricot semolina galette recipe and are looking
for more tasty recipes, be sure to check out my recipe collection.
---
---