Chocolate Chia Pudding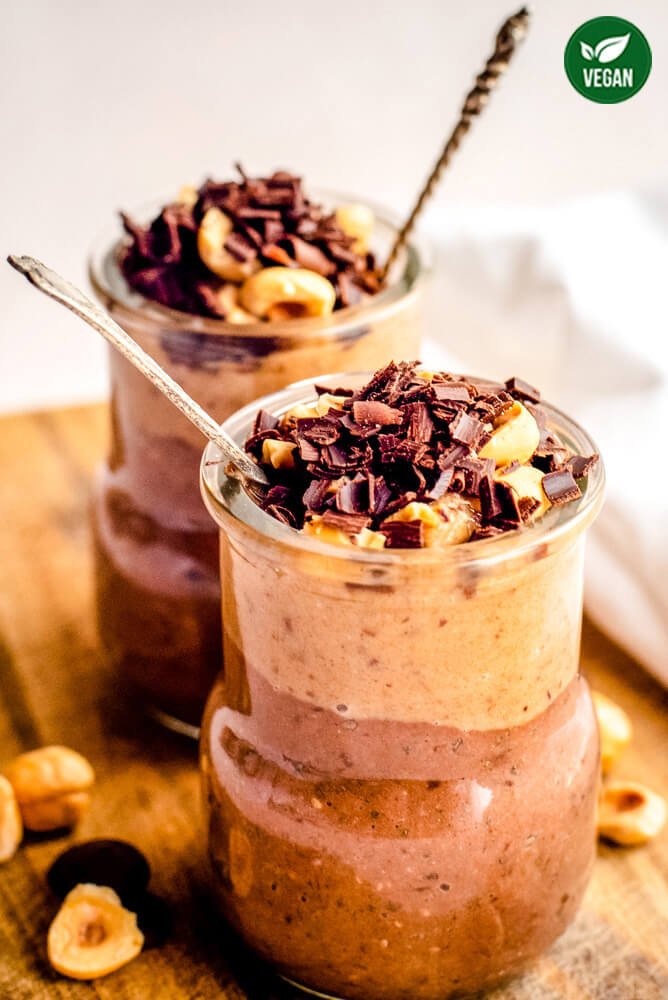 This delicious healthy chocolate chia pudding, topped with a hazelnut fudge sauce hits that sweet, chocolatey spot I crave and is low in carbs.
I like this dessert as it reminds me of my school days eating tapioca pudding from the school canteen, of which I have many fond memories.
Plus chia seeds are super healthy, full of omega 3's, eating just 25 grams of a day provides 18 per cent of your daily calcium, 27 per cent of your phosphorus and 30 per cent of manganese needs.
If you decide to give these a try, let me know! Leave a comment and rate it – it's really helpful to me and the other readers. And don't forget to take a picture and tag me @thegourmetlarder and #thegourmetlarder on Instagram! I love seeing what you come up with. 🙂
---
WHAT LARDER INGREDIENTS WILL I NEED FOR THIS RECIPE?
For this recipe all you need are these ingredients:
Chia seeds
Dark chocolate 65%
Dutch cocoa powder
Almond milk
Medjool dates
Whole peeled hazelnuts
I highly recommend adding a good pinch of salt to your desserts. It would seem counter productive, but it's not. Salt, helps balance out the sweetness and richness. It also elevates the other ingredients, bring out the best characteristics of any recipe. In a seemingly absurd or contradictory way, salt intensifies the mouths ability to taste sweetness. It is the sodium that sends signals to move glucose into the sweet taste receptor cells in our tongue. The result is that salt not only alerts our 'salt sensitivity', but also our 'sweet sensitive' taste buds.
---
---
WHAT VARIATIONS AND SUBSTITUTIONS CAN I MAKE?
Almond milk: Instead of almond milk, you can use any other plant-based milk, canned coconut milk or whole milk.
Nuts: Try alternative nuts like peanuts, almonds or cashews. Replace the hazelnuts with exactly the same weight as your alternative.
Texture: If you don't like the tapioca style texture of chia seeds you can make it smooth by putting it in the blender.
Sweetness: If you like your desserts extra sweet you can add 1 tbsp of maple syrup, honey, agave syrup, granulated sugar or another sweetener of choice.
---
EQUIPMENT SUGGESTIONS
When it comes to baking, I highly recommend using metric measurements and a digital scale, rather than cup measurements. You will find it much easier, less messy and you will get far better, consistent results weighing your ingredients. 🙂
---
---
NUTRITION

Serving: one chocolate chia pudding with a hazelnut fudge
Nutrition information can vary for a recipe based on factors such as precision of measurements, brands, ingredient freshness, or the source of nutrition data.
I strive to keep the information as accurate as possible but make no warranties regarding its accuracy.
I encourage you to make your own calculations based on the actual ingredients used in your recipe, using your preferred nutrition calculator.
---
STORAGE
This easy vegan chia pudding keeps well in the fridge for up to 5 days. Store any leftovers in an airtight container.
© THE GOURMET LARDER. All images and content are copyright protected.
Please read my FAQ's, if you would like to use or share any part of this post.
---
---
READY TO MAKE YOUR CHOCOLATE CHIA PUDDING WITH HAZELNUT FUDGE ?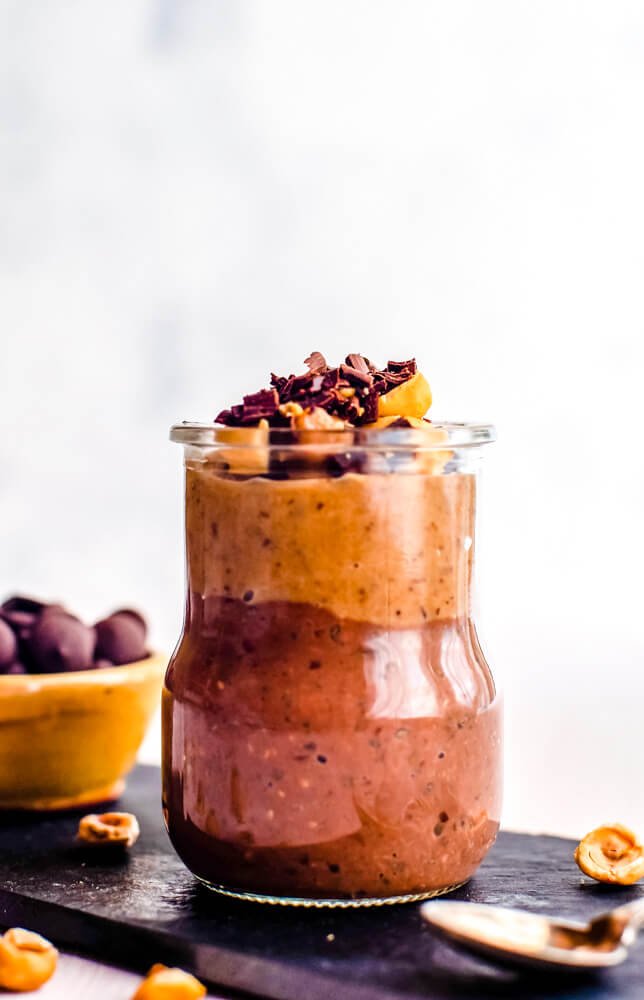 Chocolate Chia Pudding with Hazelnut Fudge
Delicious healthy vegan chocolate chia seed puddings, topped with hazelnut sauce hits that sweet, chocolatey spot and is low in carbs.
INGREDIENTS LIST
100

g

chia seeds

100

g

dark chocolate (minimum 65-70%)

(65%)

2

tbsp

Dutch cocoa powder

700

ml

non-dairy milk (almond, oat, rice or soy milk)
Hazelnut fudge sauce
5

medjool dates

(pitted)

135

ml

water

40

g

whole roasted hazelnuts

(without shell, see notes)
Preparation
Chia pudding: Heat the milk in a pan until almost boiling.

To a mixing bowl, add the chia seeds, sea salt, cocoa powder and chopped dark chocolate.

Pour the heated milk over your chia seed and chocolate combination. Gently whisk well, until all the chocolate and cocoa powder have dissolved.

Spoon the mixture into 4 serving glasses and leave to cool on the side for 1 hour. Once cool place into the refrigerator to set for another hour.

Place the your pitted dates into a bowl and add the water to allow them to soak while the chia pudding is setting.

Once your chia pudding has set, you can prepare the hazelnut sauce.

Hazelnut fudge: In a food processor, process the hazelnuts to a puree add the soaked dates and continue processing until almost smooth. Scrape down sides in-between if the dates stick to the side of the processor bowl.

To serve, top your set chia puddings with the fudge sauce mixture and garnish with additional chopped hazelnuts and grated dark chocolate.
Notes & Tips
Hazelnuts: If you can't find peeled roasted hazelnuts, place the alternative hazelnuts in an oven preheated to 180C / 350F for 8 minutes.
To remove the skins, you can either rub the hazelnut skins off with a clean kitchen cloth or shake the hazelnuts vigorously in a tightly closed container for a minute or so, until most of the skins come off. Don't worry if there is some skin, but the idea is to remove the majority because it can be a bit bitter.
Nut butter: If you don't want to fuss around or don't have a decent food processor for preparing the nuts you can buy hazelnut butter or any other nut butter of choice instead. These are now easily found in supermarkets or health food shops.

www.thegourmetlarder.com
---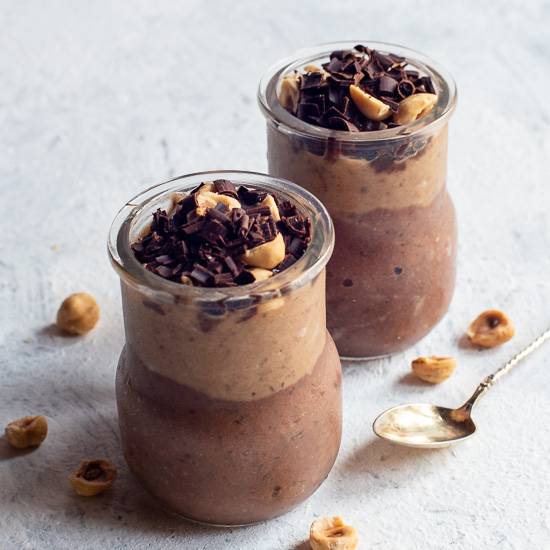 ---
PIN THIS RECIPE FOR LATER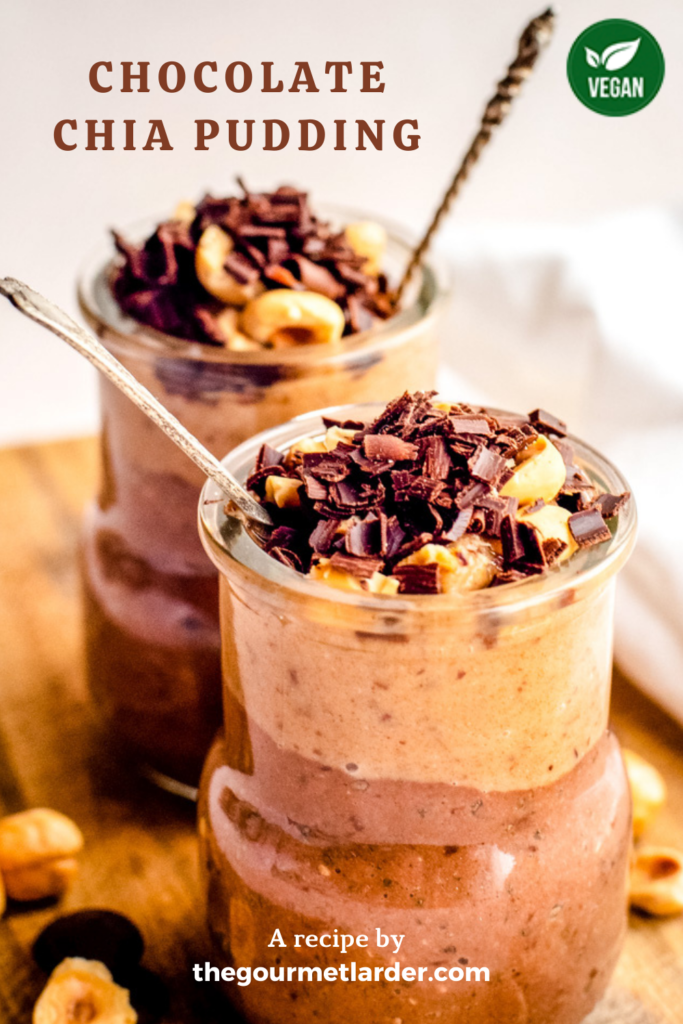 ---
If you liked this chocolate chia pudding recipe and are looking
for more tasty recipes, be sure to check out my recipe collection.
---
---